Notre Dame Football:

Gavin McDaniel
August, 29, 2014
8/29/14
9:00
AM ET
SOUTH BEND, Ind. — The most
Cam McDaniel
story ever involves Little League baseball, because of course it does.
The way the ever-competitive McDaniel tells it, he was playing second base as a youngster when a grounder came his way. He fielded it, only to look up and see that the first baseman was one of those kids playing just because his parents had made him.
"I had no faith in this individual whatsoever," McDaniel said, smiling at the memory.
So McDaniel held the ball, allowing the runner to reach base. One batter later, he scooped up a grounder and ran to tag the runner out instead of throwing to first.
"My Little League coach was really upset with me that I wasn't throwing it to this kid, but that's kind of the personality I've always had," McDaniel said. "Obviously I had to hone that in when I was a youngster and learn how to develop myself as a young man."
One of Notre Dame's four newly-anointed captains, McDaniel has grown up quite a bit recently. He married his girlfriend, Stephani, in May. The couple announced last week that they are expecting their first child this April. But that fire within McDaniel has hardly subsided, not with his senior season on deck, not with plenty of goals unmet.
"You know how sometimes you look at a kid in Little League and you say, 'Man, I bet his dad is just horrible. I bet his dad just treats him like [garbage],' " Cam's father, Danny, said with a laugh. "Cam looked like one of those kids, from a standpoint of how competitive he was."
[+] Enlarge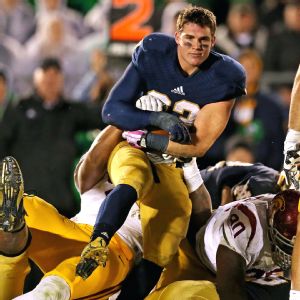 Jonathan Daniel/Getty ImagesThere's a lot more to Notre Dame senior Cam McDaniel than just being "ridiculously photogenic."
You see, it is easy to view McDaniel as a nice little story — the undersized, under-recruited, Texas-tough kid making do with what he has to lead the Irish in rushing in 2013. He once
ran into the wrong end of a practice gauntlet
upon his coach's orders. He was even
on the "Today" show
, thanks to a one-in-a-million shot of him carrying the ball against USC after his helmet had fallen off.
But McDaniel has not won a championship, and further fueling matters is just how close he came to the top prize, not only two years ago but in high school. He says that remains the goal this year's Fighting Irish, and his father says he tells him the same privately.
His dad is quick to note that his son has lost just three career games as a starter, from fifth grade through high school. Ask him how many wins came during that time, and he tries to do the math aloud before determining the victory total to be somewhere around 92.
As for those losses? His dad can tell you all about McDaniel's seventh-grade defeat. Or the regional round loss in the Texas 5A Division I playoffs his junior year, a two-point loss. Or the loss one round later his senior year, a one-point defeat.
"It still haunts him today," Danny said. "He can't even talk about that game or think about it."
That old axiom about the wins never feeling as good as the losses do bad is particularly true with the McDaniels.
"That sounds pretty arrogant, but he's only lost three games his entire life he's been the starter, and two of those they lost on the last play of the game," Danny said, adding, "Losing just deteriorates him. He's just not used to it. It just hasn't happened."
McDaniel credits his father, "a phenomenal man of God," for helping him to harness that verve, and he knows he has to be a role model for his two younger brothers: Washington freshman
Gavin McDaniel
, who is redshirting as a running back, and eighth-grader TJ McDaniel, an aspiring quarterback.
These are the latest in a long-line of fieldhouse-tending, water-jug-toting McDaniels, the sons of a third-generation Texas high school football coach. Danny and his wife, Diane, are now distributors for AdvoCare, a marketing company that sells nutrition products. Cam himself has been an independent distributor for two years, with Danny estimating his son spends 5-10 hours per week on the job in the offseason, and two per week in-season. (McDaniel is NCAA-compliant, so long as he does not use his name, image or likeness to promote the business or business engagement.)
All of this helps with the burden that comes with being a married, 22-year-old expectant father. When asked for his reaction to the news that he would become a dad, McDaniel paused and stuttered for nearly 10 seconds before saying that he was stumped.
The season has yet to arrive, and already McDaniel says he has grown up more in the past eight months than the rest of his life combined.
"I think it sinks in little by little, each and every day, and it's just going to continue to do that until the day's here to where my child is actually on this earth, and I know it's something that I can't completely prepare for, but I'm going to do my best," McDaniel said. "I'm just extremely excited, me and my wife both. Man, that's an opportunity above opportunities."
November, 2, 2012
11/02/12
9:30
AM ET
SOUTH BEND, Ind. -- On Oct. 14, Gavin McDaniel and Jacob Logan jumped from a cliff into Possum Kingdom Lake, 80 miles west of Forth Worth, Texas, the way most in that area do on nice days outside.
"I think my brother jumped off first and [Logan] jumped off next," Notre Dame running back
Cam McDaniel
said. "My brother came up, and he didn't."
A five-day search ensued before the body of 17-year-old Logan -- a senior receiver for nationally ranked Coppell High -- turned up, devastating the community.
This past Saturday in Norman, Okla., Cam McDaniel offered a tribute in front of his family, friends and coaches who made the three-hour trip, along with the millions who watched the most-viewed college football game of the season. Returning kicks in place of the ill
George Atkinson III
, McDaniel switched jersey numbers with cornerback
Jalen Brown
, wearing No. 21 to honor his fallen friend.
[+] Enlarge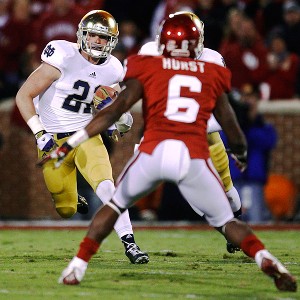 AP Photo/Sue OgrockiWearing a borrowed number to honor a fallen friend, Cam McDaniel returns a kick against Oklahoma.
"Just an extreme blessing, an extreme honor beyond what words can explain," said McDaniel, normally No. 33. "Just a tribute to my friend and former teammate Jacob Logan -- phenomenal young man. He was a sophomore when I was a senior in high school, amazing playmaker."
"It's extremely humbling, it's eye-opening," McDaniel added. "It just reminds us that life is but a vapor."
Little brother Gavin honored Logan five days after his death by rushing for a 75-yard touchdown on his first carry, en route to a 196-yard performance that earned him player-of-the-week honors from area media outlets.
In helping the Irish to arguably their biggest victory in 19 years, Cam McDaniel returned four kickoffs for 77 yards this past Saturday, on par with the team average. He has done everything asked and then some when his number has been called in the backfield, however rare that might be when playing behind
Cierre Wood
,
Theo Riddick
and Atkinson.
The sophomore has carried the ball 20 times this season for 114 yards and a touchdown. He has added two catches for 41 yards, this after spending most of the spring at cornerback before cross-training at both positions in camp after more freshmen arrived on campus.
McDaniel, who had not played corner since pee-wee, said he has taken the cue from new starters such as
Matthias Farley
and
KeiVarae Russell
in being ready to step in at any moment, just as those two were when
Jamoris Slaughter
's and
Lo Wood
's seasons ended because of Achilles injuries.
In limited action, he has left an impression.
"He's got a great deal of confidence in himself that when you call upon him, he's going to play really good football," coach Brian Kelly said. "He feels like more than anything else that he will be a huge contributor to our success, and we believe in that as well, so you have a guy that knows that he's going to impact the program. It's just a matter of time."
Irish Flips Top TE Jones, Back In Top 10