Notre Dame Football:

George Whitfield Jr.
March, 5, 2014
Mar 5
9:30
AM ET
SOUTH BEND, Ind. -- The keys to Notre Dame's future arrived Monday, when
Everett Golson
took the field for the first time in nearly a year as the Irish opened their fifth spring practice under Brian Kelly.
[+] Enlarge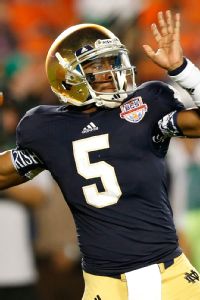 Joel Auerbach/Getty ImagesThe Irish offense hopes to benefit from the return of quarterback Everett Golson.
This spring will probably not look all that different from last spring, when Golson, coming off a redshirt freshman season that ended in the BCS title game, was officially handed complete control of the vehicle that was Kelly's offense before being exiled the following fall for an academic mishap. Yet the Irish may be shorter on all-around playmakers this spring than they were last year.
But with Golson back -- 15 pounds heavier and seemingly much more mature after spending two months with well-known quarterback coach George Whitfield Jr. in San Diego -- it is finally all in for Notre Dame. Its fan base has been anxiously awaiting the offensive theatrics that a Kelly team last displayed five years ago at Cincinnati, and the most important component to that is Golson.
"Absolutely," Kelly said, speaking about the quarterback position, specifically. "Your offensive line has to play well; it has to protect the quarterback. We've got to run the ball effectively, take care of it. But I think we all know college football and where it is: The quarterback is really going to be the centerpiece of this offense and the way we run it. It's going to fall on him.
"We all live in the same world when it comes to the Notre Dame quarterback. We're going to heap a lot on this kid's shoulders. And he knows that. That's why he came back to Notre Dame, because he wants that. Clearly, he's going to be the one that drives this for us."
Replacing the top protectors of Golson (and every other QB of the Kelly era) is paramount, as stalwarts
Zack Martin
and
Chris Watt
are gone after manning the left side of the line so well together for more than three years.
Finding reliable weapons in a passing game down its top three pass-catchers from last season is important, too. (One of those targets,
DaVaris Daniels
, is expected back this summer after making a Golson-like academic gaffe.)
Defensively, potential first-round picks
Stephon Tuitt
and Louis Nix are gone, as are three of the four starting linebackers. Defensive coordinator Bob Diaco -- along with offensive playcaller Chuck Martin -- are gone, and longtime college and NFL veteran Brian VanGorder brings aboard the potential for a more aggressive defense, which should complement a much more aggressive offense.
A running game that lacked punch at times last year will be greatly strengthened by the dimension presented by Golson's legs, which he says got quicker despite the added weight.
It is weight his body and mind are ready to carry as he looks to bring Notre Dame's offense to a place it has longed for.
"I think if leadership ability is in you, it'll show eventually when you're called on," Golson said. "I think only being a freshman, I was still leading to a certain extent. I think now it's more heightened, I would say, because our team is so young this year. But it's been great. That's the spot that I want to be at and I was kind of born to be at, I would say, in a sense. So when it happens, leadership steps to the front."
February, 28, 2014
Feb 28
9:00
AM ET
Our series predicting spring happenings concludes today with No. 1.
Prediction No. 1: Everett Golson looks like a new quarterback
[+] Enlarge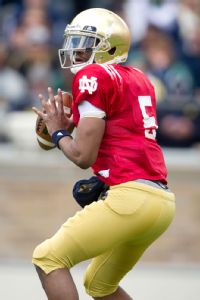 Matt Cashore/USA TODAY SportsHow quickly can Everett Golson reclaim his starting quarterback spot?
If it's been said once, it's been said a million times: Everett Golson reportedly improved a ton last fall with George Whitfield Jr., from adding weight to tightening his mechanics to, yes, learning to throw the football with the actual laces.
Now Golson is back as the face of Notre Dame's offense. And while coach Brian Kelly insisted that
Malik Zaire
is very much a factor in the quarterback race, the fact that there are just two scholarship faces in those position meetings this spring should benefit both signal callers.
We all know Golson's credentials: As a redshirt freshman in 2012, the Myrtle Beach, S.C., native completed better than 58 percent of his passes for 2,405 yards with 12 touchdowns and six interceptions, in addition to running for 298 yards and another six scores. He improved down the stretch, helping lift the Irish a 12-0 record and to the national title game, where they were routed by Alabama. Even then, Golson was one of the lone bright spots of the offense. He was handed complete control of the offense last spring and looked ready to take the Irish offense to the next level before his academic mishap cost him the fall semester.
Still, the 2013 semester was, in many ways, a win-win for Notre Dame, which got to tout its academic standards by booting its star while he got professional-style training out in San Diego before his return. Golson was listed at 6-foot-1, 185 pounds in 2012, and he could be closer to 200 pounds by the time spring ball begins. His determination to work his way back to Notre Dame instead of heading elsewhere likely won over whatever remaining doubters there had been in the program. And he still has two seasons left in a Notre Dame uniform.
There will probably be some smoothing out points, as Golson likely hasn't seen anything close to a live college scrimmage in a year. And he won't have the same familiar faces he was throwing to two years ago, especially not this spring, with
DaVaris Daniels
also stuck in academic purgatory. Kelly has warned Golson about overcoming the bigger spotlight that will certainly accompany him during his comeback tour, and now it is up to the redshirt junior to ease back into the program, refine his skills within the framework of the team and take the next step as one of the leaders of an offense that is seeking new faces to look up to as it enters 2014.
Golson is the perfect candidate to assume that role, and, frankly, it would be surprising if he wasn't a better all-around football player overall by the time this summer rolls around.
February, 17, 2014
Feb 17
9:00
AM ET
With Notre Dame opening spring practice in just two weeks, we're looking ahead to a few items to keep an eye on when things commence on March 3. We
looked at players to watch last week
, and this week we will follow with positions battles to watch, starting Monday with No. 5.
Quarterback
[+] Enlarge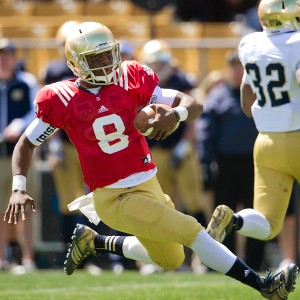 Matt Cashore/USA TODAY SportsWhile Everett Golson might be the favorite to win the QB job, Malik Zaire (pictured) will need to develop.
We know, we know -- it is highly unlikely
Everett Golson
can lose the starting job he held down two years ago. He led the Irish to the national title game as a redshirt freshman, got suspended for an academic violation, spent the fall training with George Whitfield Jr. and returned this past January. He is reportedly bigger, stronger and more refined. And with two years of eligibility remaining, well, he gives Brian Kelly plenty to work with as Notre Dame strives to look more like a Kelly offense.
Still, there are only two scholarship quarterbacks on the roster this spring. And Kelly has said that Golson won't simply be handed the job. Kelly was effusive in his praise of
Malik Zaire
, who redshirted last season after enrolling early and now is essentially the team's only option if something were to happen to Golson.
So you can see why Zaire -- ESPN's No. 6 quarterback in the Class of 2013 -- is so important this spring. He'll get more reps than he would have had there been a more full cupboard at signal-caller. He will likely take the field in some capacity for the first time in 2014, whether it's as a replacement or at the end of a blowout victory. With that, his development is crucial to the Irish, regardless of how much better Golson looks, because Zaire will always be just one play away from becoming the Irish's top option.
This spring Zaire is the Irish's
only
other option, making this time all the more important for him to prove he belongs, quell any fears about what might happen if Golson goes down and, well, maybe become something more. He has a new position coach in Matt LaFleur, and it's not like Golson's memorable 2012 campaign was without its rough points.
Golson might be the runaway favorite, and he probably should be. But if we've learned anything in college football the last couple of years, it is the importance of the next man in, something Zaire at the very least has a chance to become this spring.
February, 14, 2014
Feb 14
9:00
AM ET
Our top player to watch this spring should come as no surprise.
1) Redshirt junior QB Everett Golson
[+] Enlarge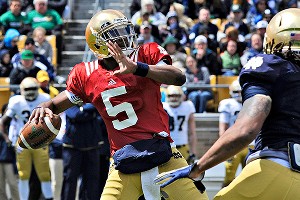 AP Photo/Joe RaymondCan Everett Golson reclaim his starting quarterback job this spring?
What, were you expecting someone different? By the sounds of most Notre Dame fans after each
Tommy Rees
throw last season, the Irish had lost a combination of
Jameis Winston
,
Johnny Manziel
and
AJ McCarron
when Golson got himself suspended for the fall because of an academic violation. The good news? The man Golson worked with during his exile, George Whitfield Jr., has worked with plenty of quarterbacks of that talent in his career.
Expecting a Heisman-caliber signal-caller this season might be asking a bit much, but Notre Dame should have a new and improved Golson this spring. He has reportedly put on plenty of weight, tightened his mechanics and even learned to throw the ball with the laces.
Considering he helped author a 12-0 regular season in his lone season of starting, and considering he was one of the few players who did not seem overwhelmed against Alabama in the 2012 title game, the potential is there for Golson to become a much better quarterback than the one we last saw.
His decision to not attend another school last season and to get re-admitted to Notre Dame likely won over anyone inside the locker room had initial doubts about his attitude. Now he will be throwing to a group of receivers who, for the most part, he has little experience with. And if he ever thought about waltzing right back into his old starting spot, well, Brian Kelly put that idea to rest by publicly declaring
Malik Zaire
as a factor in the quarterback race.
Golson was very close with Chuck Martin, so losing his position coach to Miami (Ohio) probably stung a bit at first. Now we get to see how he works with new quarterbacks coach Matt LaFleur, and we get to see him pick up from where he left off last spring, when he had been all but handed the car keys to the offense and had taken charge in a way few could have expected just a short time earlier.
No one at Notre Dame will draw a bigger spotlight, or shoulder a bigger burden, than Golson, and that starts with his official return to Fighting Irish football this spring.
February, 12, 2014
Feb 12
9:00
AM ET
Our series looking at players to watch this spring continues, as we turn our attention to the most important position of them all.
3. Redshirt freshman QB Malik Zaire
[+] Enlarge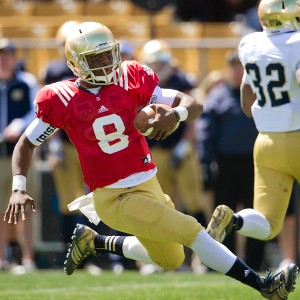 Matt Cashore/USA TODAY SportsQB Malik Zaire will get a chance to show what he can do this spring,
When introducing new quarterbacks coach Matt LaFleur last month, Brian Kelly likely raised a few eyebrows by saying that
Everett Golson
will not automatically be Notre Dame's starting quarterback upon his return. While the odds of a player with no game action unseating a signal-caller who took the Irish to the national title game -- a signal-caller who is coming off a fall spent with one of the nation's premier quarterback gurus in George Whitfield Jr., no less -- might seem like they are slim to none, the point is moot. No matter how much better Golson is when he take the field again, there must always be a Plan B. And few have a better opportunity to become Plan B -- and perhaps even more -- than Zaire.
The southpaw was ESPN's No. 6 quarterback recruit from the Class of 2013, enrolling last spring. He came down with mononucleosis late in fall camp, forcing him to the sideline for the season's first three games. He ended up redshirting anyway, something Kelly later said had been the plan all along. It makes sense from a roster-management standpoint, as the Irish have said goodbye to
Tommy Rees
(graduation) and
Andrew Hendrix
(graduate transfer to Miami (Ohio)), not to mention Gunner Kiel (transfer to Cincinnati) almost a full year ago as well. Now Notre Dame welcomes in
DeShone Kizer
this fall, giving Kelly three scholarship quarterbacks who, in his words, "all do the same things."
With just Golson and Zaire making up the Irish scholarship quarterback depth chart this spring, there will be more reps to be had. And it was just two springs ago when Golson began to make his leap as a redshirt freshman to starter, one who led the Irish to their best season in 24 years.
Can Zaire do the same? The odds are against him, but the spring depth chart is working in his favor. Golson had some help in navigating a 12-0 regular season two seasons ago, and the Irish need to know they have a more-than-capable alternative if and when rocky roads arrive in 2014.
February, 3, 2014
Feb 3
9:00
AM ET
Brian Kelly was asked a question about
Everett Golson
, and so he talked about Golson, albeit for 16 seconds. Then he shifted attention to the other dual-threat quarterback on Notre Dame's roster, applying the brakes for the next minute-plus as he discussed another signal-caller who redshirted during his first year in the program.
"I know we're always in this rush to move to Everett, but I just want to caution everybody that we have I think a very good quarterback in
Malik Zaire
as well," the fifth-year Notre Dame coach said. "And I'm not ready to hand everything over to Everett. I love Everett. He played in the national championship game; I'm like everybody here. But I'm also somebody that wants to make sure that the quarterback position is such, especially with [quarterbacks coach] Matt [LaFleur] now with us, that we give everybody an opportunity to compete for that position, and Malik's going to get that chance as well.
[+] Enlarge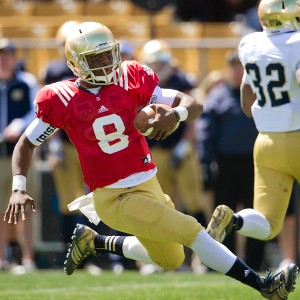 Matt Cashore/USA TODAY SportsMalik Zaire, who redshirted in 2013, continues to receive raves from Notre Dame coach Brian Kelly.
"Everett's doing great. He looks physically like he should be at this time, and the reports have been great and we're very, very excited. But I do want to caution everybody, including anybody that's around the program, and our players in particular -- I'll use this opportunity to do that -- this is a pretty good quarterback that we didn't play this year, Malik Zaire, that's going to get a chance, too."
Few could blame Kelly for reining in the hype machine, especially with a talent like Zaire waiting in the wings. And few could blame those who let said the hype machine mushroom. Golson did, after all, help lead Notre Dame to the national title game in his only season. His name was brought up at seemingly every other media availability with Kelly during the 2013 season despite his semester-long exile.
There was a reason for that, of course. As Kelly said Friday when describing what he wants the 2014 offense to look like, the Irish have lacked the dynamic playmaker best-suited to run his show.
"We have been driven behind the tackles for the last couple of years," he said. "We would like to be a little bit more dynamic outside the pocket."
Golson's lone season certainly suggests those capabilities, with 298 rushing yards and six scores on the ground. And he had been given more control last spring, pre-suspension, with the Irish further tailoring the offense to his talents.
Yet he spent his first year at Notre Dame in much the same fashion that Zaire did, running the scout team while admittedly struggling in the classroom. Both players enrolled early and both showed flashes of promise in the spring game, with Kelly hesitant to use either any more than he had to during the following falls -- which is to say not at all.
"From my standpoint, both these guys are coming in with a blank slate as far as I'm concerned," LaFleur said. "I don't have history with either one of these guys, so I'm just excited to see what these guys are all about and watch them work and see how they compete, just kind of learn along the way."
Zaire was just recovering from a late-summer battle with mononucleosis as Golson was departing for San Diego last September. And it is safe to assume that the Irish are getting back a refined version of their former starter after two months of work with quarterback guru George Whitfield Jr.
"The reports have been good," Kelly said of Golson. "Physically he's put on a lot of weight, stronger, more mature, something that we would expect. But it's Jan. 31, so there is a long way to go."
New offensive coordinator Mike Denbrock, having coached the outside receivers last season, said his old group felt very comfortable with Zaire last year during practice, respecting his downfield passing ability. No one from Notre Dame can comment until Wednesday on incoming prospect
DeShone Kizer
, who, like Zaire, is a four-star quarterback from Ohio.
And while Kizer will look to make it a three-man race, signs still point to the pair of Buckeye State natives chasing the one-time starter Golson when all is said and done, with Notre Dame advancing its push to look like the Brian Kelly offense many envisioned upon his move from Cincinnati five years ago.
"If you've watched coach Kelly's offenses in the past, I think they encompass an offense that's more in an attacking style," Denbrock said. "He likes to go fast, he likes to keep the defense on their heels, he likes to be very aggressive with what he does, and I think that's the direction we're certainly moving into. With the athletes that we have, we feel like we're in a position offensively to push the tempo more and to put our playmakers in positions where they can make big plays and do the things that all of us hope our offense looks like, one that's dynamic and can score more points and move the football consistently."
January, 24, 2014
Jan 24
9:00
AM ET
It has been a while. What's on your minds?
Scott from St. Joseph, Mich., writes:
Matt, disagree about Michigan State easily being the highlight of the season. The game was marred with questionable penalties and calling by MSU's staff. To me the highlight of the season was the second-half defense against USC. Being able to beat your biggest rival basically without a functional QB and on the hands of a defensive performance remnant of '12 was the highlight of the year for me.
[+] Enlarge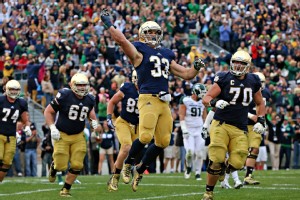 Jonathan Daniel/Getty ImagesPulling out a victory over Rose Bowl champion Michigan State was the biggest achievement for Notre Dame in 2013.
Matt Fortuna:
I think both performances, to be fair, were far from aesthetically pleasing. And yes, we have to give Notre Dame's defense plenty of credit for its play in both games. But the circumstances are too big to ignore here. By beating Michigan State, Notre Dame helped reshape the national title picture. It was the only team to beat a very good Spartans squad, one that ended up winning the Rose Bowl. While it's always big to beat your archrival, let's also remember that USC was without
Marqise Lee
for the second half, committed 11 penalties and missed two field goals (from 40 and 46 yards), too. And I just can't erase the memory of the Fighting Irish offense coming to a standstill once
Tommy Rees
went down. No points from either team in the final 30 minutes of a primetime game? No thank you.
Matt from Pittsburgh writes:
Matt, O-line starting 5 from LT-RT: Elmer, Hanratty, Martin, Lombard, Stanley? Also how do you see the D-line and linebackers forming out?
Matt Fortuna:
That would probably be my early guess, though I'll keep a close eye on that group this spring since Martin will still be out.
Matt Hegarty
started at center in his place but provides plenty of flexibility, too, so it will be interesting to see where he fits into the picture next fall. My guess for defensive line would be
Sheldon Day
,
Jarron Jones
and
Isaac Rochell
, only because I don't know how ready
Tony Springmann
(ACL, infection) is. If he's 100 percent, it's easy to see him starting. And I'm anxious to watch
Chase Hounshell
, who saw the field as a true freshman in 2011 but has missed the last two seasons with shoulder injuries. Same with
Jarrett Grace
at the mike linebacker position (probably not this spring), with possibly
Kendall Moore
starting next to him.
Jaylon Smith
(dog) and
Ishaq Williams
(cat) will be expected to start if and when Brian VanGorder employs a 3-4 scheme, though he said last week he had not delved into schematics yet. Could we see Williams and/or
Romeo Okwara
play on the line some more? And where will
Ben Councell
fit into the picture once he's back from his ACL tear?
Jim from Chicago writes:
Matt, What role do you see
Torii Hunter Jr
. having next year? Seemed to be the most athletic freshman WR before the injury. Can he work his way into the rotation with Daniels out in spring ball?
Matt Fortuna:
He's the guy on offense, outside of
Everett Golson
, whom I most want to see this spring. The opportunities will be there for the taking with Daniels gone until the fall, and Hunter was able to battle back from that nasty leg injury to win offensive scout team player of the year. I'm also curious to see what kind of improvements
Corey Robinson
can make, given his size and potential. In limited practice viewings he seemed to be always making plays, but in games this season there were times where he looked like he could've used a couple of extra pounds.
Chris Kosiak (@C_K_42) writes:
Justin Brent
going to push for playing time next year? Or does he RS?
Matt Fortuna:
It's probably too early to say, though, like Hunter, he'll have a great opportunity to showcase himself this spring with Daniels out. Last year Robinson and
James Onwualu
enrolled early and ended up taking advantage of the spring transfers of Davonte Neal and
Justin Ferguson
, resulting in playing time during the 2013 season. Notre Dame's receiving corps was young then and is young again now, so playing time will likely be there for the taking.
Michael Hughes (@designwithmike) writes:
More important to ND success in '14: Red-zone execution or finding good to great defensive leadership?
Matt Fortuna:
Good question. I'll go with red-zone execution, since I expect this Notre Dame team to rely much more on its offense than it has so far in the Brian Kelly era. And that means the Irish will have to capitalize on more red-zone opportunities and score more points. With Golson back at the helm after a semester spent training with quarterback guru George Whitfield Jr. and an improving backfield, I think you'll see the Irish take more chances offensively. None of this is to minimize the importance of defensive leadership, but that's just such an unknown factor at this point, especially since we have yet to see these players get coached by and respond to VanGorder, who seems nothing like Bob Diaco from a personality standpoint.
October, 29, 2013
10/29/13
2:00
PM ET
Former Notre Dame quarterback Everett Golson came about as clean as he probably will in discussing what caused his suspension from school, opening up
in a video interview with Andy Staples
posted Tuesday to SI.com.
Golson, who was suspended from the school this past May for what he had deemed "poor academic judgment," is currently in San Diego training with George Whitfield Jr. at his quarterback academy, Whitfield Athletix, after working out earlier this year at EFT Sports Performance just outside of Chicago in Highland Park, Ill.
"Basically, I had poor judgment on a test," Golson told SI. "It wasn't due to poor grades or anything like that."
Asked if he cheated on a test, Golson replied: "Yeahhh, something like that."
Golson, who led the Fighting Irish to a 12-1 record and berth in the Discover BCS National Championship last season, will have to be reinstated to Notre Dame for the spring semester. Should he return to school, he will be a redshirt junior next fall after losing a year of college eligibility this season.
The Myrtle Beach, S.C., native did not want to explore other potential schools during this time off.
"My heart was set on going back to Notre Dame, not necessarily to prove to anybody but just really doing it for me," Golson told SI. "I felt like that's something that I started and I didn't want to run away from it and go to a juco or go to another school. I was going to face it."
A full story on Golson is set to appear in this week's SI magazine.
September, 5, 2013
9/05/13
2:00
PM ET
Top Returning Players: AAC and Notre Dame
FBS INDEP. SCOREBOARD
Saturday, 12/21
Monday, 12/23
Tuesday, 12/24
Thursday, 12/26
Friday, 12/27
Saturday, 12/28
Monday, 12/30
Tuesday, 12/31
Wednesday, 1/1
Thursday, 1/2
Friday, 1/3
Saturday, 1/4
Sunday, 1/5
Monday, 1/6