Notre Dame Football:

Hafis Williams
August, 20, 2012
8/20/12
9:00
AM ET
Charley Molnar, as Notre Dame followers can attest, is used to quarterback controversies. He faces one now in Massachusetts' fall camp, having to sit starter
Kellen Pagel
indefinitely because of post-concussion symptoms.
In that regard, Molnar's duties as UMass' head coach are similar to the ones he had in two seasons as the Irish's offensive coordinator. But in moving from college football's third-winningest program to a school beginning its first season in the Football Bowl Subdivision, Molnar has done more than leap from assistant to head coach, as he has taken on the task of building the foundation for a program looking to make its mark both in New England and at the next level.
"I think if there were two situations that were diametrically opposed it would be Notre Dame and UMass," Molnar said. "Because Notre Dame, everything is already in place: The infrastructure is there, the fan base is there, the ticket sales are there, the tradition is there.
"[Now] I'm taking over a program where virtually everything has started from scratch -- with the transition to I-A, we're moving into a new football building, we're playing our games at a new stadium," he added, referring to the Patriots' Gillette Stadium in Foxborough, two hours away from campus. "We virtually have to create almost a whole new fan base and a whole new group of season-ticket-holders. So that is really, really quite a gap that we have in front of us. But it's super-exciting to be involved in everything from the ground up."
[+] Enlarge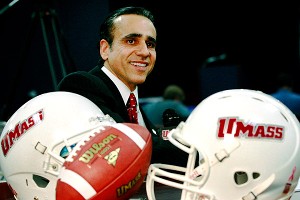 AP Photo/Elise AmendolaNew coach Charley Molnar hopes his UMass program can grow in the mold of Boise State.
Busy days preparing for Notre Dame's bowl gave way to sleepless December nights selling the Minutemen as New England's future football power, as Molnar built a staff, recruited in the leadup to national signing day and met with campus and community constituencies.
"Quite frankly that's always something that intrigued me to do this part of the job," Molnar said of his new CEO-type duties. "So I feel I was absolutely ready for it and I've embraced it. I love that part. I'd rather do it than not do it. I just think it's a lot of fun, and I like getting engaged in the community with our fans and with the ticketholders and trying to create a new fan base. I love that challenge. It's like recruiting, going out there and tying to sell another group of tickets, get another fan that follows the program."
UMass is a football-only member of the Mid-American Conference this season. It will face Big East, SEC and Big Ten schools, including Michigan, and future nonconference opponents include Notre Dame, Wisconsin and Florida. Molnar said dates with name programs will help UMass gain recognition outside of the region, with the hope that, eventually, the Minutemen will be able to compete with and some day defeat some of the elite.
To help bridge that gap, he has welcomed a pair of fifth-year former Notre Dame players, nose guard Hafis Williams and receiver
Deion Walker
, along with former Michigan running back Michael Cox.
While classmates don't view them as blue-chip saviors -- a look commonly associated with big recruits at their former campuses -- the UMass transfers have expressed surprise at the interest building on campus.
"I had someone tell me, 'Yeah, I hear they got some new guys in from Michigan and Notre Dame,' and I was like, 'Oh yeah? I'm one of those guys,'" Walker, an ESPN 150 player in high school, recalled with a laugh. "So that's exciting, that shocked me for the most part."
On signing day, Molnar stood at a podium between blown-up pictures of UMass alumni
Victor Cruz
and
James Ihedigbo
, who squared off four days later in the Super Bowl. A Morristown, N.J., native, Molnar is hoping to compete with BCS-conference programs UConn and Boston College for area players while tapping into talent-rich New Jersey and Pennsylvania. UMass has already landed a pair of three-star 2013 commitments in Connecticut quarterback
Todd Stafford
and New Jersey linebacker
Shane Huber
.
Fundamentally, Molnar said, the job remains the same from his years as an assistant, the previous six of which were spent under Brian Kelly. Now, he just returns to a second stack of files in his office every day, with administrative duties adding to his coaching itinerary.
Though mounting paperwork and inevitable early struggles present a less-than-ideal situation, Molnar remains intrigued by the idea of planting the seeds for a rising program. After all, he said, bigger makeovers have been done.
Eight months and zero losses into his tenure, he dreams of one day becoming the biggest.
"I've looked at Boise State as being a model for our program, where they took a university that was relatively unknown," Molnar said. "They had rabid fans but not a large base of fans. And they've run that program with certain fundamentals on and off the field and they continue to do so regardless of who the head coach has been.
"And that's how I see UMass growing in the future, with a great foundation that I get to help lay, and then being able to one day look back at UMass and see the program grow and prosper and feel like this was part of my legacy."
June, 15, 2012
6/15/12
9:00
AM ET
Massachusetts officially added receiver
Deion Walker
to its roster this week, as the former Notre Dame receiver will re-unite with Charley Molnar for his fifth year of eligibilty.
Walker also joins former Irish nose tackle
Hafis Williams
and former Michigan runing back
Michael Cox
in going to UMass for their final college seasons.
"We are very excited about having Deion join us for the upcoming season," Minutemen head coach Charley Molnar, Walker's offensive coordinator the past two seasons in South Bend, Ind., said in a release. "Having worked with Deion at Notre Dame, he is a terrific person and will make the most of this opportunity. Along with Hafis Williams and Michael Cox, Deion will also be able to make an immediate impact on the program -- both on and off the field."
All three players wil be immediately eligible to play.
June, 1, 2012
6/01/12
5:00
PM ET
Add
Deion Walker
and
Hafis Williams
to the list of former Notre Dame players extending their college playing careers.
The duo will re-unite with former Irish offensive coordinator Charley Molnar at Massachusetts,
BlueandGold.com's Wes Morgan reports
.
Walker entered Notre Dame from Christchurch (Va.) High School in 2008 as ESPN's No. 18 wide receiver and the 103rd overall player from his recruiting class. The 6-foot-3, 206-pounder appeared in just seven career games for the Irish, making one catch for 15 yards in 2009.
"It's really exciting just getting the opportunity to make something of myself," Walker said. "I had such high hopes coming out of high school, and not being able to execute on those plans was kind of a setback.

"It goes like that sometimes. You can't win them all. But big picture, I graduated, I had a blast over the last four years and hopefully I can go on to make something of myself in the realm of football. Looking back, it was definitely tough, but I can't be that mad about it."
Williams landed in South Bend, Ind., from Elizabeth (N.J.) High School as ESPN's No. 19 defensive tackle in the Class of 2008. The 6-foot-1, 295-pound nose guard notched 19 total tackles and two tackles for loss in 24 career games at Notre Dame.
Here is a list of Notre Dame's fifth-year players who will be playing elsewhere in 2012:
Nose guard
Sean Cwynar
and
offensive lineman
Lane Clelland
have told the Chicago Tribune and South Bend Tribune, respectively, that they will not pursue fifth years of football. I do not know of
David Posluszny
's plans. The other six fifth-years —
Braxston Cave
,
Mike Golic Jr.
,
John Goodman
,
Kapron Lewis-Moore
,
Dan McCarthy
and
Jamoris Slaughter
— are back at Notre Dame for their final seasons.
December, 2, 2011
12/02/11
5:00
PM ET
This week we are taking a look at each of Notre Dame's fourth-year scholarship players with eligibility remaining and examining whether he will likely return to the Irish next season. Here, we look at the final player of this series, (alphabetically) last but not least, nose guard Hafis Williams.
Before Notre Dame:
From Elizabeth (N.J.) High School, Williams entered Notre Dame as ESPNU's No. 19 defensive tackle.
At Notre Dame:
The 6-foot-1, 295-pound Williams has played 24 games for the Irish, recording 19 tackles and two tackles for loss. He saw most of his action toward the end of last season in place of the injured Ian Williams. His 244 snaps last season were the fifth-most among Irish defensive linemen.
What's next?:
A sociology major, Hafis Williams has said he is undecided on his future. For now, he remains a reserve nose guard heading into the Irish's bowl game, though Louis Nix and Sean Cwynar see most of the snaps at that spot.
The verdict:
Going. There are just too many bodies in front of him in the middle, especially if Cwynar returns. Plus, freshman Stephon Tuitt has shown the ability to play inside as well.
Previous players:
Braxston Cave
Lane Clelland
Dayne Crist
Sean Cwynar
Mike Golic Jr.
John Goodman
Kapron Lewis-Moore
Dan McCarthy
Anthony McDonald
Brandon Newman
David Posluszny
Jamoris Slaughter
Deion Walker
Top Position Battles Heading In To Spring