Notre Dame Football:

Iowa State Cyclones
February, 7, 2014
2/07/14
12:00
PM ET
January, 27, 2012
1/27/12
9:00
AM ET
Harrison Smith
's five-year Notre Dame career ended with him ninth on the school's career tackles list (309) and as the Irish's lone captain in 2011. He is now getting ready for the draft and will play in the 63rd Senior Bowl on Saturday in Mobile, Ala.
The safety will suit up for the North team, coached by Leslie Frazier and the Minnesota Vikings' staff. The game kicks off at 4 p.m. and airs on the NFL Network.
After Monday's weigh-in for the game, Scouts Inc.'s Todd McShay wrote that the 6-foot-2, 212-pound Smith
passed the eyeball test with flying colors
, something Smith said his brother texted him about. He joked that he's been getting feedback from plenty of sources --
Scouts Inc. thinks he's a potential Day 2 pick
-- but he'll try to block it all out as he readies for the NFL.
You've been hearing so much from so many different people -- from media, from scouts. How do you take all that and put it aside and focus on the task at hand?
Harrison Smith:
I think after playing at a place like Notre Dame, where the spotlight's always on you, the media's always there, people are watching you every weekend, you're always on TV -- I think it just becomes part of it. And that's something that, don't get me wrong, I'm nervous before all the games I play in, I'm nervous going out and playing in front of scouts and stuff like that, but it's not like a bad nervous. It's just part of it. And once you get used to it you don't realize that you focus on what you're doing and who you're looking at before the snap, and just the basics of football. All that other stuff isn't even in your mind until you walk off the field.
Can you take me a little bit through the process so far: Where you went after the bowl game, the process of choosing an agent, where you're training and what not?
[+] Enlarge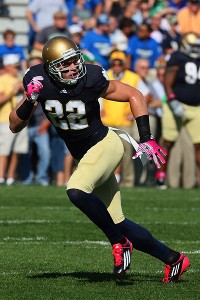 Brian Spurlock/US PresswireIrish safety Harrison Smith finished up his senior season with 93 tackles and seven interceptions.
HS:
I ended up going with a guy named Brian Murphy, who's actually a Notre Dame grad, and he's got a lot of Notre Dame guys that I've played with. That's just a little bonus, but I liked him. I liked what he's about. So there was that process and then after that I start training, getting ready for playing in the Senior Bowl, going to the combine, pro day. So I worked out a couple weeks at home with Charles Petrone. He's a guy I've always worked out with, and he's always done me right. I've never seen a guy make improvements on all the guys that he trains as well as he does. There was never a question as to where I was training. I always knew I would train with him if I ever got lucky enough to pursue the NFL. And before the Senior Bowl I actually went out and worked out with some other players, a lot of guys who signed with the same agency as me, just to get a feel of other guys who were going to the game and get some camaraderie and stuff like that, and that kind of leads me to this point.
You mentioned having the same agent as some other Notre Dame guys. Who specifically in the league right now, either Notre Dame or non-Notre Dame players, has been advising you? Have you developed any relationships and have any mentors in the NFL right now?
HS:
From those guys, I played with David Bruton and Kyle McCarthy. I had a year with Tom Zbikowksi but I didn't get to know him as well as I got to know David and Kyle. And Kyle, I actually played alongside Kyle. So that's a guy who's kind of helped me through the process. And also Sergio Brown's a guy who's up there, stayed in touch with him. He's gotta be happy right now. (Brown's Patriots are in the Super Bowl.) But those guys have all been great. And then on top of that, Chad Pennington's a guy who worked out with Charles Petrone when he was coming up, because he's from my same area. He went to my rival high school. He's just a great guy. If I've ever had a question or needed advice, he's a guy who's done it all and he's a smart guy who just cares about people and doesn't mind spending some of his time helping me out. So he's another guy that I'm fortunate to be in contact with.
With the Senior Bowl prep this past week, how much have you learned about yourself going up against some of the better guys in the country? How much of a measuring stick has this week been for you?
HS:
I think it's been a good measuring stick, but at the same time I think when you turn on tape, that's when you really find out what a guy's about. Tape from tough games, that's when it really counts. That's when everything's on the line, this is just kind of a smaller snippet of that. At practices here everything's on the line, too, because you got all the scouts, all the coaches on the team watching you, and you've got to perform under the spotlight. So I think this is a small snippet of everyone's college career. I think it kind of gives those guys who are checking us out and grading us an increased level of the athletes around and just a higher talent pool to see us perform.
Is there anything specific you hope to accomplish this week? Is there any specific weakness or something that's been pointed out to you that you're trying to improve?
HS:
No, not really. I'm just going out and doing what I know how to do and being the player that I pride myself on being: a guy that works hard, a guy that can do a lot of things for the team, a guy that's athletic and can definitely play special teams for you. So really just being a guy who can do what the coaches ask: understand the defense, make the calls, stuff like that.
What's the next step for you after this weekend? Are you going to go back home and continue to train, or do you have a next stop on your list?
HS:
I'm going back to Knoxville and training with Petrone and just getting after it until the combine.
I'm sure it will be a little crazier when you get to the combine, but how has this whole experience measured up to what you expected going in?
HS:
It's been pretty much what I expect. It's obviously going to be hectic and there's going to be a lot of eyes on you the whole process, and in the in-between time there's a lot of work to be done. You always got to get up and you just got to get after it every day, get ready for the next test. That's just what it's about. That's what being a football player's about. It's not any different than my past four or five years, it's kind of more intense and kind of just crammed into a couple months I guess.
January, 21, 2012
1/21/12
4:53
PM ET
SOUTH BEND, Ind. -- Bob Elliott is Notre Dame's new safeties coach, the school announced Saturday.

Elliott, a 33-year coaching veteran, comes from Iowa State, where he served as the Cyclones' secondary coach the past two seasons.

"My family and I are excited to be part of this great university," Elliott said in a statement. "I grew up in the Midwest and have spent much of my life in this region and always wondered what it would be like to coach at Notre Dame. This was an opportunity that I couldn't pass up and am happy to be associated with this great place."

Elliott also has a combined 11 seasons of experience as a defensive coordinator, at San Diego State, Kansas State, Iowa and Ball State.

The position was open because former Irish safeties coach Chuck Martin moved to offensive coordinator this offseason, where he replaces Charley Molnar, who took over as head coach at Massachusetts.

Elliott is familiar with members of the current Irish staff, as he coached current co-defensive coordinator and cornerbacks coach Kerry Cooks at Iowa in 1997, when Elliott was the Hawkeyes' defensive coordinator and outside linebackers coach. Current Irish assistant head coach and defensive coordinator Bob Diaco was a graduate assistant under Elliott from 1996-97.

"I couldn't be more excited about bringing Bob Elliott to Notre Dame," Irish head coach Brian Kelly said in a statement. "At his core, Bob is an outstanding teacher and tactician. He has had great success developing top-tier defensive backs and his experience as a defensive coordinator will complement our coaching staff. Bobby has a long-standing relationship with Bob Diaco and Kerry Cooks so the transition to our staff should be extremely smooth. I know our safeties will love playing for him."

The Irish staff has shuffled this offseason, with Tim Hinton (running backs) and Ed Warinner (offensive line/running game coordinator) leaving for jobs under Urban Meyer at Ohio State.

Former offensive intern Scott Booker was promoted to a full-time staff member at a position yet to be determined.
January, 11, 2012
1/11/12
11:00
AM ET

Alabama beat LSU for the national title, and both will likely enter 2012 as preseason top-five teams.

Not far behind them will be Arkansas, which has a legitimate argument as the nation's third-best team this season following an 11-2 campaign that featured losses to only the Crimson Tide and the Tigers.

Throw in the fact the Razorbacks get both finalists at home next season, and we may once again be looking at three top-five SEC West teams, meaning, at the very least, one will be in the BCS title game and give the conference a chance at a seventh straight national title.

When will this reign of dominance end? Probably not soon, as seven of ESPNU's current top 15 recruiting classes for 2012 belong to SEC schools. Notre Dame is there as well, at No. 13, but it would be unreasonable to expect the Irish to jump into national title contention, at least next season, with an unfavorable schedule and a big question mark at quarterback.

The best guess here is change atop the college football ranks won't come until change comes to the BCS as we know it, and even that does nothing more than provide a sliver of opportunity for everyone else.

Oklahoma State is in the title game this season if not for a double-overtime loss at Iowa State that came one day after the Cowboys' women's basketball coach and three others were killed in a plane crash. Whether the Cowboys would have beaten LSU is another matter entirely. And they're only in the conversation now because of a Fiesta Bowl that Stanford could not close out when given the chance in the waning seconds.

Things could have been different. In 2008, former Big 12 commissioner Dan Beebe helped reject a proposed "plus one" that was being supported by the ACC and SEC. Yup, Mike Slive gave everyone a chance, and he got turned down. As they say, who's laughing now?

But change may be coming. Every conference better hope it is.

Six straight national titles by the SEC -- culminating with two of its schools in the title game Monday night -- gives the conference the benefit of the doubt. That means a one-loss Alabama team that already lost to LSU gets a rematch instead of a one-loss Oklahoma State team waiting for its shot, regardless of each's body of work this season. It's a no-win situation for champions of other conferences. It's the SEC champion and the next-best thing, which, this year, meant another SEC team. History favors it, and the Tide's performance Monday left little room for argument.

Which leads us to whatever changes come in 2014, when the next BCS contract will begin. Answers remain unclear, but if any semblance of a playo ... (er, "plus one") comes to fruition, schools from all over will have the chance to make their cases on the field.

That's all it is -- a chance. But in the same way an Iowa State can knock off an Oklahoma State, that chance may be all anyone tired of the SEC can hope for in trying to slow the dominance of college football's best conference.
Irish Flips Top TE Jones, Back In Top 10