Notre Dame Football:

Irish-Spartans-091512
September, 16, 2012
9/16/12
3:22
AM ET
EAST LANSING, Mich. -- Let me tell you what more than a few giddy Notre Dame followers are doing after the Fighting Irish upset Michigan State, 20-3, Saturday night.
They're looking at ND's schedule and they're channeling their inner Ara or Lou. They're letting their imaginations wander. They're dreaming of Jan. 7, 2013, in Miami.
Jan. 7 ... and the BCS Championship.
"Don't do it," warned senior wide receiver John Goodman, whose first-quarter touchdown catch gave Notre Dame all the lead it would need. "From past experiences, if we ever looked ahead or something, things didn't work out."
They worked out against Michigan State. And who knows, maybe it stays that way.
After the victory against 10th-ranked Michigan State, a small, but vocal group of ND fans in the corner of Spartan Stadium began chanting, "Un-de-feated." Then the Notre Dame cheerleaders picked up their megaphones and started their own chant: "B-C-S ... B-C-S."
What once seemed impossible -- Notre Dame making a run at a national title -- now seems a tiny bit plausible. I'm not saying it will happen, but I do know this: the Irish are 3-0 and the Spartans aren't.
For Gene Wojciechowski's full column, click
here
.
September, 16, 2012
9/16/12
2:30
AM ET
EAST LANSING, Mich. -- So this was how
Manti Te'o
would respond to a week out of left field, tragedy striking him not once but twice, two of the most important women in his life gone in a matter of hours.
The postgame television interview was done and here he came, the linebacker the last one to meet his fellow students in the northeast corner of Spartan Stadium, their adoration slowly carrying him through the final words of the Notre Dame alma mater after
a 20-3 victory
over Michigan State.
"We love you Manti!" the gathering repeatedly shouted, with Te'o responding by blowing them kisses.
He had fought his way to a game-high 12 tackles, five of them on
Le'Veon Bell
, the Heisman candidate he helped limit to 77 yards on a night the Spartans struggled to move the ball against the Irish's defense.
And still, here he was, extending his hand toward the crowd, leaping and greeting Irish basketball players
Eric Atkins
and
Joey Brooks
, two of the hundreds who made the 150-mile trip to watch Notre Dame go 3-0.
This was validation of Te'o's return for his senior year, his decision to pass up millions repaying him now, letters and support coming from all over after he said goodbye to his grandmother and his girlfriend earlier in the week.
"My family and my girlfriend's family have received so much love and support from the Notre Dame family," Te'o
said. "Michigan State fans showed some love. And it goes to show that people understand that football is just a game, and it's a game that we play, and we have fun doing it.
[+] Enlarge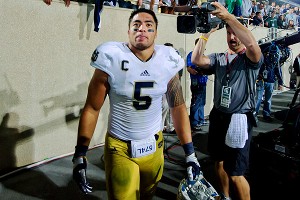 Matt Cashore/US PresswireManti Te'o, playing days after the deaths of his grandmother and his girlfriend, had 12 tackles and a fumble recovery against Michigan State.
"But at the end of the day what matters is the people who are around you, and family. I appreciate all the love and support that everybody's given my family and my girlfriend's family."
He had made it to practice every day last week, stopping right before one to remind his teammates that he loved them, that he wasn't going anywhere, that he'd be playing for them and for his family.
"He's just one of our great leaders and one of our best all-time players," receiver
John Goodman
said, "and if you don't rally around a player like that, the camaraderie isn't right, and I think the camaraderie is right on our team."
He had gotten a big lift, too, from the little man who always seems to be in the right place at the right time. Five-foot-nine
Robby Toma
led Notre Dame with five catches covering 58 yards, but his biggest impact came earlier in the week.
So close with Te'o back in Hawaii that he calls Teo's father "Uncle Brian," Toma has been there for Te'o throughout their college careers -- from the earlier deaths of Te'o's grandfather and two of their good friends from home, to the past week, when they chatted in their apartment together and in the hotel room before Saturday night's game.
"Earlier in the week he told me he needed me," Toma said. "I've known him since we were 5 years old. And I was just there for him when he needed to talk or whatnot.
"He's a real strong guy -- spiritually, mentally, physically -- and I was just there to be his backbone."
When Te'o stopped Bell a yard behind the line of scrimmage early in the third quarter, he got up, kissed his fingers and gently pointed to the sky, a thank-you to the grandmother and the girlfriend who helped bring him to the brink of stardom.
"There's nobody," Brian Kelly said when asked if he'd ever had someone like Te'o over his 22 years of coaching. "He's so strong for everybody that when he was at a time, everybody wanted to help him out, and I've never seen that dynamic amongst a team and a group of players. It's a pretty close locker room."
With Notre Dame up by 14 late, Bell was shoved out of bounds on his 19th and final carry of the game, the ball popping loose and landing in Te'o's arms for his second career fumble recovery.
The remaining fans let out their biggest roar of the night, and the worst week of Manti Te'o's life was on its way to a good ending, though the pain was still alive.
"Yeah," he said when asked if Saturday could have ended any better. "I could call my girlfriend right now and talk about the game.
"But I've just got to get on my knees, say a prayer and I can talk to her that way."
September, 15, 2012
9/15/12
11:47
PM ET
Notre Dame had lost nine consecutive games to teams ranked in the AP top 10, but behind an inspired and emotional performance from senior linebacker
Manti Te'o
, the 20th-ranked Fighting Irish erased that streak and made a strong case to be in the top 10 themselves with a
20-3 victory
over No. 10 Michigan State in East Lansing.


It wasn't the cleanest game Notre Dame could've played, but with its 3-0 start (the first time that has happened in more than a decade) the Irish are setting themselves up for one of their better seasons in recent memory.
It was over when
: The Spartans turned it over on fourth-and-5 with just over four minutes remaining. The Irish would settle for a field goal on the ensuing possession, but the lead at that point was 17-3, so it didn't matter that they didn't make it all the way to the end zone.
Game ball goes to
: Notre Dame's front seven.
The Fighting Irish provided constant pressure on Michigan State junior quarterback
Andrew Maxwell
all game. They sent blitz after blitz and kept the first-year starter uncomfortable. Maxwell finished 23 of 45, with neither touchdown nor interception.
But more impressively, Notre Dame kept junior running back
Le'Veon Bell
in check. Bell, who had averaged 140 yards and two touchdowns per game coming into the Notre Dame matchup, ran for just 77 yards on 19 carries.
And as a unit, the Spartans accounted for just 50 yards on the ground -- nearly 150 yards less than their season average.
Stat of the game
: In the past decade, the Spartans had only been held to three points twice -- both to Nebraska (once in 2011, once in 2003), though not in the past 10 years have they been held to so little at home.
What it means
: Big Ten teams have been given a blueprint for how to handle the Spartans. No, not every conference team has the front seven that Notre Dame does, but for teams wanting to stop a foe that's expected to contend for the Big Ten title, Notre Dame just showed you how.
St. Brown talks USC, Stanford and more
FBS INDEP. SCOREBOARD
Thursday, 8/28
Friday, 8/29
Saturday, 8/30