Notre Dame Football:

Jadeveon Clowney
October, 29, 2013
Oct 29
9:00
AM ET
SOUTH BEND, Ind. --
Troy Niklas
had just returned from a week-long senior retreat at Servite (Calif.) High. Family and friends awaited back at the chapel to greet the teenagers. Niklas was among those who spoke upon the group's arrival, and he had his mother, father, sister and sister's boyfriend in the audience.
As he finished his speech, he looked at each in a moment of gratitude.
"Hey Mom," he said, "love ya."
"Hey Dad," he continued, "love ya."
"Hey Tara," he said to his sister, "love ya."
"Hey Shawn," he waved to Tara's boyfriend (and now-husband).
A interminable moment of silence set in, laughter filled up the room and Niklas had, again, captured a crowd with his unmistakable wit.
[+] Enlarge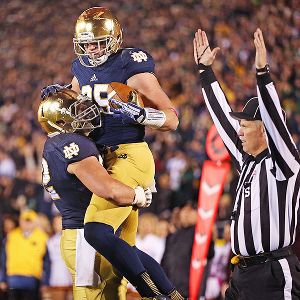 Jonathan Daniel/Getty Images)Troy Niklas enjoyed scoring a touchdown to help the Irish beat USC, his mother's alma mater.
Three years later, not much has changed for the now-6-foot-6½, 270-pound Notre Dame junior. Niklas has been among the Irish's biggest surprises this season, the latest in line at a place that has churned out pro tight ends like few others in recent years. His 20 catches for 328 yards are both third-best on the Irish, and his five touchdown grabs are one fewer than team-leader
TJ Jones
.
He has opened things up for Notre Dame on the field while keeping the vibe loose off it, be it with his attire or his one-liners, remarks that often relax the sometimes-awkward scene of dozens of reporters huddled around a player nearly twice their size, in search of any bit of information.
"He kind of gets it from his father," quipped Troy's father, Don. "I think a compassionate person is part of it, and that's a huge part of his personality, in terms of he wants people to feel comfortable. I think that is one of the driving forces behind being able to be fun-loving and communicative to a point where he wants other people to feel comfortable."
Niklas has made himself at home all over the field. His high school career featured time as an offensive guard, and he was recruited by Notre Dame as a defensive end. He started one game as a freshman for the Irish at outside linebacker and switched to the other side of the ball before last season, when he bided his time behind eventual first-round pick
Tyler Eifert
.
"All the other times Troy's just a nice guy, he's a very funny guy, he's always very popular at school and on our team," said Troy Thomas, Niklas' coach at Servite. "But once he got on the field he's just a different guy, he turned it on. He was that way at practice, and he's that way in the games. You just buckle up the chin-strap. He's still going to have fun out on that field, but he's definitely got a different mode to him."
Nicknamed "Hercules" for his physique, Niklas' motor became the source of viral attention this summer when
video of him tossing a blocking sled circulated across the internet
-- this in the days after the social-media world had become in awe of South Carolina end
Jadeveon Clowney
flipping one with the help of a teammate.
Niklas' feats of strength extend outside campus, with the Fullerton, Calif., native recently spear-heading a team effort for a service project at the South Bend Center for the Homeless, single-handedly raising nearly $3,500. As a senior at Servite, an all-boys Catholic school, he became a prior in the school's Priory program. In charge of roughly 80 kids, Niklas initiated a distribution idea, helping make about 800 goodie bags of toothpaste, toothbrushes, candy bars, first-aid items and pamphlets with religious cartoons to be handed out to homeless people students would pass by on the road.
That same year, Niklas lifted Servite to a 14-1 record and a second straight division title, a run that featured a memorable midseason touchdown off an interception from Mater Dei and future USC quarterback
Max Wittek
.
A score so memorable that, when prompted about the pick three days before this year's USC game, Niklas livened up an otherwise tight rivalry-week interview session with a much-needed infusion of dramatic color.
"I did," he said of the pick. "And ran it for a touchdown."
"In front of 30,000 fans, too," he added in an overstatement, just warming up.
"And it was on TV," he continued.
"And it was a big rival game."
"Oh, oh, oh, and by the way, we did win that game. But what do I know?"
This dalliance with the media lacked the farcical mustache he had grown out for a brief period of time a year earlier. And though fully clothed -- unlike the pre-Michigan pep rally last year, in which he ripped off his shirt and declared his love for pain -- Niklas' top did not say, "Beef: It's what's for breakfast," the phrase plastered on a shirt he wore to an interview one month earlier.
After the USC game, in which he had four catches for 58 yards and a score, Niklas emerged from the locker room in a flannel button-up, standing out among peers mostly decked in team-issued polos. He joked about having bragging rights over his mom, uncle and many other USC alums in his family.
In closing another exchange with a reporter who had a Spanish accent, Niklas caught everyone off-guard by saying, "Yo soy fiesta," a phrase popularized by New England Patriots tight end Rob Gronkowski, seemingly the life of every party.
"It comes very natural for him," Don Niklas said. "He doesn't try to be funny, it's just the way our minds work."
August, 16, 2013
Aug 16
1:08
PM ET
ESPN.com's preseason
All-America team
has been released, with Notre Dame placing one player on the squad.
Stephon Tuitt
makes the team as one of its defensive ends, along with South Carolina's
Jadeveon Clowney
.
Tuitt notched 12 sacks last season, just shy of
Justin Tuck
's school single-season record of 13.5, and had a 77-yard fumble return for a touchdown in the season opener against Navy in Dublin.
The 6-foot-6½, 322-pounder enters his junior season already high on many 2014 NFL draft boards, and another campaign like last year's will only help his stock rise if he chooses to leave school early.
The Pac-12 leads all conferences with eight players on the All-America team, with the SEC right behind with six. Oregon and Alabama each have three players on the team, tied for the most of any school.
July, 3, 2013
Jul 3
9:00
AM ET
Surprise, surprise:
Stephon Tuitt
and
Louis Nix
are on a preseason All-America team. And it probably won't be the last time for the Notre Dame defensive line duo.
Athlon's Steven Lassan
has both Tuitt and Nix on the first-team defense
. They are joined by South Carolina all-everything end
Jadeveon Clowney
and Arizona State tackle
Will Sutton
, who will face the Irish on Oct. 5 in Arlington, Texas.
Fifth-year left tackle and likely two-time Irish captain
Zack Martin
also makes Athlon's list, checking in on the third-team offensive line. Martin is the only Notre Dame offensive player to make any of Athlon's four All-America teams.
The first-team distinction for Tuitt and Nix should come as no surprise, as both helped spur the Irish to No. 2 in the nation last season in scoring defense. Both are already being projected as high-to-mid first-round picks in the 2014 NFL draft.
The SEC had the most selections, with 25 players. The Pac-12 had 23 players across the four teams.
Other notable first-teamers that will face Notre Dame this year include USC receiver
Marqise Lee
, Michigan tackle
Taylor Lewan
, Stanford guard
David Yankey
, BYU linebacker
Kyle Van Noy
and Stanford safety
Ed Reynolds
.
March, 25, 2013
Mar 25
5:00
PM ET
SOUTH BEND, Ind. -- The video has been making the rounds for much of the offseason, garnering more than 12,000 views since it was first uploaded in January.
If hype and preseason projections hold to form, it may feature a future Heisman Trophy winner. If
Everett Golson
develops into the kind of quarterback he hopes to become, it may eventually feature two Heisman winners.
<!-photo1-->The first play of the South Carolina High School League AAA title game,
as CSNChicago's JJ Stankevitz notes
, offered a familiar sight:
Jadeveon Clowney
obliterating everything in its path en route to the quarterback.
The quarterback remembered getting tossed on the sack -- "like it was yesterday," Golson joked -- but he also remembered the night for something else. His Myrtle Beach team beat Clowney's South Pointe squad, 27-23.
Clowney, a rising junior at South Carolina, is among the early spring favorites to lift college football's most coveted individual hardware in 2013, especially after he capped his 2012 campaign with a hit like
this one
on Michigan's
Vincent Smith
.
Golson is quietly rooting for the fellow South Carolina native to become the first pure defensive player to win the Heisman. Golson's former teammate, linebacker
Manti Te'o
, came as close as any pure defender ever in 2012. But there is a caveat.
"I hope he does, but at the same time, I think I'm pushing for the same thing," Golson said. "I know it's maybe a goal some may say is a little bit far-fetched, but I want to be the best competitor I can be. So I want to see him do great, but I also want to be there at the same time."
Starting at the glamor position of quarterback -- at Notre Dame, no less -- one year after taking his team to the final game of the college football season gives Golson a built-in advantage. A year of ups and downs at the highest level, plus the ever-so-slight comfort of knowing the No. 1 job is his to lose, also gives Golson more confidence heading into his redshirt sophomore season. He is better prepared for this year after admitting to being a bit overwhelmed by the media attention.
"I think I came in and it was probably like six [reporters]," he said of last year's spring game, which served as his first breakout public performance. "I was like, 'All right, it's cool.' And next thing I know, I look up and it's like 20, 30 people. I'm like, 'Whoa.' So I'm trying to watch my words more carefully and stuff like that."
He is hoping his plan heading into the 2013 season goes a little bit better than his team's did entering that 2010 title game in South Carolina, end result notwithstanding.
"Oh man," he said laughing. "Let's just say what we planned to happen didn't happen at all. It was the complete opposite. I guess we had a great plan, scheme-wise. We thought it was a good plan. We were basically cracking back on Jadaveon so we would block him with our tackle and our tight end was actually detached and he would crack back as soon as the ball was snapped.
"But I remember we snapped the ball and he just gets off the line and I don't think my tight end gets to him. So I'm like, 'Awww man.' I know he's coming, so like I'm trying to get out but he's a great athlete and it wasn't really combat from me, I guess. I couldn't do anything. I was at a loss so I just kind of took that one."
January, 15, 2013
Jan 15
11:00
AM ET
Notre Dame came as close as it possibly could have to boasting its first Heisman Trophy winner in 25 years, as
Manti Te'o
's historic campaign came up just short. Here are the Irish players with the best chance to follow the linebacker's run, however unlikely holding up that stiff-arm trophy may be.
[+] Enlarge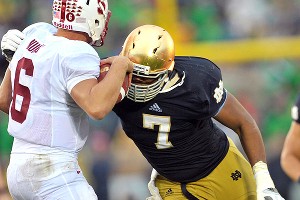 Matt Cashore/USA TODAY SportsStephon Tuitt had 12 sacks for Notre Dame during his sophomore season.
Stephon Tuitt, DE
. As stated earlier, Tuitt is poised for a monster year. The 6-foot-6, 303-pound Georgia native has been consistently deemed by teammates as a "freak," an appropriate adjective for a player relatively new to football despite a 12-sack season for one of the best defenses in Notre Dame history. Expect him to take the next step and put up even bigger numbers in 2013, though South Carolina's
Jadeveon Clowney
will likely dominate the national Heisman conversation from day one and give defensive players an even better chance at taking home the hardware a year after Te'o came as close as any of them in history (among one-way defensive players).
Everett Golson, QB
. Despite first-year growing pains as a redshirt freshman, Golson made plenty of progress and became seasoned in a way few others have at his age. If he is to take the next step, fend off his quarterback challengers and become a consistent dual-threat QB who leads Notre Dame to another promising campaign, he will be in the spotlight more than anyone else on the Irish roster.
Some already see him as a dark horse candidate
.
Louis Nix, NG
. Nix may be the best player returning to the Irish. And after passing up early entry to the draft, one more year of similar production to his 2012 output will make pro scouts fall in love with him even more. The only problem is his position, which is not conducive to the kind of big numbers that voters and everyone else have become accustomed to using in measuring one's impact. Still, look no further than the Nov. 3 Pitt game -- when
Ray Graham
rushed for 172 yards, the most against the Irish all season -- to see Nix's impact, as the redshirt sophomore was clearly not himself after being hampered by a virus that had kept him in the infirmary for two nights earlier in the week.
December, 19, 2012
12/19/12
12:00
PM ET
McElroy. Just in time ...
Report: Notre Dame To Play In Pinstripe Bowl