Notre Dame Football:

Jalen Brown
December, 28, 2013
12/28/13
4:04
PM ET
Notre Dame finally pulled away from Rutgers to escape Yankee Stadium with a 29-16 win Saturday in the New Era Pinstripe Bowl. Here's how it went down:


It was over when: Tarean Folston punched it in from three yards out with 3:38 remaining to make it 26-16 and give Notre Dame some much-needed breathing room. Redshirt senior Dan Fox picked off Rutgers quarterback Chas Dodd on the ensuing drive to effectively seal the game. Kyle Brindza added a 49-yard field goal to make it 29-16.
Game ball goes to: Folston was named the starter by coach Brian Kelly earlier this week. Before the game, Kelly issued a statement saying that George Atkinson III (and cornerback Jalen Brown) would not play due to a violation of team rules, which Atkinson tweeted (and then deleted) was him texting during a team meal. In any event, Folston took advantage of Atkinson's absence and might have gained the front-runner status for the starting running back job heading into next season. He capped his rookie year with 73 yards and a touchdown on 17 carries, adding three catches for 21 yards. Kudos to Cam McDaniel for being his reliable self, as he had 17 carries for 80 yards and added three catches for 29 yards. The duo did this behind an offensive line missing its three regular interior starters.
Stat of the game: Pick your poison: Notre Dame completely outdid Rutgers in first downs (31-16), total yards (494-236), takeaways (4-1) and time of possession (38:16-21:44). It is hard to imagine how the Scarlet Knights managed to stay in this game for so long (19-16 with four minutes left).
Unsung hero: Brindza connected on 5 of 6 field goal attempts on what was an uneven surface, helping Notre Dame put up points whenever its offense could not punch it in. That was two field goals clear of the Irish's bowl game record. Credit to TJ Jones for catching five balls for 66 yards and carrying it four times for 16 yards and a touchdown in his college finale as well. (Oh, and let's not overlook Louis Nix, who is injured and has signed with an agent, meaning he could not travel with the team. That did not stop him from providing terrific Twitter commentary throughout the afternoon.)
What it means for Notre Dame: Let's just say the Irish had a lot more to lose in this one than they had to gain. But they can exit 2013 with a 9-4 record, their second-best mark since 2006. From an optimist's perspective, this is probably what was expected outside of the program when starting quarterback Everett Golson got suspended from school in May and once the injuries kept mounting as the season progressed. Stephon Tuitt's NFL decision will play a huge role in determining preseason expectations for this team, but getting Golson and many offensive weapons back will be huge for a program that has yet to really turn the corner offensively in four years under Kelly.
What it means for Rutgers: Goodbye American Athletic Conference, hello Big Ten. The Scarlet Knights had some opportunities to make this game a lot more interesting, but a number of questionable calls prevented them from gaining some much-needed momentum in this game, which in turn prevented them from gaining some positive momentum going into their new conference. First, coach Kyle Flood elected to decline an offside penalty on an 18-yard field goal by Kyle Federico, passing on an opportunity to go for a short touchdown in a game with little to lose and few touchdown opportunities to be gained. Later, the Scarlet Knights ran a halfback pass from the Irish 20 with Justin Goodwin, who tossed an interception to KeiVarae Russell. Michigan State made a similar mistake against the Irish earlier this year, and that one also was picked, a game-turning play in what turned out to be the Spartans' lone loss this season.
To watch the trophy presentation of the New Era Pinstripe Bowl, click here.
March, 19, 2013
3/19/13
9:00
AM ET
Our series wraps up with the defensive backs.
Starters returning
:
Bennett Jackson
,
KeiVarae Russell
,
Matthias Farley
Players returning
:
Austin Collinsworth
,
Lo Wood
,
Nicky Baratti
, Elijah Shumate,
Jalen Brown
,
Josh Atkinson
,
Eilar Hardy
,
C.J. Prosise
,
Chris Badger
,
John Turner
Players departing
:
Zeke Motta
,
Jamoris Slaughter
,
Dan McCarthy
,
Chris Salvi
Newcomers
: Max Redfield, Devin Butler, Cole Luke, Rashad Kinlaw
The breakdown
: The secondary was the biggest concern going into 2012, and it ended up becoming the biggest surprise. Though the group had a night to forget on Jan. 7 in Miami against Alabama, three starters are back from a stingy unit that suddenly finds itself with another numbers problem -- this time a good one.
Russell, a converted freshman running back, did better than anyone could have ever imagined after rising to the No. 1 spot when Wood went down with a preseason Achilles tear. Jackson lived up to the high preseason words of the coaching staff, finishing third on the team in tackles (65) and adding four picks. Farley, another converted player who made his first appearance in the secondary on a college field (after a redshirt season), adapted well as a tackler. He put in all the necessary post-practice work with safeties coach Bob Elliott to emerge as a strong starter after Slaughter -- who is done after being denied a sixth year by the NCAA -- went down with an Achilles tear of his own. Like Russell, Farley has three years left at Notre Dame.
Wood, a projected starter last season before getting hurt, enters the mix this season as well, though how much he'll be able to do this spring remains to be seen. Collinsworth saw extensive action at safety as a sophomore but underwent both shoulder and back surgeries that forced him to sit out all of last season. He is expected to be back this spring. He will surely give Notre Dame another proven body in the defensive backfield.
Baratti saw plenty of time on defense in his first college season, and you can expect to see him on the field often in one capacity or another. He played often on special teams last season too. Shumate was essentially the Irish's nickelback after converting from safety, so it will be interesting to see where he ends up given the numbers situation back there in 2013.
Among newcomers, Redfield has received the most attention, as he was the No. 23 overall player from the Class of 2013, according to ESPN. He will not enroll until the summer.
October, 24, 2012
10/24/12
5:00
PM ET
Notre Dame's Class of 2013
is No. 6 nationally

.
September, 21, 2012
9/21/12
2:30
PM ET
What's happening, folks?
Kent from Reston, Va., writes
: Hey Matt - thank you for your candid reporting on the Irish. Q: Who are the next guys on the depth chart behind Farley, Russell, Motta and Bennett — are the Irish looking to convert more offensive players to the secondary to add depth? Thanks - Kent
Matt Fortuna
: Thanks Kent. The second-team corners on this week's depth chart are
Josh Atkinson
and
Jalen Brown
, with
Nicky Baratti
and
Chris Salvi
listed as the No. 2 safeties. Brian Kelly said this week that Baratti, Salvi and
C.J. Prosise
will be getting into the rotation from here on out, as the Irish simply need to build depth back there with so many blows having already been suffered.
Cam McDaniel
was cross-training but has seen snaps out of the backfield this season.
Davonte Neal
was recruited as an athlete but I can't see him getting any more responsibilities on his plate right now, especially in the middle of his first season. And
DaVaris Daniels
actually played some safety in high school, but the chances of him ever switching positions are, well, zero.
---
James Darnell from South Bend, Ind., writes
: I first off want to thank you for your coverage of ND, you do a great job. I know Michigan will be a tough team to beat but with the blueprint Alabama put out there and the defense we have I think we can keep Denard wrapped up and make him beat us with his arm. One huge difference I have seen with our secondary is that the corners might be young but they find the ball unlike last year and their speed is an upgrade. What are your thoughts on these? Thanks
MF
: Appreciate that, James. Notre Dame's defense did a very good job for nearly three quarters last season, but it all came apart in the fourth. While I think last year's secondary was superior (and much more experienced), I have a hard time seeing Michigan coming down with all of those 50-50 balls the way they did last season. The Irish's young corners have impressed so far, and they need to, in Kelly's words, limit the big chunk plays. The front-seven will have its hands full but I think ultimately can contain Robinson just enough Saturday night.
---
James Coleman from South Bend, Ind., writes: Do you think Notre Dame has a chance to be unbeaten heading into the Oklahoma game?
MF
: A chance? Absolutely. The toughest test until then has already been passed, last weekend at Michigan State. But it means nothing if it all comes apart Saturday against the Wolverines. The Irish are too young in certain spots — and the more experienced players have been humbled too much already in their careers — to look ahead to that late-October trip. Beating Michigan is still a big hump for this team to cross, and that Stanford contest in a few weeks doesn't look like it will be any easier.
---
Greg from Wonder Lake, Ill., writes
: Anything more to the Hounshell DNP coaches decision than just his depth chart status? He did not make the trip similar to other injured players (Carlisle and Nichols). Suspecting shoulder injury as others have speculated. Trying to preserve medical redshirt status?
MF
: Greg, Kelly finally acknowledged this week that Hounshell has been battling a shoulder issue, but he said that he was going to give it a go this week at practice. Just how bad that shoulder is remains unclear, though if there is any doubt and the Irish have enough bodies on the defensive line — a valid question given the bumps and bruises of the first three weeks — then preserving a year is probably the smart move for a player who has a redshirt option available.
August, 23, 2012
8/23/12
9:00
AM ET
SOUTH BEND, Ind. -- Tapping into the archives to learn more about the shoes he needed to fill,
Bennett Jackson
instead learned more about his own progress.
While watching film this week of former Notre Dame cornerbacks Robert Blanton and Gary Gray, Jackson stumbled across a few clips of himself featuring sloppy play and weak technique. He didn't like what he saw, and he didn't recognize it, either.
[+] Enlarge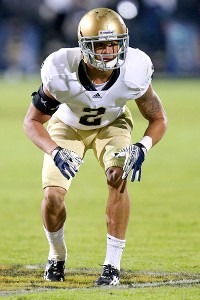 Cal Sport Media via AP ImagesBennett Jackson has become the elder statesman of Notre Dame cornerbacks.
"I didn't really know what I was doing, I was just kind of just running around," Jackson said of his younger self. "But then I look to myself now and just see the change. So that's a confidence booster for sure."
It all re-affirmed for the junior just how far he has come since switching from wide receiver to corner two years ago. And with
Lo Wood
's season-ending Achilles injury Monday, Jackson knows the margin for error is slim, as his nearly two years of experience and limited reserve action at the position has forced him into the role of elder statesman for a unit re-tooling on the fly.
"Me and Lo, we tried to lead by example on the field," Jackson said. "But with Lo out, obviously me being the older cornerback, I kind of have to take charge. I took charge before, but now it's more on my shoulders I feel. All the younger guys are working, we're all a great unit. We have great chemistry and I want the best for the guy who's going to be next to me, for sure, all the guys."
Jalen Brown
,
Josh Atkinson
or
KeiVarae Russell
will likely be that guy next to Jackson come Sept. 1, with Russell providing the most interesting rise through camp so far.
Recruited as a running back out of Mariner (Wash.) High School, Russell arrived on campus this June and made the switch to corner, where the Irish were already down one big prospect following the spring departure of early-enrollee Tee Shepard.
No stranger to switching sides of the ball himself, Jackson has been impressed by Russell's quick adjustment from taking the hits to delivering them.
"Everybody's surprised," Jackson said of Russell. "Everyone's happy with how he's coming along. He's adapting to it really fast for sure, but he's got a great group of guys around him. Everybody's helping him. He's a really smart kid. I'm surprised he caught on to it that fast. He's doing a great job."
With one fateful misstep Monday -- teammates saw Wood stumble and walk off the field, figuring he had rolled an ankle -- the learning curve has been accelerated for Russell and the rest of the healthy cornerbacks, none of whom have seen more than marginal playing time in the secondary.
"You're young, you're inexperienced, but you're excited," safety
Matthias Farley
said of his defensive backfield-mates. "Because you want to get in the game, you want to prove you can make an impact at whatever position you're in, contribute to the team. And I would say across the board everyone is in high spirits and fully confident that they can do the tasks that are assigned out for that position, whatever it may be."
August, 20, 2012
8/20/12
10:57
PM ET
As Thursday's media day wound down, Kerry Cooks was asked by yours truly about the progress of Notre Dame's cornerbacks.

Here are the words that came out of the Irish cornerbacks coach's mouth over the ensuing 37 seconds:
"I think that
Lo Wood
wright now is probably playing outside of himself. He's playing, really, better than what I would have anticipated him playing at this point. He's our most experienced cornerback as far as actually going into the games and playing, and now it's really starting to show up. He's just playing with a different edge. It's one of those things that's really hard to explain. But he's confident, he's making plays, he's smart, he's being savvy, he's doing all those things that a guy who's played a lot of football for you will do. And he really hasn't played a lot. He's played the most, but he hasn't played a lot."
Now Wood won't be playing at all in 2012,
a victim Monday of an Achilles injury
that will rob him of his junior season. He has a redshirt year remaining and will presumably be back for 2013 and, depending on circumstances, 2014. As Cooks noted, Wood was the Irish's most experienced corner and their biggest surprise of camp, a notion head coach Brian Kelly acknowledged earlier this month.
What now?
Bennett Jackson
had the boundary spot locked up, but playing alongside him will likely be
Jalen Brown
, converted running-back recruit
KeiVarae Russell
or
Josh Atkinson
. Running back
Cam McDaniel
was moved to corner in the spring to add depth but had been cross-training at both positions as recently as late last week. Freshman safety recruit
Elijah Shumate
was moved to cornerback during camp. Versatile fifth-year safety
Jamoris Slaughter
saw some action at corner in the spring, but the Irish are already
down a man at safety
with the loss of
Austin Collinsworth
(shoulder surgery). And, of course, the Tee Shepard experiment lasted less than two months, something the four-star cornerback
reminded us all about once again earlier Monday in another tweeting barrage
.
For those keeping count, that's two (Brown, Atkinson) remaining healthy Notre Dame cornerbacks who were actually recruited at the position.
Aaron Lynch
transferred this spring, but Notre Dame's defensive line has enough talent to still be strong.
Tommy Rees
got arrested a short while later, but three other highly touted quarterbacks had been waiting in the wings to start the season. As for Wood's injury? Well, the Irish never exactly
knew
what they would be getting from a first-time starting corner, and they will still have to wait until Sept. 1 to get an answer.
It's just much less certain.
March, 30, 2012
3/30/12
1:00
PM ET
SOUTH BEND, Ind. -- A year ago
Bennett Jackson
was transitioning from offense to defense to help what Notre Dame's coaches then thought what was a thin cornerback group. The staff likely had no idea just how much the switch would pay dividends this spring, when the Irish were down to four scholarship corners following the sudden departure of early-enrollee Tee Shepard.
Running back
Cam McDaniel
was brought over prior to this spring, upping the number of cornerbacks to five.
"We're certainly short, there's no question," head coach Brian Kelly said at the start of the spring season. "There's no hiding the fact that we have a numbers issue there. But we'll be smart in how we manage our reps. We'll be smart in how we put those guys in positions. But clearly you know our philosophy and style of defense; we think that we can be a championship team with the five guys that we have there."
[+] Enlarge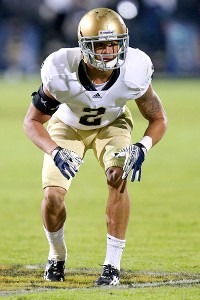 Cal Sport Media via AP ImagesLast season Bennett Jackson moved from special teams and receiver to defensive back.
Multi-year starters
Robert Blanton
and
Gary Gray
are gone, and suddenly the leader of the pack is Jackson, who played mostly on special teams during his freshman year of 2010, when he was also a wide receiver.
No conversations during his recruitment centered on a possible re-location to the secondary, Jackson said, as the move last spring came as a bit of a surprise.
"I'd say at first I was a little moved by it," Jackson said. "I was a little, I wouldn't say aggravated but a little disappointed. But as I went down the road I actually enjoyed cornerback a lot more than receiver, so I thought it was a great move by the coaches."
"I always enjoyed the physical part more," he later added. "I always like hitting. Special teams my freshman year, I was always hitting. I didn't really play receiver too much so I got a feel for the physical part of the game more. And trying a new position, I fit in well. So I was doing good at it, I was having a chance to compete and I just really started to enjoy it."
Of the switch, Jackson said he would likes to hit rather than be hit. Given Notre Dame's current cornerback situation, he may just like the pressure of being one of the best the Irish have.
"Bennett is as talented a cornerback as I've ever coached," cornerbacks coach and co-defensive coordinator Kerry Cooks said. "From the speed, he's long, he's athletic, he can flip his hips. The part that he's missing is just the experience part, which he got a little bit of that toward the back half of last season. So he's still got to grow. The first few days have been awesome -- he's out there, he's talking, he's vocal. He's doing all the right things, so I like where he's at right now."
Jackson and
Lo Wood
are the No. 1 corners this spring, with
Josh Atkinson
and
Jalen Brown
behind them. Wood's 57-yard interception return for a touchdown last season against Maryland is the highlight among the group, which stands little more than five months from a slate featuring Heisman-caliber passers like USC's
Matt Barkley
and Oklahoma's
Landry Jones
.
The corners are welcoming the negative perception as a challenge.
"We're making sure we're just focused on getting better as a unit in the secondary because we all know that, hey, the pressure's on us," Atkinson said. "We all just wanna be great and we're all just committing ourselves to getting better each and every day."
Kelly said there are no current plans for incoming athlete Davonte Neal to play cornerback upon arrival, as he will likely be a receiver or return man.
Cooks, meanwhile, is looking at the current situation as a blessing in disguise. If nothing else, he said, there are more opportunities for each player to take advantage of.
"To me, I don't even look at it like that," Cooks said. "I got the guys that I got. If I had eight I'd be happy, if I had four, if I had three — I'm gonna coach the guys that I got and the guys that wanna be here. And to me, having five scholarship corners allows a lot of guys to get more reps, which means we're building depth at the same time as trying to find out who our two-deep is."
March, 29, 2012
3/29/12
9:00
AM ET
Our breakdown of Notre Dame's 2012 roster continues today with the defensive side of the ball.
DEFENSIVE LINE
The players:
Aaron Lynch
,
Louis Nix
,
Stephon Tuitt
,
Kapron Lewis-Moore
,
Tony Springmann
,
Chase Hounshell
, Sheldon Day,
Tyler Stockton
,
Kona Schwenke
The incoming:
Jarron Jones
,
Romeo Okwara
[+] Enlarge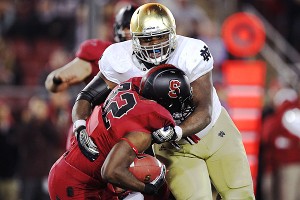 Ezra Shaw/Getty ImagesTackle Louis Nix is a key cog in what should be a strong, experienced defensive line for Notre Dame.
The breakdown:
Injuries forced all three current starters — Lynch, Nix and Tuitt — to play much more than expected last season, and none disappointed. They are all second-year players now, and their pass-rushing ability should have opposing offensive lines and quarterbacks on their heels. Lewis-Moore has been cleared for spring following a season-ending knee injury in 2011 but might not start, though he will likely see plenty of playing time as the line rotates. Hounshell (shoulder surgery) is not cleared yet, but he will likely see significant time this fall after playing as a true freshman last year as well.
LINEBACKERS
The players:
Danny Spond
,
Manti Te'o
,
Dan Fox
,
Prince Shembo
,
Kendall Moore
,
Ishaq Williams
,
Anthony Rabasa
,
Carlo Calabrese
,
Jarrett Grace
, Justin Utopo,
Connor Little
,
Ben Councell
,
Joe Schmidt
The incoming:
None
The breakdown:
As we said with
Tyler Eifert
yesterday, everyone knows what Te'o is capable of, as he likely would have been a first-round NFL draft pick had he left school following his junior year. Fox and Calabrese shared the other inside role last year, and their experience should prove valuable. Shembo has been working at the cat spot this spring, and up-and-coming talents like Williams and Spond figure to see extensive playing time.
SECONDARY
The players:
Bennett Jackson
,
Jamoris Slaughter
,
Zeke Motta
,
Lo Wood
,
Josh Atkinson
,
Austin Collinsworth
,
Dan McCarthy
,
Jalen Brown
,
Cam McDaniel
,
Eilar Hardy
,
Chris Salvi
,
Joe Romano
, Will Salvi,
Connor Cavalaris
,
Matthias Farley
,
Blake Breslau
The incoming:
Elijah Shumate
,
Nicky Baratti
,
C.J. Prosise
,
John Turner
The breakdown:
The loss of
Tee Shepard
really stings this group, which is down to four scholarship corners with a combined zero career starts. Jackson and Wood are in position to take over as the new starters, and playing time last season should help with the transition. At safety, Slaughter and Motta saw plenty of time the last two seasons, and Slaughter in particular has shown a nose for the ball and the capability of providing a leadership force that
Harrison Smith
is leaving behind. Collinsworth will likely also see plenty of snaps after playing last year.
March, 15, 2012
3/15/12
2:10
PM ET
Pretty prescient with the
Bennett Jackson
spotlight
today
, no?

Jackson's -- and every other defensive back's -- responsibilities just grew significantly in light of the news today that four-star cornerback
Tee Shepard, an early enrollee, has left Notre Dame
. (And yes, the Jackson post was a complete coincidence.)
Brian Kelly said during national signing day that the focus for the 2012 recruiting class was on wide receivers and players in the secondary. While the Irish notched a number of safety prospects, the loss of Shepard gives them zero cornerbacks for this class, and they now have just four on scholarship. None of those four -- Jackson,
Lo Wood
,
Josh Atkinson
and
Jalen Brown
-- have started a college game.
Once Shepard decides on a new school, he will need a waiver just to play this fall. And this comes after he sat out his entire senior season of high school at Washington (Calif.) Union after transferring from Central East.
The late commitment of
Davonte Neal
is all the more important now, as cornerback will likely provide the quicker route for the athlete to get on the field, over receiver.
Regardless, following the national signing day de-commitment of
Deontay Greenberry
, Shepard's cousin, this is one blow Notre Dame will have to recover from quickly with spring practices less than a week away.
March, 2, 2012
3/02/12
9:00
AM ET
Nicky Baratti
's father, Clarke, envisioned his son at Notre Dame early. During a junior day last year, then-Irish safeties coach Chuck Martin gave a speech about being the player on the field who wants to win the most. When Martin, now the offensive coordinator, punctuated the speech by saying "If you're that kid, this is the school for you," the juices starting flowing for Baratti, then a junior at Klein Oak High School in Spring, Texas.
Baratti
He committed not long after, while visiting for the annual Blue-Gold game. His father, in China on a business trip, woke up to a Facebook message from his son with the news.
Baratti, rated a three-star athlete, has played six different positions in high school — including punter — and will arrive on campus this June as a safety. His father was a walk-on guard at Southern Mississippi. His older brother, Alfred, is hoping back issues won't get in the way of playing at Texas State. His younger brother, Bart, is honing his skills in the eighth grade. And his mother, Jill, insists her middle son be called "Nicky," though he says he has no preference.
Here, Baratti talks about his versatility and what ultimately sold him on Notre Dame.
Nick or Nicky?
Nick Barrati:
I don't prefer any. You can put whatever you want with that. (laughs)
Coach Brian Kelly mentioned you on national signing day as a potential steal, calling you a "football player." When did you first fall in love with the game and how does that translate into your versatility as a quarterback, running back, tight end or safety?
NB:
I've been playing football since I was in second grade, so I guess I've been around it so much. I guess being versatile makes you love the game even more because you don't get the viewpoint just from one position; you get it from all five, or however many positions you play. So it makes you fall in love with the game even more and be even more competitive with it.
That love of the game is a reference Kelly seems to make often. Can you kind of tell you guys are cut from the same cloth?
NB:
Oh, definitely. I'm sure he was raised the same way I'm raised, and the same kind of mindset I have with him and getting along just fine. And you can tell how when you like somebody, you're not like stressed out when he comes or you're not worried or nervous — I don't know, it's not like meeting the president, you know what I mean? It's laid back, it's cool. He understands what he wants and I understand what I need to do, so very laid back but a very competitive guy.
What position is your first love?
NB:
I loved playing running back, that was probably my first love. That's what I played all through middle school and even pee wee football. I really like playing running back but I don't mind switching to play safety. I don't mind at all.
What stood out to you most about the spring game? How did you know right then that Notre Dame was the place for you?
NB:
I guess you could say the coaching staff. The coaching staff was unbelievable. I got looked at from all different kinds of schools. And Notre Dame, their coaching staff just really showed that they wanted you. And they really showed how much they want you and how they need you; they're almost like a family. I'd get messages from Coach [Kerry] Cooks almost every day, asking me how I'm doing or anything. Probably the coaching staff and then outside of that just the overall atmosphere of Notre Dame. I thought after football I'd have a great degree from Notre Dame, and they have a lot of connections and everything.
Do you know what you plan to major in yet?
NB:
I'll probably major in business and then marketing.
Did they tell you early on that your future was at safety?
NB:
Coach Cooks, when he first started recruiting me, he was mostly recruiting me as a defensive back, he didn't know where yet. But they kept going on and on, and they really wanted me to play safety.
Was that a common theme with most of the other schools you were looking at — were most of them looking at you as a safety or were they more open or more specific with other positions?
NB:
Tennessee offered me to play outside linebacker, and I never even played outside linebacker. I had offers to play cornerback, receiver, running back, tight end. But I didn't choose Notre Dame just because of the position. I chose Notre Dame because of what's after football, and the coaching staff. And how they were with me and my family and how they treated me. That's the main reason I picked them.
What was the relationship like between you and Kerry Cooks (his main recruiter)?
NB:
He's probably my favorite coach. He's really cool. He knows how a kid thinks. He can be a coach and then he can be like a best friend for you. I thought that was the coolest thing. And he really cares about you. I remember he came to see me my junior year, just about when we were in the middle of football season. And then he started emailing me on Facebook and I kept getting more and more; they finally offered me after my junior season. Coach Cooks stayed at it.
Have you talked with [new safeties coach] Bob Elliott at all, and did that move kind of catch you off-guard?
NB:
I talked to him a couple times already. He seems like a real good guy. I hear nothing but good stuff from Coach Cooks and Coach [Bob] Diaco about him, so I'm sure he's a great guy, he's a great coach. He knows the game, been around it forever. I'm looking forward to him coaching me.
There are a handful of players from Texas on the team. Have you been able to talk with them at all, either through your recruitment or since you committed, and does that give you an extra level of comfort knowing that you're going to be so far away from home and that other people are going through that, too?
NB:
I talk to
Jalen [Brown]
quite a bit. He's probably the main guy I talk to that's on the team right now. So I guess because we're both from Texas, I kind of get a feel for how he feels up there and being away from home.
What are your plans now in terms of workouts, staying in shape, getting ready for your arrival on campus? What are you doing now to stay active and get a step ahead?
NB:
I had a personal trainer. I stopped doing that because track started a couple weeks ago. So I'm doing track right now. I'm doing the Notre Dame workouts that they sent in and after track season I'll hit it hard again with my trainer until I go back up.
January, 26, 2012
1/26/12
9:00
AM ET
With national signing day less than a week away, here's a look at what Notre Dame needs from its 2012 recruiting class:
Running backs:
The reliable
Cierre Wood
has one more year left, and the answers behind him remain a mystery. We have not seen nearly enough of
George Atkinson III
or
Cam McDaniel
to know how they will turn out, and who knows where
Theo Riddick
will line up once the 2012 season kicks off? Help is on the way, however, in the form of
William Mahone
(Youngstown, OH/Austintown Fitch) and
KeiVarae Russell
(Everett, Wash./Mariner), ESPNU's No. 16 and No. 26 running backs, respectively. Throw in USC transfer
Amir Carlisle
, and things are looking bright in the Irish backfield moving forward.
Wide receivers:
You can't expect to replace
Michael Floyd
, who re-wrote the school record books. But the drop-off after Floyd is noticeable, and finding targets for the plethora of quarterbacks on the roster is a must. Fortunately for the Irish, they may have those coming in
Justin Ferguson
(Pembroke Pines, Fla./Flanagan),
Deontay Greenberry
(Fresno, Calif./Washington Union) and
Chris Brown
(Hanahan, S.C./Hanahan) — ESPNU's 14th, 17th and 66th best receivers from this class, respectively.
Cornerbacks:
Two new starters will take the field next year.
Bennett Jackson
and
Lo Wood
saw playing time as reserves this past season, but the unit is pretty thin, with the inexperienced
Josh Atkinson
and
Jalen Brown
behind them. ESPNU No. 9 cornerback
Tee Shepard
(Fresno, Calif./Washington Union) enrolled early and could provide immediate help, but depth could be an issue at this position.
Safety:
Speaking of the secondary, Notre Dame will have to replace captain
Harrison Smith
and, soon enough, co-starters
Zeke Motta
and
Jamoris Slaughter
, too.
Austin Collinsworth
could be a starter next season, and
Eilar Hardy
figures to see the field after redshirting this past season. ESPNU No. 14 safety
Elijah Shumate
(Ramsey, N.J/Don Bosco), No. 22
C.J. Prosise
(Woodberry Forest, Va./Woodberry Forest) and No. 62
John Turner
(Indianapolis/Cathedral) are on the way, as is No. 87 athlete
Nicky Baratti
(Spring, Texas/Klein Oak). Chris Badger returns from a Mormon mission, too.
December, 12, 2011
12/12/11
9:00
AM ET
SOUTH BEND, Ind. — A dozen Notre Dame players walked away from the DeBartolo Performing Arts Center with hardware. The winners from the 91st football awards ceremony Friday:
Notre Dame Monogram Club Most Valuable Player: Michael Floyd (over Harrison Smith and Tyler Eifert)
Nick Pietrosante Award (courage, loyalty, teamwork, dedication, pride): Harrison Smith
Guardian of the Year Award (offensive lineman): Zack Martin
Lineman of the Year Award: Darius Fleming
Notre Dame Club of St. Joseph Valley Rockne Student-Athlete Award: Manti Te'o
Next Man In Award: Robby Toma (over Jamoris Slaughter)
Back of the Year Award (new): Robert Blanton
Offensive Newcomer of the Year Award: Jonas Gray (over Chris Watt)
Defensive Newcomer of the Year Award: Dan Fox (over Aaron Lynch)
Special Teams Player of the Year Award: Austin Collinsworth
Offensive Scout Team Player of the Year: Everett Golson (over Matthias Farley)
Defensive Scout Team Player of the Year: Brandon Newman (over Justin Utupo)
Notes: Floyd is the 10th two-time team MVP, which is voted on by the players. The other two-time winners are Brady Quinn, Autry Denson, Derrick Mayes, Tony Rice, Tim Brown, Allen Pinkett, Bob Crable, Greg Collins and Terry Hanratty. In a classy move by the senior, Floyd specifically thanked scout-team players Jalen Brown and Joe Romano in his brief speech. … Tight ends coach Mike Denbrock, who presented the defensive scout team award, also gave Newman a ping-pong ball for his work with "Trick Shot Monday." … Collinsworth's trophy for the special teams award was actually a WWE-style championship belt. … Tricia Bellia, Notre Dame's faculty athletic representative, was honored with a monogram jacket. … All four helmets Notre Dame wore this season sat in front of the podium. Athletic director Jack Swarbrick joked about the number of letters he received this season for the headgear and for Ozzy Osbourne's "Crazy Train."
Rivalry Week: Notre Dame-USC
FBS INDEP. SCOREBOARD
Friday, 11/28
Saturday, 11/29