November, 24, 2014
11/24/14
9:00
AM ET
SOUTH BEND, Ind. —
Jaylon Smith
took in the query and thought to himself for a quick second, for the game in question could not possibly have been so close to the present.
Not after Notre Dame's latest setback Saturday, a 31-28 loss to Louisville. Not after the loss to Northwestern a week earlier, or the loss at Arizona State before that one.
Does the Florida State game, Smith was asked, feel like it was more than a month ago?
[+] Enlarge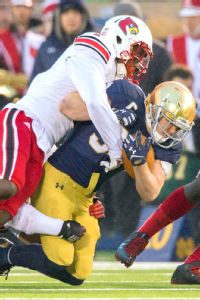 Matt Cashore/USA TODAY SportsCam McDaniel and the Irish are stumbling to the finish line after another close loss.
"What is it, three losses in a row?" Smith said of the Irish's current predicament. "Man. Yeah. It feels like it's been a long month, month and a half, whatever it's been. But playing against our rival, the score is 0-0, we've just got to find a way to get a victory."
That is what it comes down to now for Notre Dame, a far cry from that fateful final October drive in Tallahassee, then on the brink of 7-0 and upsetting the reigning national champs. Four losses in five games have presented an entirely new scenario as the Irish head to fellow four-loss rival USC for the regular-season finale. Eleven weeks in, and it remains tough to tell just who this team is.
Few saw that 6-0 start coming, especially after the handing down of preseason suspensions that figured to deteriorate an already thin and green defense. That, of course, only makes this past month all the more difficult to digest.
Brian Kelly would not go as far as to say that his club overachieved in the first half of the season, opting to play the game-of-inches card, which is certainly not inaccurate.
"No, I mean, look, we're 10 points from three more wins, right?" the fifth-year Irish coach said. "Florida State, we lose in overtime, and then we miss a field goal here to go to overtime. Very easily, this team could be in a totally different position, so that's college football, you know? They're very close. We needed to make a play here or there, a kick here or there, and it's a totally different look."
Another way to look at it: Who knew the most important fifth-year decision this past offseason would end up being Luke Massa, who decided to call it a football career after four years, one degree and several injuries? A reserve receiver on the official roster but a steady holder for field goals, Massa could have been the difference this year between 7-4 and 9-2, a fact every bit as remarkable to type as it is to read and say out loud.
The Irish were winning earlier this season because of those overlooked intangibles, from former walk-on
Joe Schmidt
carrying along the defense to the far more measured play of quarterback
Everett Golson
— a pair of pieces that have had a circular, drowning effect on these Irish lately as Schmidt's injury has decimated the defense and put a bigger onus on the quarterback.
Kelly talked a lot about his team's youth coming into this season, setting the table for a 2015 run, intentionally or not. Perhaps a 6-0 start fast-tracked that, inside the football complex and out of it. But these last three losses have unmasked the vulnerabilities of this young squad, which has plenty of work to do if it wants to even sniff the playoff conversation next year.
"They played with great effort," Kelly said of Saturday's game. "We would have liked to have made a play here or there, and blocked a little bit better, tackled a little bit better. But we got everything out of these guys. Like I said to them after, I mean, we asked them to control two things, and that was their effort and to play with a great attitude, and they certainly did that.
"We've got a lot of inexperienced guys that are trying to get the job done the best they can. I'm really proud of what they did. They played a lot cleaner."
Did anyone watch the Cardinals and Irish play for 60 minutes and not think that the visitors were the better team? That the difference between these two on Saturday ran deeper than a special teams miscue?
Notre Dame has run the emotional gamut of playing such a young team. With next year right around the corner, the Irish need to grow up fast.
Irish Flips Top TE Jones, Back In Top 10