Notre Dame Football:

Jeff Burris
May, 8, 2014
May 8
9:00
AM ET
As we
noted earlier this week
, this year's
NFL draft
has the chance to be one of the better ones for Notre Dame, historically speaking. It may also be the first one in 20 years in which three former Fighting Irish players get drafted in the first round, as the 1994 draft saw Bryant Young (7th), Aaron Taylor (16th) and Jeff Burris (27th) taken early.
With the draft approaching later tonight (8 ET, ESPN), here's one last look at the three potential first-rounders from Notre Dame this time around.
Zack Martin, LT.
Mel Kiper Jr. has Martin ranked No. 8 on
his Big Board

. Todd McShay has him at No. 9 on
his board

. Kiper says Martin has been his biggest riser over the past month. Both analysts tout his quickness, and both say his length could eventually have him moving to the right side.
Stephon Tuitt, DE.
Kiper has Tuitt at No. 25, while McShay has him at No. 27. Kiper loves the 6-foot-5, 304-pounder's ability to disrupt passing lanes, and both analysts love his ability to play in any system, though McShay says Tuitt needs to show more consistent effort.
Louis Nix, DT.
Interestingly enough, Kiper has Nix at No. 49, while McShay has him at No. 36. Kiper says the zero technique is not as coveted as it used to be, while McShay liked Nix's tape better in 2012 than 2013.
Kiper ranked 100 players, with tight end
Troy Niklas
coming in at No. 68. McShay, who ranked 300 players, has Niklas at No. 59.
As for the rest of the Notre Dame haul, McShay has
Chris Watt
163rd,
TJ Jones
169th,
Prince Shembo
172nd,
Bennett Jackson
251st and
George Atkinson III
277th.
January, 16, 2014
Jan 16
9:00
AM ET
If the early forecasts are any indication, Notre Dame could have its most successful NFL draft in two decades.

Mel Kiper Jr.
released his initial mock draft this week

, and three Irish players make the first round.
Louis Nix leads the trio at No. 15 (Pittsburgh Steelers), with
Zack Martin
(No. 20, Arizona Cardinals) and
Stephon Tuitt
(No. 23 Kansas City Chiefs) not far behind.
Notre Dame has not had three players drafted in the first round since 1994, when Bryant Young (No. 7, San Francisco 49ers),
Aaron Taylor
(No. 16, Green Bay Packers) and Jeff Burris (No. 27, Buffalo Bills) all were taken that early.
The Irish did land two players in the first round two years ago, when
Michael Floyd
(No. 13, Cardinals) and
Harrison Smith
(No. 29,
Minnesota Vikings
) were taken on Night 1.
With
Tyler Eifert
having been taken No. 21 overall by the
Cincinnati Bengals
last year, Notre Dame is on track to go three straight years with at least one first-round draft pick.
April, 25, 2013
4/25/13
9:00
AM ET
The day is finally here. All the build-up, all the hype -- finally, we get to see which college stars land where.
And for the second straight year, it is likely that multiple Notre Dame players will hear their names called at Radio City on Night 1.
Tyler Eifert
and
Manti Te'o
are both widely expected to be first-round picks. Michael Floyd and Harrison Smith were last season.
The last time the Irish had multiple first-round picks before 2012? That would be 1994, when Bryant Young, Aaron Taylor and Jeff Burris all went in the first round.
The last time Notre Dame had multiple first-round picks in consecutive years? That, also, would include the 1994 NFL draft, which followed a 1993 event that saw four players from South Bend, Ind., get selected in the first round: Rick Mirer, Jerome Bettis, Irv Smith and Tom Carter.
The only other times that has happened with Notre Dame players, according to the school, are 1944-45-46 and 1954-55.
So just where will Eifert and Te'o end up? That depends on who you ask.
Mel Kiper Jr.
has the tight end going to the
Pittsburgh Steelers
at No. 17
,

which is 11 spots lower than Todd McShay's forecast, which
has the
Cleveland Browns
jumping on Eifert at No. 6
.

Kiper is higher on Te'o, who he has going to the
Chicago Bears
at No. 20. McShay sees Te'o joining a bunch of old college buddies with the
Minnesota Vikings
at No. 25.
Our NFL bloggers had a mock first round of their own this week, with Eifert
ending up in Pittsburgh at No. 17
and Te'o closing out the night by going to the
Baltimore Ravens
at No. 32.
Scouts Inc.'s Steve Muench and Kevin Weidl, meanwhile, went the distance,
projecting all seven rounds and 254 picks
,

right down to Mr. Irrelevant (FIU end/linebacker
Tourek Williams
, for those wondering).
Muench and Weidl don't see the rest of the Irish contingent getting in on the fun until the sixth round. There, the duo projects
Zeke Motta
to land at No. 178 with the
New York Jets
.
The seventh round then becomes Notre Dame-heavy, with
Theo Riddick
slotted for the
Denver Broncos
at No. 234,
Jamoris Slaughter
to the Ravens at No. 238,
Cierre Wood
to the
Atlanta Falcons
at No. 243 and
Kapron Lewis-Moore
to the Ravens at No. 247.
I'm a little surprised to see
Braxston Cave
's name absent form the seven-round mock, and I wonder if any NFL team takes a chance on former Irish and Kansas quarterback
Dayne Crist
after all of his injury problems in college.
November, 20, 2012
11/20/12
9:00
AM ET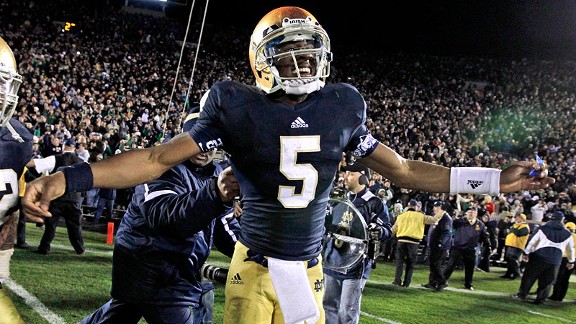 AP Photo/Michael ConroyEverett Golson and the Irish must remain focused as they take on archrival USC.
Jeff Kilburg's Facebook feed has carried a familiar theme from former teammates these past few days.
You don't have to be the best team in the world, you only have to be the best team in the stadium.
The quote came from their coach, Lou Holtz, who used it throughout their near-perfect 1993 campaign.
Notre Dame, undefeated and ranked No. 1, is technically the best team in the world. And all it needs to maintain that label and secure a spot in the national title game is to be the best team this Saturday inside the Los Angeles Memorial Coliseum.
But the task is easier said than done when dealing with unfamiliar territory. Brian Kelly has said that the Irish don't want the No. 1 label for just three or four days. The last time Notre Dame was atop the rankings, 19 years ago, it carried the distinction for just seven days before being upset against Boston College.
"It's not just a label they're carrying anymore, it's a target," said Kilburg, a former offensive lineman from 1993-96. "When it's a target it fuels your fire stronger, you work harder. It's a long time since they've been there. This group of young men get it. They fully embrace it, from
Manti Te'o
all the way down to the special teamers. They get what it means to be at Notre Dame -- it's unique to be No. 1 on the field and in the classroom. That's the bottom line. It's a unique school and the players embody that. Right now they've got to rise to the occasion.
"I'd say this is exponentially more impactful than it was in 1993, due to what we saw recently with all the No. 1s going down."
The terrain is new for even Kelly, who won titles at the Div. II level and had a perfect regular season at Cincinnati that resulted only in a No. 3 ranking.
Being in control of his team's title aspirations has not changed his approach.
"It's still about how we got here and the preparation and how these guys transformed themselves into champions by their habits and how they go to work every day," Kelly said, adding, "It doesn't mean much if we don't prepare. If we're not prepared, we're not going to win. For us it'll be about being consistent with what we've done up to this point."
Kilburg lived in Grace Hall when the No. 2 Irish beat top-ranked Florida State in the 1993 version of the "Game of the Century," so he had a front and center view of what many students saw Sunday afternoon, when the "#1" lights were lit on the building's roof to celebrate the football team's return to the top.
The excitement and distractions, however, extend beyond campus.
"To come off the victory against the unbeatable and to have to turn around and prepare the next week and hear analysts talk about us as No. 1 and so forth, it does feel good," said safety Jeff Burris, who played for Notre Dame from 1990-93. "It feels great to hear your name on top, especially with this team considering there weren't a lot of high expectations initially."
Kelly liked what he saw and heard Sunday morning in the training room, where his players said none of this will matter if they don't take care of business this weekend against USC.
In theory, an arch-rival awaiting would keep a team from looking ahead, though the last incarnation of No. 1 Notre Dame let the opportunity slip, dropping a home contest to rival Boston College, 41-39.
Kilburg still has trouble pointing to what went wrong, but he doesn't foresee a similar scenario with this year's team given its consistent improvement from Week 1 to now.
"It's hard to put a finger on that," Kilburg said of the loss to the Eagles. "Unfortunately, I think when teams are so laser-focused on big games, one downside is to inadvertently and unintentionally have a letdown against a lesser opponent and play to the level of competition.
"That may have happened a couple times this season with these guys, but they've learned and matured, specifically
Everett Golson
. From a former player'a perspective, it's amazing to see that type of maturity in one season. That doesn't happen. But now Golson's in a great position to lead these guys into USC and hit on all cylinders."
April, 26, 2012
4/26/12
11:15
PM ET
Is it too early to call Notre Dame the minor league affiliate of the Vikings?
Minnesota added its fourth Irish player, trading up to take safety
Harrison Smith
with the 29th pick of the NFL draft.
Smith now joins former Notre Dame teammates
Kyle Rudolph
,
John Carlson
and
John Sullivan
in Minnesota. The former captain becomes the Irish's highest defensive player drafted since 1997, when the Jaguars took
Renaldo Wynn
21st overall. He is also Notre Dame's highest defensive back selection since 1994, when the Bills took
Jeff Burris
27th.
"Harrison Smith is one of the best leaders I've ever had on any of my teams," Notre Dame coach Brian Kelly said in a statement. "He is an intelligent and instinctual player on the field and a true student of the game off the field. He'll be a great fit for Minnesota's defense and I can't wait to watch his long and successful pro career."
That 1994 draft was the last time Notre Dame had multiple first-round picks, as Burris followed
Bryant Young
(No. 7, 49ers) and
Aaron Taylor
(No. 16, Packers). The 18-year stretch came to an end Thursday, as Smith was taken 16 spots after
Michael Floyd
was drafted by the Cardinals.
Smith finished his career second in Notre Dame history with 28 career pass breakups, and he is ninth on the school's tackles list, with 309 for his career.
March, 12, 2012
3/12/12
4:00
PM ET
Apologies for missing this last week, but former Notre Dame offensive coordinator Charley Molnar
has finalized his first coaching staff at Massachusetts
, and it has a distinct Irish flavor.
Former Notre Dame All-American safety and captain (1993) Jeff Burris will coach the Minutemen's cornerbacks and serve as the program's community outreach liaison.
Phil Elmassian, who played defensive back for Lou Holtz at William & Mary, will be the defensive coordinator and linebackers coach.
Shane Waldron, an offensive graduate assistant with the Irish from 2005-07, will coach the tight ends and serve as recruiting coordinator.
Molnar's son, Charley III, will also join the staff as a recruiting and operations graduate assistant.
UMass will be making the move to the Football Bowl Subdivision this coming season, and Molnar has not been shy about trying to make an impact in the region upon the program's jump to the next level.
December, 28, 2011
12/28/11
8:00
AM ET
Kez McCorvey still shows his players the catch 18 years later. In the film room of Bethel (Tenn.) University, the Wildcats' wide receivers coach focuses on the details of the play, "560 vertical," and not so much on the circumstances surrounding it, which NBC play-by-play man Charlie Jones summed up thusly:
"So the perfect season for the Seminoles, Bobby Bowden's shot at the national championship, coming down to this play. It is fourth down and goal to go. Twenty-yard line. 2:31 left."
Eventual Heisman Trophy winner and NBA point guard Charlie Ward took the shotgun snap from the 20, dropped three steps and fired a bullet over the middle that looked destined for the hands of Notre Dame safety Brian McGee. Instead, the ball dropped into McCorvey's hands for the touchdown, cutting the Irish's lead in half and granting Florida State new life in what was then the Game of the Century -- Nov. 13, 1993.
[+] Enlarge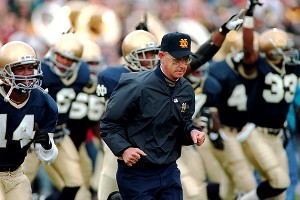 Photo/Joe RaymondLou Holtz's Irish team upset No. 1-ranked Florida State in 1993.
"My guys here, they'll get plays they think we just invented or something," said the 39-year-old McCorvey, who still gets on the practice field to demonstrate routes for his NAIA pupils. "And I'll tell them we've been running that play forever. 'Look here on YouTube. I'm old as dirt, we're not even doing a good job of doing it and I'm slow and old and I can score, so here.' "
The improbability of the play had McCorvey and his teammates thinking fate had intervened -- "I don't wanna make it sound like Florida State is all that and a bag of chips, but we'd just never been in a situation where we'd been out of a game, so we just never quit."
The celebration, however, was short-lived, one of many twists and turns of a season that saw No. 2 Notre Dame upset No. 1 Florida State, 31-24, only to watch the Seminoles be declared national champions less than two months later despite having the same number of losses.
The schools will renew their rivalry in Thursday's Champs Sports Bowl in Orlando, Fla., a smaller stage later in the year that will lack the 800-plus media members, dozens of fake credentials, coach's dinner party and rapid trash-talking that surrounded South Bend, Ind., that fall week in 1993.
The messages that week, at least from up top, could not have been any more different.
"Leading up to it, obviously Coach Holtz's thing was at the beginning that we may get beat by 50, and that was just Lou Holtz, that's just how he handled things," said former Irish safety Jeff Burris, who scored the Irish's last two touchdowns of the game as a running back. "And by Monday or Tuesday, 'We'll be happy to be in the game by halftime.'
"Just his mentality was that way, but he was always focused on, 'If we do this the right way it might be a game.' And by Thursday or Friday it was, 'We'll win this game, and this is how we'll win this game.' "
For Florida State, meanwhile, it was business as usual.
"I would love to tell you we did it bigger than the Miami game, but we didn't," said McCorvey, citing a win over the No. 3 Hurricanes a month earlier. "Nothing against Notre Dame, but we felt like since we beat Miami we could win the national championship, so we'd been accustomed to that type of pressure. Coach Bowden, too. It wasn't as big a deal going into games -- the pressure, game situations. So we didn't do a whole lot of things that we hadn't done before."
Yet McCorvey couldn't help himself during the week leading up to the game, making references to "Rock Knutne" and being quoted as saying: "I appreciate what Notre Dame has accomplished, but those old guys don't play anymore. You can't win with mojo or magic. Joe Montana isn't going to put on the pads and win for them."
"I think it was a little bit of ignorance with the Knutne comment," McCorvey laughed. "That was me being young."
Still, the scene was unlike any all parties involved had ever been a part of.
Tickets were going for $1,000. ESPN's "College GameDay" was making its first on-campus appearance, albeit in front of just a few dozen loyal fans stationed on the concourse of the Joyce Center, where Notre Dame's basketball team plays.
"You can tell this is not just a football game; this is a happening," host Chris Fowler said on the air. "Paul Azinger, Roger Clemens, Spike Lee — lots of folks are gonna be here. Al Gore. Andre Agassi. Some others got turned down. As further proof this is transcendent-game status."
Signs in the parking lot offered assets such as an Orlando vacation or a Mercedes-Benz for entrance into Notre Dame Stadium that day.
"When they said it was the Game of the Century," former Irish quarterback Kevin McDougal said, "it really was."
Two days before the game, Holtz and his wife, Beth, invited 50-60 media members stationed in South Bend over to their Woodland Hills home, 10 minutes from campus.
"My then fiancée and I arrived in South Bend on Thursday," Michael Messaglia, Holtz's son-in-law, said. "Expecting a quiet night at her parents' house, we arrived to a house full of reporters."
After Beth Holtz sent reporters out with cookies in napkins as they left, and after Holtz handed out small boxes of golf balls, the Boston Globe's Dan Shaughnessy wrote in his day-of-game column:
"That settled it. It doesn't matter if Florida State wins today by four touchdowns; I will write only good things about Notre Dame. I have broken bread with Lou. After today's game of the century, I will have only one question.
"What time is dinner before the BC game?"
Of course, the high of Shawn Wooden knocking down Ward's final pass of the Game of the Century was met the following week with a hangover against Boston College, as the Eagles engineered a 41-39 shocker that played a pivotal role in deciding the national championship.
Notre Dame beat Texas A&M in the Cotton Bowl on Jan. 1. Florida State won its last two regular-season games before topping undefeated Nebraska in the Orange Bowl the same day.
The Seminoles finished atop both The Associated Press and coaches' polls, giving Bowden his first national championship, though the regret wasn't limited to the Irish's side.
"You look back and you think you won the national championship, but you wanted to go 13-0," McCorvey said. "You wanted to not lose a game that whole year and leave your legacy as one of the best teams that ever played. The Notre Dame loss was something that kind of tarnished that a little bit."
Notre Dame Uneven, Still Gets The Win