Notre Dame Football:

Jeff Kilburg
August, 2, 2013
8/02/13
3:55
PM ET
SOUTH BEND, Ind. -- The last time Notre Dame took its fall camp away from campus, the flames were rekindled.
Players gathered near Lake Maxinkuckee for a bonfire on the first night of the last ride of the Lou Holtz era, only the leader was nowhere to be found. Soon enough the Irish coach and his three captains were pulling up on a rowboat to talk about how the past was the past, how the previous year's Orange Bowl loss was the previous year's Orange Bowl loss, how there was nothing to go back on.
Quite literally.
Players then all joined in a conflagration of sorts, lighting the tiny wooden ship up in flames.
[+] Enlarge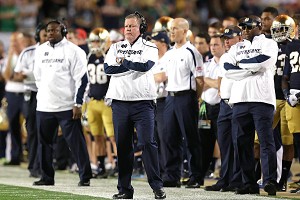 AP Photo/John BazemoreBrian Kelly and Notre Dame are planning for a return trip to the BCS title game.
"What happened last year was behind us," former offensive lineman Jeff Kilburg remembers as the message. "We don't have a boat to go back; we're only going forward. It was a cool thing Coach did to fire us up that first day."
It's been 17 years since Notre Dame brought its preseason show on the road, and the parallels between that group at Culver Military Academy and the one that will commence activities Monday at the Shiloh Park Retreat and Conference Center are hardly linear. But by boxing the Irish in some two-plus hours away from home for their first four practices, Brian Kelly is sending a clear message:
The 2012 campaign, the program's most successful in nearly a quarter-century, is nothing but a memory.
"It's a collection of new personalities," Kelly said Friday during his camp-opening press conference. "You can't live in the past. We want to talk about this year. What we need to do is get prepared. The second part of that is no distractions, it's all football. Don't have to worry about getting to math class. We don't need to worry about guys off campus. We're all together. It's 100 percent being around each other and our football team. Both of those things in a combination I think come together with us going offsite."
Players will be without cable. If Kelly has his way, they will be without wifi -- "my anticipation is that will crash within the first 20 minutes," he cracked. The fourth-year Irish coach had looked into a project like this earlier in his tenure, having taken on similar endeavors at Cincinnati, which would hold portions of its fall camp at Higher Ground in West Harrison, Ind.
"A lot of similarities," Kelly said of the Bearcats' camp and the Irish's. "We're still in the process of building infrastructure there. Shiloh Park has been great. [School facilities manager] Dan Brazo here has been very influential in helping put together the field situation there. We feel great about that. There's been some help, but there's still some work. We feel like it's got all the things necessary for it to be a very successful camp."
Holtz's 10-day Culver venture in 1996 was the second straight year he had opened camp there, with a six-day stint in 1995 helping his group move on from a 6-5-1 campaign that had ended with a Fiesta Bowl pummeling from Colorado.
The 28-point title-game loss to Alabama this past January has served as similar fuel for this year's team. On Friday, the 2013 schedule on the wall to Kelly's right inside the Isban Auditorium of the Guglielmino Athletic Complex was punctuated by "BCS Championship Game."
"There's not a man that sat in this seat, when we met as an entire team that is not committed to that end," Kelly said. "That's why they're here. That's why there's such great excitement and anticipation. From our standpoint as coaches, we can feel that. So it's pretty clear that our players are committed to one goal, and that is to get back to a national championship, just as every other BCS school on Media Day is expecting the same thing."
November, 20, 2012
11/20/12
9:00
AM ET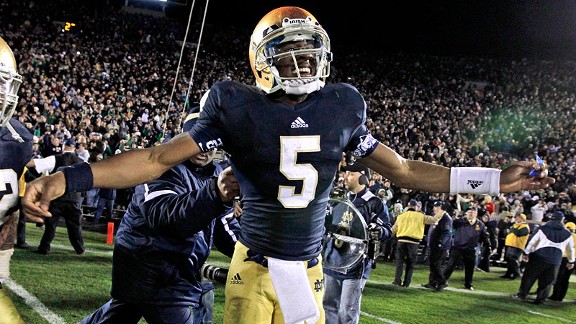 AP Photo/Michael ConroyEverett Golson and the Irish must remain focused as they take on archrival USC.
Jeff Kilburg's Facebook feed has carried a familiar theme from former teammates these past few days.
You don't have to be the best team in the world, you only have to be the best team in the stadium.
The quote came from their coach, Lou Holtz, who used it throughout their near-perfect 1993 campaign.
Notre Dame, undefeated and ranked No. 1, is technically the best team in the world. And all it needs to maintain that label and secure a spot in the national title game is to be the best team this Saturday inside the Los Angeles Memorial Coliseum.
But the task is easier said than done when dealing with unfamiliar territory. Brian Kelly has said that the Irish don't want the No. 1 label for just three or four days. The last time Notre Dame was atop the rankings, 19 years ago, it carried the distinction for just seven days before being upset against Boston College.
"It's not just a label they're carrying anymore, it's a target," said Kilburg, a former offensive lineman from 1993-96. "When it's a target it fuels your fire stronger, you work harder. It's a long time since they've been there. This group of young men get it. They fully embrace it, from
Manti Te'o
all the way down to the special teamers. They get what it means to be at Notre Dame -- it's unique to be No. 1 on the field and in the classroom. That's the bottom line. It's a unique school and the players embody that. Right now they've got to rise to the occasion.
"I'd say this is exponentially more impactful than it was in 1993, due to what we saw recently with all the No. 1s going down."
The terrain is new for even Kelly, who won titles at the Div. II level and had a perfect regular season at Cincinnati that resulted only in a No. 3 ranking.
Being in control of his team's title aspirations has not changed his approach.
"It's still about how we got here and the preparation and how these guys transformed themselves into champions by their habits and how they go to work every day," Kelly said, adding, "It doesn't mean much if we don't prepare. If we're not prepared, we're not going to win. For us it'll be about being consistent with what we've done up to this point."
Kilburg lived in Grace Hall when the No. 2 Irish beat top-ranked Florida State in the 1993 version of the "Game of the Century," so he had a front and center view of what many students saw Sunday afternoon, when the "#1" lights were lit on the building's roof to celebrate the football team's return to the top.
The excitement and distractions, however, extend beyond campus.
"To come off the victory against the unbeatable and to have to turn around and prepare the next week and hear analysts talk about us as No. 1 and so forth, it does feel good," said safety Jeff Burris, who played for Notre Dame from 1990-93. "It feels great to hear your name on top, especially with this team considering there weren't a lot of high expectations initially."
Kelly liked what he saw and heard Sunday morning in the training room, where his players said none of this will matter if they don't take care of business this weekend against USC.
In theory, an arch-rival awaiting would keep a team from looking ahead, though the last incarnation of No. 1 Notre Dame let the opportunity slip, dropping a home contest to rival Boston College, 41-39.
Kilburg still has trouble pointing to what went wrong, but he doesn't foresee a similar scenario with this year's team given its consistent improvement from Week 1 to now.
"It's hard to put a finger on that," Kilburg said of the loss to the Eagles. "Unfortunately, I think when teams are so laser-focused on big games, one downside is to inadvertently and unintentionally have a letdown against a lesser opponent and play to the level of competition.
"That may have happened a couple times this season with these guys, but they've learned and matured, specifically
Everett Golson
. From a former player'a perspective, it's amazing to see that type of maturity in one season. That doesn't happen. But now Golson's in a great position to lead these guys into USC and hit on all cylinders."
Irish Back To Being College Football Elite?