Notre Dame Football:

Jerome Bettis
July, 11, 2014
Jul 11
9:00
AM ET
The season's getting closer ...
Shaun from Connecticut writes:
Matt... Leading up to preseason camp here in a few weeks, what is your opinion and feel on who the starting QB is going to be? Is Golson a lock at the position?
Matt Fortuna:
Shaun, I'd say
Everett Golson
remains the favorite, but having
Malik Zaire
there to push him is a good problem to have. Zaire is a player who will not go down without a fight, and so far I think everyone has been pleased with Golson's response. It is also pretty telling that Golson went back to work with George Whitfield Jr. after the spring season, and that he went out to help at the Elite 11 recently as well.
---
Ronald Harjers from Bridge City, Texas, writes:
Big Fan of your work, Matt. My question is where is the fire in the Irish. I watched the Irish win the title when I was 18. That team and even the early 1990s teams had that fire in their hearts and eyes. I haven't seen that type of fire in a long time. Do you see this team coming together as one, and fired up! Go Irish, fear the Golden Domers.
Matt Fortuna:
Appreciate the kind words, Ronald. While it is difficult to judge such an amorphous concept, I will say that it is hard to argue the determination that the 2012 team showed in making a run to the BCS title game. Just look at two of its defining moments of the regular season: Goal-line stands on four straight plays against rivals Stanford and USC to clinch big wins. That defense was obviously anchored by NFL players with dominant personalities like Manti Te'o and Kapron Lewis-Moore, and those types of combinations don't just grow on trees. I thought last year's defense did what it could under the circumstances, as the injuries seemed never-ending. But it will be interesting to see how everything comes together this year, when there is a new defensive coordinator, plenty of personnel turnover and not many seniors.
---
@Matt_Fortuna there is a ton of young, inexperienced talent at wide receiver. Who do you expect to make a big step forward this year?

— Childress (@wabashcc) July 10, 2014
Matt Fortuna:
Outside of
DaVaris Daniels
, I'll say
Corey Robinson
steps up with a big sophomore year. He showed plenty of signs down the stretch last season and has now been in the program for consecutive springs, which should help him fill out his frame. His length allows him to get to balls that few others on the roster can, and the coaches absolutely love his attitude. One guy who often gets overlooked in this conversation is
Ben Koyack
, who is obviously a tight end but should see much more action come his way with Troy Niklas out of the picture. Koyack stepped up in the second half of 2013, catching nine passes for 152 yards and two touchdowns during the Irish's final six games. That has not gone unnoticed outside of the program, with plenty of preseason hype coming his way via watch lists and All-America teams. If we know anything about Notre Dame tight ends in recent years, it is that they will be used in the passing game often. And 2014 is the senior Koyack's time to shine.
---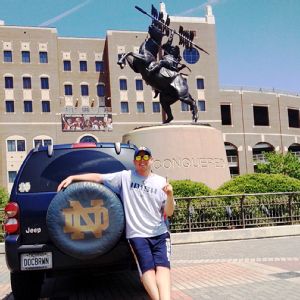 Courtesy of Chris TannerNotre Dame fan Chris Tanner visited Doak Campbell Stadium on the FSU campus.
Chris Tanner writes:
On traveling back from Florida, we made a stop in Tallahassee. I wanted Irish Nation to start getting excited for October 18th as it's only 102 days away. Attached is the picture we took outside the stadium next to a statue whose phrase "Unconquered" can easily be revised with a simple place of a vehicle.
Matt Fortuna:
Funny stuff, Chris. I'm loving the photo submissions. Keep them coming, fans.
August, 27, 2013
8/27/13
12:00
PM ET
July, 9, 2013
7/09/13
5:30
PM ET
ESPN has teamed up with EA Sports to bring you the #UltimateTeam vote. We've selected the top 5 offensive and defensive players for 16 of the elite programs in college football history. Which is the Ultimate Team?
Round 1 of the voting begins today
.
Notre Dame checks in as the No. 14 seed, looking to pull off the upset against No. 3 Ohio State. It's not looking bright early on, as the Buckeyes currently hold a commanding 75 percent of the votes, but you folks can help change that.
Here are the rosters for each school.
NOTRE DAME
Captain
: Tim Brown
QB
: Brady Quinn
RB
: Jerome Bettis
RB
: Ricky Watters
WR
: Raghib Ismail
WR
: Jeff Samardzija
DE
: Justin Tuck
DT
: Chris Zorich
DT
: Bryant Young
LB
: Manti Te'o
S
: Tom Zbikowski
OHIO STATE
Captain
: Archie Griffin
QB
: Troy Smith
RB
: Eddie George
RB
: Beanie Wells
WR
: Santonio Holmes
WR
: Joey Galloway
DE
: Mike Vrabel
LB
: A.J. Hawk
LB
: Chris Spielman
SS
: Malcolm Jenkins
CB
: Chris Gamble
Go vote for your picks in each of the eight matchups today.
April, 25, 2013
4/25/13
9:00
AM ET
The day is finally here. All the build-up, all the hype -- finally, we get to see which college stars land where.
And for the second straight year, it is likely that multiple Notre Dame players will hear their names called at Radio City on Night 1.
Tyler Eifert
and
Manti Te'o
are both widely expected to be first-round picks. Michael Floyd and Harrison Smith were last season.
The last time the Irish had multiple first-round picks before 2012? That would be 1994, when Bryant Young, Aaron Taylor and Jeff Burris all went in the first round.
The last time Notre Dame had multiple first-round picks in consecutive years? That, also, would include the 1994 NFL draft, which followed a 1993 event that saw four players from South Bend, Ind., get selected in the first round: Rick Mirer, Jerome Bettis, Irv Smith and Tom Carter.
The only other times that has happened with Notre Dame players, according to the school, are 1944-45-46 and 1954-55.
So just where will Eifert and Te'o end up? That depends on who you ask.
Mel Kiper Jr.
has the tight end going to the
Pittsburgh Steelers
at No. 17
,

which is 11 spots lower than Todd McShay's forecast, which
has the
Cleveland Browns
jumping on Eifert at No. 6
.

Kiper is higher on Te'o, who he has going to the
Chicago Bears
at No. 20. McShay sees Te'o joining a bunch of old college buddies with the
Minnesota Vikings
at No. 25.
Our NFL bloggers had a mock first round of their own this week, with Eifert
ending up in Pittsburgh at No. 17
and Te'o closing out the night by going to the
Baltimore Ravens
at No. 32.
Scouts Inc.'s Steve Muench and Kevin Weidl, meanwhile, went the distance,
projecting all seven rounds and 254 picks
,

right down to Mr. Irrelevant (FIU end/linebacker
Tourek Williams
, for those wondering).
Muench and Weidl don't see the rest of the Irish contingent getting in on the fun until the sixth round. There, the duo projects
Zeke Motta
to land at No. 178 with the
New York Jets
.
The seventh round then becomes Notre Dame-heavy, with
Theo Riddick
slotted for the
Denver Broncos
at No. 234,
Jamoris Slaughter
to the Ravens at No. 238,
Cierre Wood
to the
Atlanta Falcons
at No. 243 and
Kapron Lewis-Moore
to the Ravens at No. 247.
I'm a little surprised to see
Braxston Cave
's name absent form the seven-round mock, and I wonder if any NFL team takes a chance on former Irish and Kansas quarterback
Dayne Crist
after all of his injury problems in college.
June, 7, 2012
6/07/12
9:00
AM ET

You've seen what we're doing this week: Looking back at the
greatest individual seasons of the past 50 years
. On Monday, you read who I
saw as the best of the Notre Dame bunch from the last half-century
.
Now we want to hear from you.
Did I rely too much on individual accolades? (The top two were Heisman winners.) Do some of the older readers think I neglected the '60's and '70's too much?
Where do Jerome Bettis, Joe Montana or Ross Browner fit in?
Vote in our poll among the three I listed Monday. If you click "other," shoot me a note in the mailbag explaining why. (Feel free to contact me either way.) I'll run the best responses later on in this space.
And remember, we're talking about single seasons here, not college or NFL careers in their entireties.
April, 26, 2012
4/26/12
10:30
PM ET
Michael Floyd
's place in Notre Dame history grew even bigger Thursday night when he was taken by the Cardinals with the 13th overall pick in the NFL Draft.
Floyd became the highest former Irish player taken since 1994, when defensive tackle Bryant Young was selected seventh by the 49ers. He became the first Notre Dame receiver taken in the first round since 1988, when the Raiders took Tim Brown sixth. And he became the school's highest offensive pick since 1993, when Rick Mirer and Jerome Bettis were selected second and 10th by the Seahawks and Rams, respectively.
"I could not be happier for Michael and his family," coach Brian Kelly said in a statement. "I've said many times I have never coached a person as talented as Michael, and his selection tonight shows that. Michael's work ethic and passion for football are unparalleled and fans of the Cardinals will love the productivity he'll bring to Arizona's offense."
Overcoming three alcohol-related brushes with the law, Floyd returned to school for his senior year this past fall and set a single-season school record with 100 receptions. He blitzed through pre-draft evaluations with strong combine and pro day showings, watching his stock soar from a fringe first-rounder to being invited to Radio City, where commissioner Roger Goodell called his name and later embraced him. Now he will team with fellow Minnesota native Larry Fitzgerald, becoming one-half of what has the makings to be one of the NFL's top 1-2 receiving punches.
Floyd leaves Notre Dame as its career leader in receptions (271), receiving yards (3,686), touchdown receptions (37), receiving yards per game (85.7) and 100-yard receiving games (17).
December, 23, 2011
12/23/11
2:45
PM ET
Darren Everson
brings an interesting question in today's Wall Street Journal
: Will a former Notre Dame player throw a pass in an NFL game this year?
Why ask, you ask? Simply, because it has happened in every single NFL season since 1944, the longest streak of any school.
With two weeks left this season, no Notre Dame alum has thrown a pass yet. Ex-Notre Dame stars Jimmy Clausen and Brady Quinn, who have both been NFL starters, are now both stuck on the sideline. Their chances from here on aren't great: Clausen is third on the Panthers' depth chart, and Quinn's Broncos are gunning for the playoffs and thus are unlikely to sit their starters.
Everson also notes that from 2004-06 — years in which no Irish quarterback threw an NFL pass — non-QBs Jerome Bettis, Hunter Smith, Arnaz Battle and Carlyle Holiday threw passes, leaving room for optimism with two weeks left in the NFL regular season.
Oregon is second in consecutive years with an alumnus throwing a pass in the NFL, extending its streak to 63 years this season.
'College Football Live' Extra: Biggest Plays
FBS INDEP. SCOREBOARD
Saturday, 12/27
Saturday, 12/20
Monday, 12/22
Tuesday, 12/23
Wednesday, 12/24
Friday, 12/26
Monday, 12/29
Tuesday, 12/30
Wednesday, 12/31
Thursday, 1/1
Friday, 1/2
Saturday, 1/3
Sunday, 1/4
Monday, 1/12