Notre Dame Football:

Jimbo Fisher
December, 12, 2013
12/12/13
9:00
AM ET
Kyle Flood was answering a question about his depleted staff on Tuesday when Brian Kelly chipped in a few minutes later with his unsolicited take.
[+] Enlarge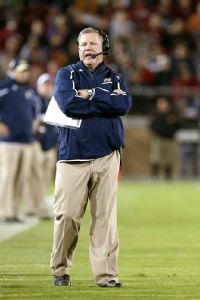 Kelley L Cox/USA TODAY SportsDespite losing both coordinators, the Irish are in good hands with Brian Kelly.
"And just to add on to Kyle's situations with his staff," the Notre Dame coach said at Yankee Stadium. "I just want to let him know he's got too many staff members. When I was at Cincinnati, we had three staff members and we coached in the bowl game against Western Michigan, so you've got way too many. And we won that game, so I think he's fine. I don't think you have to worry about him having not enough coaches."
At this rate, it would be easy to say that the concerns now fall on Kelly, who lost his second coordinator to a head-coaching job in an eight-day span Wednesday when Bob Diaco
accepted the UConn post
. That came in the wake of Chuck Martin
packing his bags for Miami (Ohio)
. The moves hamstring the Irish staff as it readies for Rutgers on Dec. 28's New Era Pinstripe Bowl, and as it gears up for the mad dash to national signing day in the 39 days following the 2013 finale.
The initial reaction across players and fans, per routine, was overreaction. Tweets
decrying Diaco
for looking out
for himself
were soon deleted, eventually giving way to
more
and
more
congratulatory remarks for a man whose next career step was only a matter of time.
Make no mistake, this is far from the situation that is taking place in Piscataway, N.J., where Flood, the second-year head coach,
let go of three assistants
after an underwhelming 6-6 campaign. The Scarlet Knights step into the Big Ten next season. And this is far from the case that Kelly was referencing in that bowl press conference, as he had just taken the Cincinnati job and had only three of his Central Michigan assistants with him by the time the Bearcats faced, and defeated, Western Michigan in the International Bowl nearly seven years ago.
"It certainly creates a little bit of a challenge," Flood said of Rutgers' situation, "but I'm confident that people are put in positions where they can be successful, and that's really my job as the head football coach, to make sure we got a coach assigned at every position and in all three phases and the coordinator role."
Kelly's challenge is considerably smaller. This is Notre Dame, after all.
Initial reaction among recruits speaks to that
, with most youngsters recognizing that much of what they were promised remains in place so long as Kelly is at the forefront. If Diaco does not bring along other Irish assistants with him to Storrs, Conn., Kelly will have a much easier time filling the holes on his staff. Kerry Cooks, let's not forget, has also been the co-defensive coordinator these past two years, and he will probably take on Diaco's responsibilities for (at least) the rest of the month.
The fact this Notre Dame team went 8-4 and had its top two assistants get hired to run their own shows speaks volumes about where the program is now. Jimbo Fisher lost seven assistants in a season that ended with Florida State winning the Orange Bowl, and the Seminoles have turned out oh-so fine in the year since. This is a good problem to have,
and as IrishIllustrated's Pete Sampson said
, one coordinator leaving right after the other could trigger an eventful race back to South Bend to occupy Kelly's office whenever he should depart.
That's down the road. For now, the calendar has 19 days remaining in a year that began with a letdown against Alabama in the national title game and will likely end with a win against Rutgers -- with plenty of embarrassment (Manti Te'o, Everett Golson) and departures (
Gunner Kiel
, two receivers) sandwiched in-between.
As they did in this past year, the Irish will enter 2014 hoping to close whatever gap remains toward a national title. And while
Jameis Winston
isn't walking through that door, the two most important elements of that chase, Kelly and Golson, still are.
July, 1, 2013
7/01/13
9:00
AM ET
Notre Dame becomes an official ACC member today, even if the football team does not begin its five-games-per-year deal with the conference until the fall of 2014. Still, the school is wasting no time getting fully immersed in its new home.

Men's hoops coach Mike Brey will join commissioner John Swofford and five others in New York at the NASDAQ Stock Market closing bell ceremony later today, with a press conference at 2 p.m. ET and the closing bell ceremony at 3:45.

Joining Brey and Swofford will be Virginia Tech football coach Frank Beamer, Florida State football coach Jimbo Fisher, Syracuse men's hoops coach Jim Boeheim, North Carolina men's hoops coach Roy Williams and former Pitt All-America receiver Larry Fitzgerald.

Notre Dame, meanwhile, has marked the occasion by displaying ACC billboards near campus, launching an ACC splash page, posting online content highlighting the school's ACC connections and looking back at Big East accomplishments on UND.com.

Football will have to settle for a Nov. 9 tilt at Pitt as its lone dalliance with the conference until next fall.
December, 29, 2011
12/29/11
5:28
PM ET
ORLANDO, Fla. — Here are a couple of items worth nothing as we approach kickoff:


Ethan Johnson, Louis Nix and Aaron Lynch took reps with the first-team defensive line. This is as healthy as the group has been since the middle of the season. Johnson says he is fully recovered from a sprained right ankle that sidelined him for four games this season, and freshman end Stephon Tuitt is expected to be fine after missing the last two games because of an illness. Against an undermanned Florida State offensive line, this could be key.
Seminoles coach Jimbo Fisher was given a one-year contract extension earlier today, locking him up through 2016.
This crowd is PUMPED. The fans went wild during a few pee-wee touchdowns when kids took the field before the game, and several parachuters into the stadium only amped them up even more. Hopefully the play on the field can live up to the excitement.
December, 29, 2011
12/29/11
8:00
AM ET
A pre-January bowl meeting and regular seasons that failed to meet lofty preseason expectations have provided no hiding for Brian Kelly and Jimbo Fisher. Just look at Wednesday, when the second-year head coaches were asked during their final pre-bowl press conferences about restoring their respective programs back to glory.
No, a Dec. 29 finale in the Champs Sports Bowl is not what Notre Dame or Florida State had in mind when summer talk focused on BCS bowl berths and returns to greatness. But the pair of 8-4 teams have found consolation in the opportunity to take down the other and go into 2012 on a high note.
[+] Enlarge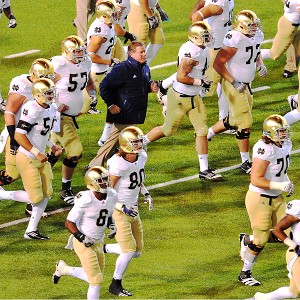 Matt Cashore/US PresswireNotre Dame coach Brian Kelly cited a bowl game's value in building team chemistry.
"I think it starts with the ability to keep your football team together for another month," Kelly said of what it will take bring Notre Dame back to its prominent status. "The ability to build more relationships and bonds with your players. You're still evaluating and giving opportunities to freshmen that may not have that chance to go out and prove themselves. I think there's a lot of things that go into having a bowl game. The game itself as a win/loss is not going to change the direction of your program. Certainly it's going to make you feel good about yourself going into the offseason, but all of those other things are much more important than actually singularly one game."
Said Fisher, in response to a similar question: "Recruiting, a little bit of luck, and staying healthy. You have to understand the culture. It's not been two years or three years since we've been on the top, it's been 10. That's something we have to change. I've said all year that I've been pleased with how our players practice. Their effort, their tenacity, they break out the distractions. And then the football gods have to be on your side a little bit, too. Sometimes the ball's got to bounce your way. We've got a good recruiting class this year and I think we'll have another great year next year. And hopefully a great game tomorrow."
Ten turnovers and two mind-boggling defeats to start 2011 all but sealed Notre Dame's fate for Orlando, Fla., from the early going. An 8-2 finish that featured a brief return to the national rankings showed what the Irish were capable of, but the sour taste from an 0-2 start lingered.
Florida State, meanwhile, saw a 2-0 start give way to three consecutive losses, dampening its BCS-bowl hopes and, like the Irish, leaving many to wonder what could have been.
The offensive-minded Kelly saw the Irish notch at least 500 yards of offense five different times this season, as they averaged better than 45 more yards per game than a season ago. But that was tempered by 26 turnovers and the fact Notre Dame is closing the season with another quarterback controversy (
Tommy Rees
or
Andrew Hendrix
), albeit a different one from the beginning of the campaign (Rees or
Dayne Crist
).
"I would look at it as we're still evolving," Kelly said. "From last year to this time there has been a process of evolution for our entire offense and it's still ongoing. It's ongoing as we speak relative to our offensive players understanding our system and of course in the recruiting area."
The Seminoles saw their growth on the defensive side of the ball, where they finished the regular season sixth in the nation in total defense, fourth in points allowed and second against the run — way up in all categories from last season (when they finished 39th, 24th and 26th, respectively).
"Are we disappointed about the wins?" Fisher said. "Yes, we wish we would've won more games. I mean, you'd like to win them all. But for a young football team to deal with distractions, with criticisms, the things that come with not winning as many games as you'd like to, they never lost faith in each other. In fact, it maybe made them closer. I feel very good about the future."
But the future must wait until this season is finished, and Thursday's matchup will provide one last opportunity for each side's seniors to end their careers on high notes.
And for Notre Dame, it's a chance to notch a nine-win campaign for the first time since 2006, before any current players came aboard.
"I feel like it's all that matters," senior end Ethan Johnson said of win No. 9. "It's all that matters. It's what we're focused on right now. Everyone says you take each game as it comes. That's very true. But there's a limited amount of time you can focus on each game in a season. And for this game we've had a long time to focus on it, and we're going to stay focused on it, and we're gonna continue to work and prepare and get ready to play our best football. And there's no reason why we shouldn't do that. No reason why we're not going to do that. We're going to do that.
"We're gonna continue to focus and practice hard and have fun while we're doing it. But yeah, it's really all that matters is getting this win, especially for the seniors. For the juniors, sophomores, freshmen, high school kids coming in — we're all pulling for it and we're all just gonna do the best we can because I came here my freshman year. And I'm a guy who believes you leave something better than it was when you came. I definitely wanna do that. I wanna leave this place better than when I found it."
December, 20, 2011
12/20/11
12:01
PM ET
Anyone else as excited about the new "Dark Knight" trailer as I am?
December, 12, 2011
12/12/11
12:00
PM ET
I don't think I've seen a game where both teams deserve to lose ... but I'm glad the Cowboys did.
December, 8, 2011
12/08/11
10:00
AM ET
When talking about
Tyler Eifert
during a press conference Tuesday, Florida State coach Jimbo Fisher referred to the Notre Dame junior as "Ee-fert." (For the uninitiated, it's pronounced "Eye-fert.")
Fisher at least recognized the player and his capabilities, which seems to be a step up from most opposing coaches this season.
[+] Enlarge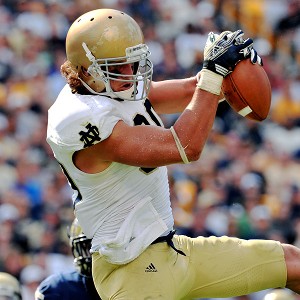 Matt Cashore/US PRESSWIRETyler Eifert led the nation in catches by a tight end this season with 57.
Asked to fill the shoes of current Minnesota Viking Kyle Rudolph entering this season, Eifert has been more than capable. He's been so good, in fact, that he has already filled out paperwork for NFL evaluations and could declare for the draft with a year of eligibility remaining. He's one of three finalists for the Mackey Award, which will be given to the nation's top tight end tonight. And if there's any justice, he will be taking home the hardware.
Overshadowed running routes alongside likely first-round pick
Michael Floyd
, Eifert has snuck up on people this season, proving to be a valuable, reliable threat for quarterback
Tommy Rees
throughout 2011. Eifert's 57 receptions are the most by a Notre Dame tight end in one season, and the most this season among FBS tight ends. His 713 receiving yards and five touchdowns trail only Ken MacAfee's 797 and six (in 1977) for most by an Irish tight end in one season. He is also one of just five Irish tight ends to eclipse the 1,000-yard plateau for his career.
Eifert started the final seven games last season after Rudolph went down with a right hamstring injury. This season, he has had three games with eight catches, including Week 4 at Pitt. Then, the Irish trailed 12-7 in the fourth quarter before Rees completed eight straight passes on their second-to-last drive. With Floyd locked down for the first time all season and Notre Dame on the verge of a third defeat in four games, Eifert emerged, making four catches during that final drive, including one for a 6-yard touchdown. He then caught the two-point conversion pass as well. The Irish won, 15-12.
The junior's biggest highlight, however, was a one-handed grab Nov. 19 against Boston College, which served as Notre Dame's Senior Day.
Right now, Irish fans can only hope that wasn't the last they've seen of Eifert up close.
December, 6, 2011
12/06/11
2:00
PM ET
Jimbo Fisher wasted no time getting to his point Tuesday when asked if he will have an eye toward next season while preparing Florida State for its Dec. 29 matchup with Notre Dame in the Champs Sports Bowl.
The 2011 season may be nearing its end, but it is not finished yet.
[+] Enlarge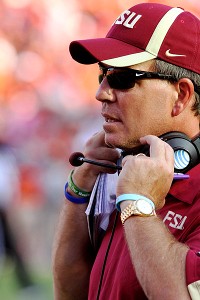 Joshua S. Kelly/US PRESSWIRECoach Jimbo Fisher says his Seminoles aren't looking past their bowl game against Notre Dame.
"The goal is to win the game," the Seminoles' second-year coach said. "Because I think for your seniors and everybody else, it's about the kids. The kids on this team. You have to understand: After this year, this team dies. Your life expectancy for a team is one year. That group of guys is never together ever again. Every team has a one-year life expectancy. That's it. After every year that team is never the same. That's why you always say — it's not the same. The dynamic of it, the family of it, the people in it. Every team after every year. It was born on Jan. 1, they have a one-year life expectancy till after the bowl game. After that it's not the same."
Fisher disagreed with the perception that the game would be a matchup of two disappointing teams that failed to meet preseason expectations, though he did say the Irish were very similar in that they were a few plays away from having several more wins this season.
"I'm not disappointed," Fisher said. "I like our team. The growth of our team. The maturity of our team. I'm disappointed in some of the outcomes, but I'm not disappointed in our team. I think our team may have grown more this year than we did last year. We come out of it, we learn some valuable lessons."
The fast-talking Fisher later went on a bit of a tangent when asked about the potential recruiting implications of playing a bowl in the state of Florida.
Among the highlights:
"The world's changed. It's not a regional world anymore. It's not even a national world. It's a global world. The internet, the Facebooks, the Twitters, the accounts, all that stuff has changed. TV. Tell me a game you can't watch. Tell me a team you can't watch in this country, on whatever level. And that's great. So I don't know if those impact things as much as we used to be because of, back then, the travel to Atlanta from Orlando years ago, that was a major deal. Now we go to China and back. I don't think those issues are the same as they used to be years ago."
St. Brown talks USC, Stanford and more
FBS INDEP. SCOREBOARD
Thursday, 8/28
Friday, 8/29
Saturday, 8/30