Notre Dame Football:

Joe Romano
December, 26, 2013
12/26/13
12:00
PM ET
Still full. (Happy Holidays)
December, 16, 2013
12/16/13
9:00
AM ET
Brian Kelly's bigger workload was on display already Friday night, when the Notre Dame head coach presented not one, not two, not three, but four different awards during the Irish's awards banquet, named "The Echoes" for the second straight year.
He did say on Saturday, however, that he does not expect any more of his assistants to leave, and that was seemingly confirmed shortly afterward by defensive line coach Mike Elston, whose first-ever tweet was the announcement he's staying at Notre Dame. (There had been some chatter that he could follow Bob Diaco to UConn to become the Huskies' defensive coordinator.)
Staying at ND. Love thee Notre Dame. Go Irish.

— Mike Elston (@CoachMikeElston) December 14, 2013
As for the awards show,
TJ Jones
took home team MVP honors in a team vote that Kelly said wasn't even close. (Yours truly
had predicted Jones as the winner beforehand
, just as he
had predicted the correct final score of the Stanford game
.)
Jones easily took home best-dressed honors on the night, wearing a burgundy suit with a bowtie and some hipster glasses.
Corey Robinson
and
Chris Watt
were among the bowtie-wearers as well.
The biggest news, or non-news, of the night came when
Stephon Tuitt
met with the media afterward,
saying he remains undecided on his future
.
As for the big winners on Friday...
There was also in-show fan voting for best hit and best catch honors, which went to Tuitt and Jones for their plays against USC.
November, 29, 2013
11/29/13
7:50
PM ET
No. 25 Notre Dame enters its toughest test of the season down two more defensive contributors.
The Irish will face No. 8 Stanford without safeties
Elijah Shumate
and
Eilar Hardy
, who did not travel because of a violation of team rules, coach Brian Kelly said Friday night in a statement.
One of the players who will travel in place of the two is senior walk-on cornerback
Joe Romano
, the team's walk-ons' Twitter account posted.
HUGE S/O to Walk on senior Joe Romano who made the travel team for the Stanford game. One of the hardest workers and best guys on the team.

— Notre Dame Walk Ons (@WOPUnation) November 29, 2013
Shumate, a sophomore who has been bothered by a hamstring injury late this season, has started four of eight games and tallied 23 total tackles, including one for loss, to go with one pass break-up and one pass defended
Hardy has seen his playing time increase in recent weeks, starting two of nine games and tallying 25 total tackles, including one for loss. This is the second road trip he has had to sit out, as the redshirt sophomore was kept home from the Sept. 14 game at Purdue for a violation of team rules.
November, 19, 2013
11/19/13
4:30
PM ET
SOUTH BEND, Ind. -- The irony of the whole situation had yet to dawn upon
Chris Badger
early this week.
Here the BYU safety was readying for the Cougars' trip to Notre Dame Stadium for Senior Day, a celebration that very well could have included him in it had he chosen a different path. He will still be there Saturday; he just won't be honored. But he will be playing in the shadow of Touchdown Jesus for the first time -- albeit against the Irish, not for them.
"To be honest, that's funny you brought that up," Badger told ESPN.com of the Senior Day scenario. "I hadn't thought of that."
Badger's wild ride
has taken him from Provo, Utah, to Notre Dame and back, with a two-year mission in Ecuador in between. Four years after committing to the Irish as a
three-star prospect
, Badger, who turns 22 Wednesday, is a redshirt freshman thrust into playing time for the Cougars, a squad he joined a mere two months ago.
"Obviously going back that could've been a path I could've taken," Badger said. "But just looking back, I'm so happy with my choice to join a mission. Being able to help the people in Ecuador was the greatest thing I'll ever do in my life. I learned so much about it and grew so much as a person and now I still have three more years of football after this year, and I'm excited to do some great things."
Badger has played mostly on kickoff coverage and on both return teams, appearing at safety in two game, including this past Saturday's rout of Idaho State. He has six total tackles and half of a tackle for a loss.
After enrolling early in 2010, Badger had put off school and football for a two-year Mormon mission. He redshirted last season with the Irish upon his return, and coach Brian Kelly said Tuesday that the Irish's defensive system not exactly being tailored to the strengths of Badger played a role in him not seeing the field. Badger was recruited to Notre Dame by former coach Charlie Weis.
"They were looking for more of a middle of the field safety that could run the alley from the middle of the field," Kelly said. "We're a two-deep safety team that we like to play off the hash a lot more. So I think that it was probably a better fit from that standpoint because that's how they play, BYU. They're not a huge Cover-2 team."
Kelly was the first of two factors to fall in Badger's favor this season, with the fourth-year Irish coach clearing Badger to leave for an opponent on Notre Dame's schedule. The NCAA then approved a waiver in the middle of September for Badger to play immediately since he was returning home to tend to a family situation. Badger now commutes to school from home.
"More than being a really great, smart coach, he's a great person and he cares about his players," Badger said of Kelly. "He's easy to talk to, and he wants the best for everybody. I just have the utmost respect for coach Kelly. He's a class act. I'm really grateful for him to release me so I can be here closer to home and be able to make this transition here."
Kelly said his defense has taken measures to ensure that Badger will not be able to share any of the family secrets with his new teammates this weekend, adding that he was not really concerned about it.
Badger is not so sure he can be of much help anyway, saying he has little to add that is not already available on film.
He is looking forward to seeing some old friends like
Danny Spond
,
Joe Romano
and
Joe Schmidt
, and he knows this visit will present different challenges, ones that come with making his debut on his old home field.
"I love to play football, and what better place than Notre Dame, where there's so much tradition?" Badger said. "And being there, knowing what it's like, it just makes it that much better, especially being able to see people and visit with them and all the relationships that I built when there with people from school, or the football team, or from my local church congregation. Being able to visit with them Friday night or Saturday before the game and then being able to play on that stage, it's exciting. It's going to be a really great experience."
August, 9, 2013
8/09/13
5:00
PM ET
What's on your minds?
John from Chicago writes
: Matt, can you point me in direction where I can find a roster breakdown of scholarship vs. walk-on's? Just curious mostly.
Matt Fortuna
: John, the roster we received last Friday listed the following players as walk-ons: Receiver
Josh Anderson
, punter
Andrew Antognoli
, cornerback
Jesse Bongiovi
, offensive lineman
Kevin Carr
, cornerback
Connor Cavalaris
, kicker
John Chereson
, defensive lineman
Marquis Dickerson
, quarterback
Charlie Fiessinger
, receiver
Nick Fitzpatrick
, receiver
Omar Hunter
, offensive lineman
Scott Kingsley
, linebacker
Austin Larkin
, receiver
Eric Lee
, outside linebacker
Connor Little
, defensive lineman
Arturo Martinez
, receiver Gerald Martinez, safety
Eamon McOsker
, kicker
Danny Omiliak
, running back
Tyler Plantz
, safety
Drew Recker
, kicker/punter
Jude Rhodes
, cornerback
Joe Romano
, long-snapper
Hunter Smith
, safety
Ernie Soto
and punter
Alex Wulfeck
.
---
Michael from Irsee, Bayern, Germany, writes
: Hi Matt,By now, you are used to fielding crazy Notre Dame hypothetical questions (mostly about the offense) so I thought that I would throw this defensive one your way. Combining what you saw from
Aaron Lynch
in his first year with Notre Dame's defense last year (in Lynch's absence) and the endless speculation about how good he could have been/will be this year on USF - do you care to speculate as to what Notre Dame's starting defense would have looked like in 2013 if Lynch had never departed?
Matt Fortuna
: Michael, it is easy to picture a starting defensive line of Lynch, Louis Nix and
Stephon Tuitt
-- three guys widely projected as first-round picks next spring -- and, on paper at least, think "Wow." But you have to remember that the Irish wouldn't have done better than 12-1 last year with Lynch, and they benefited from strong play (and even stronger leadership) from Kapron Lewis-Moore. Reports from Tampa, Fla., indicate that Lynch has matured and should have a strong year against American Athletic Conference competition, but let's remember that
Sheldon Day
isn't too shabby, either, and that the Irish still probably boast the top first-team defensive line in the nation.
---
Kenneth Moore from Bluefield, W. Va., writes
: Matt, I know that CBK is on record about the starters playing more in special teams. Is there anything that you have seen or heard that this unit is improving. The return game has been a complete joke considering the prospects that Notre Dame gets every year. It has to be fixed because teams force the Irish to march down the field to score. If this can be fixed I think there will be a jump in points scored in 2013. Thanks.
Matt Fortuna
: Kenneth, there is no question Notre Dame needs to improve its punt return game. More than anything, the Irish need a unit capable of forming solid return after solid return, rather than a big gain here and there with nothing to show for it in between. This is where I think the team's logjam at running back could help, as a number of these guys can do different things well and are capable of finding their ways on the field in separate ways. On Friday, T.J. Jones,
Amir Carlisle
,
Greg Bryant
and
Tarean Folston
were fielding punts.
December, 10, 2012
12/10/12
9:00
AM ET
Befitting a season seemingly from the past, Notre Dame made the theme for its Friday night awards banquet "The Echoes."
Seventeen "Echoes" were handed out at the DeBartolo Performing Arts Center by the entire Notre Dame staff, including the team MVP echo to
Manti Te'o
, who accepted the award live via satellite from atop 30 Rock in New York. Te'o was for the Heisman Trophy presentation the following night.
The highlights of the night:
Matthias Farley
's bowtie,
Theo Riddick
's Armani belt and Louis Nix's brief acceptance speech: "I'd like to thank my mom. She had a beautiful son and he's here today." The senior parents' video was a hit for the second straight year as well.
Here's a list of the night's winners:
Offensive scout team player of the year, presented by offensive GA Bill Brechin
Winner
:
Nick Fitzpatrick
(also nominated:
Bruce Heggie
, William Mahone)
Defensive scout team player of the year, presented by defensive GA Josh Reardon
Winner
:
Tyler Stockton
(also nominated:
Joe Romano
,
Joe Schmidt
)
Offensive newcomer of the year, presented by offensive coordinator Chuck Martin
Winner
:
Everett Golson
(also nominated:
DaVaris Daniels
,
Christian Lombard
,
Troy Niklas
)
Defensive newcomer of the year, presented by co-defensive coordinator Kerry Cooks
Winner
:
KeiVarae Russell
(also nominated:
Sheldon Day
, Matthias Farley,
Danny Spond
)
Irish Around the Bend award (community service), presented by director of player development and engagement Ernest Jones
Winner
: Mike Golic Jr.
A-Team award (accountability, appreciation, achievement), presented by defensive line coach Mike Elston
Winner
:
Kapron Lewis-Moore
Count On Me award (reliable, unselfish), presented by running backs/slot receivers coach Tony Alford
Winner
: Theo Riddick
Father Lange Iron Cross award, presented by strength and conditioning director Paul Longo
Winner
:
Braxston Cave
Special teams award, presented by tight ends coach/special teams coordinator Scott Booker
Winner
:
Kyle Brindza
Pietrosante award (courage, loyalty, teamwork, dedication, pride), presented by outside receivers coach Mike Denbrock
Winner
:
John Goodman
,
Robby Toma
Moose Krause defensive lineman of the year, presented by assistant head coach/co-defensive coordinator Bob Diaco
Winner
: Louis Nix and
Stephon Tuitt
Offensive lineman of the year, presented by offensive line coach Harry Hiestand
Winner
:
Zack Martin
Rockne Student-Athlete award, presented by safeties coach Bob Elliott
Winner
: Danny Spond
Next Man In award, presented by head coach Brian Kelly
Winner
:
Tommy Rees
Offensive player of the year, presented by Kelly
Winner
:
Tyler Eifert
Defensive player of the year, presented by Kelly
Winner
:
Zeke Motta
MVP, presented by Kelly
Winner
: Manti Te'o
April, 16, 2012
4/16/12
9:00
AM ET
SOUTH BEND, Ind. -- Notre Dame's coaches clinic Saturday made for a crowded audience inside the LaBar Practice Complex, as media members and more than 600 high school coaches were allowed to watch the Irish's 12th spring practice in its entirety.

John Goodman
,
Troy Niklas
and
Luke Massa
were the latest players to be injured. Brian Kelly said afterward that Goodman had a right ankle sprain and probably could have practiced; the Irish were just being cautious. Niklas, meanwhile, had been battling flu-like symptoms.
The prognosis is less favorable for Massa, who suffered what Kelly said was an injury to his anterior cruciate ligament that would likely require surgery.
Prince Shembo
, who had been suffering from turf toe, had surgery to insert a screw, which will likely shelve him for the next six weeks.
Dan Fox
was out once again because of the effects of a PCL injury suffered this spring.
Both
DaVaris Daniels
and
Daniel Smith
saw some time with the first-team receivers with Goodman out. The right side of the offensive line consisted of
Braxston Cave
, Mike Golic Jr. and
Christian Lombard
during tempo drills, with Golic, Nick Martin and Lombard facing off against the defense while scrimmaging. Cave does not yet know whether he will play in Saturday's spring game.
Kelly said that with the way things are playing out right now, Lombard has the inside track for the starting right tackle spot, with Golic and Martin likely battling it out for right guard.
The linemen had a little more riding on them Saturday, with the quarterbacks going live during scrimmaging. The biggest roars from the crowd, however, came during the rodeo drill and kick-coverage drill, with walk-on cornerback
Joe Romano
at the center of attention during two separate returns.
First, Romano got lit up by
Justin Utupo
, going to the sideline to recover for a few plays. Upon his return, Romano absorbed a vicious hit from
Josh Atkinson
, leaving the would-be tackler in his wake and firing up his teammates, who all gathered around him.
Following practice, Kelly clarified a comment that he made one night earlier during a speaking engagement at the Rockne Athletic Banquet in Chicago, as the rumor mill had swirled about the coach allegedly saying he was shooting for eight wins in 2012.
"No, that's not accurate," Kelly said. "What I said was that Notre Dame had not strung together three years in a row of eight wins or more, so if we win eight games next year or more, it will be the first time in 16 years [actually 19]. Thank you for getting that accurate.
"You shoot for eight wins around here, you won't be around very long. Believe me, trust me. My boss is up there, he already told me that. No 8-win seasons around here. We can build towards that, that's part of what we're doing is the building blocks of putting together a football program. We want consistency. The point of that whole statement was you need consistency, you need stability. Consistency is you can't have a 10-win season and then a three-win season, you've got to build consistency, and that's what we're all shooting for."
March, 29, 2012
3/29/12
9:00
AM ET
Our breakdown of Notre Dame's 2012 roster continues today with the defensive side of the ball.
DEFENSIVE LINE
The players:
Aaron Lynch
,
Louis Nix
,
Stephon Tuitt
,
Kapron Lewis-Moore
,
Tony Springmann
,
Chase Hounshell
, Sheldon Day,
Tyler Stockton
,
Kona Schwenke
The incoming:
Jarron Jones
,
Romeo Okwara
[+] Enlarge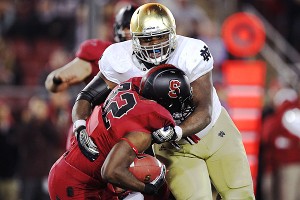 Ezra Shaw/Getty ImagesTackle Louis Nix is a key cog in what should be a strong, experienced defensive line for Notre Dame.
The breakdown:
Injuries forced all three current starters — Lynch, Nix and Tuitt — to play much more than expected last season, and none disappointed. They are all second-year players now, and their pass-rushing ability should have opposing offensive lines and quarterbacks on their heels. Lewis-Moore has been cleared for spring following a season-ending knee injury in 2011 but might not start, though he will likely see plenty of playing time as the line rotates. Hounshell (shoulder surgery) is not cleared yet, but he will likely see significant time this fall after playing as a true freshman last year as well.
LINEBACKERS
The players:
Danny Spond
,
Manti Te'o
,
Dan Fox
,
Prince Shembo
,
Kendall Moore
,
Ishaq Williams
,
Anthony Rabasa
,
Carlo Calabrese
,
Jarrett Grace
, Justin Utopo,
Connor Little
,
Ben Councell
,
Joe Schmidt
The incoming:
None
The breakdown:
As we said with
Tyler Eifert
yesterday, everyone knows what Te'o is capable of, as he likely would have been a first-round NFL draft pick had he left school following his junior year. Fox and Calabrese shared the other inside role last year, and their experience should prove valuable. Shembo has been working at the cat spot this spring, and up-and-coming talents like Williams and Spond figure to see extensive playing time.
SECONDARY
The players:
Bennett Jackson
,
Jamoris Slaughter
,
Zeke Motta
,
Lo Wood
,
Josh Atkinson
,
Austin Collinsworth
,
Dan McCarthy
,
Jalen Brown
,
Cam McDaniel
,
Eilar Hardy
,
Chris Salvi
,
Joe Romano
, Will Salvi,
Connor Cavalaris
,
Matthias Farley
,
Blake Breslau
The incoming:
Elijah Shumate
,
Nicky Baratti
,
C.J. Prosise
,
John Turner
The breakdown:
The loss of
Tee Shepard
really stings this group, which is down to four scholarship corners with a combined zero career starts. Jackson and Wood are in position to take over as the new starters, and playing time last season should help with the transition. At safety, Slaughter and Motta saw plenty of time the last two seasons, and Slaughter in particular has shown a nose for the ball and the capability of providing a leadership force that
Harrison Smith
is leaving behind. Collinsworth will likely also see plenty of snaps after playing last year.
December, 12, 2011
12/12/11
9:00
AM ET
SOUTH BEND, Ind. — A dozen Notre Dame players walked away from the DeBartolo Performing Arts Center with hardware. The winners from the 91st football awards ceremony Friday:
Notre Dame Monogram Club Most Valuable Player: Michael Floyd (over Harrison Smith and Tyler Eifert)
Nick Pietrosante Award (courage, loyalty, teamwork, dedication, pride): Harrison Smith
Guardian of the Year Award (offensive lineman): Zack Martin
Lineman of the Year Award: Darius Fleming
Notre Dame Club of St. Joseph Valley Rockne Student-Athlete Award: Manti Te'o
Next Man In Award: Robby Toma (over Jamoris Slaughter)
Back of the Year Award (new): Robert Blanton
Offensive Newcomer of the Year Award: Jonas Gray (over Chris Watt)
Defensive Newcomer of the Year Award: Dan Fox (over Aaron Lynch)
Special Teams Player of the Year Award: Austin Collinsworth
Offensive Scout Team Player of the Year: Everett Golson (over Matthias Farley)
Defensive Scout Team Player of the Year: Brandon Newman (over Justin Utupo)
Notes: Floyd is the 10th two-time team MVP, which is voted on by the players. The other two-time winners are Brady Quinn, Autry Denson, Derrick Mayes, Tony Rice, Tim Brown, Allen Pinkett, Bob Crable, Greg Collins and Terry Hanratty. In a classy move by the senior, Floyd specifically thanked scout-team players Jalen Brown and Joe Romano in his brief speech. … Tight ends coach Mike Denbrock, who presented the defensive scout team award, also gave Newman a ping-pong ball for his work with "Trick Shot Monday." … Collinsworth's trophy for the special teams award was actually a WWE-style championship belt. … Tricia Bellia, Notre Dame's faculty athletic representative, was honored with a monogram jacket. … All four helmets Notre Dame wore this season sat in front of the podium. Athletic director Jack Swarbrick joked about the number of letters he received this season for the headgear and for Ozzy Osbourne's "Crazy Train."
New Notre Dame Uniforms Revealed
FBS INDEP. SCOREBOARD
Friday, 8/29
Saturday, 8/30