Notre Dame Football:

Joey Brooks
August, 2, 2013
8/02/13
1:13
PM ET
SOUTH BEND, Ind. -- Brian Kelly's contract extension might be imminent.

The fourth-year Notre Dame coach revealed as much Friday during his camp-opening news conference, saying he agreed to terms in December and that legal language is all that has gotten in the way of anything becoming official.
The topic of Kelly's long-term future with the Irish gained steamed following his meeting with the
Philadelphia Eagles
in the days after his team's 42-14 loss to Alabama in the Discover BCS National Championship. Athletic director Jack Swarbrick has said since that both parties have been working on a decision.
Though no true time frame was given, Swarbrick has mentioned the last extension given to men's basketball coach Mike Brey, who turned down overtures in the spring of 2011, but had no official announcement from the school about a new deal until June of 2012.
Kelly admitted Friday that the process does not always go as quickly as he likes, but that he has never used leverage in contract talks to get the school to do something.
"If I had to do that, I would not be here," Kelly said.
Kelly's last extension came following the 2011 season, a two-year deal that locked him up at Notre Dame through 2016.
He re-iterated Friday that his goal is to get Notre Dame back to where it was during its renaissance 2012 campaign, and finish the deal this time.
"Everything we worked on since that next day -- and I mean the next day -- is about getting back to the national championship game and winning it," Kelly said Friday.
Notes
: Former basketball player Joey Brooks is no longer with the team after working in the spring as a tight end. …
Louis Nix
is up to 357 pounds, 10 pounds heavier than he was listed in the spring. … Kelly said he expects
Everett Golson
back at Notre Dame in January, and that the suspended quarterback talks with offensive coordinator Chuck Martin almost daily. … Kelly wants freshman
Malik Zaire
to work with the regular quarterbacks and not the scout team.
April, 5, 2013
4/05/13
2:30
PM ET
Enjoy the weekend.
Michael from Evansville, Ind., writes
: Hey Matty Ice! Big fan of everything you do for the blog. Not sure if you've done this yet, and if you have, I'm sorry, but could you fill me/us in on the number changes and numbers given to the new players? I've been watching the practice reports not knowing who a lot of people are! Thanks.
Matt Fortuna
: Matty Ice, eh? Not too much to report in the number category.
Louis Nix III
has switched from No. 9 to No. 1,
C.J. Prosise
has switched from No. 34 to No. 20 and
Josh Atkinson
has switched from No. 43 to No. 24. As for the early enrollees —
Malik Zaire
is No. 8,
Mike Heuerman
is No. 9,
James Onwualu
is No. 17,
Steve Elmer
is No. 79 and
Corey Robinson
is No. 88. Former hoops player Joey Brooks is No. 81. Thanks for the kind words.
---
Scott writes
: Matt, tell me the season is a long ways away and it's too soon to worry, but is it me, or did a "deep" WR group in 2013 just get really thin? With the two recent transfers (who didn't see DNeal coming from a mile away as of last year signing day), and
Amir Carlisle
(slot, theo riddick type) looking like he may never be healthy, and THunter Jr still coming off a serious injury, 2013 is looking gloomier with each day.....In my eyes, this years offense (assuming QB/OL play is solid to very good as expected) is all weighing on DDaniels......this kid needs to be "THE" WR ND hasn't had since.....say.....#81 in 1987? I'd even take Derrick Mayes eh? Does DDaniels have this in him?
Matt Fortuna
: Scott, how quick we are to forget Michael Floyd. In any event, I do think there is some cause for concern, though it is too early to really freak out. The loss of Davonte Neal certainly hurts, but the Irish do have two early enrollee receivers and one early enrollee tight end. I think the passing game revolves around
DaVaris Daniels
and
T.J. Jones
, but there will be a lot of moving parts. Outside receivers coach Mike Denbrock summed it up best Wednesday when he was asked if Jones would play inside or outside: "Yes."
---
Josh from Wheeling, W. Va., writes
: I know the Irish's deal with the ACC's lower-tier bowl games and that seems really good. And I like the fact that we have a tie-in with the Orange Bowl. My question is, though, say we use up our two Orange Bowl spots, have a top team but just miss out on the playoff. Do we instead go to a lower-tier bowl? Have there been any talks about hooking on somehow with the Fiesta, Cotton, or Chick-Fil-A bowls (assuming those are the other major bowl games)?
Matt Fortuna: Josh, Notre Dame could step over an ACC team and take its place in one of the non-BCS bowls if its record is better than, equal to or within one win of the ACC team or ranked higher in the BCS standings. I believe its arrangement with the other BCS bowls would be similar to now -- if one has an at-large opening and Notre Dame is available, it could work.


March, 1, 2013
3/01/13
10:30
AM ET
Joey Brooks will not be playing basketball at Notre Dame next season. Whether that means he won't be playing anything at Notre Dame next season remains to be seen.
The fourth-year men's basketball guard plans to give it a go with the Irish football team this spring at tight end, though anything beyond that remains up in the air at this point.
Brooks, who understood that minutes on the hardwood would be limited coming into this year, has spent the year on the bench in street clothes and is keeping his options open.
"He's been great," Mike Brey said during Thursday's Big East coaches' teleconference. "We talked in the spring and it was very much man-to-man. I think Joey knew, given what we had returning and Cam [Biedscheid] coming in, that it was going to be hard for him to really find good minutes. And so we talked about what would be the best situation for him, and my feeling was to use him as a practice player and to use him as an older guy and leader -- he's been great in both of those things, and has understood that and has been really supportive. I maybe was a little concerned could he do it over the long haul? Will it get old eventually? 'Gosh, I want to play.' But his frame of mind has been really great with that.
"And I think he's got a lot of different options next year. He's got a job offer in New York City. Could he use the year of eligibility to go somewhere else and play after graduation? Basketball, that is. And the one thing he's really going to take a look at here is trying to be involved with our football program. And I'm really supportive of all those. I'm excited for him and he's excited."
Brooks averaged 2.3 points and eight minutes per game for Notre Dame. On the gridiron this spring, he would be challenging returning tight ends
Troy Niklas
and
Ben Koyack
, along with early enrollee Mike Heuerman and
Alex Welch
, who missed last season after tearing the anterior cruciate ligament in his right knee during camp.
The Irish will also welcome Durham Smythe in the summer.
February, 25, 2013
2/25/13
12:00
PM ET
First Blackhawks game tonight. They're pretty good, no?
September, 16, 2012
9/16/12
2:30
AM ET
EAST LANSING, Mich. -- So this was how
Manti Te'o
would respond to a week out of left field, tragedy striking him not once but twice, two of the most important women in his life gone in a matter of hours.
The postgame television interview was done and here he came, the linebacker the last one to meet his fellow students in the northeast corner of Spartan Stadium, their adoration slowly carrying him through the final words of the Notre Dame alma mater after
a 20-3 victory
over Michigan State.
"We love you Manti!" the gathering repeatedly shouted, with Te'o responding by blowing them kisses.
He had fought his way to a game-high 12 tackles, five of them on
Le'Veon Bell
, the Heisman candidate he helped limit to 77 yards on a night the Spartans struggled to move the ball against the Irish's defense.
And still, here he was, extending his hand toward the crowd, leaping and greeting Irish basketball players
Eric Atkins
and
Joey Brooks
, two of the hundreds who made the 150-mile trip to watch Notre Dame go 3-0.
This was validation of Te'o's return for his senior year, his decision to pass up millions repaying him now, letters and support coming from all over after he said goodbye to his grandmother and his girlfriend earlier in the week.
"My family and my girlfriend's family have received so much love and support from the Notre Dame family," Te'o
said. "Michigan State fans showed some love. And it goes to show that people understand that football is just a game, and it's a game that we play, and we have fun doing it.
[+] Enlarge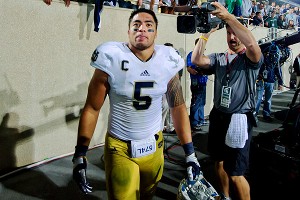 Matt Cashore/US PresswireManti Te'o, playing days after the deaths of his grandmother and his girlfriend, had 12 tackles and a fumble recovery against Michigan State.
"But at the end of the day what matters is the people who are around you, and family. I appreciate all the love and support that everybody's given my family and my girlfriend's family."
He had made it to practice every day last week, stopping right before one to remind his teammates that he loved them, that he wasn't going anywhere, that he'd be playing for them and for his family.
"He's just one of our great leaders and one of our best all-time players," receiver
John Goodman
said, "and if you don't rally around a player like that, the camaraderie isn't right, and I think the camaraderie is right on our team."
He had gotten a big lift, too, from the little man who always seems to be in the right place at the right time. Five-foot-nine
Robby Toma
led Notre Dame with five catches covering 58 yards, but his biggest impact came earlier in the week.
So close with Te'o back in Hawaii that he calls Teo's father "Uncle Brian," Toma has been there for Te'o throughout their college careers -- from the earlier deaths of Te'o's grandfather and two of their good friends from home, to the past week, when they chatted in their apartment together and in the hotel room before Saturday night's game.
"Earlier in the week he told me he needed me," Toma said. "I've known him since we were 5 years old. And I was just there for him when he needed to talk or whatnot.
"He's a real strong guy -- spiritually, mentally, physically -- and I was just there to be his backbone."
When Te'o stopped Bell a yard behind the line of scrimmage early in the third quarter, he got up, kissed his fingers and gently pointed to the sky, a thank-you to the grandmother and the girlfriend who helped bring him to the brink of stardom.
"There's nobody," Brian Kelly said when asked if he'd ever had someone like Te'o over his 22 years of coaching. "He's so strong for everybody that when he was at a time, everybody wanted to help him out, and I've never seen that dynamic amongst a team and a group of players. It's a pretty close locker room."
With Notre Dame up by 14 late, Bell was shoved out of bounds on his 19th and final carry of the game, the ball popping loose and landing in Te'o's arms for his second career fumble recovery.
The remaining fans let out their biggest roar of the night, and the worst week of Manti Te'o's life was on its way to a good ending, though the pain was still alive.
"Yeah," he said when asked if Saturday could have ended any better. "I could call my girlfriend right now and talk about the game.
"But I've just got to get on my knees, say a prayer and I can talk to her that way."
'College Football Live' Extra: Biggest Plays
FBS INDEP. SCOREBOARD
Saturday, 12/20
Monday, 12/22
Tuesday, 12/23
Wednesday, 12/24
Friday, 12/26
Saturday, 12/27
Monday, 12/29
Tuesday, 12/30
Wednesday, 12/31
Thursday, 1/1
Friday, 1/2
Saturday, 1/3
Sunday, 1/4
Monday, 1/12