Notre Dame Football:

Jordan Prestwood
October, 29, 2013
10/29/13
12:00
PM ET
July, 1, 2013
7/01/13
3:00
PM ET
Former Notre Dame offensive lineman Jordan Prestwood has reached another bump in the road on his way back to the playing field.
Prestwood will no longer be enrolling at UCF this fall, Knights coach George O'Leary
told the Orlando Sentinel's Paul Tenorio
.
"He will not be here in the fall due to a failure to fulfill his academic responsibilities," O'Leary told the paper.
Prestwood was taking classes this summer at a community college and had planned on joining the Knights this fall. He had enrolled at Florida State in January of 2011 before transferring to Notre Dame prior to the 2011 season, which he had to sit out. Irish coach Brian Kelly then announced at the start of last year's fall camp that Prestwood had left the team for personal reasons, saying at the time that he could not get into specifics because of privacy laws.
The 6-foot-5, 295-pound Prestwood was an ESPN 150 four-star recruit out of Plant City (Fla.) High School.
March, 15, 2013
3/15/13
4:00
PM ET
Our series continues with big guys up front.
Starters returning
:
Zack Martin
,
Chris Watt
,
Christian Lombard
Players returning
:
Conor Hanratty
,
Nick Martin
,
Bruce Heggie
,
Matt Hegarty
,
Ronnie Stanley
,
Mark Harrell
Players departing
:
Braxston Cave
,
Mike Golic Jr.
, Jordan Prestwood (transfer)
Newcomers
:
Steve Elmer
,
Hunter Bivin
,
Mike McGlinchey
,
John Montelus
,
Colin McGovern
The breakdown
: We should know next week that Zack Martin and Watt are officially back for fifth years, huge boosts for a line that will be returning three starters, including the left side. Martin's decision to return in particular gives the line -- and team in general -- a great veteran presence, as he will likely become a two-time captain in 2013.
Martin may also get the chance to start alongside his younger brother, Nick, who served as something of a utility man on the second unit this past season and figures to contend for one of the two open starting spots.
Another contender to start could be Hegarty, who was shut down late last season because of a mini-stroke but is expected to be cleared this spring. Depending on his progress on the field, he could emerge as a prime candidate to replace Cave at center.
There is plenty of depth -- albeit unproven depth -- in the backfield, but 60 percent of last year's line returns, a line that paved the way for a ground attack that averaged better than 200 yards per game during the regular season.
Throw in another likely year with
Everett Golson
under center -- after the two sides progressed tremendously on the communication end in 2012 -- and lots of extra bodies from this year's recruiting class, and the line should not experience much of a drop-off in 2013.
March, 15, 2013
3/15/13
12:15
PM ET
Had nightmares about Shamrock Shakes last night. Weird.
January, 1, 2013
1/01/13
4:30
PM ET
A number of you have asked recently about the status of Jordan Prestwood.
Turns out the former Notre Dame tackle is now Central Florida-bound, as Prestwood
announced Sunday
on his Twitter page that he would joining the Knights.
Prestwood had enrolled at Florida State in January of 2011 before transferring to Notre Dame prior to the 2011 season, which he had to sit out. Coach
Brian Kelly then announced
at the start of this season's fall camp that Prestwood had left the team for personal reasons, saying at the time that he could not get into specifics because of privacy laws.
Prestwood has three years of eligibility remaining and,
according to Rivals.com's Brandon Helwig
, will take classes at a local community college this spring before enrolling at UCF in May.
The 6-foot-5, 295-pound Prestwood was an ESPN 150 four-star recruit out of Plant City (Fla.) High School.
September, 3, 2012
9/03/12
10:00
AM ET
Here's one last look at what was a successful opening weekend for the Irish:
The good
: Each line received a game ball for its efforts Saturday, and deservedly so. Yes, there is plenty of talent in the Irish's backfield, but that talent doesn't get the chance to do what it did to Navy without the push up front. Remember,
Navy
was supposed to have the strong ground game. Notre Dame's 292 rushing yards -- and the Midshipmen's 149 -- were a testament to the strong play from both of Notre Dame's lines.
The bad
: It wouldn't be a Notre Dame game without a red zone turnover, right?
Everett Golson
's first career gaffe came midway through the second quarter, when he was picked off by
Parrish Gaines
at the Navy 4. Fortunately for Golson, he and his teammates did more than enough to make up for it in a 40-point win.
Biggest surprise
: Tackle
Ronnie Stanley
saw some playing time in the second half, a rarity for a freshman offensive lineman. Of course, Jordan Prestwood's departure and
Tate Nichols
' injury left the Irish thin there. Brian Kelly said Sunday that the decision was made before the trip that Stanley would play if the opportunity arose.
Best quote
: In what is probably the most accurate way to describe 303-pound teammate
Stephon Tuitt
, who returned a fumble 77 yards for a score, Braxston Cave
told reporters
: "He's a freak."
Next up
: And you thought Notre Dame once had quarterback conundrums? The Irish return to the United States to kick off their home schedule against rival Purdue, which has three capable signal-callers and is coming off a 48-6 rout of Eastern Kentucky.
August, 23, 2012
8/23/12
3:15
PM ET
Thanks again for the strong turnout during our weekly Notre Dame chat. As always, a full transcript is available
here
.
Some highlights:
Chad (Columbus, Ohio): Do you think the Irish have enough talent to compete with USC, Oklahoma, Mich, and Standford this year? I'm not sure I'll survive another season of Notre Dame losing the big games. Thanks Matt. Look forward in reading about your thoughts on this.
Matt Fortuna (2:06 PM): Chad, talent-wise, they are not up there with USC and Oklahoma, no. But that's why we play these games, no? USF and Tulsa don't stack up to ND talent-wise, and that did not seem to matter on those respective Saturdays. I think the Michigan and Stanford games are certainly winnable, but recent history is not on the Irish's side with those opponents.
Jeff (South Bend, Ind.): Hi Matt! I have been really excited to see Devonte Neal get out on the field this season, but haven't heard much about him out of camp. How is he looking to factor in this season? Does ND finally have a punt returner in him?
Matt Fortuna (2:14 PM): Jeff, it wouldn't surprise me if he were starting by mid-season. I think this offense has the chance to really exploit his potential, and if he can prove he's ready to handle returns, all the better for the Irish.
Scooter (Southeast of South Bend, Ind.): I know our O-Line should be good. I would like to know if they are better at the run or the pass? Shouldn't they be a solid anchor for all the skilled players to shine behind and thus goes the offense?
Matt Fortuna (2:42 PM): Scooter, the first-team line may be the best thing Notre Dame has going for it, aside from running backs. There are depth concerns given the Jordan Prestwood departure and Tate Nichols injury, but if healthy the line should be great, and I'd say a little bit better for the run. Yes, that makes life much easier for the skill guys, but it won't matter if the QB play isn't better.
August, 17, 2012
8/17/12
9:00
AM ET
SOUTH BEND, Ind. -- The Shamrock Series will continue for at least the next four seasons. But that's the only absolute when it comes to the often-complicated future of Notre Dame football.
Although athletic director Jack Swarbrick said Thursday that the Irish have locations (but not opponents) nailed down for off-site home games through the 2016 season, he was noncommittal when it came to upgrades for campus home games -- namely, with FieldTurf and a Jumbotron.
[+] Enlarge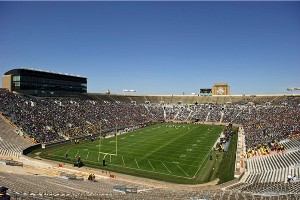 Matt Cashore/US PresswireCoach Brian Kelly has said he'd like FieldTurf installed at Notre Dame Stadium.
"I haven't made a decision," Swarbrick said regarding the playing surface of Notre Dame Stadium, which will undergo its every-five-year removal following this season. "The reasons to do it relate to the use of the stadium. We do commencement in here. We'd like to do an alumni function in here during the summer. I'd love for our team to be able to practice in here on Fridays. So you balance those things against the environment of natural turf, which feels sort of central to this place. That's not an easy balance. We haven't made it yet, but those are factors we'll think about."
Swarbrick said that he hopes Notre Dame's home atmosphere can serve as the Augusta of college football, an aura that cannot be maintained with all of the same additions that most other major college stadiums have installed.
The balance, of course, comes with creating an intense enough home-field advantage. The Irish have won no more than four games inside Notre Dame Stadium in each of the last five years and are just 17-16 in front of their home crowd since 2007.
"We still want to be the most welcoming place in the country," Swarbrick said. "We want to still be the place where, when others schools come, they say, 'That was a marvelous experience for us.' But I don't want athletic directors telling me, 'We love playing here,' which is what they say to me with some frequency."
Swarbrick also said playing a regular-season finale against Stanford in China remains a high priority, but talks have slowed there since former Cardinal athletic director Bob Bowlsby became the Big 12 commissioner in May.
As for football matters …
Coach Brian Kelly said reps among the quarterbacks will start to separate next week. He will also decide on captains next week, though he does not know whether they will be season captains or game-by-game captains.

Redshirt sophomore right tackle Tate Nichols has a patella subluxation in his left knee, an injury that has happened before and kept him out two to three weeks at the time. His status for the season opener is uncertain. With Nichols' injury and the departure of Jordan Prestwood (personal reasons), redshirt freshman Nick Martin and true freshman Ronnie Stanley are the reserve tackle options -- Kelly termed them "1a" and "1b," respectively -- behind starters Zack Martin and Christian Lombard.

Kelly said that junior linebacker Danny Spond, who left an Aug. 8 practice with an apparent head injury, had had a migraine so severe that it required hospitalization. There is no timetable for his return.

Redshirt sophomore noseguard Kona Schwenke practiced with a cast on his right hand. Kelly said Schwenke had a simple bone crack that shouldn't have any effect once the season arrives.

Sophomore running back-turned-cornerback Cam McDaniel is now "cross training" between the positions.

Redshirt sophomore tight end Alex Welch (torn right ACL) recently underwent successful surgery and faces a recovery time of four to six months.

Fifth-year safety Jamoris Slaughter sat out of practice with a bruised heel, but Kelly said it was precautionary. Redshirt freshman Matthias Farley replaced Slaughter, and Kelly said Farley is pushing fifty-year safety Dan McCarthy for the third safety spot.
August, 13, 2012
8/13/12
2:15
PM ET
SOUTH BEND, Ind. -- His head coach might feel otherwise, but
Ronnie Stanley
hasn't looked at himself as a freshman through a week and a half of fall practice.

The left tackle doesn't really have a choice right now, having been thrown into the No. 2 role after Jordan Prestwood left Notre Dame because of what the program said were personal reasons.
"Prestwood was a good kid, was a great athlete as well. It's just unfortunate things happen," Stanley said. "But I just knew I had to be ready. I don't look at myself as just being like a freshman. I'm a part of the team. You can't see yourself like that, so I just look at myself, I just need to be ready like everyone else is ready, like the seniors are. I need to be ready."
Brian Kelly said following Prestwood's departure that he hoped he wouldn't have to use Stanley in game action, despite the freshman taking practice reps behind starter
Zack Martin
. Kelly said second-team right tackle
Tate Nichols
and the versatile Nick Martin -- Zach's little brother, and the current No. 2 right guard -- could both be in the mix with Stanley for the second-team left tackle role.
Stanley credited the elder Martin, who has started all 26 games the past two seasons, with helping him develop footwork and pick up blitzes.
Having played AAU hoops until this summer, Stanley has been able to keep up with the running and conditioning portions of camp. Being thrown into the fire due to circumstance, the freshman is optimistic about his ability to seize a potential opportunity, especially given the test he faces every day from a veteran defensive line.
"It's gonna be really beneficial, when you're going against guys like
Kapron [Lewis-Moore]
and
Stephon Tuitt
, just blocking them play after play, you're gonna get better," Stanley said. "So you just gotta go out there, go hard and go 100 percent, and you're gonna get better."
August, 8, 2012
8/08/12
4:15
PM ET
SOUTH BEND, Ind. -- Offensive tackle
Jordan Prestwood
is no longer with the team because of personal reasons, coach Brian Kelly said Wednesday. Kelly said he could not get into specifics of the move because of privacy laws.
Prestwood, who would have been in his second season, sat out the 2011 campaign after transferring from Florida State in January. Freshman Ronnie Stanley took his place as the No. 2 left tackle.
Kelly said that Notre Dame will pursue a medical scholarship for junior running back
Cam Roberson
, who has dealt with knee issues.
Kelly said that linebacker Danny Spond had to leave Wednesday's practice with what looked like a concussion.
Tight end Alex Welch was carted off after practice with his right knee wrapped in ice after getting injured during live action. Kelly had no early word on Welch's status.
Kelly said that USC transfer Amir Carlisle is at about 80 percent but should be ready to go when the season kicks off.
Cierre Wood, who missed the Irish's first fall practice because of medical paperwork, was at practice and even fielded punts with Theo Riddick, Davonte Neal and Chris Brown.
Freshman safety Elijah Shumate has moved to cornerback.
August, 6, 2012
8/06/12
9:00
AM ET
SOUTH BEND, Ind. — The LaBar Practice Complex speakers began blaring Chiddy Bang's "Mind Your Manners," and Notre Dame's fall camp was off and running Saturday. Soon enough, following the initial jogging and stretching, media members allowed in for the first portion of the first practice got to see the tempo drill, with
Everett Golson
seeing first-team action there.
Here's what the first- and second-team offense looked like in the drill. (And before we run away with Week 1 starters, let's remember that there were no pads, no defenders and 28 remaining practices before the Navy opener.)
First team: QB Everett Golson, RB/WR Theo Riddick, WR John Goodman, WR T.J. Jones, WR Robby Toma, TE Tyler Eifert, LT Zack Martin, LG Chris Watt, C Braxston Cave, RG Mike Golic Jr., RT Christian Lombard
Second team: QB Andrew Hendrix/Gunner Kiel, RB/WR George Atkinson III, WR DaVaris Daniels, WR Daniel Smith, WR Davonte' Neal, TE Alex Welch/Ben Koyack, LT Jordan Prestwood, LG Conor Hanratty, C Matt Hegarty, RG Nick Martin, RT Tate Nichols
So what do we make of Golson taking the first snap of practice No. 1?
"He had a better spring game in our evaluation, so he got the first shot," coach Brian Kelly said afterward. "Andrew had a really good practice today, so there's a chance he could be the first tomorrow. I think that's kind of where we are right now. We're so close with those guys at this point."
When asked later if what he saw of the signal callers Saturday matched up with what he had heard about their progress from the summer, Kelly said: "I was pleased with all of them, and I was pleased with
Tommy Rees
. He was out there coaching all the quarterbacks and it just reaffirms the kind of kid he is to me."
Also worth noting was the absence of
Cierre Wood
, who dressed but did not participate. Kelly said there was some medical paperwork that Wood had not taken care of, but he is physically fine.
On a sour note, the football career of offensive lineman
Brad Carrico
is over because of chronic foot problems. Kelly said that Notre Dame is in the final stages of getting Carrico a medical scholarship, which would not count against the team's limit of 85.
Elsewhere, the team officially
released its 2013 schedule
.
Aug. 31: Temple
Sept. 7: at Michigan
Sept. 14: at Purdue
Sept. 21: Michigan State
Sept. 28: Oklahoma
Oct. 5: Arizona State (in Arlington, Texas)
Oct. 12: Bye
Oct. 19: USC
Oct. 26: at Air Force
Nov. 2: Navy
Nov. 9: at Pitt
Nov. 16: Bye
Nov. 23: BYU
Nov. 30: at Stanford
Initial observations: The Irish have quite the home schedule, with MSU, Oklahoma and USC all coming to town. It will be tough to pick a night contest out of that trio, assuming, of course, that Notre Dame wishes to have a home night game for a third straight year. There are also two bye weeks in 2013. And as Lane Kiffin will undoubtedly point out, yes, the Trojans come to town following one, again.
March, 28, 2012
3/28/12
9:00
AM ET
With Notre Dame a week into spring practice, the fifth-year players officially returning and the 2012 recruiting class finalized (we think), let's break down the Irish's complete roster, position-by-position, as it gears up for Year 3 under Brian Kelly.
We'll start with the offense today and delve into the defense tomorrow, with special teams coming Friday.
QUARTERBACK
The players:
Tommy Rees
,
Andrew Hendrix
,
Everett Golson
, Gunner Kiel
The incoming:
None
The breakdown:
Experience is the only real way to rank these guys, as Rees has 16 starts, Hendrix has played in five games, Golson has sat a year learning the offense and Kiel arrived on campus just two months ago. Nonetheless, that likely won't matter as Kelly goes to a square-one approach, opening the playbook from the beginning to allow for a fair chance for everyone. The decision -- which will likely be up in the air deep into the summer -- may prove to be Kelly's biggest so far with the Irish.
RUNNING BACK
[+] Enlarge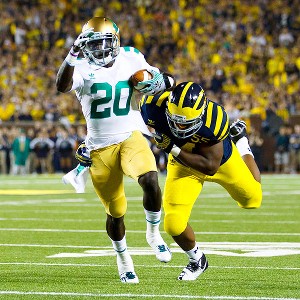 Rick Osentoski/US PresswireCierre Wood is still the clear favorite in Notre Dame's backfield, but the Irish have other running backs ready to vie for playing time.
The players:
Cierre Wood
,
Theo Riddick
,
George Atkinson
,
Amir Carlisle
, Cam Roberson,
Tyler Plantz
The Incoming:
Will Mahone, KeiVarae Russell
The breakdown:
Wood is the clear No. 1, as he was heading into last season as well. Riddick broke off a pair of huge runs toward the end of Saturday's scrimmage, and Kelly wanted both him and Atkinson to see more time back there as Wood rested with a minor quad injury. (Kelly said Wood did go in the rodeo drill earlier.) Both Riddick and Atkinson are capable of playing in the slot, and may end up seeing more time catching balls this season than taking handoffs, though Tony Alford will coach both regardless.
Carlisle, the USC transfer, is eligible to play in 2012 but out for the spring with a broken ankle. Where he fits in will be interesting, as carries may be hard to come by if Atkinson really progresses this spring in the backfield. The 5-foot-10, 185-pound Carlisle was featured on kickoffs last season with the Trojans, and there, or on the punt return team, may prove to be the fastest way on the field for him.
WIDE RECEIVER
The players:
John Goodman
,
T.J. Jones
,
Robby Toma
,
DaVaris Daniels
,
Daniel Smith
,
Luke Massa
,
Eric Lee
,
Nick Fitzpatrick
,
Ryan Liebscher
The incoming:
Justin Ferguson, Davonte Neal
The breakdown:
Goodman has talked about making the most of this last chance, and the coaching staff would not have invited him back for a fifth year had it not believed in him. Whether he can be a top target is up in the air, but he should bring some stability and leadership to a group loaded with youth. Jones has been solid through two years and Kelly has said he is on the cusp of breaking out. Toma has done everything asked of him and then some in the slot when replacing the oft-injured Riddick, and he may have the position to himself this year.
Daniels has the complete package physically, but he has yet to take a snap after redshirting last season. He was seen running with the 2s to start spring, but that could easily change with a strong showing. Smith, too, ran with 2s to open spring, but he must stay healthy first. Ferguson has the tools to compete for playing time upon arrival, but that could likely depend on how the incumbents step up in front of him. Neal is pegged as an athlete, but Kelly said there are no plans right now to play him at corner upon his arrival. He could possibly be a playmaker at receiver or on special teams.
TIGHT END
The players:
Tyler Eifert
,
Troy Niklas
,
Alex Welch
,
Ben Koyack
,
Jake Golic
,
Arturo Martinez
The incoming:
None
The breakdown:
We all know what Eifert can do, which is why he almost entered the draft this year. Niklas is the big question mark. And by big, we mean it literally. A switch from linebacker -- where he started one game last fall as a freshman -- to tight end for the 6-7, 252-pounder has many excited to see what the offense can do with a potential two tight end set. Everyone saw what the
New England Patriots
did last year with
Rob Gronkowski
and
Aaron Hernandez
.
It would be foolish to expect that much so soon -- both without
Tom Brady
as the Irish's quarterback and without Niklas having played the position since high school. How quick Niklas can master the playbook and blocking could go a long way in seeing some of these sets come to fruition. The move does leave some to wonder what this means for Welch and Koyack, but the duo is young and, according to tight ends coach Scott Booker, up for the challenge.
OFFENSIVE LINE
The players:
Zack Martin
,
Chris Watt
,
Braxston Cave
, Mike Golic,
Tate Nichols
,
Christian Lombard
,
Bruce Heggie
,
Jordan Prestwood
,
Matt Hegarty
,
Conor Hanratty
,
Nick Martin
,
Brad Carrico
,
Matt Tansey
,
Dennis Mahoney
The incoming:
Mark Harrell, Ronnie Stanley
The breakdown:
Cave will not be playing much, if at all, this spring as he recovers after injuring his foot last season. Golic, who started in his place, is the center with Cave out, but it would not be surprising to see Golic move to right guard upon Cave's return. Right now Lombard is manning the right guard spot, with Nichols at right tackle. How the second unit gets shuffled upon Cave's return to the starting unit remains to be seen, but to open spring, it consisted of Heggie, Prestwood, Hegarty, Hanratty and Martin.
December, 9, 2011
12/09/11
10:15
AM ET
ESPN Recruiting took a look back this week at the
2011 ESPNU 150 class
and how each player fared in his first year of college ball.
Several Notre Dame freshmen have made big impacts already. Others have yet to play. Let's take a look at what the recruiting experts had to say:
[+] Enlarge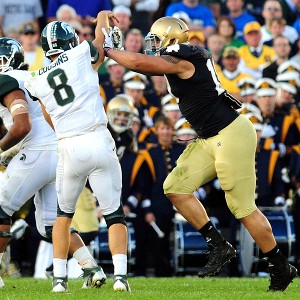 Chris Williams/Icon SMINotre Dame's Aaron Lynch proved that he can put pressure on opposing quarterbacks during his freshman season.
No. 15: Aaron Lynch, DE
: "Aaron Lynch has exploded onto the scene in South Bend, drawing more personal fouls than coach Brian Kelly would approve of and dropping enough incendiary comments that he was sequestered from the media for November. But don't let those freshman mishaps belie the flashes of greatness he has shown. Lynch started five games for the Fighting Irish. Of his 28 tackles, 5½ were behind the line of scrimmage, including four sacks. He hurried the quarterback 13 times, forced a fumble and broke up two passes. The explosiveness is there. Now, Lynch must learn to be more disciplined, especially by staying in his gap, so he doesn't give up as many big plays as he makes."
Lynch has actually not spoken since late September, when he predicted Notre Dame could come up with 10 or more sacks against Pitt. Considering he was reminded in that question that Maine had recorded seven sacks against Pitt -- and considering he prefaced the answer by crediting Maine -- he earns the benefit of the doubt from this blogger. Still, the end has all the makings of a future NFL player and should be a star the rest of his college career.
No. 36: Matthew Hegarty, OT
: "Hegarty redshirted this season for the Irish but impressed in scout team enough to get mention as a potential starter next year. The big lineman came to South Bend as a tackle but will be moved inside and could spend time at guard or even center next season."
No. 42: Ishaq Williams, DE
: "Williams played spot duty this season, seeing time in 10 games at outside linebacker for the Irish. He finished the year with five tackles and also played on special teams. The Irish coaches are high on him and he's expected to be an impact player next season."
Plenty of upperclassmen ahead of Williams kept him from seeing the field more, but he will surely make an impact moving forward for the Irish.
No. 65: DaVaris Daniels, WR
: "Daniels took a redshirt this season, even though he was the Irish's only receiver in their 2011 class. However, the Irish's depth chart looks ripe for the taking, and Daniels could be an impact player next season."
No. 77: Ben Koyack, TE
: "Used more for blocking situations, Koyack has played in 11 games and started one. He caught one pass for 5 yards."
Mike Ragone
's ACL tear allowed Koyack to see the field some more. If
Tyler Eifert
leaps to the NFL, the spotlight could be on Koyack next season.
No. 90: Stephon Tuitt, DE
: "Tuitt played in eight games, starting three, and has taken over the starting end spot for the Fighting Irish. He has 27 tackles, two quarterback hurries, a sack and a pass deflection in his first season."
Tuitt also saw some time inside and was coming along really well before an illness forced him to miss the last two games. He and Lynch will make for one tough pass-rushing tandem in the years to come.
No. 123: Anthony Rabasa, DE
: "Rabasa was moved to middle linebacker and was doing quite well before injuring his shoulder. He redshirted for the Fighting Irish."
No. 130: Jordan Prestwood, OT
: "Prestwood enrolled at FSU in the spring and then transferred to Notre Dame, where he had originally committed in the summer of 2010. He redshirted for the Irish."
Official Visit: Imminent ESPN 300 Decisions