Notre Dame Football:

Josh Johnson
September, 8, 2012
9/08/12
10:15
PM ET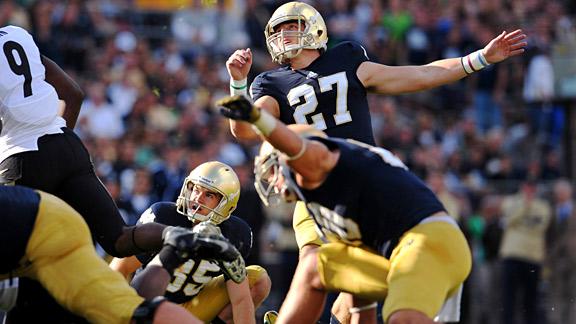 SOUTH BEND, Ind. -- On Thursday, Notre Dame launched its Take a StaND campaign, an initiative geared toward getting the crowd more involved in the game. Coach Brian Kelly had his team practice inside Notre Dame Stadium that day in order to take away some of the awe factor that comes with entering a building just seven times a year.
Music was piped in throughout Saturday's home opener against Purdue, with Irish defensive players regularly imploring the crowd to add to the noise on key third-down plays. Then, at the 2:12 mark in the fourth quarter of a tied game, the stadium's public address announcer offered a familiar phrase:
"
Tommy Rees
now at quarterback for Notre Dame."
Either out of disgust with another possible quarterback controversy or frustration from seeing a man who turned the ball over 19 times last year enter the game on its most crucial drive, a number of fans from the student section started booing the former starting signal-caller.
Whether Rees can ever regain his No. 1 throne remains to be seen, but he made as strong a case as he possibly could in his return from suspension, directing Notre Dame on a 12-play, 55-yard drive in just over two minutes, setting up
Kyle Brindza
for a 27-yard field goal with seven seconds remaining to beat Purdue
20-17
.
"The story finishes with Tommy Rees coming in for [Everett] Golson and leading us on a two-minute drive to win the game," Kelly said. "I'm good to go. A good day for Notre Dame football."
But, Kelly said, the Irish do not have a quarterback controversy.
[+] Enlarge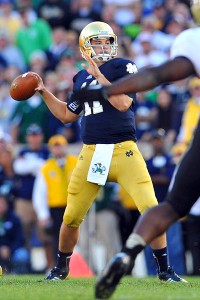 Matt Cashore/US PresswireThe Irish turned to Tommy Rees to lead the game-winning drive, but coach Brian Kelly insists there's no QB controversy in South Bend.
"
Everett Golson
is our starter," the third-year Irish coach said. "He will start against Michigan State. But we know that we've got assets at that position with
Andrew Hendrix
and Tommy Rees."
Maybe even better ones than they thought. Rees entered 2012 as the only one of the team's four scholarship quarterbacks with any starting experience, going 12-4 the past two years. He severely handicapped his chances at remaining the starter when he was arrested this spring at an off-campus party, forcing him to watch last week's tilt in Dublin from home.
But when Notre Dame needed someone to engineer a scoring drive after Purdue converted a fourth-down scoring chance to even things up, the Irish turned to their veteran.
Golson, who was given much more freedom in career start No. 2, was having a strong game before his final drive, completing 21 of 31 passes for 289 yards, one touchdown and zero interceptions. He was sacked five times and hit countless others, bouncing back each time. But on what would be his last play of the game, the redshirt freshman had the ball pried loose by Purdue's
Josh Johnson
, setting the Boilermakers up at the Irish 15 with less than four minutes to go.
Kelly said Golson had trouble gripping the ball and probably could have played, but the coach felt more comfortable with the experienced Rees in the two-minute drill, a move few saw coming.
With zero timeouts at his disposal, Rees tossed three completions for 35 yards, including a huge 10-yard strike to
John Goodman
on third-and-6. He took the Irish to the 8, spiking it twice and taking a knee before setting up Brindza's game-winning kick.
Coaches and players raved about Rees' demeanor throughout camp, the aspiring coach doing everything he can to help his competitors while knowing his opportunity was dwindling. Rees backed up those claims Saturday, absorbing the boos from his fellow students after entering and some more after his first misfire.
Rees, along with everyone other than
Zack Martin
and
Manti Te'o
, was not made available to speak after the game.
"I don't agree with that at all," Martin said of the booing. "A guy like Tommy, it just fuels his fire. He's been through a lot. I'm so proud of him and so happy for him that he was able to answer the bell today and lead us down the field."
"Everett didn't get, like, booted from the game," Martin later added. "He played a great game. I think it was just situation, two-minute drill. Tommy's more of a pocket passer. So I think it's kind of one of those things. Everyone has a 100 percent confidence in Everett and what he does on the field. We're ready to go with him next week."
So here come the Irish, riding a 2-0 start for the first time in four years, marching into East Lansing with a chance to pull off their first upset. Michigan State has a defensive line every bit as lethal as Purdue's, and all the Boilermakers did was hold the Irish to 52 rushing yards one week after Notre Dame racked up 293 against Navy.
And here comes Golson, whose last play under center was his worst, going into his third game still holding the title of starting quarterback.
The competition gets tougher from Week 3 on, but the drama may already be ahead of schedule for the Irish.
October, 4, 2011
10/04/11
4:00
PM ET
SOUTH BEND, Ind. -- For the first time since the games began this season, Brian Kelly could take the podium for his weekly news conference without being the head coach of a football team that has turned the ball over more than any other in the nation.
Satisfying? Hardly.
"I think that it could have been a two- or three-turnover game, that's how close it is," Kelly said of Notre Dame's performance at Purdue. "We fumbled the snap on a third-and-short on a missed assignment. We threw a ball that went in and out of a defender's hands. So even though we didn't turn the football over, we're as diligent and constant in talking about taking care of the football as we've ever been."
The potential gaffes -- a potential pick-six bobbled by Purdue's Josh Johnson in the second quarter, a
Jonas Gray
fumble two drives later that
Tommy Rees
dived on -- broke Notre Dame's way for once, but it's not like ball protection is something Kelly won't still try to shore up this week before the Fighting Irish face Air Force.
Notre Dame turned the ball over five times each in its first two games before cutting that total to three and two, respectively, in Weeks 3 and 4.
Throw in Gary Gray's pick on the first play from scrimmage, and the Irish improved their turnover margin to -1.8. East Carolina, Iowa State and Western Kentucky are all at -2.
Five teams have at least 15 turnovers, making Notre Dame 115th nationally in that category.
"Well, I've said this many times. There's one thing about this group: They've had a lot of confidence," Kelly said. "What they've had to exhibit is some poise. What they've had to exhibit to me is a consistency in their approach and believing that they were going to win every game they play. Those things are starting to come together, and that happens with winning."
"But there were other components that weren't there yet and are still in that work-in-progress mode. And that was controlling the line of scrimmage. I think that's obviously very, very important. And then eliminating costly mistakes, which as you know, has been the reason why we're 3-2 right now.
"So confidence has been there. Obviously it gets stronger when you win. But the one great thing about this group is their preparation has been really good, and their consistency to preparation. That's why we feel very confident that we don't want to change much relative to week-to-week. Certainly we have to game plan, and that's got to be important. But we want to stay consistent with who we are."
St. Brown talks USC, Stanford and more
FBS INDEP. SCOREBOARD
Thursday, 8/28
Friday, 8/29
Saturday, 8/30