Notre Dame Football:

Julian Wilson
September, 28, 2013
9/28/13
10:30
PM ET
SOUTH BEND, Ind. — After Oklahoma called a timeout with 1:21 to play and the ball at the Notre Dame 17-yard line on Saturday, "Boomer! Sooner!" chants began to rain down from the crimson-clad contingent seated near Notre Dame Stadium's northeast corner, threatening to turn this place into Owen Field North. The Irish's student section responded with furious chants of "Let's Go, Irish!"
Two kneels and one final horn later, everyone was left to figure out where these Irish go from here.
Notre Dame had been flirting with a result like this in its previous three games. And, just like they did against Michigan three weeks ago, the Irish once again ran into a team more than happy to take advantage of another rough opening.
[+] Enlarge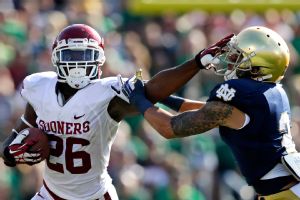 AP Photo/Darron CummingsThe Irish surrendered 212 rushing yards against the Sooners.
Starting painfully slow is just no way to live. And after a 35-21 loss to Oklahoma, Notre Dame's second defeat this month, neither is essentially having to win seven remaining games to return to a BCS bowl for the second year in a row.
"You never expect those things, but they happen," coach Brian Kelly said of the Irish's early mistakes. "That's why we have ulcers in this business."
In front of a green-out crowd against the Sooners, those gaffes were interceptions on back-to-back
Tommy Rees
throws on the Irish's first two drives, leading to an early 14-0 deficit. Much like Michigan showed in Notre Dame's other loss -- and much like Purdue and Michigan State couldn't, try as they might -- Oklahoma proved once again that shootouts are not conducive to the Irish's style.
Rees threw three picks against the Sooners, which accounted for one more than the two he had thrown in four starts entering the contest. Oklahoma converted those turnovers into 21 points, including a 24-yard
Corey Nelson
pick-six on the game's first possession.
Andrew Hendrix
provided a nice wrinkle in some zone-read packages, and the Irish finally got the ground game going behind
George Atkinson III
, who tallied a career-best 148 yards.
But after falling behind by two scores, they began just two drives while trailing by just one score -- the second of which ended with Rees getting picked off by
Julian Wilson
on third-and-10 with the Irish in field goal range. Oklahoma then went 88 yards in 10 plays to take a 21-7 lead 42 seconds before halftime.
"I don't know about a dream-like start," Oklahoma coach Bob Stoops said, "but a good start."
Stoops went on to say that toughness was not a problem with his Sooners, and that they did not lose to the Irish at home last year because of physical football.
Call it what whatever you want, but it was something that Notre Dame mastered last year, especially in its near-perfect outing in Norman.
Then, the Irish won the turnover battle 1-0. They limited Oklahoma to just 15 rushing yards. They won 30-13.
On Saturday, they lost the turnover battle 3-0. They surrendered 212 rushing yards. And they were down 14-0 less than three minutes into the game.
"I'm not sure, to be honest. I don't know how we fix our slow start," co-captain
TJ Jones
said. "I think it's just kind of a collective thing to come out with -- I really don't know what it is. Whether it's feeding off the energy and executing plays or not letting the mis-execution of plays slow us down."
Added Kelly: "Look, if I knew what that was, I would not be standing here right now. I'd be doing something else. This is my 23rd year as a head coach. You never expect to not pick up the simplest of stunts and have your quarterback get the ball stripped. You never expect not to run the right route when you're supposed to."
No, Notre Dame does not know how it got here, and it does not exactly know how to leave here, either. The student section booed heavily when the Irish began to head up the tunnel instead of staying for the alma mater. Fifth-year senior
Carlo Calabrese
urged his teammates to come back out and sing, per postgame ritual. They obliged, though it turns out a new team policy, instituted two years ago, calls for the players to regroup first in the locker room following a loss before reappearing and crooning.
Notre Dame had not lost in the 10 home games since the creation of that policy, a streak that came to an end against the Sooners. The Irish's national title dreams -- the Jan. 6 date at the BCS National Championship that is listed inside the football complex for all to see — are long gone. Their BCS bowl hopes are on life support.
"This season's a new season, we're a different team," co-captain
Bennett Jackson
said. "We have different characteristics as a team, and we take each game each week. We can't do anything about the past. As a team, we're going to come together and try to win the rest of our games. That's our main objective."
September, 25, 2013
9/25/13
4:00
PM ET
On Saturday, Oklahoma will make its first trip to Notre Dame Stadium in 14 years. The Irish won that 1999 contest, 34-30, and have won eight others against the Sooners, as they hold a 9-1 all-time mark in the series. Last season's game turned on several big Notre Dame plays on both sides of the ball, lifting the Irish to a 30-13 road win and an 8-0 record.
What will happen this time around? We turn to Big 12 reporter Brandon Chatmon and Notre Dame reporter Matt Fortuna to preview this weekend's tilt in South Bend, Ind.
Matt
: Brandon,
Blake Bell
earned the noble distinction last year of becoming the first player to rush for a touchdown against Notre Dame. That was eight games into the Irish's season, and this year they have already given up two scores on the ground. Obviously, Bell has a lot more on his plate this time around. And he is making his first career road start, in a stadium where the Irish have won 10 straight games. What can Notre Dame's defense expect to see from Bell on Saturday?
Brandon
: The Irish will actually have to account for the possibility they will see No. 10 throw the ball when he's behind center. Notre Dame will have to be prepare for Bell to test its secondary with his arm more than his feet, and he showed he might be a better passer than people think in his first start against Tulsa. Undoubtedly, the windows will shrink against ND but the fact remains that the Irish will have to prepare for Bell, who could test them with his arm and feet, unlike their preparations for
Landry Jones
, who doesn't put fear into the heart of any defense with his legs. The overriding question in Norman is: how have the Irish changed in the trenches after manhandling OU in Norman last season? Can they do that again?
Matt
: The depth of Notre Dame's defensive line took some hits this offseason -- first with the transfer of
Eddie Vanderdoes
to UCLA, then with the ACL tear suffered by
Tony Springmann
. Still, the front-line guys remain very dangerous, though the numbers have not exactly depicted that through four games. The Irish's opponents have done a good job of establishing a quick-strike passing game, effectively negating the strengths of the Irish's defensive linemen. A mobile quarterback like Bell will likely present more challenges Saturday, and it us up to the Irish to continue to adjust. The other side is a bit of a mystery as well. Notre Dame has struggled to establish much of a run game so far, but its offensive line has done a tremendous job of keeping
Tommy Rees
standing up straight through four games, and the offense has again limited the turnovers. Rees and this year's group of running backs just don't pose the kind of threat that Everett Golson and last year's backfield did, so it's hard to imagine the Irish running to set up the deep pass in the same way they were able to last year, when they connected with
Chris Brown
for a game-changing 50-yard strike in the fourth quarter. They may have more weapons at receiver this year, though. How does Oklahoma's pass coverage match up with
TJ Jones
,
DaVaris Daniels
and company?
Brandon
: Well, Matt, the Sooners' secondary would like to think it's ready for the challenge against Rees and Notre Dame's receivers. All-Big 12 cornerback
Aaron Colvin
won't be a concern, but the rest of the secondary is somewhat untested. Senior
Gabe Lynn
is starting at safety, a new position, after spending his first three seasons at nickelback and corner, and he has played well. OU's three new starters, nickelback
Julian Wilson
, cornerback
Zack Sanchez
and safety
Quentin Hayes
, have looked good but haven't yet played a quarterback who will capitalize on their mistakes. That said, the OU secondary, without question, is faster and better in coverage than the 2012 version. Whether it will it hold up mentally in a hostile environment is the unanswered question, so I can't wait to see how it all plays out. Anyway, who do you like this weekend?
Matt
: Notre Dame's defense played its best game Saturday, responding to Brian Kelly's mid-week challenge. But I'm just not sure it has completely turned the corner yet. I think the Irish are getting Oklahoma at a more opportune time, as Bell is making just his second start and the Sooners have yet to really be tested. But I have not seen enough so far that makes me believe Notre Dame will be able to handle everything Oklahoma will throw at it offensively. Oklahoma has had one more week to prepare, and I sense a bit of wounded pride coming from the Sooners after the Irish out-muscled them late last year and, eventually, ended up ruining the their BCS-bowl hopes. How do you see this one unfolding?
Brandon
: I think everything falls on the shoulders of the quarterbacks. Rees is much more experienced than Bell and I have a feeling that's going to show itself on Saturday as the Irish make Bell uncomfortable in the pocket and force a couple of mental mistakes from the junior during his first road start. OU's defense will hold up and play well, giving the Sooners the chance to remain in the game no matter what happens offensively. But turnovers will be the difference and ND will win the turnover battle and win a close, hard-fought game at home.
St. Brown talks USC, Stanford and more
FBS INDEP. SCOREBOARD
Thursday, 8/28
Friday, 8/29
Saturday, 8/30