Notre Dame Football:

Kansas State Wildcats
November, 18, 2012
11/18/12
1:23
AM ET
By
ESPN Stats & Information
| ESPN.com
Thanks to upset victories by Baylor and Stanford, Notre Dame is in position to become No. 1 in the BCS standings for the first time ever.
The Fighting Irish haven't been No. 1 in the Associated Press poll since November 1993.
Within minutes of each other, Baylor finished off its upset over No. 1 Kansas State and Stanford won in overtime over No. 2 Oregon.
This is the first time since 2007 that the team atop the BCS standings has lost in consecutive weeks.
That week, LSU lost to Arkansas on Nov. 23 and Missouri lost to Oklahoma on Dec. 1.
This is the third time in BCS history that the top two teams both lost on the same weekend.
Both previous instances happened in 2007. Missouri and West Virginia lost on Dec. 1 after LSU and Kansas lost the previous weekend (LSU lost on Friday, Kansas on Saturday on Thanksgiving weekend).
Kansas State's 28-point loss at Baylor is tied for the largest loss by a team ranked No. 1 in the BCS standings. Oklahoma lost to Kansas State by 28 points in 2003.
Kansas State is the fifth team ranked No. 1 in the BCS to lose to an unranked opponent. The Wildcats are the first BCS No. 1 to lose to a team with a losing record heading into the game.
How did Kansas State lose?
The Wildcats allowed 16 rushes of at least 10 yards against Baylor and three touchdowns on those rushes. Entering Saturday's game, Kansas State had not allowed more than six rushes of at least 10 yards in a single game and had not allowed a touchdown on rushes of at least 10 yards all season.
How did Oregon lose?
Oregon scored just 14 points against Stanford, its fewest points in a game since Sept. 3, 2009 against Boise State (lost 19-8).
Outside of Marcus Mariota's 77-yard scramble in the first half, Stanford was able to limit Oregon on the ground. The Ducks had four rushes that gained 10 or more yards and did not make it past the line of scrimmage on 10 of their 43 rushes. It was the second straight game that the Ducks did not gain 200 yards after averaging 341.2 rushing yards per game in their first nine games.
November, 14, 2012
11/14/12
10:00
AM ET
One of the three remaining unbeatens is going to have to lose to quiet down all of the chirping -- who are we kidding, some fan bases will find ways to cry foul regardless -- and, if Brian Fremeau's calculations prove correct, the top-three team most likely to fall could be Oregon.
Fremeau says the Ducks' chance of winning their remaining games is 29.3 percent, far below that of Notre Dame (68.7) and Kansas State (82.1). He cites Oregon's efficiency against top competition, as the Ducks have really not faced all that difficult of a path to 10-0. That could change in the next two weeks, with Stanford and Oregon State awaiting, as those schools' strong defense could frustrate the Ducks.
The post is on Insider, so you will have to be a subscriber to read

, but Fremeau sees an inconsistent defense and an offense that has yet to be seriously tested taking the field for its final two -- and possibly three -- games.
What could spell the most trouble for the Irish these next two weeks, you ask? Fremeau says -- surprise! -- special teams.
October, 12, 2012
10/12/12
2:38
PM ET
Is Notre Dame for real? (Skip.) Is Notre Dame for real? (Skip.) Is Notre Dame for real? (Skip.)
Yes, the college football punditry and peanut gallery can sound like a broken record. The Fighting Irish are 5-0 and ranked seventh, and almost every sign suggests legitimacy, but, well, we've been down this road before. And not only with Notre Dame. It wasn't too long ago that everyone was blowing kisses at Florida State -- the Seminoles are
finally
back -- before it became a national punch line or cautionary tale, however you wish to view a loss at NC State.
Notre Dame plays host to No. 17 Stanford on Saturday. The Cardinal might present the Irish their toughest test yet. Stanford, after all, beat USC. Whipped the once-No. 2 Trojans at the line of scrimmage, no less.
Of course, Stanford also wilted against Washington, making a Huskies defense that would get decimated by Oregon look stout.
[+] Enlarge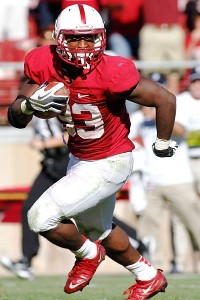 George Nkitin/AP PhotoStepfan Taylor and Stanford can perhaps clear the national title picture a bit by toppling undefeated Notre Dame.
The gist here is there is still a lot of fog over the college football season. We all say stuff, perhaps even with a feigned certainty -- Alabama is unbeatable! -- but we don't really know. The season remains rife with variables and plot twists, even with the first BCS standings being released Sunday.
There are 14 undefeated teams in the Football Bowl Subdivision (Ohio State isn't eligible for the postseason due to NCAA sanctions). Some teams mostly feel -- fairly or unfairly -- like curiosities: three in the Big East (Cincinnati, Louisville and Rutgers), Ohio, Louisiana Tech, Oregon State and Mississippi State. Others own undeniable heft: Alabama, Oregon, South Carolina, Florida, West Virginia, Kansas State and, yes, Notre Dame.
Odd that this weekend's Red River Rivalry feels so far off the radar, although both Texas and Oklahoma could play roles in winnowing the contenders and pretenders. The Sooners still have dates with Notre Dame and West Virginia, while the Longhorns conclude the season against Kansas State.
The "what ifs" are rampant. Such as: What if Alabama, Notre Dame and Oregon all finish undefeated; who then plays for the title? Or switch out Oregon with West Virginia or Kansas State. There are the multiple unbeaten quandaries, and then there are all the best of the once-beaten comparisons, such as: Can USC get back into the national title hunt?
Again, so many variables in our penultimate season yoked by the lovely BCS system. It's difficult to predict how pollsters will react. And don't even start with the computers. With strength of schedule, it's not just what your team has accomplished, but what all its foes did. And all its foes' foes. Etc., etc.
What's also interesting is that the march toward clarity isn't always linear. At any moment, a couple of upsets can put a boot print in our consensus expectations. For example, what might have happened last season if LSU had been nipped in the SEC title game?
The good news is a page will turn next week. If Kansas State and West Virginia both survive tricky road games this weekend -- the Wildcats are at Iowa State, and the Mountaineers are at Texas Tech -- they meet in Morgantown on Oct. 20, so one of the Big 12's two unbeatens will fall.
Same goes for the SEC East. If No. 3 South Carolina manages to win at No. 9 LSU on Saturday, a visit to No. 4 Florida on Oct. 20 seems like the Rubicon for the division. Only one unbeaten will remain in the division, just as only one unbeaten -- Alabama or Mississippi State -- can emerge from the West.
And, if everyone then holds serve, we could have an epic No. 1 versus No. 2 matchup in the SEC title game.
But, alas, that's getting ahead of ourselves.
We started with the notion that Stanford will provide a nice test for Notre Dame's legitimacy. The Cardinal, after all, are riding a three-game winning streak in the series.
But we know past success doesn't guarantee future results. Just look at your 401K. Or the Fighting Irish's storied history.
Is Notre Dame for real? Heck, is anyone for real?
It's probably best to turn to one of history's great college football pundits at times like this. As Socrates once noted when his preseason picks imploded, "I know one thing, that I know nothing."
Or, more charitably, at least very little.
January, 21, 2012
1/21/12
4:53
PM ET
SOUTH BEND, Ind. -- Bob Elliott is Notre Dame's new safeties coach, the school announced Saturday.

Elliott, a 33-year coaching veteran, comes from Iowa State, where he served as the Cyclones' secondary coach the past two seasons.

"My family and I are excited to be part of this great university," Elliott said in a statement. "I grew up in the Midwest and have spent much of my life in this region and always wondered what it would be like to coach at Notre Dame. This was an opportunity that I couldn't pass up and am happy to be associated with this great place."

Elliott also has a combined 11 seasons of experience as a defensive coordinator, at San Diego State, Kansas State, Iowa and Ball State.

The position was open because former Irish safeties coach Chuck Martin moved to offensive coordinator this offseason, where he replaces Charley Molnar, who took over as head coach at Massachusetts.

Elliott is familiar with members of the current Irish staff, as he coached current co-defensive coordinator and cornerbacks coach Kerry Cooks at Iowa in 1997, when Elliott was the Hawkeyes' defensive coordinator and outside linebackers coach. Current Irish assistant head coach and defensive coordinator Bob Diaco was a graduate assistant under Elliott from 1996-97.

"I couldn't be more excited about bringing Bob Elliott to Notre Dame," Irish head coach Brian Kelly said in a statement. "At his core, Bob is an outstanding teacher and tactician. He has had great success developing top-tier defensive backs and his experience as a defensive coordinator will complement our coaching staff. Bobby has a long-standing relationship with Bob Diaco and Kerry Cooks so the transition to our staff should be extremely smooth. I know our safeties will love playing for him."

The Irish staff has shuffled this offseason, with Tim Hinton (running backs) and Ed Warinner (offensive line/running game coordinator) leaving for jobs under Urban Meyer at Ohio State.

Former offensive intern Scott Booker was promoted to a full-time staff member at a position yet to be determined.
St. Brown talks USC, Stanford and more
FBS INDEP. SCOREBOARD
Thursday, 8/28
Friday, 8/29
Saturday, 8/30