Notre Dame Football:

Kayvon Webster
September, 7, 2011
9/07/11
7:23
PM ET
SOUTH BEND, Ind. -- Brian Kelly didn't even give
Jonas Gray
a chance to think all was lost after his game-changing fumble on the first drive of what would be the first loss of the 2011 season.
"How do you want to be remembered?" Kelly asked Gray after the game. "As that guy that fumbled on the one-yard line or as that guy in your senior year that bounced back from some adversity and had an incredible season?
"You know what, I think he's going to have a very good season."
That would mean overcoming the fumble-itis that surfaced at the worst possible time this past Saturday. Notre Dame, knocking on the door of the goal line after an efficient opening drive, turned to Gray, its 230-pound bruising tailback, to punch it in from one-yard out on third-and-goal.
South Florida's Jerrell Young jarred the ball out of Gray's hands, Kayvon Webster picked it up at the 4 and the Fighting Irish were facing a 7-0 deficit before the crowd had even settled into its seats.
Said Gray, who has five career fumbles: "There's definitely a bigger chip on my shoulder."
Gray carried the ball just two more times the rest of the day, finishing with a pedestrian four rushes for 17 yards.
He knows more is expected of a senior tasked with providing defenses a different look as the Irish's change-of-pace back.
"It's just playing my game," Gray said. "Playing with confidence, playing with the abilities that I know I have and just going out and just playing my game. Playing for my teammates, playing for this university, playing for my family."
Kelly's confidence in Gray hasn't wavered. After all, he committed just one of the five turnovers and none of the eight penalties that helped doom the Irish in the 23-20 loss.
"He's got to go back out there," Kelly said. "He's got to play for us. He's physically able to do it. Mentally he's got to be able to do it. We're not sitting him down. He's got to play for us against Michigan, and he's got to play for us all year."
For Gray, the seal of approval after a disappointing start to the final season of his collegiate career meant everything. And it's something the Pontiac, Mich., native hopes to live up to in front of at least 20 friends and family members who will be in the Big House Saturday when the Irish take on Michigan.
"It was a bit of a relief that the coach is still behind me," Gray said. "And you can just tell by the way he worded that question, where he wanted me to go, where his direction wanted me to be, and it just means a lot."
September, 5, 2011
9/05/11
1:00
PM ET
SOUTH BEND, Ind. -- Notre Dame would like to forget its opening weekend as quickly as possible. The No. 16 Fighting Irish were sloppy in a 23-20 loss to South Florida that has fueled the school's critics who thought the Irish's BCS goals were unrealistic.
Here's a look back at the weekend that was for Notre Dame:
The Good:
Notre Dame's defense allowed just one touchdown despite being put in tough spot after tough spot by the offense and special teams. The Irish held USF to 2-of-14 on third downs and limited the Bulls to 254 yards of total offense.
[+] Enlarge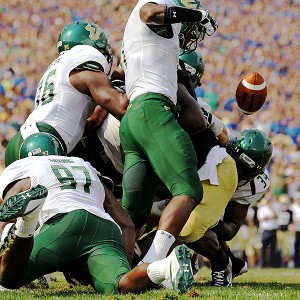 Jonathan Daniel/Getty ImagesJonas Gray's goal-line fumble was just one of five turnovers the Irish committed against South Florida.
The Bad:
No one expected to see a group Brian Kelly called as focused as any he has ever coached turn the ball over five times in its debut. The Irish will need to hope those first-game jitters are out before a prime-time showdown this weekend.
The Ugly:
Mother Nature takes the cake here. The first and second delays in more than a century of Notre Dame football resembled those of a baseball game, complete with the "time of the game" stat being announced at the end. (It was 5 hours, 59 minutes, for the record). The delays totaled 2 hours, 53 minutes, and it couldn't have been easy for either side to start and stop again after waiting the entire offseason for the games to begin.
Turning point:
Jonas Gray
's opening-drive fumble at the USF 1 was picked up by Kayvon Webster and returned 96 yards for a touchdown. Kelly said afterward that a culmination of mistakes did his team in, not the first one. But watching the other team go up 7-0 after you drove 76 yards in eight plays over four minutes can be demoralizing early.
Call of the day:
It would have been easy for Skip Holtz to invoke himself in the pregame hoopla surrounding his return to Notre Dame. But the USF coach said his players would be the ones between the stripes on Saturday, and so he made it about them. They returned the favor by delivering a victory that ranks right up there in the brief 15-year history of the program.
Next Up:
The Irish renew the rivalry with Michigan when the two teams meet under the lights at 8 p.m. ET Saturday for the first time in Michigan Stadium history. "College GameDay" will be in Ann Arbor and you can bet it will be an atmosphere unlike any the Big House has ever seen. The Wolverines, like the Irish, dealt with rain delays themselves in their opener before their game was called at the 1:23 mark of the third quarter, up 34-10 on Western Michigan. An 0-2 start going into a Week 3 matchup with co-Big Ten champ Michigan State is something Notre Dame will look to avoid at all costs.
September, 3, 2011
9/03/11
5:07
PM ET
SOUTH BEND, Ind. -- Here's a quick analysis of what's gone wrong for the Irish in a dismal first half against the Bulls:
Turning point: Everything was going the Irish's way on its first drive until it wasn't. Jonas Gray's fumble at the 1-yard line and Kayvon Webster's subsequent 96-yard return for a touchdown completely changed everything in the first half.
Stat of the half: Notre Dame has three turnovers. South Florida has none. Two of the Irish's miscues came in the red zone and the other, Theo Riddick's fumbled punt return, put USF in the red zone. That has been the difference so far.
What Notre Dame needs to do: The Irish offense needs to establish the kind of rhythm it thought it had on its opening drive, which will be all the more difficult with rain now coming down. The defense has done its part so far.
'College Football Live' Extra: Biggest Plays
FBS INDEP. SCOREBOARD
Saturday, 12/20
Monday, 12/22
Tuesday, 12/23
Wednesday, 12/24
Friday, 12/26
Saturday, 12/27
Monday, 12/29
Tuesday, 12/30
Wednesday, 12/31
Thursday, 1/1
Friday, 1/2
Saturday, 1/3
Sunday, 1/4
Monday, 1/12