Notre Dame Football:

Kevin McDougal
November, 16, 2012
11/16/12
10:00
AM ET
As always, thanks to ESPN Stats & Info, and both sports information departments, for these tidbits:
The Demon Deacons have lost 31 straight games against top-five teams and are just 1-32 all-time. The only win came in 1946, when they beat No. 4 Tennessee. Wake Forest is also 0-18 all-time against teams ranked in the top three.
Notre Dame is 10-0 for the first time since 1993 and for the eighth time ever. Of the previous seven teams to do so, five won the national title. The other two finished second. The last time the Irish started 11-0 was 1989.
The Irish are 8-1 in November games under Brian Kelly.
The Irish are 5-0 at home but all five games have been decided by seven points or less. Away from South Bend, Notre Dame has won all five of its games by 15 points or more.
Notre Dame is tied with Alabama for the nation's lead in scoring defense, as both teams allow just 11.1 points per game. However, the Irish are alone atop the nation lead in fewest offensive touchdowns allowed, with eight.
The Irish have allowed a touchdown on 7.4 percent of opponents' possessions, the lowest percentage in the nation. They have allowed a touchdown on 24.1 percent of their opponents' red zone drives this season, the lowest percentage for any team in the last eight seasons.
Everett Golson is 8-0 as a starter, tied for the third best mark by a Notre Dame quarterback to start a career. (Bob Williams won his first 11 starts in 1949-50, and Kevin McDougal won his first nine starts in 1993.)
Both teams have faced a common opponent. Wake Forest and Notre Dame each beat Boston College. The Demon Deacons beat the Eagles by 14 at home two weeks ago while the Irish won in Chestnut Hill by 15 last week.
August, 8, 2012
8/08/12
12:00
PM ET
Full open practice today for the media. I wonder if anyone cares how the QBs look ...
December, 28, 2011
12/28/11
8:00
AM ET
Kez McCorvey still shows his players the catch 18 years later. In the film room of Bethel (Tenn.) University, the Wildcats' wide receivers coach focuses on the details of the play, "560 vertical," and not so much on the circumstances surrounding it, which NBC play-by-play man Charlie Jones summed up thusly:
"So the perfect season for the Seminoles, Bobby Bowden's shot at the national championship, coming down to this play. It is fourth down and goal to go. Twenty-yard line. 2:31 left."
Eventual Heisman Trophy winner and NBA point guard Charlie Ward took the shotgun snap from the 20, dropped three steps and fired a bullet over the middle that looked destined for the hands of Notre Dame safety Brian McGee. Instead, the ball dropped into McCorvey's hands for the touchdown, cutting the Irish's lead in half and granting Florida State new life in what was then the Game of the Century -- Nov. 13, 1993.
[+] Enlarge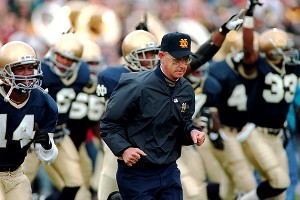 Photo/Joe RaymondLou Holtz's Irish team upset No. 1-ranked Florida State in 1993.
"My guys here, they'll get plays they think we just invented or something," said the 39-year-old McCorvey, who still gets on the practice field to demonstrate routes for his NAIA pupils. "And I'll tell them we've been running that play forever. 'Look here on YouTube. I'm old as dirt, we're not even doing a good job of doing it and I'm slow and old and I can score, so here.' "
The improbability of the play had McCorvey and his teammates thinking fate had intervened -- "I don't wanna make it sound like Florida State is all that and a bag of chips, but we'd just never been in a situation where we'd been out of a game, so we just never quit."
The celebration, however, was short-lived, one of many twists and turns of a season that saw No. 2 Notre Dame upset No. 1 Florida State, 31-24, only to watch the Seminoles be declared national champions less than two months later despite having the same number of losses.
The schools will renew their rivalry in Thursday's Champs Sports Bowl in Orlando, Fla., a smaller stage later in the year that will lack the 800-plus media members, dozens of fake credentials, coach's dinner party and rapid trash-talking that surrounded South Bend, Ind., that fall week in 1993.
The messages that week, at least from up top, could not have been any more different.
"Leading up to it, obviously Coach Holtz's thing was at the beginning that we may get beat by 50, and that was just Lou Holtz, that's just how he handled things," said former Irish safety Jeff Burris, who scored the Irish's last two touchdowns of the game as a running back. "And by Monday or Tuesday, 'We'll be happy to be in the game by halftime.'
"Just his mentality was that way, but he was always focused on, 'If we do this the right way it might be a game.' And by Thursday or Friday it was, 'We'll win this game, and this is how we'll win this game.' "
For Florida State, meanwhile, it was business as usual.
"I would love to tell you we did it bigger than the Miami game, but we didn't," said McCorvey, citing a win over the No. 3 Hurricanes a month earlier. "Nothing against Notre Dame, but we felt like since we beat Miami we could win the national championship, so we'd been accustomed to that type of pressure. Coach Bowden, too. It wasn't as big a deal going into games -- the pressure, game situations. So we didn't do a whole lot of things that we hadn't done before."
Yet McCorvey couldn't help himself during the week leading up to the game, making references to "Rock Knutne" and being quoted as saying: "I appreciate what Notre Dame has accomplished, but those old guys don't play anymore. You can't win with mojo or magic. Joe Montana isn't going to put on the pads and win for them."
"I think it was a little bit of ignorance with the Knutne comment," McCorvey laughed. "That was me being young."
Still, the scene was unlike any all parties involved had ever been a part of.
Tickets were going for $1,000. ESPN's "College GameDay" was making its first on-campus appearance, albeit in front of just a few dozen loyal fans stationed on the concourse of the Joyce Center, where Notre Dame's basketball team plays.
"You can tell this is not just a football game; this is a happening," host Chris Fowler said on the air. "Paul Azinger, Roger Clemens, Spike Lee — lots of folks are gonna be here. Al Gore. Andre Agassi. Some others got turned down. As further proof this is transcendent-game status."
Signs in the parking lot offered assets such as an Orlando vacation or a Mercedes-Benz for entrance into Notre Dame Stadium that day.
"When they said it was the Game of the Century," former Irish quarterback Kevin McDougal said, "it really was."
Two days before the game, Holtz and his wife, Beth, invited 50-60 media members stationed in South Bend over to their Woodland Hills home, 10 minutes from campus.
"My then fiancée and I arrived in South Bend on Thursday," Michael Messaglia, Holtz's son-in-law, said. "Expecting a quiet night at her parents' house, we arrived to a house full of reporters."
After Beth Holtz sent reporters out with cookies in napkins as they left, and after Holtz handed out small boxes of golf balls, the Boston Globe's Dan Shaughnessy wrote in his day-of-game column:
"That settled it. It doesn't matter if Florida State wins today by four touchdowns; I will write only good things about Notre Dame. I have broken bread with Lou. After today's game of the century, I will have only one question.
"What time is dinner before the BC game?"
Of course, the high of Shawn Wooden knocking down Ward's final pass of the Game of the Century was met the following week with a hangover against Boston College, as the Eagles engineered a 41-39 shocker that played a pivotal role in deciding the national championship.
Notre Dame beat Texas A&M in the Cotton Bowl on Jan. 1. Florida State won its last two regular-season games before topping undefeated Nebraska in the Orange Bowl the same day.
The Seminoles finished atop both The Associated Press and coaches' polls, giving Bowden his first national championship, though the regret wasn't limited to the Irish's side.
"You look back and you think you won the national championship, but you wanted to go 13-0," McCorvey said. "You wanted to not lose a game that whole year and leave your legacy as one of the best teams that ever played. The Notre Dame loss was something that kind of tarnished that a little bit."
Report: Notre Dame To Play In Pinstripe Bowl