Notre Dame Football:

Kevin Wilson
June, 19, 2014
6/19/14
10:30
AM ET
There will be familiar faces around weight rooms and in front of overhead projectors in football complexes this summer: coaches' faces.
Big deal.
Except it is a big deal, at least to the coaches who can now occupy strength and conditioning sessions and hold film study with their players.
The NCAA partially adopted a rule from the hardwood in October allowing a maximum of eight hours of mandatory workouts for players for eight weeks of the summer. What football coaches really care about, however, is the ability to watch those conditioning sessions and meet with their players for up to two hours each week. Any on-the-field work with footballs is still prohibited.
[+] Enlarge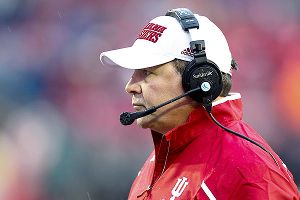 AP Photo/Andy ManisIndiana coach Kevin Wilson is one of many coaches that can visit with players in the summer rather than relying on "spies" to get information on offseason workouts.
"You don't need secret spies anymore," Indiana coach Kevin Wilson told ESPN.com. "You can just watch your football team now. ... It's common sense that if I'm in control and if I want to walk in the weight room and watch them lift weights then I can watch them lift weights."
It is uncharted territories for most coaches, who are used to relying on third-party word of mouth from the program's strength coach and upperclassmen on how summer workouts are progressing and whether freshmen are adjusting. Some coaches began mapping out how they would use their eight hours when the rule was passed, while others will take the pulse of the team and adjust accordingly. For some, they'll protect the details of those hour splits as if it were the playbook.
"We have to carve out [player meetings] with our strength coach, time that we can take away from his hours because you're not adding extra time," Notre Dame coach Brian Kelly said. "There is this model that I'm not interested in giving up to anybody, that we think gives us a balance."
Notre Dame is still debating between
Everett Golson
and
Malik Zaire
as its starting quarterback, so Kelly can spend part of the summer mentally preparing both for the upcoming competition. He will institute a "spring ball installation" of the core offensive plays and defensive structure, "something we've never been able to do in June." He'll also show his quarterbacks all of their mistakes in previous settings in hopes of limiting them once the season begins.
The vast majority, if not all, are in favor of the rule, although to varying degrees. Indiana's Wilson has walk-on players who could eventually earn a scholarship, so those players feel a need to attend summer workouts. He knows that means some will take out additional loans for summer school.
For the coaches, with summers now filled with prospect camps and recruiting visits, there are fewer hours to break away from the football facility. Wilson will take advantage of the change, but he wonders whether coaches will suffer from the burnout a 365-day coaching calendar lends itself to. The NCAA implemented a two-week summer dead period to combat the evolving recruiting calendar, but Wilson knows some coaches will stick around to watch tape with players.
"It's a little ironic they added a rule that for two weeks a recruit can't come in but added a rule so you can spend that time with your players," first-year Wake Forest coach Dave Clawson told ESPN.com.
Added Wilson: "How do we find the balance? It's nice we can work with them, but it's finding a balance where your coaches can find sanity. It's nice we can talk legally but … I think you can overcoach.
"It will be interesting after year one, whether coaches will say they want to do more or do less."
No school returns fewer starters in 2014 than Utah State, so coach Matt Wells is tasked with making sure those players who will be asked to step up this fall are physically and mentally able. He is also cognizant that his staff spending too much time with the team this summer could produce undesired results.
[+] Enlarge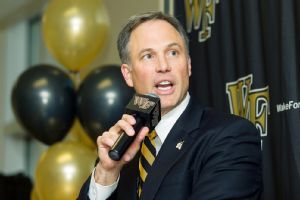 Brian Westerholt/Four Seam Images/AP ImagesThe new NCAA rules are a boon to first-year coaches such as Wake Forest's Dave Clawson, who get a chance to get acclimated with their new players.
In the early portion of the summer, Wells will meet with his team more often than he might in July. He will bring the program's newcomers up to speed with scheme and terminology in meetings, but he also doesn't want to overload them. With the upperclassmen, he believes it will become counterproductive to have extended and repetitive classroom sessions.
"We're going to still lean on player-led meetings, voluntary meetings the coaches aren't in because it builds leadership in your team and in position groups," Wells told ESPN.com. "We've benefitted from that the last three summers from an increased leadership role, and I think it's important for the players to have a break from the coaches."
For first-year coaches such as Clawson, the new rule will narrow the learning curve this fall as his players continue to adjust to his offensive and defensive ideologies. Clawson is seemingly like most coaches, though, in that he does not favor using the full two hours for Football 101 seminars. Wake Forest's new coach is not deviating much from the old summer status quo.
When he and his staff assessed the Demon Deacons following the spring, he felt strength and conditioning was lacking most. So when mandatory summer workouts kicked off, he decided he'd only spend 30 minutes to an hour each week meetings with players.
"It didn't make sense to take two hours away from that," he said.
That could change in the coming weeks, though. While some schools already have their entire incoming freshman class on campus, Clawson won't see all of his until July. He said the previous rule preventing coaches from working with freshmen lacked common sense.
"It used to be awful, the first time a freshman's ever on campus and you can't be around them," Clawson said. "When these guys first get here, you need to have some involvement. Part of recruiting is parents trusting you with their son, and first time they drop them off, to not be allowed around them was very hard."
September, 19, 2013
9/19/13
2:00
PM ET
Backup quarterbacks are always the most popular guys on campus. They offer the potential of the unknown, a possible cure for all the things nagging fans about their team's offense.
And then they get their shot to play, and that popularity quickly vanishes.
At least that's the way it usually goes. But as Indiana and Michigan State get ready for their biggest nonconference games of the year on Saturday, they will be led by two guys who began the season as second man in at quarterback.
[+] Enlarge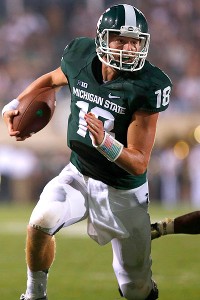 AP Photo/Al GoldisConnor Cook has given the Michigan State passing game and offense a spark heading into Saturday's game at Notre Dame.
Michigan State's quarterback carousel seemed to be spinning out of control this time a week ago, when Mark Dantonio once again opened up the competition. But at long last, the position may be settled after sophomore
Connor Cook
threw for 202 yards and four touchdown passes in a 55-17 win over Youngstown State. Sure, it was an FCS opponent, but consider that the Spartans had only four touchdown passes in their five previous games combined dating back to last year.
"It was fun to see a bunch of different guys make plays," Cook told ESPN.com. "Everybody was having a good time, and guys were feeding off each other. I'm glad we finally got the rock rolling."
Michigan State has a long way to go before its passing game ranks among the top half of the Big Ten. But Cook brings a little more swagger to the offense. At 6-foot-4 and 220 pounds, he's been described as a gunslinger for his fearlessness in making throws into tight spaces, and he can make more plays on the move than former starter
Andrew Maxwell
.
"If you lack confidence, something's wrong with you as a quarterback," Cook said. "You've always got to believe in yourself and your ability to go out there and make plays."
Cook will need that confidence this week as the 3-0 Spartans play at Notre Dame. Dantonio says it's a huge moment for Cook in making his first road start in a difficult environment, one that should prepare him well for Big Ten play down the road.
"Connor Cook is always a guy that moves forward," Dantonio said. "He's not going to back down from a challenge. He's pretty light in terms of how he approaches things. He's going to do the best he can and have fun with it. I think that's good right now for his mindset as he goes into his first big away game."
Indiana will play at home for the fourth straight week but will take on its first AQ team when 2-0 Missouri comes to Bloomington.
Nate Sudfeld
should make just his second career start for the Hoosiers, though it seems like he's been starting a lot longer.
The sophomore played often last year as
Cameron Coffman
's backup, and he logged far more time than starter
Tre Roberson
in Indiana's first two games. But Sudfeld didn't get his first start until last week against Bowling Green.
[+] Enlarge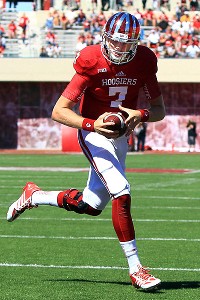 Pat Lovell/USA TODAY SportsNate Sudfeld has thrown for over 300 yards in his last two games and seems to have taken control of the Indiana QB situation.
"He had always come off the bench and always been a guy who played well after maybe seeing some things," coach Kevin Wilson said. "But I thought that after the way he played in the previous game against Navy, he deserved to go in there first."
Wilson has approached his delicate quarterback situation carefully. He had a three-way preseason competition between Sudfeld, Coffman -- who threw for 2,700 yards last year -- and Roberson, who was the starter before he broke his leg early last year. Sudfeld and Roberson are both sophomores, and Wilson likely doesn't want Roberson -- an important recruit for the program out of Indianapolis and a big-time athlete -- to get frustrated and consider transferring. He insists that all three guys still play a major role on the team this season.
But it's getting harder and harder to deny that Sudfeld is the main guy. He has thrown for over 300 yards in each of his last two games, including a 335-yard showing in last week's win. He leads all Big Ten quarterbacks in passing yards and touchdowns, and ranks seventh nationally in pass efficiency. He's also tied for first in the FBS in most completions over 20 yards, with 19 of them.
"He's been on the money on some of those deep balls," Hoosiers offensive coordinator Seth Littrell said. "He's got a great touch."
The 6-5 Sudfeld wound up at Indiana in part because of Rich Rodriguez. He originally committed to Arizona, where Littrell had been the offensive coordinator under Mike Stoops. But when Stoops and his staff got fired, the Wildcats hired Rodriguez, whose style of play did not fit Sudfeld, a prototypical pocket passer.
The Littrell connection helped get Sudfeld to IU, and the quarterback has steadily improved. Littrell credits that to Sudfeld's work ethic.
"You'll be up there watching film at night, and he'll come in and want to sit down with you and watch cutups," Littrell said. "As you're game planning, he'll be talking through some of the things he likes. He wants to be involved."
Both Cook and Sudfeld are more heavily involved in their teams' respective plans we have anticipated a few weeks ago. Throw in the success of
Kenny Guiton
at Ohio State, and Big Ten backup quarterbacks may never have been more popular.
Top Position Battles Heading In To Spring