Notre Dame Football:

Knute Rockne
March, 4, 2013
3/04/13
11:30
AM ET
Today marks the 125th birthday of Knute Rockne, a name that may be
just
a bit familiar to readers of this space.
Born in Voss, Norway, the paths of Rockne and the early days of Notre Dame football coincided with one another. He went 20-0-2 in his three years at the school before going 105-12-5 during a 13-year coaching stint that helped establish the program as a national power.
Unofficial Notre Dame football historian and
Blue and Gold Illustrated senior editor Lou Somogyi has a lengthy piece today on Rockne's legacy
.
Rockne became a national institution and Notre Dame became the national school. "Subway Alumni" were born in every section of the country, from the steelworker in Pittsburgh to the executive in California. In Rockne and Notre Dame, an identity of struggle, hope and triumph could be found — as was the glamour and popularity of sport.

"Football and all athletics should be a part of culture, the culture that makes the whole man, not a part-time thinker," wrote Rockne. "Ancient Greece was a cradle of culture, and Ancient Greece was a nation of athletes… Boys must have an outlet for animal spirits. Their education must contain a training in clean contests, otherwise they'll be lost in a world that thrives on competition and in which those who cannot compete cannot hope to thrive.

"Four years of football are calculated to breed in the average man more of the ingredients of success in life than most any academic course he takes…(Athletics) stirs the pulse, captures the imagination and, at the same time, builds character without which culture is valueless.

"Sportsmanship means fair play. It means an application of the Golden Rule. Bragging and gloating or any form of dishonesty have no place in it."
The Observer's Andrew Owens
also had a lengthy piece during bowl season from Bazaar, Kan.
, that I would recommend.
December, 12, 2012
12/12/12
10:00
AM ET
Knute
Rockne? As in "Newt?" Turns out we -- and millions of others in the decades before us -- have been wrong all along.
"Excuse me, but I have to correct you. You're saying my grandfather's name wrong. It's 'Kuh-newt' Rockne, not 'Newt' Rockne."
The Observer's Andrew Owens traveled to Bazaar, Kan., to trace the legend of the man responsible for so much of Notre Dame's history. The piece, "Finding Rockne: A Journey to Find the Man Behind the Legend," serves as the paper's Irish Insider cover story, and it's well worth a read.
Andrew talks to Rockne's grandson, traces his religious roots and discovers where man became myth.
We trek through the bumpy trail, and after a few minutes we can see the memorial atop the hill.

Upon sight, we are speechless. Nothing but plains stretch beyond the memorial for miles. Engraved on the granite monument are eight names. Atop the list it reads, "ROCKNE MEMORIAL." There is a small wiry fence around the monument [Tom] Easter constructed years ago to protect it from the cattle.

Even today you'll find bits of glass from the plane sitting atop the soil. It was a cloudy day when we were there, but Tom said when the sun shines or the rain pours down, you can see the hill shine from miles away.

Perched atop the hill, the world comes to a halt. I picked up a couple small shards of glass, and was immediately humbled as I realized I was handling one of the last remaining physical connections to Knute Rockne, the man.
To learn more about one of the most famous coaches in college football history, read Andrew's piece
here
.
September, 21, 2012
9/21/12
1:00
PM ET
Coaches are the human face of a college football team. Players come, players go, but coaches remain -- the successful ones, anyway. That permanence goes a long way toward describing why coaches provoke hate. To the fan who has invested heart and soul into a game only to have them crushed, the winning coach is the embodiment of that devastation.

But this story is not about the fan. This story is about two of the greatest coaches to ever walk a sideline. To say that Fielding Yost of Michigan and Knute Rockne of Notre Dame didn't care for each other, and to say that their feud altered the path of the sport, is an understatement the size of the Big House.

Yost coached the first dynasty of the 20th century. In 26 seasons in Ann Arbor (1901-23, 1925-26), he went 165-29-10 (.833). Rockne topped him and everyone else to this day, going 105-12-5 (.881, 1918-30). He also became a beloved figure of the Golden Age of Sport, as the Roaring Twenties are otherwise known.

The feud between the coaches had its roots in a game played nearly a decade before Rockne became head coach. When Yost became head coach in 1901, he transformed the Wolverines into the most dominant program in the nation. Michigan didn't lose a game under Yost until 1905. These were known as the "Point-A-Minute" teams, both for their margins of victory and to reflect the head coach's personality. Chicago sportswriter Hugh Fullerton would describe Yost's methods as "tramp on the injured and hurdle the dead."

Yost married an infectious enthusiasm with sanctimony and an absolute inability to concede defeat or give an inch to any man. He talked and talked and talked. Sportswriter Grantland Rice once asked colleague Ring Lardner if he ever had had a conversation with Yost.
To read the rest of Ivan Maisel's column from May, click
here
.
July, 12, 2012
7/12/12
12:00
PM ET
July, 9, 2012
7/09/12
9:00
AM ET
Knute Rockne compiled a 105-12-5 record during his 13 seasons as head coach of Notre Dame. His teams have accounted for 12.3 percent of the wins in the program's history, the most of any man to coach the Irish.
[+] Enlarge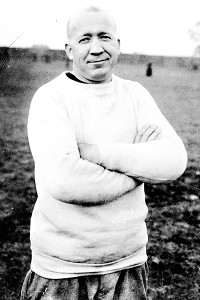 AP PhotoKnute Rockne laid the foundation for generations of Irish football.
Other coaches have put bigger dents in their schools' history books, notably:
Bobby Bowden, who has accounted 64 percent of Florida State's wins.

Joe Paterno, who has accounted for 49.5 percent of Penn State's wins.

Lavell Edwards, who has accounted for 49.2 percent of BYU's wins.

Chris Ault, who has coached 44.3 percent of the Nevada's wins (and is still going.)
Like other coaching greats, those four are, in many ways, the faces of their programs. Predecessors and successors dull in comparison, and their schools' football teams would not be the same without them.
Rockne's .881 career winning percentage remains the best among FBS coaches, and his six national titles and five unbeaten and untied seasons are not too shabby, either.
It is easy to brush aside Rockne's numbers when considering the other greats who roamed the Notre Dame sideline after him -- notably, Dan Devine, Ara Parseghian, Frank Leahy and Lou Holtz. Each, after all, has his own statue outside Notre Dame Stadium.
But the numbers don't tell the story of Rockne's impact at Notre Dame. His motivational tactics became renowned. His aerial attack was instrumental in growing the game. And he was a master showman, taking his team to bigger stages in faraway places.
On the surface, removing 105 wins from a program with 853 of them would do little damage to Notre Dame's eventful football history. But without Rockne to lay the foundation for what have become so many Irish traditions, it is impossible to imagine what the South Bend, Ind., school would look like some 80-plus years later.
May, 22, 2012
5/22/12
12:00
PM ET
Rest in peace, Bill Stewart. So sad.
March, 22, 2012
3/22/12
12:00
PM ET
Can't beat this weather for March.
March, 5, 2012
3/05/12
12:00
PM ET
Deron Williams. Rajon Rondo. Yikes.
February, 29, 2012
2/29/12
2:00
PM ET
Chris Salvi
received the news last week that any walk-on (or parent of a walk-on) dreams of: the safety
earned a scholarship for his senior season
. But the honor hasn't softened the former Butler transfer's edge, as evidenced by his performance this week in the ring.
Yes, the ring.
Salvi defeated Brian Tower in the second round of Tuesday's 188-pound Bengal Bouts semifinal, evading early hits and connecting on an array of body shots before dominating.
From
Notre Dame's student newspaper, The Observer
:
The second round was fully dominated by Salvi, as he landed an early uppercut on Tower's face that left Tower sprawling on the ground. After a brief stoppage, Tower tried to go on the attack, but Salvi stopped him in his tracks with a quick upper body shot that knocked Tower down for the second time.

The referee then decided to end the fight in the second round, giving Salvi the victory.
Salvi advanced to Saturday's finals, where he will face Adrian Moreno. The fight starts at 7 p.m. and will be broadcast live on the school's official athletic website, UND.com.
The Bengal Bouts, Notre Dame's annual charity boxing tournament,
has benefited the Holy Cross Missions in Bangladesh since 1931
.
Salvi won't be the only family member in the spotlight Saturday: His brother, Brian, will face Connor Skelly in the 180-pound final following a third-round win Tuesday over Joe Garrity.
December, 28, 2011
12/28/11
8:00
AM ET
Kez McCorvey still shows his players the catch 18 years later. In the film room of Bethel (Tenn.) University, the Wildcats' wide receivers coach focuses on the details of the play, "560 vertical," and not so much on the circumstances surrounding it, which NBC play-by-play man Charlie Jones summed up thusly:
"So the perfect season for the Seminoles, Bobby Bowden's shot at the national championship, coming down to this play. It is fourth down and goal to go. Twenty-yard line. 2:31 left."
Eventual Heisman Trophy winner and NBA point guard Charlie Ward took the shotgun snap from the 20, dropped three steps and fired a bullet over the middle that looked destined for the hands of Notre Dame safety Brian McGee. Instead, the ball dropped into McCorvey's hands for the touchdown, cutting the Irish's lead in half and granting Florida State new life in what was then the Game of the Century -- Nov. 13, 1993.
[+] Enlarge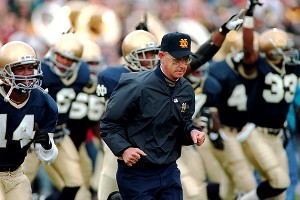 Photo/Joe RaymondLou Holtz's Irish team upset No. 1-ranked Florida State in 1993.
"My guys here, they'll get plays they think we just invented or something," said the 39-year-old McCorvey, who still gets on the practice field to demonstrate routes for his NAIA pupils. "And I'll tell them we've been running that play forever. 'Look here on YouTube. I'm old as dirt, we're not even doing a good job of doing it and I'm slow and old and I can score, so here.' "
The improbability of the play had McCorvey and his teammates thinking fate had intervened -- "I don't wanna make it sound like Florida State is all that and a bag of chips, but we'd just never been in a situation where we'd been out of a game, so we just never quit."
The celebration, however, was short-lived, one of many twists and turns of a season that saw No. 2 Notre Dame upset No. 1 Florida State, 31-24, only to watch the Seminoles be declared national champions less than two months later despite having the same number of losses.
The schools will renew their rivalry in Thursday's Champs Sports Bowl in Orlando, Fla., a smaller stage later in the year that will lack the 800-plus media members, dozens of fake credentials, coach's dinner party and rapid trash-talking that surrounded South Bend, Ind., that fall week in 1993.
The messages that week, at least from up top, could not have been any more different.
"Leading up to it, obviously Coach Holtz's thing was at the beginning that we may get beat by 50, and that was just Lou Holtz, that's just how he handled things," said former Irish safety Jeff Burris, who scored the Irish's last two touchdowns of the game as a running back. "And by Monday or Tuesday, 'We'll be happy to be in the game by halftime.'
"Just his mentality was that way, but he was always focused on, 'If we do this the right way it might be a game.' And by Thursday or Friday it was, 'We'll win this game, and this is how we'll win this game.' "
For Florida State, meanwhile, it was business as usual.
"I would love to tell you we did it bigger than the Miami game, but we didn't," said McCorvey, citing a win over the No. 3 Hurricanes a month earlier. "Nothing against Notre Dame, but we felt like since we beat Miami we could win the national championship, so we'd been accustomed to that type of pressure. Coach Bowden, too. It wasn't as big a deal going into games -- the pressure, game situations. So we didn't do a whole lot of things that we hadn't done before."
Yet McCorvey couldn't help himself during the week leading up to the game, making references to "Rock Knutne" and being quoted as saying: "I appreciate what Notre Dame has accomplished, but those old guys don't play anymore. You can't win with mojo or magic. Joe Montana isn't going to put on the pads and win for them."
"I think it was a little bit of ignorance with the Knutne comment," McCorvey laughed. "That was me being young."
Still, the scene was unlike any all parties involved had ever been a part of.
Tickets were going for $1,000. ESPN's "College GameDay" was making its first on-campus appearance, albeit in front of just a few dozen loyal fans stationed on the concourse of the Joyce Center, where Notre Dame's basketball team plays.
"You can tell this is not just a football game; this is a happening," host Chris Fowler said on the air. "Paul Azinger, Roger Clemens, Spike Lee — lots of folks are gonna be here. Al Gore. Andre Agassi. Some others got turned down. As further proof this is transcendent-game status."
Signs in the parking lot offered assets such as an Orlando vacation or a Mercedes-Benz for entrance into Notre Dame Stadium that day.
"When they said it was the Game of the Century," former Irish quarterback Kevin McDougal said, "it really was."
Two days before the game, Holtz and his wife, Beth, invited 50-60 media members stationed in South Bend over to their Woodland Hills home, 10 minutes from campus.
"My then fiancée and I arrived in South Bend on Thursday," Michael Messaglia, Holtz's son-in-law, said. "Expecting a quiet night at her parents' house, we arrived to a house full of reporters."
After Beth Holtz sent reporters out with cookies in napkins as they left, and after Holtz handed out small boxes of golf balls, the Boston Globe's Dan Shaughnessy wrote in his day-of-game column:
"That settled it. It doesn't matter if Florida State wins today by four touchdowns; I will write only good things about Notre Dame. I have broken bread with Lou. After today's game of the century, I will have only one question.
"What time is dinner before the BC game?"
Of course, the high of Shawn Wooden knocking down Ward's final pass of the Game of the Century was met the following week with a hangover against Boston College, as the Eagles engineered a 41-39 shocker that played a pivotal role in deciding the national championship.
Notre Dame beat Texas A&M in the Cotton Bowl on Jan. 1. Florida State won its last two regular-season games before topping undefeated Nebraska in the Orange Bowl the same day.
The Seminoles finished atop both The Associated Press and coaches' polls, giving Bowden his first national championship, though the regret wasn't limited to the Irish's side.
"You look back and you think you won the national championship, but you wanted to go 13-0," McCorvey said. "You wanted to not lose a game that whole year and leave your legacy as one of the best teams that ever played. The Notre Dame loss was something that kind of tarnished that a little bit."
September, 7, 2011
9/07/11
12:16
PM ET
SOUTH BEND, Ind. -- Notre Dame's sports information department spoke with former NCAA statistics staffer and Fighting Irish historian Steve Boda, who passed along this interesting note related to the pair of weather delays in this past Saturday's opener against South Florida:
As a postscript to Saturday, Steve says the closest a Notre Dame game came to being postponed by weather was the 1923 season finale at St. Louis University. The game was played on Thanksgiving Day (Nov. 29). There was a drenching, non-stop rain that day and the field was ankle-deep in mud. Knute Rockne proposed the game be postponed until the following day, but there already were 9,000 fans in attendance and St. Louis did not agree. The game went on as scheduled, Notre Dame won 13-0 and Steve says there were 22 fumbles in the game.
And some of you thought Rockne never would have approved of Saturday's breaks in the action.
The latest from Gustin at The Opening
FBS INDEP. SCOREBOARD
Friday, 8/29
Saturday, 8/30