Notre Dame Football:

Kyle McCarthy
September, 11, 2014
Sep 11
7:40
PM ET
SOUTH BEND, Ind. — The waiting game continues for No. 11 Notre Dame as it approaches its third game of the season still without answers regarding the five players being held out amid an internal academic investigation.
Coach Brian Kelly said Thursday that he still has not been updated on the status of the suspended players since he last shared information on the matter with reporters. Whether he was referring to
his comments on Sept. 4
that none of the players had been through honesty committee hearings yet is unclear. What remains clear, though, is that Kelly and the Irish would welcome the players back for Saturday night's game against Purdue if they were cleared Friday.
[+] Enlarge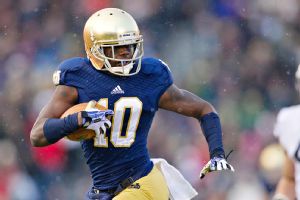 Matt Cashore/USA TODAY SportsDaVaris Daniels and four other Notre Dame players remain suspended as an academic investigation continues.
"We'd get them down there as quickly as we could and welcome them and put them in the uniform," Kelly said, two days before the Irish face the Boilermakers in Indianapolis. "Whether we could get them to know what we're doing offensively, defensively and special teams, who knows about that? But they would certainly be welcomed as part of our football team."
Kelly reiterated that he does not know much about the process that has been going on for nearly a month now, after the school announced Aug. 15 that it was withholding
DaVaris Daniels
,
Ishaq Williams
,
Kendall Moore
and
KeiVarae Russell
out from practices and games as it investigated academic misconduct. The school later announced, on Aug. 28, that
Eilar Hardy
would be withheld as well, and Kelly said that same day that the investigation was complete, meaning only hearings and potential appeals remained.
The players attend classes and have been welcomed back in the football complex, eating with teammates and working out with strength and conditioning coach Paul Longo, though Kelly has chosen to hold them out of team meetings.
The school had said that the Office of General Counsel initiated an immediate investigation when the compliance office was referred to evidence July 29.
Kelly said Thursday that he is anxious, that the players are anxious and that reporters are anxious, but that he does not know much, choosing to let the academic arm of the school conduct matters as it sees fit.
"This is separation from church and state in the sense," Kelly said. "This is the deans and they have their domain and that's their business, and it truly is their business, and I respect that. They don't give me advice about play-calling and that's the truth of the matter. Whether that's a poor analogy or not, they handle academic honesty and they handle those things and that's their domain and that's their world, and I want my guys back but I get it, and they work and that's their job and so I really don't have any say on it."
Notes:
Kelly said that former Irish and NFL player and current graduate assistant Kyle McCarthy has not missed a day of practice despite undergoing chemotherapy treatments for cancer. The NCAA allowed the school to hire former player Pat Eilers as a GA in light of the matter, but Kelly said Eilers cannot coach a unit during practice while McCarthy is still there.
"Incredible," Kelly said of McCarthy. "His resolve and his [desire] to be out at practice, just [a] pretty inspirational young man. It's been awesome to be around him and to get to know him even more, it doesn't surprise me why he's been such a favorite around here. He's a pretty inspirational kid."
Kelly also said
Torii Hunter Jr.
(Grade 3 groin tear) will not play Saturday despite showing progress throughout the week.
August, 26, 2014
Aug 26
8:00
AM ET
Brian Kelly press conference today.
Now
it feels like game week ...
August, 21, 2014
Aug 21
8:00
AM ET
April, 9, 2014
Apr 9
9:00
AM ET
SOUTH BEND, Ind. -- It's been familiar ground after different paths for two of Notre Dame's newest additions this spring.

Graduate assistants are hardly positions of glory, but the Irish know they have the benefit of credibility with newcomers Mike Hiestand and Kyle McCarthy helping out the coaching staff.

Hiestand is the son of current offensive line coach Harry Hiestand. McCarthy graduated from Notre Dame in 2009 before spending time at safety with the Broncos, Chiefs and Raiders.

McCarthy has spent plenty of time working with the Irish secondary. Given his college and NFL experience, defensive coordinator Brian VanGorder has been able to rely on him plenty so far.

"I can lean all over him -- he's a graduate assistant," VanGorder quipped. "He's very bright, very bright. … Kyle brings a really good perspective I think to the game, good knowledge, and he's done a very good job."

Added Brian Kelly: "He's really a guy that can be a full-time coach. And that's hard to do. Look, just because you played in the NFL doesn't mean that that translates into being a good coach, a good teacher. Because that's what we are, we're teachers and educators. He just has a really good way about him and his ability to communicate and teach is a trait that he just naturally has. He loves the game. He really enjoys being around the players and so he carries that with him every single day.

"So he can stand in front of the group and he has immediate credibility as a Notre Dame football player, a captain and a guy who played in the NFL. But you need even more than that, and you have to be able to do a great job of teaching, and he does a really good job of teaching."

Hiestand played linebacker at Illinois State before working as a GA at Miami (Ohio) and FIU. His father recalled many conversations between the two about the game, with the son always making sure to take notes everywhere he went. Harry said Mike would even ask him for notebooks from some of his previous coaching stops.

"It's great for me, because I know he has a passion for it," Harry said of having Mike on staff. "I always knew that. I never pushed him toward it -- his mother can't believe he's doing it.

"But he's always had a real, real desire to do this, and when Coach [Kelly] talked to him about the opportunity, I knew without saying anything to Coach that he'd really be good at it. Just because I knew how passionate he is about football. He's always been that way."

February, 28, 2014
Feb 28
12:15
PM ET
SOUTH BEND, Ind. — Brian Kelly got into his car on Friday morning and saw that the outside temperature was minus-8 degrees -- as if there was any doubt Notre Dame would be indoors on Monday when the Irish commence Kelly's fifth spring here.
What he will see, though, are more new faces in new places than he probably has during his Irish tenure. And he's anxious to see who rises up from a team that said early goodbyes to three juniors after the 2013 season and welcomes two new staff members.
[+] Enlarge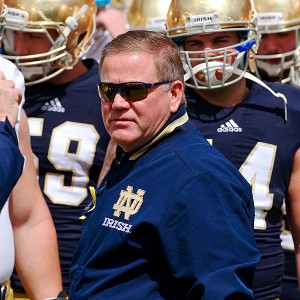 Matt Cashore/USA TODAY SportsBrian Kelly is looking for some new faces to step forward in the spring.
"In an ideal world you'd want your best players to be your best leaders," Kelly said. "Sometimes that's not the case, so you observe daily and find out who those guys are and you try to cultivate those individuals. I think with this group in '14 our best players can be our best leaders and they may not all be seniors. I think we've got some great seniors, I think all of our seniors are committed, but we may have some great underclassmen who are great leaders, too."
The additions of assistants Matt LaFleur (quarterbacks) and Brian Van Gorder (defensive coordinator) have given the staff more flexibility as well, as Kelly said Friday that Kerry Cooks will now coach the entire secondary, not just the cornerbacks, while Bob Elliott will move from safeties coach to outside linebackers coach. Kelly also added graduate assistants in former NFL fullback Ryan Mahaffey (offense), former Irish safety Kyle McCarthy (defense) and Mike Hiestand (defense), son of current Notre Dame offensive line coach Harry Hiestand.
As for switches on the field:
Matthias Farley
has moved from safety to corner,
John Turner
has gone from safety to outside linebacker,
James Onwualu
has moved from receiver to safety,
Will Mahone
has moved from running back to receiver, and
Amir Carlisle
is now a runner and a receiver.
Everett Golson
, meanwhile, has returned at a listed 200 pounds, 15 pounds heavier from his listed playing weight from 2012.
Personnel notes:
Tony Springmann
(ACL, infection) and
Devin Butler
(shoulder) are out for spring. …
Nick Martin
(MCL) and
Ben Councell
(ACL) will be limited to non-contact. …
Nicky Baratti
,
Chase Hounshell
and
Doug Randolph
(all shoulders) are good to go. … Receiver
Luke Massa
will not return for a fifth season after initially planning to come back. Kelly said Massa had received a job offer that was too good to pass up.
Kelly on Shembo:
Kelly addressed
Prince Shembo
's comments during last weekend's NFL combine, when the former Irish linebacker
said the coach told him not to talk in school about the the Lizzy Seeberg investigation
.
"That was a collaborative decision," Kelly said Friday. "I don't make any decisions independent when it comes to major decisions at this university. The head football coach works in concert with our administration, so we made a decision based upon the information that we had that we felt it was in Prince's best interest that this was not a matter that needed to be discussed, but that was certainly something that he could've decided to discuss. We didn't threaten him with, he couldn't play or we were going to put him on the bench or throw him out of school. It was still his decision. But talking to his parents and talking to Prince we felt because of the information that we had in front of us that it was a matter that be left alone at the time."
January, 31, 2014
Jan 31
1:23
PM ET
Brian Kelly reiterated Friday that he will again call plays next season. New quarterbacks coach Matt LaFleur will have full autonomy over his signal callers in the meeting room. And new offensive coordinator Mike Denbrock will put it all together and oversee the entire offense.
That was the blueprint laid out during a joint news conference to announce Notre Dame's finalized staff for the 2014 season, with LaFleur coming over from the Washington Redskins and Denbrock adding more to his plate after coaching the Irish's outside receivers for the past two seasons (and tight ends in the two seasons before that).
[+] Enlarge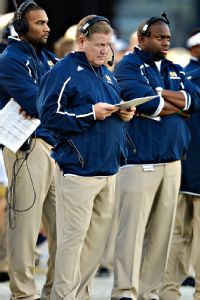 Thearon W. Henderson/Getty ImagesHead coach Brian Kelly will call the plays this fall for Notre Dame.
"We're transitioning back to an offense that I feel is best suited for the personnel that we have, and I think it's important to really get that philosophy and influence back into the offense, and I know it the best," Kelly said. "And then, once we're able to lay that in there, I think it will give everyone a great visual look of what that offense will look like, and I think it starts with me. I think it's important that if I want that offense to have the look, it's important that I have the influence in some fashion, and this is the best way to do it."
Kelly also shed some light on personnel matters, saying that linebacker
Doug Randolph
(shoulder), end
Chase Hounshell
(shoulder) and offensive lineman
John Montelus
(shoulder) were all expected to be ready for spring ball come March 3. Safety
Nicky Baratti
, who, like the other three players, missed all of 2013 with a shoulder injury, will be cleared for contact this spring but might be held until the fall as a precautionary measure.
Defensive lineman Tony Springman (ACL, infection) is progressing but has not been cleared for spring ball just yet after missing all of 2013, nor has linebacker
Jarrett Grace
(broken leg), with Kelly saying that Grace's recovery is taking a bit more time because he broke a bone in four different places when he left the field Oct. 5 against Arizona State.
Kelly did add that linebacker
Ben Councell
(ACL) and center
Nick Martin
(MCL) are both exceeding expectations, though neither is expected to be available this spring after suffering their injuries late in the season.
Notes:
Kelly said that Notre Dame will still operate out of a 3-4 base under new defensive coordinator Brian VanGorder, though it will again be about a 50-50 split based on personnel. … Fifth-year players will not be announced until after national signing day, following usual protocol, though Kelly said those players know where they stand.
ESPN.com and other outlets
have reported that
Austin Collinsworth
,
Christian Lombard
,
Kendall Moore
and
Justin Utupo
are the four fifth-year players who will be back for 2014. … Kelly said he still needs to fill out one more graduate assistant position. Former Irish and NFL safety Kyle McCarthy
tweeted earlier Friday that he will be a GA this season
.
April, 2, 2013
4/02/13
2:00
PM ET
Nearly two-dozen current and former NFL players will be at Notre Dame during the weekend of the annual Blue-Gold spring game, albeit for more than just spring football.

The NFL Business Management and Entrepreneurial "Investment for Impact" program will take place April 18-21 at Notre Dame, hosting 13 current and 10 former NFL players.

Notre Dame graduates Brady Quinn and Jeff Faine helped start the program with NFL Player Engagement, and the two will speak at the event along with Warrick Dunn, Rick Mirer, Jeremy Bloom and Deke Cooper.

"The opportunity to play in the NFL has provided a platform to have an impact on our communities," Quinn said in a statement. "It is my hope that through the Notre Dame Entrepreneurial program, attendees may learn how to invest with an impact for the greater good."

Panels featuring experts from the academic and business world will take place.

And yes, a trip to Notre Dame Stadium for the spring game is included.

"I'm proud to have had a hand in bringing Investment for Impact to my alma mater, and assisting in forming a partnership between University of Notre Dame and the NFL for the continuing education of professional athletes," Faine said in a statement. "It has been a longstanding goal to give back in a meaningful way to the game that has provided so much opportunity for me. This course will provide a template on how to bridge traditional business models with a focus on the greater good of humanity. I believe social entrepreneurship is the wave of the future."

The following is a list of the 23 former and current NFL players scheduled to attend:

Jon Alston
Charlie Batch
David Bruton
Riki Ellison
Jeff Faine
Josh Gordy
Lamarr Gouston
Winston Justice
Sean Mahan
Corey Mays
Kyle McCarthy
Kerry Meier
Duke Preston
Brady Quinn
Vincent Rey
Mike Rivera
Harrison Smith
Stephen Spach
Shawntae Spencer
Matthew Tennant
Adalius Thomas
Gregory Tolver
Maurice Williams
August, 6, 2012
8/06/12
12:00
PM ET
February, 16, 2012
2/16/12
12:00
PM ET
January, 27, 2012
1/27/12
9:00
AM ET
Harrison Smith
's five-year Notre Dame career ended with him ninth on the school's career tackles list (309) and as the Irish's lone captain in 2011. He is now getting ready for the draft and will play in the 63rd Senior Bowl on Saturday in Mobile, Ala.
The safety will suit up for the North team, coached by Leslie Frazier and the Minnesota Vikings' staff. The game kicks off at 4 p.m. and airs on the NFL Network.
After Monday's weigh-in for the game, Scouts Inc.'s Todd McShay wrote that the 6-foot-2, 212-pound Smith
passed the eyeball test with flying colors
, something Smith said his brother texted him about. He joked that he's been getting feedback from plenty of sources --
Scouts Inc. thinks he's a potential Day 2 pick
-- but he'll try to block it all out as he readies for the NFL.
You've been hearing so much from so many different people -- from media, from scouts. How do you take all that and put it aside and focus on the task at hand?
Harrison Smith:
I think after playing at a place like Notre Dame, where the spotlight's always on you, the media's always there, people are watching you every weekend, you're always on TV -- I think it just becomes part of it. And that's something that, don't get me wrong, I'm nervous before all the games I play in, I'm nervous going out and playing in front of scouts and stuff like that, but it's not like a bad nervous. It's just part of it. And once you get used to it you don't realize that you focus on what you're doing and who you're looking at before the snap, and just the basics of football. All that other stuff isn't even in your mind until you walk off the field.
Can you take me a little bit through the process so far: Where you went after the bowl game, the process of choosing an agent, where you're training and what not?
[+] Enlarge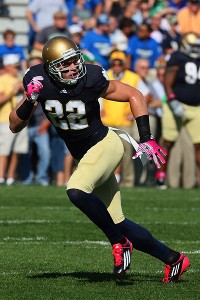 Brian Spurlock/US PresswireIrish safety Harrison Smith finished up his senior season with 93 tackles and seven interceptions.
HS:
I ended up going with a guy named Brian Murphy, who's actually a Notre Dame grad, and he's got a lot of Notre Dame guys that I've played with. That's just a little bonus, but I liked him. I liked what he's about. So there was that process and then after that I start training, getting ready for playing in the Senior Bowl, going to the combine, pro day. So I worked out a couple weeks at home with Charles Petrone. He's a guy I've always worked out with, and he's always done me right. I've never seen a guy make improvements on all the guys that he trains as well as he does. There was never a question as to where I was training. I always knew I would train with him if I ever got lucky enough to pursue the NFL. And before the Senior Bowl I actually went out and worked out with some other players, a lot of guys who signed with the same agency as me, just to get a feel of other guys who were going to the game and get some camaraderie and stuff like that, and that kind of leads me to this point.
You mentioned having the same agent as some other Notre Dame guys. Who specifically in the league right now, either Notre Dame or non-Notre Dame players, has been advising you? Have you developed any relationships and have any mentors in the NFL right now?
HS:
From those guys, I played with David Bruton and Kyle McCarthy. I had a year with Tom Zbikowksi but I didn't get to know him as well as I got to know David and Kyle. And Kyle, I actually played alongside Kyle. So that's a guy who's kind of helped me through the process. And also Sergio Brown's a guy who's up there, stayed in touch with him. He's gotta be happy right now. (Brown's Patriots are in the Super Bowl.) But those guys have all been great. And then on top of that, Chad Pennington's a guy who worked out with Charles Petrone when he was coming up, because he's from my same area. He went to my rival high school. He's just a great guy. If I've ever had a question or needed advice, he's a guy who's done it all and he's a smart guy who just cares about people and doesn't mind spending some of his time helping me out. So he's another guy that I'm fortunate to be in contact with.
With the Senior Bowl prep this past week, how much have you learned about yourself going up against some of the better guys in the country? How much of a measuring stick has this week been for you?
HS:
I think it's been a good measuring stick, but at the same time I think when you turn on tape, that's when you really find out what a guy's about. Tape from tough games, that's when it really counts. That's when everything's on the line, this is just kind of a smaller snippet of that. At practices here everything's on the line, too, because you got all the scouts, all the coaches on the team watching you, and you've got to perform under the spotlight. So I think this is a small snippet of everyone's college career. I think it kind of gives those guys who are checking us out and grading us an increased level of the athletes around and just a higher talent pool to see us perform.
Is there anything specific you hope to accomplish this week? Is there any specific weakness or something that's been pointed out to you that you're trying to improve?
HS:
No, not really. I'm just going out and doing what I know how to do and being the player that I pride myself on being: a guy that works hard, a guy that can do a lot of things for the team, a guy that's athletic and can definitely play special teams for you. So really just being a guy who can do what the coaches ask: understand the defense, make the calls, stuff like that.
What's the next step for you after this weekend? Are you going to go back home and continue to train, or do you have a next stop on your list?
HS:
I'm going back to Knoxville and training with Petrone and just getting after it until the combine.
I'm sure it will be a little crazier when you get to the combine, but how has this whole experience measured up to what you expected going in?
HS:
It's been pretty much what I expect. It's obviously going to be hectic and there's going to be a lot of eyes on you the whole process, and in the in-between time there's a lot of work to be done. You always got to get up and you just got to get after it every day, get ready for the next test. That's just what it's about. That's what being a football player's about. It's not any different than my past four or five years, it's kind of more intense and kind of just crammed into a couple months I guess.
December, 1, 2011
12/01/11
10:30
AM ET
This week we are taking a look at each of Notre Dame's fourth-year scholarship players with eligibility remaining and examining whether he will likely return to the Irish next season. Here, we look at safety Dan McCarthy.
Before Notre Dame:
From Cardinal Mooney High School in Youngstown, Ohio, McCarthy entered Notre Dame as ESPNU's No. 24 safety and was named Gatorade Player of the Year for Ohio. He joined older brother Kyle, who was a 2009 captain for the Irish and currently plays for the Denver Broncos.
At Notre Dame:
The 6-foot-2, 205-pound McCarthy has appeared in 23 games the past three seasons, playing at safety and on special teams. He has totaled 15 tackles and one forced fumble for his career, which has been hampered by injuries.
What's next?:
For now, McCarthy will back up captain Harrison Smith as the Irish prepare for their bowl game.
The verdict:
Going. Much like Clelland, McCarthy never caught much of a break on the field, suffering a neck injury in a high school game his senior year and dealing with a hamstring injury early last season before later undergoing shoulder surgery.
Previous players:
Braxston Cave
Lane Clelland
Dayne Crist
Sean Cwynar
Mike Golic Jr.
John Goodman
Kapron Lewis-Moore
Good Luck Playoff Selection Committee