Notre Dame Football:

Leonard Johnson
January, 27, 2012
1/27/12
9:00
AM ET
Harrison Smith
's five-year Notre Dame career ended with him ninth on the school's career tackles list (309) and as the Irish's lone captain in 2011. He is now getting ready for the draft and will play in the 63rd Senior Bowl on Saturday in Mobile, Ala.
The safety will suit up for the North team, coached by Leslie Frazier and the Minnesota Vikings' staff. The game kicks off at 4 p.m. and airs on the NFL Network.
After Monday's weigh-in for the game, Scouts Inc.'s Todd McShay wrote that the 6-foot-2, 212-pound Smith
passed the eyeball test with flying colors
, something Smith said his brother texted him about. He joked that he's been getting feedback from plenty of sources --
Scouts Inc. thinks he's a potential Day 2 pick
-- but he'll try to block it all out as he readies for the NFL.
You've been hearing so much from so many different people -- from media, from scouts. How do you take all that and put it aside and focus on the task at hand?
Harrison Smith:
I think after playing at a place like Notre Dame, where the spotlight's always on you, the media's always there, people are watching you every weekend, you're always on TV -- I think it just becomes part of it. And that's something that, don't get me wrong, I'm nervous before all the games I play in, I'm nervous going out and playing in front of scouts and stuff like that, but it's not like a bad nervous. It's just part of it. And once you get used to it you don't realize that you focus on what you're doing and who you're looking at before the snap, and just the basics of football. All that other stuff isn't even in your mind until you walk off the field.
Can you take me a little bit through the process so far: Where you went after the bowl game, the process of choosing an agent, where you're training and what not?
[+] Enlarge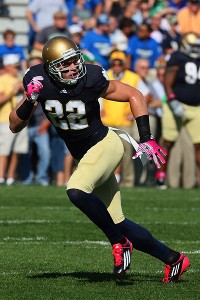 Brian Spurlock/US PresswireIrish safety Harrison Smith finished up his senior season with 93 tackles and seven interceptions.
HS:
I ended up going with a guy named Brian Murphy, who's actually a Notre Dame grad, and he's got a lot of Notre Dame guys that I've played with. That's just a little bonus, but I liked him. I liked what he's about. So there was that process and then after that I start training, getting ready for playing in the Senior Bowl, going to the combine, pro day. So I worked out a couple weeks at home with Charles Petrone. He's a guy I've always worked out with, and he's always done me right. I've never seen a guy make improvements on all the guys that he trains as well as he does. There was never a question as to where I was training. I always knew I would train with him if I ever got lucky enough to pursue the NFL. And before the Senior Bowl I actually went out and worked out with some other players, a lot of guys who signed with the same agency as me, just to get a feel of other guys who were going to the game and get some camaraderie and stuff like that, and that kind of leads me to this point.
You mentioned having the same agent as some other Notre Dame guys. Who specifically in the league right now, either Notre Dame or non-Notre Dame players, has been advising you? Have you developed any relationships and have any mentors in the NFL right now?
HS:
From those guys, I played with David Bruton and Kyle McCarthy. I had a year with Tom Zbikowksi but I didn't get to know him as well as I got to know David and Kyle. And Kyle, I actually played alongside Kyle. So that's a guy who's kind of helped me through the process. And also Sergio Brown's a guy who's up there, stayed in touch with him. He's gotta be happy right now. (Brown's Patriots are in the Super Bowl.) But those guys have all been great. And then on top of that, Chad Pennington's a guy who worked out with Charles Petrone when he was coming up, because he's from my same area. He went to my rival high school. He's just a great guy. If I've ever had a question or needed advice, he's a guy who's done it all and he's a smart guy who just cares about people and doesn't mind spending some of his time helping me out. So he's another guy that I'm fortunate to be in contact with.
With the Senior Bowl prep this past week, how much have you learned about yourself going up against some of the better guys in the country? How much of a measuring stick has this week been for you?
HS:
I think it's been a good measuring stick, but at the same time I think when you turn on tape, that's when you really find out what a guy's about. Tape from tough games, that's when it really counts. That's when everything's on the line, this is just kind of a smaller snippet of that. At practices here everything's on the line, too, because you got all the scouts, all the coaches on the team watching you, and you've got to perform under the spotlight. So I think this is a small snippet of everyone's college career. I think it kind of gives those guys who are checking us out and grading us an increased level of the athletes around and just a higher talent pool to see us perform.
Is there anything specific you hope to accomplish this week? Is there any specific weakness or something that's been pointed out to you that you're trying to improve?
HS:
No, not really. I'm just going out and doing what I know how to do and being the player that I pride myself on being: a guy that works hard, a guy that can do a lot of things for the team, a guy that's athletic and can definitely play special teams for you. So really just being a guy who can do what the coaches ask: understand the defense, make the calls, stuff like that.
What's the next step for you after this weekend? Are you going to go back home and continue to train, or do you have a next stop on your list?
HS:
I'm going back to Knoxville and training with Petrone and just getting after it until the combine.
I'm sure it will be a little crazier when you get to the combine, but how has this whole experience measured up to what you expected going in?
HS:
It's been pretty much what I expect. It's obviously going to be hectic and there's going to be a lot of eyes on you the whole process, and in the in-between time there's a lot of work to be done. You always got to get up and you just got to get after it every day, get ready for the next test. That's just what it's about. That's what being a football player's about. It's not any different than my past four or five years, it's kind of more intense and kind of just crammed into a couple months I guess.
Freshman Quarterbacks A Growing Trend?