Notre Dame Football:

Les Miles
January, 15, 2014
Jan 15
10:00
AM ET
SOUTH BEND, Ind. -- In some ways, Brian VanGorder hasn't changed in the 23 years since he last worked for Brian Kelly, which drew Notre Dame's new defensive coordinator to the head coach in the first place.
"The first thing I wanted in this position is a great teacher," Kelly said. "I think first and foremost when you're talking about the ability to bring together our defensive players, you need the ability to communicate and to teach, and Brian is one of the very best teachers, if not the best teacher, that I've ever been around, and I go way back with Brian."
Tuesday provided a reunion of sorts for the two Brians, who last coached together at Grand Valley State from 1989-91. From there VanGorder held 13 different posts at 11 different stops at the college and pro level, including five total years as an SEC defensive coordinator at Georgia (2001-04) and then Auburn (2012).
The 54-year-old VanGorder arrives from the New York Jets, where he coached linebackers for one season. He replaces Bob Diaco, who became UConn's head coach.
[+] Enlarge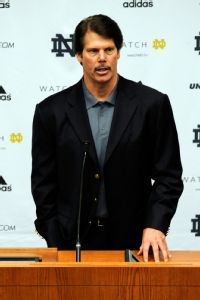 AP Photo/Joe RaymondBrian VanGorder coached the New York Jets' linebackers last season.
And while he wants to further familiarize himself with his personnel before he delves into schematics, his past year in the NFL did provide one hallmark that he intends to continue with the Irish.
"I'm built to stop the run," VanGorder said. "I think last year with the Jets, they were [26th] the year before against the rush. I know this year at least rush average per carry, we led the NFL, and for the most part we were way ahead at one point in time. So I think that part of it for me is all about your toughness. When a team can run the ball on you in our game, there's something about the toughness factor that affects me and how I feel about it."
What VanGorder lacks in the rah-rahness that Diaco brought, he more than makes up for in experience.
He counts Rex Ryan, Mike Smith, Jack Del Rio, Cam Cameron and Les Miles among his many mentors, and he expressed a shared philosophy as it relates to bouncing back and forth between college and the NFL.
"I've always just considered myself a coach," VanGorder said. What's important to him now, he said, is that " … the culture is right, the standards and expectations are in line, and the mission is clear. That's really what I'm looking for, so the opportunity to be here with Brian and to be at Notre Dame just makes it all that much more special."
At Wayne State, VanGorder played with Irish strength and conditioning coach Paul Longo, whom he called one of his best friends from college. He got to know assistant Mike Denbrock through their separate stints at Grand Valley State.
He has spent all but one year of his 25-year college and pro coaching career on the sideline -- a 2007 campaign spent upstairs as the Atlanta Falcons' linebackers coach.
Where VanGorder will reside inside Notre Dame Stadium this fall was one of many topics the Jackson, Mich., native was not ready to delve into during Tuesday's introduction. But for now, VanGorder is hoping to rekindle the same kind of success he had with his new boss the first time around.
"The one thing I really look forward to are the already established standards and expectations here of Notre Dame and the football program, and certainly the enthusiasm that he has brought to Notre Dame and that I'm going to be a part of," he said of Kelly. "For many years I've thought, as I admired Brian as he continually advanced, that maybe some day we'd get back together, and we had such a great time the first time around at Grand Valley, and I hope that we can do the same thing."
May, 3, 2013
5/03/13
3:30
PM ET
In some ways, social media is often a popularity contest. And few fare better in popularity contests than Notre Dame, which attracts attention like no other on an annual basis, win or lose.

The latest example comes from
the Tulsa World's Kelly Hines
, who compiled a list of college football coaches by Twitter followers.
No. 2 on the list? Brian Kelly.
The fourth-year Irish coach has 91,042 Twitter followers as of the writing, trailing only LSU's Les Miles, who has 105,760.
Anyone who has seen Miles live-tweet a sporting event in the past should not be all that surprised, given the Tigers coach's seemingly unfiltered thoughts on everything.
Kelly's successor at Cincinnati, new Tennessee coach Butch Jones, checks in at No. 3 on the list, at 75,300 followers.
Other coaches of interest to Notre Dame fans are USC's Lane Kiffin (18th, 29,790), Kansas' Charlie Weis (28th, 17,460), MSU's Mark Dantonio (39th, 9,425), BYU's Bronco Mendenhall (53rd, 4,560), Nevada's Brian Polian (60th, 3,046), Temple's Matt Rhule (66th, 2,289), UMass' Charley Molnar (76th, 1,548) and Navy's Ken Niumatalolo (84th, 837).
April, 24, 2013
4/24/13
9:00
AM ET
Another list, another debate — though this one should again have Notre Dame fans pleased following the Irish's 2012 campaign.
The Sporting News' Matt Hayes
released his list of college football coach rankings this week
, one week after AthlonSports
delivered a list of its own
. Athlon had Brian Kelly ranked fourth. Hayes has Kelly fifth.
His reasoning:
5. Brian Kelly, Notre Dame: How impressive has Kelly been at ND? The weight of the program hasn't crushed him like it did every other coach since Lou Holtz retired. The Alabama loss in last year's BCS National Championship Game was brutal, but he somehow managed to get a team with significant flaws (freshman quarterback, tight-end-oriented passing game) all the way to the big game. He won championships at the NCAA lower divisions, won conference championships at the non-BCS and BCS levels, and will win a national title at Notre Dame.
The usual suspects top this list: Alabama's Nick Saban and Ohio State's Urban Meyer. After that? The debate really begins.
Boise State's Chris Petersen is No. 3, followed by Oklahoma's Bob Stoops.
Athlon's list, meanwhile, had Kansas State's Bill Snyder at No. 3.
There really are no right or wrong answers with any of these, depending on your view. Program-builder? Hard to argue with Snyder, Petersen or Northwestern's Pat Fitzgerald, who comes in at No. 8 on Hayes' list. Length of success? Few can doubt Stoops' mark in Norman, though consecutive BCS-bowl-less campaigns have not made him the most popular guy among the die-hards lately.
Then there are the real head-scratchers, guys like Virginia Tech's Frank Beamer, who comes in at No. 34 on Hayes' list but is No. 9 on Athlon's. Les Miles is another one who seems to draw opposing reactions, as the LSU coach is ninth on Hayes' list but 24th on Athlon's.
Most can agree with Saban and Meyer at the top. After proving this past season that Notre Dame can succeed at the highest level, Kelly is making a case for himself to be right up there, too.
Former Notre Dame coaches Charlie Weis and Bob Davie check in at Nos. 57 and 87, respectively.
April, 11, 2013
4/11/13
9:00
AM ET
Much of college football debate is based on lists and rankings. Notre Dame fans know this as much as anyone after a 2012 regular season that did not see the Irish rise from fourth to first in all of the major polls until the three teams ahead of them dropped games.

Those same fans will have a hard time being upset with the list that AthlonSports released this week:
College football head coaches, Nos. 1-125
.
Brian Kelly's spot? No. 4.
Steven Lassan writes:
Not many coaches in college football can rival Kelly's resume in four stops as a head coach. Kelly's first head coaching gig came in 1991 at Grand Valley State, and he stayed in that capacity until 2003. During 13 years with Grand Valley State, Kelly went 118-35-2 and won two Division II titles. After his success with the Lakers, Kelly went 19-16 with Central Michigan, which included a MAC championship in 2006. Kelly moved on to Cincinnati at the end of the 2006 season and guided the Bearcats to back-to-back Big East titles in 2008 and 2009. After back to-back 8-5 seasons with Notre Dame, Kelly led the Fighting Irish to an appearance in the BCS National Championship game at the end of the 2012 season. Despite the blowout loss to Alabama in the title game, Kelly clearly has the program back on track to be an annual top 10-15 team.
The three men ahead of Kelly? Alabama's Nick Saban, Ohio State's Urban Meyer and Kansas State's Bill Snyder. Few can make a legitimate argument right now against the first two, as each is the owner of multiple national championships at college football's highest level. The Snyder spot could be up for debate, but when you take into account his longevity -- and remember just how bad the Wildcats were before his arrival -- it is tough to top what he has done in his 21-year career, ring or no ring.
How about some of the names above whom Kelly is ranked? South Carolina's Steve Spurrier (No. 5), Oklahoma's Bob Stoops (No. 7), LSU's Les Miles (No. 24) and Texas' Mack Brown (No. 28) are title-winners who finished behind Kelly on the list, though Miles is the only of that quartet whose best years have been among his most recent ones.
Other names of note to Notre Dame fans are UCF's George O'Leary (No. 68), New Mexico's Bob Davie (No. 89) and Kansas' Charlie Weis (No. 106).
March, 22, 2013
3/22/13
12:00
PM ET
Day 2 of the best two days in sports begins now.
January, 5, 2013
1/05/13
4:20
PM ET
MIAMI --
Gunner Kiel
says he will be at Notre Dame this spring, and he says the thought of transferring has never crossed his mind.

"It honestly hasn't," Kiel said at Sun Life Stadium. "I've been more focused on the season and been more focused on school and other things that are more important to me."
The ballyhooed quarterback recruit-turned-scout-team ace has watched as
Everett Golson
ascended from a similar role last season to starting quarterback in Monday's Discover BCS National Championship against Alabama.
Junior
Tommy Rees
has relieved Golson when necessary this season, with redshirt sophomore
Andrew Hendrix
seeing sparse action as well.
The math shows four men competing for one spot through next season, with Golson holding two more years of eligibility after that and Hendrix one. The domino effect equaling just one potential year for Kiel to be front and center in the quarterback race.
He sees other possibilities, and that starts with entering the competition with the right mindset come spring.
"Anything could happen," Kiel said. "[Golson] could go to the NFL -- you never know. He could also get hurt, other people could get hurt -- there's so many doors that could be opened that I just have to be patient, just wait my turn, wait to get better."
"I'm gonna try, but he's a great quarterback," he added when asked about unseating Golson this spring. "He's going to lead this team and he's going to keep getting better, so I just need to keep getting better and learn from him, and also learn from coach [Brian] Kelly and just try to keep getting better each year."
Saturday's media day being Kiel's first availability to reporters since fall camp, the Les Miles issue came up again. But Kiel took the high road, saying he can't blame the LSU coach for publicly questioning his heart after de-committing from the Tigers in favor of the Irish at the 11th hour.
"Once he said it, I don't blame him at all -- I was dumb during the recruiting process," said Kiel, who had de-committed from Indiana earlier as well. "I couldn't really make up my mind, but I was also doing what was best for me at that time, and that was picking a college. That much pressure and being so highly ranked, I couldn't make up my mind.
"It was hard, but I'm very happy with the decision I made, and I've always respected coach Miles. I'm not going to throw him under the bus, because I think he's a great coach. Everything he stands for I think is great. He's a winning coach. There's nothing more to say. I can't take back what I did, so I respect coach Miles and everything he stands for."
Notes
: Redshrt junior running back
Cierre Wood
said he will announce his decision about his future shortly after Monday's game. … Redshirt senior safety
Jamoris Slaughter
has filed paperwork to the NCAA to petition for a sixth year and expects to hear in the weeks after Monday's game. Slaughter tore his Achilles in a Week 3 win at Michigan State. … Running back
Amir Carlisle
said nerve damage suffered during his ankle injury from the spring was what delayed his recovery and forced him to redshirt this season, which he had been granted a waiver to play in following his January transfer from USC after one year there.
June, 20, 2012
6/20/12
4:00
PM ET
LSU coach Les Miles
was on the Scott Van Pelt show Tuesday

when the subject turned to ... well, you can probably guess.
But instead of completely ripping
Gunner Kiel
-- as he has done multiple times since losing the prized quarterback recruit to Notre Dame -- Miles actually backed off a bit, saying it is every recruit's right to change his mind.
Here is the exchange between Ryen Russillo/Jonathan Coachman and Miles, which occurs around the 15-minute mark:
When you get a big-time recruit like a Gunner Kiel and he decides not to come to LSU, how do you react to that and how do you move on and how do you act like it's not a big deal?

Miles: Well it really isn't. The responsibility of any prospect's decision really rests on him. And I have to be honest with you: If somebody says 'I'm coming,' you plan his spot. If he changes his mind he is completely correct, and there's reasons for guys not wanting to accept that challenge, reasons for wanting to stay home and play among your friends and family. For you to step into our stadium, lead our team -- it takes a different breed of cat. It needs to be somebody that's very confident, very wanting to put in the hours, the hard work. And to do it in Louisiana. And I really, I mean it very honestly, I wish Gunner Kiel all the best. I'm excited about the guys that are choosing to accept the challenge at Louisiana State and I'm not excited about those other guys.
Yes, there's a not-so-subtle zinger in there about a "different breed of cat." But Miles, for once, seems to have overcome the denial stage in losing Kiel, saying things similar to what most other coaches do when a prospect gets away so late in the recruiting game. The Tigers' coach had gone from telling a crowd in February that Kiel lacks "
the chest and the ability to lead a program
" to saying two months later that Kiel
lacks confidence and "swagger
."
Now here we are, two more months later, and Miles seems to have finally embraced the acceptance stage, wishing Kiel the best and saying he is no longer thinking of him. Two months from now, fortunately, Miles will have games and on-field matters to talk about, officially putting the episode to rest.
April, 6, 2012
4/06/12
4:00
PM ET
Les Miles fired shots, and
Gunner Kiel
took the high road. Miles, meanwhile, has continued to shoot his mouth off.
In an interview with CBSSports.com's Dennis Dodd
, the LSU head coach continued to rip the Notre Dame freshman quarterback for decommitting from the Tigers at the 11th hour, saying Kiel lacks confidence and swagger.
"I'm not bitter. I'm glad he stayed there. I really mean it. Here's the truth: If you don't have some swagger to you and you can step into this stadium and be able to know the advantage that you're playing with the Tigers and you're leading the program that has some real weight and clout, then you really need to stay home with your brothers.

"I don't mean that [negatively]. I'm for him. He gets a chance to come in here and compete and start on a team that is a great team. I really meant what I said. I was talking more about the confidence and swagger. I was not demeaning. If he shows up, it means he has all those things … I mean it honestly, if it's more about family for him, if it's more being close to home … he would have never been successful as he needed to be. I mean it very respectfully …

"The guy we got now [Zach Mettenberger], he's a confident son of a buck. He's a throwin', tough kid. If he continues to develop and learn and grow as a leader, no question."
Miles, as everyone surely remembers, publicly questioned Kiel's leadership abilities at an LSU national signing day banquet. In his first and only meeting with reporters since then, Kiel complimented the coach and said he would only use those comments as fuel.
[+] Enlarge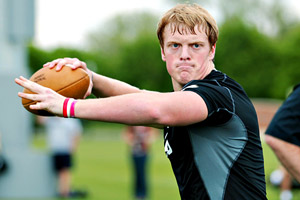 Tom Hauck for ESPN.comWhen Gunner Kiel was criticized by Les Miles in February, the quarterback said he'd use it as fuel.
"You can't really control that," Kiel
said March 24
. "I did pull out at the last minute. I still have all the respect for LSU. Their fans definitely understood. LSU is a great place, but it wasn't the best fit for me. I'm a Midwest guy and I like to stay close. I'm just going to use that as fuel, but I'm not going to disrespect him in any way, shape or form. He's a great coach and they're a great team.
"But I feel great to be at Notre Dame. Love the place, love the guys, love the coaches, love the surroundings. It's a great community, they're all welcoming, everyone is really nice. It's definitely the perfect fit for me."
LSU quarterbacks coach Steve Kragthorpe was at least understanding of Kiel's decision to spurn the Tigers and enroll at Notre Dame on Jan. 17.
"Gunner's a great kid. He comes from a very, very close-knit family. When it really comes down to it and time to get on the plane, he couldn't do it. We knew that was part of the recruiting process. I talked about it with him very candidly.

"When I was playing at West Texas State, my dad [Dave] was coaching at Oregon State. My son's at Idaho State. I have one in Chicago. I walked him [Kiel] through what it was going to be like. He woke up Sunday morning and was getting ready to go to the plane and said he couldn't do it. I was disappointed he didn't come because I wanted to coach him. I really liked their family. I think they're wonderful people. The best way to describe it is, I understand."
Recruits flip. Happens all the time. Notre Dame, which has been on both ends of the deal this past recruiting cycle, knows this better than anyone. Fans can get nasty during the process, and high school kids often do themselves few favors by speaking before they are ready.
But comments like Miles' do little to quell the vitriol that lunatics from every fan base often spew. Kiel, in his only interview since arriving at Notre Dame, came off as nothing but a class act, a young kid who was genuinely overwhelmed by the recruiting process and was happy to have it over, at peace with his decision to enroll at Notre Dame.
Why a 59-year-old "big boy" like Miles can't feel the same way is sad.
April, 4, 2012
4/04/12
9:00
AM ET
Travis Haney debuted this week on ESPN.com, and his first piece looks at
potential impact newcomers this spring

.
Not surprisingly, Notre Dame quarterback
Gunner Kiel
makes the five-man list.
To date, there has been more chatter about Kiel's winding road to South Bend -- first Indiana, then LSU, then Notre Dame -- than his potential impact in 2012. Expect the focus to gradually shift, though, toward the January enrollee's ability.

Where does he stand in relation to other suitors such as Tommy Rees and Andrew Hendrix? Impossible to say this early, but Kiel is at least in the conversation, and that's saying something. Perhaps it says as much about the Irish's need for an emergent quarterback as anything else (only five teams threw more INTs in 2011 than the Fighting Irish).

It takes maturity to play as a freshman, clearly. Kiel passed one of his first tests on that front: When quizzed by reporters for the first time since enrolling, he did not jab back at LSU coach Les Miles after a spurned Miles had questioned Kiel's leadership potential. Instead, Kiel said the comments would be used as motivation.
Kiel is the only quarterback on Haney's list.
March, 24, 2012
3/24/12
4:00
PM ET
SOUTH BEND, Ind. -- Just because
Gunner Kiel
should still be in high school right now does not mean he is absolved from the tantrums each of his current teammates have received at one point or another.
"I don't think I've gotten the full, full red-face look yet," Kiel quipped Saturday of coach Brian Kelly during his first meeting with reporters since enrolling at Notre Dame.
"It's not really yelling. He's just been coaching me more," Kiel said. "Whenever he yells it's for a reason: You know you've done something wrong, you know it. He's just there to help you. So he's a really good coach and I feel really honored to play for him."
[+] Enlarge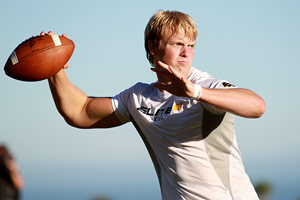 Tom Hauck for ESPN.comAfter a hectic recruiting process, QB Gunner Kiel said he's found happiness at Notre Dame.
Kiel came to the conclusion that Kelly and Notre Dame were the right fit for him after a dizzying recruitment that saw the Columbus East (Ind.) quarterback switch his allegiance from Indiana to LSU before showing up on Notre Dame's campus and enrolling Jan. 17, prompting Tigers coach Les Miles to publicly question Kiel's leadership abilities at a national signing day banquet.
"You can't really control that," Kiel said. "I did pull out at the last minute. I still have all the respect for LSU. Their fans definitely understood. LSU is a great place, but it wasn't the best fit for me. I'm a Midwest guy and I like to stay close. I'm just going to use that as fuel, but I'm not going to disrespect him in any way, shape or form. He's a great coach and they're a great team.
"But I feel great to be at Notre Dame. Love the place, love the guys, love the coaches, love the surroundings. It's a great community, they're all welcoming, everyone is really nice. It's definitely the perfect fit for me."
Harsh weather when Kiel arrived to Notre Dame led to confusion for the newcomer, who said he got lost going to classes on his first day amidst the snow-covered campus. An unusually warm start to spring practices this week, however, has been refreshing as he dives he into his college academic work and a four-man quarterback race.
"It's completely different from high school," Kiel said. "And knowing, like for me, my high school just had spring break this week, so knowing I had to go to school and get up early and work out was like, 'Dang.' But it feels good to be here. To be a part of this team is very special to me and it turned out for the best for sure."
Kiel said he has been able to block out the distractions surrounding his recruitment and eventual choice of the Irish, as he hopes to beat out three others for the starting quarterback job this fall.
Such are expectations with a prospect rated as the top player in his state and No. 3 quarterback in the nation by ESPNU.
"Things got pretty hectic with recruiting," Kiel said. "But I had a great supporting cast behind me. My family was always there for me, my friends. Staying close definitely meant a lot. Of course I want my family to come and watch me play. And knowing that I can go home on the weekends, I can get away from something crazy. If I have a rough week, I can go home on a weekend and recharge my batteries. I thought that was definitely huge for me."
Right now, though, he is just happy to be at Notre Dame, roughly four hours from home, with the whirlwind recruitment process now in the rearview mirror.
"For me, I struggled with recruiting," Kiel said. "I put so much stress on myself and overanalyzed everything that I kept pushing back my decision, and I just kept freaking out whenever I wanted to get into something. Whenever I would settle, I would just have one foot in instead of jumping in. I would just freak out at the last minute, I guess. So I just stressed myself out and got overwhelmed a little bit."
March, 20, 2012
3/20/12
12:00
PM ET
Brian Kelly is expected to kick off spring with a news conference right around now. Check back here later for what he has to say.
February, 8, 2012
2/08/12
9:00
AM ET
It sounds like a certain coach has gotten on your nerves ...

David from Seattle writes: Hey Matt,I like have said in previous comment to you about Coach Kelly, This will be his last year in South Bend. Kelly can't handle the PRESSURE of being the HEAD COACH. His EGO and being embrassed affect his coaching and players appreciations. To bag up ND Nation point, Les Mile(michigan guy) calls out ONE OF YOUR GUYS(Gunner) and you have not even back up the School or ONE OF YOUR GUY. Remember last year comment of Your Guys.

Matt Fortuna: David, the comments became public after all of Kelly's media appearances that day, so he wasn't asked or given a chance to respond. But what do you want him to do? Call a press conference to respond to petty comments from a bitter coach? He always preaches taking the high road and not getting into a shouting match, particularly after the USC game this year, so it would do no good to go out of your way to make retaliatory comments, especially when you have the last laugh already in landing Gunner Kiel.

@LarryDavidSr writes: Pathetic. Why would a coach of a major program attack the charcter of an18 year old. No doubt gunner made the rightr call

Matt Fortuna: First off, LOVE the Twitter handle. And no, I don't know why the coach of a major program would attack the character of a kid like that. Coming from a guy who has seemed, at least from a distance, to be a hit during public speaking engagements and press conferences, it seems all the more disappointing.

Jason from Chicago: Please write something about how Justin Tuck not getting the SB MVP is one of the biggest disappointments related to Sunday's game.

Matt Fortuna: Jason, loved Tuck's postgame comments on how Eli stole his MVP again. He certainly deserves consideration, but at the end of the day you have to go with the guy who orchestrated the game-winning drive in the title game. Eli's performances in the clutch in the past seemed to give people an expectation to deliver there, but that shouldn't make it any less impressive.
February, 3, 2012
2/03/12
5:30
PM ET
Gunner Kiel
landed at Notre Dame after pledging to LSU and Indiana and now
Deontay Greenberry
is Houston-bound, after initially pledging to the Irish. The reverberations from both flips will likely be felt more in the years to come than the immediate future, but that didn't stop pettiness from reigning supreme Wednesday.
The video has gone viral, LSU coach Les Miles questioning the heart of Kiel at the Tiger Gridiron Club's annual national signing day "Bayou Bash" in Baton Rouge, La.

Miles
"There was a gentleman from Indiana that thought about coming to the Bayou state," Miles said. "He did not necessarily have the chest and the ability to lead a program, so you know."
And here Notre Dame fans were thinking they landed the upset of the 2012 recruiting class.
Adding to the sting of Miles' comments was the fact the coach said it to an audience, one that responded with a roar of approval to the millionaire coach's shot at a high-school kid for changing his mind.
No wonder fans spew so much vitriol to prospects who don't sign with their favorite schools.
If Kiel did not have the chest and the ability to lead a program, Miles sure did a lousy job of recognizing that, too. The performance of his quarterbacks suggest as much, as do his comments the day Kiel enrolled at Notre Dame, which offered a much more reasoned take on the Indiana native's decision to stay in Indiana.
"There's a point in time where young people make a variety of decisions, and for a variety of reasons," Miles said at the time. "The only thing I can tell you is there is a guy in the Midwest who felt staying close to home was the right thing."
Fortunately for the Irish, Miles' foolishness has in some ways overshadowed the lack of momentum Notre Dame had in this class, the Irish losing three commitments in the last month, Greenberry's defection to Houston coming at the very last minute.
But for now, they can take solace in the fact that much of that was salvaged by the last-minute landing of Kiel, chest and ability issues aside.
Greenberry's 11th-hour switch from the Irish to Houston may have been the biggest shocker on national signing day, but Kiel's 11th-hour de-commitment from the Tigers and ensuing early enrollment at Notre Dame served among the biggest shockers of this recruiting season.
Just look at others' reactions.
The latest from Gustin at The Opening
FBS INDEP. SCOREBOARD
Friday, 8/29
Saturday, 8/30