Notre Dame Football:

Le'Veon Bell
July, 11, 2013
7/11/13
3:00
PM ET
On Sept. 21, Notre Dame will be looking to notch its first three-game winning streak against Michigan State since the Lou Holtz days (1987-94). The two will take a two-year break before meeting in East Lansing, Mich., on Sept. 24, 2016. Who are the biggest Sparty threats to another Irish win?
To read previous entries from this series, click
here
.

Offense: Travis Jackson, C.
The junior was hampered by injuries last season, starting just five games before going down with a broken leg and a knee injury. Now healthy, Jackson is on the watch list for the Rimington Trophy and will look to pave the way for a backfield that is without Le'Veon Bell. He had 10 knockdowns in five contests last year and started 10 games as a freshman in 2011, earning freshman All-America honors from Phil Steele and conference all-freshman honors from three different publications.
Defense: Max Bullough, LB
. The three-year starter in the middle for the always-stout Spartan D has amassed 223 total tackles in 40 career games, including 21 for loss and 6.5 sacks. The Big Ten coaches named Bullough a first-team all-conference selection last season, with the media placing him on the second team. Bullough had a team-best 111 total tackles last season, including 12.5 for loss, to go with 2.5 sacks, one pick, four pass breakups, three quarterback hurries and one forced fumble. He led the team in tackles (89) in 2011, too, getting named second-team all-conference by the coaches and honorable mention by the media. Bullough's grandfather, Jim Morse, played halfback at Notre Dame under Terry Brennan from 1954-56. His uncle, also named Jim Morse, was a cornerback for the Irish under Dan Devine from 1976-77.
September, 17, 2012
9/17/12
10:00
AM ET
Here's one last look back at the weekend that was as Notre Dame improved to 3-0 with a convincing
20-3 win at Michigan State
.
[+] Enlarge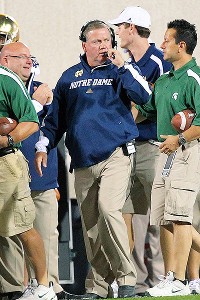 Mike Carter/US PresswireCoach Brian Kelly has the Irish sitting at 3-0 this season and ranked No. 11 in the latest AP poll.
The good
:
Manti Te'o
had a game-high 12 tackles.
Stephon Tuitt
notched his fifth sack of the season. The Irish defense kept
Le'Veon Bell
in check to the tune of 77 yards, and allowed MSU to cross midfield just once in the second half. (The Spartans also made zero red zone trips throughout the night.) You can't ask for much more from this unit, which propelled the Irish to their first 3-0 start in 10 years.
The bad
:
Everett Golson
's first two (unofficial) plays in his first true road contest: False start, timeout. But what looked like it would be a long night was quickly turned around.
The ugly
: Jamoris Slaughter
ruptured his Achilles tendon on the first play of the second half and will miss the rest of the season
.
Matthias Farley
is expected to step into his spot. The Irish have now suffered three season-ending injuries in the secondary --
Austin Collinsworth
,
Lo Wood
and Slaughter -- and three of their four starters are converted offensive players:
KeiVarae Russell
(running back),
Bennett Jackson
(wide receiver) and Farley (receiver).
Still healing
: Brian Kelly said Sunday that
Kapron Lewis-Moore
and
DaVaris Daniels
were not fully healthy following injuries suffered one week earlier. Both played sparingly.
Sheldon Day
suffered a bone bruise as well, though Kelly said it happened before he was jumping up and down after a botched attempt at an interception. He should be fine.
Next up
: Notre Dame's second home night game in as many years features Michigan, which has delivered the Irish three crushing last-minute defeats in the last three years. The man responsible for two of them,
Denard Robinson
, is back for his senior year, and the Irish would like nothing more than to go through him en route to a 4-0 September.
September, 16, 2012
9/16/12
2:30
AM ET
EAST LANSING, Mich. -- So this was how
Manti Te'o
would respond to a week out of left field, tragedy striking him not once but twice, two of the most important women in his life gone in a matter of hours.
The postgame television interview was done and here he came, the linebacker the last one to meet his fellow students in the northeast corner of Spartan Stadium, their adoration slowly carrying him through the final words of the Notre Dame alma mater after
a 20-3 victory
over Michigan State.
"We love you Manti!" the gathering repeatedly shouted, with Te'o responding by blowing them kisses.
He had fought his way to a game-high 12 tackles, five of them on
Le'Veon Bell
, the Heisman candidate he helped limit to 77 yards on a night the Spartans struggled to move the ball against the Irish's defense.
And still, here he was, extending his hand toward the crowd, leaping and greeting Irish basketball players
Eric Atkins
and
Joey Brooks
, two of the hundreds who made the 150-mile trip to watch Notre Dame go 3-0.
This was validation of Te'o's return for his senior year, his decision to pass up millions repaying him now, letters and support coming from all over after he said goodbye to his grandmother and his girlfriend earlier in the week.
"My family and my girlfriend's family have received so much love and support from the Notre Dame family," Te'o
said. "Michigan State fans showed some love. And it goes to show that people understand that football is just a game, and it's a game that we play, and we have fun doing it.
[+] Enlarge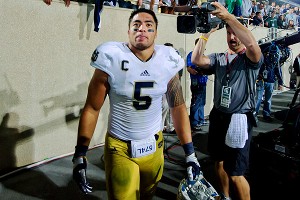 Matt Cashore/US PresswireManti Te'o, playing days after the deaths of his grandmother and his girlfriend, had 12 tackles and a fumble recovery against Michigan State.
"But at the end of the day what matters is the people who are around you, and family. I appreciate all the love and support that everybody's given my family and my girlfriend's family."
He had made it to practice every day last week, stopping right before one to remind his teammates that he loved them, that he wasn't going anywhere, that he'd be playing for them and for his family.
"He's just one of our great leaders and one of our best all-time players," receiver
John Goodman
said, "and if you don't rally around a player like that, the camaraderie isn't right, and I think the camaraderie is right on our team."
He had gotten a big lift, too, from the little man who always seems to be in the right place at the right time. Five-foot-nine
Robby Toma
led Notre Dame with five catches covering 58 yards, but his biggest impact came earlier in the week.
So close with Te'o back in Hawaii that he calls Teo's father "Uncle Brian," Toma has been there for Te'o throughout their college careers -- from the earlier deaths of Te'o's grandfather and two of their good friends from home, to the past week, when they chatted in their apartment together and in the hotel room before Saturday night's game.
"Earlier in the week he told me he needed me," Toma said. "I've known him since we were 5 years old. And I was just there for him when he needed to talk or whatnot.
"He's a real strong guy -- spiritually, mentally, physically -- and I was just there to be his backbone."
When Te'o stopped Bell a yard behind the line of scrimmage early in the third quarter, he got up, kissed his fingers and gently pointed to the sky, a thank-you to the grandmother and the girlfriend who helped bring him to the brink of stardom.
"There's nobody," Brian Kelly said when asked if he'd ever had someone like Te'o over his 22 years of coaching. "He's so strong for everybody that when he was at a time, everybody wanted to help him out, and I've never seen that dynamic amongst a team and a group of players. It's a pretty close locker room."
With Notre Dame up by 14 late, Bell was shoved out of bounds on his 19th and final carry of the game, the ball popping loose and landing in Te'o's arms for his second career fumble recovery.
The remaining fans let out their biggest roar of the night, and the worst week of Manti Te'o's life was on its way to a good ending, though the pain was still alive.
"Yeah," he said when asked if Saturday could have ended any better. "I could call my girlfriend right now and talk about the game.
"But I've just got to get on my knees, say a prayer and I can talk to her that way."
September, 15, 2012
9/15/12
11:47
PM ET
Notre Dame had lost nine consecutive games to teams ranked in the AP top 10, but behind an inspired and emotional performance from senior linebacker
Manti Te'o
, the 20th-ranked Fighting Irish erased that streak and made a strong case to be in the top 10 themselves with a
20-3 victory
over No. 10 Michigan State in East Lansing.


It wasn't the cleanest game Notre Dame could've played, but with its 3-0 start (the first time that has happened in more than a decade) the Irish are setting themselves up for one of their better seasons in recent memory.
It was over when
: The Spartans turned it over on fourth-and-5 with just over four minutes remaining. The Irish would settle for a field goal on the ensuing possession, but the lead at that point was 17-3, so it didn't matter that they didn't make it all the way to the end zone.
Game ball goes to
: Notre Dame's front seven.
The Fighting Irish provided constant pressure on Michigan State junior quarterback
Andrew Maxwell
all game. They sent blitz after blitz and kept the first-year starter uncomfortable. Maxwell finished 23 of 45, with neither touchdown nor interception.
But more impressively, Notre Dame kept junior running back
Le'Veon Bell
in check. Bell, who had averaged 140 yards and two touchdowns per game coming into the Notre Dame matchup, ran for just 77 yards on 19 carries.
And as a unit, the Spartans accounted for just 50 yards on the ground -- nearly 150 yards less than their season average.
Stat of the game
: In the past decade, the Spartans had only been held to three points twice -- both to Nebraska (once in 2011, once in 2003), though not in the past 10 years have they been held to so little at home.
What it means
: Big Ten teams have been given a blueprint for how to handle the Spartans. No, not every conference team has the front seven that Notre Dame does, but for teams wanting to stop a foe that's expected to contend for the Big Ten title, Notre Dame just showed you how.
September, 14, 2012
9/14/12
6:26
PM ET
By
ESPN Stats & Information
| ESPN.com
Matt Cashore/US PresswireNotre Dame RB Cierre Wood returns from a two-game suspension Saturday against Michigan State. Wood rushed for 61 yards and two touchdowns last season against the Spartans.
In the only matchup between teams ranked in the AP Top-20 this weekend, No. 10
Michigan State
hosts No. 20
Notre Dame
at 8 p.m. ET on ABC. The Spartans and Fighting Irish have split their last 10 meetings with the home team winning each of the last four contests.


The last time these two teams met in East Lansing, Michigan State defeated Notre Dame, 34-31, on a fake field goal in overtime two seasons ago. The 29-yard TD pass from Aaron Bates to Charlie Gantt gave the Spartans their first and only lead of the game.
Including that win, Michigan State is 9-1 in games decided by eight points or fewer since 2010. The win was also the second of what is now 15-straight wins at home for Michigan State, the fourth-longest active streak among FBS schools.
Notre Dame enters the game at 2-0 and hopes to win its first three games of the season for the first time since starting 8-0 in 2002. The Irish have entered their matchup with Michigan State at 2-0 twice since then (2005 and 2008) and lost each of those games on the road.
Should the Irish come away with the win, it would be their first win over a team ranked in the AP Top-10 since 2005 when they knocked off No. 3 Michigan. They have lost nine straight such games since then, the longest streak in Notre Dame history.
One player the Irish will need to slow down if they hope to come up with the road win is Michigan State running back
Le'Veon Bell
. Bell ranks sixth in the nation with 140.0 rush yards per game but has been limited when opponents have stacked the line of scrimmage.
Against defensive fronts with seven or more players in the box, Bell has averaged 3.5 yards per carry on 32 attempts with 37 yards after contact. Against fronts with six or fewer in the box, he has averaged 5.6 yards per carry on 30 attempts with 74 yards after contact.
You can expect Notre Dame to bring a safety or two up to help against the run because Spartans quarterback
Andrew Maxwell
has yet to stretch the field consistently. He's completed only 38.9 percent of his pass attempts 10 yards or more downfield this season.
Speaking of defense, it's tough to ignore the numbers that Michigan State has put up in two games this season.
The Spartans enter the weekend as one of three teams in the FBS yet to allow an offensive touchdown in 2012 and the other two (Florida State & TCU) have played only schools from the FCS. The 225.5 total yards they have allowed per game lead the Big Ten and rank eighth in the FBS.
Last weekend,
Tommy Rees
replaced
Everett Golson
at quarterback for Notre Dame's final offensive drive against Purdue, which led to a game-winning field goal. However, head coach Brian Kelly said Golson will be the starter on Saturday.
Elsewhere in the backfield, the Irish hope the return of RB
Cierre Wood
will provide a spark against Michigan State like he did last season in South Bend. Wood, suspended the first two games of 2012, rushed for 61 yards and a pair of touchdowns in Notre Dame's upset win over the No. 15 Spartans last season.
September, 14, 2012
9/14/12
5:00
PM ET
Lots of good questions this week. Let's get right to it.
Harry from Dalton, Ga., writes
: Hey Matt. I'm wondering where this puts Hendrix in as far as getting playing time. It appears he is number 3 now and might not get much playing time with Rees having the more experience.
Matt Fortuna
: Harry,
[Andrew] Hendrix
is certainly caught in a bit of a rough situation. He's not good enough to supplant
[Everett] Golson
as the starter, and he doesn't have the intangibles and experience that
[Tommy] Rees
has. But I think he still has assets Notre Dame likes. Brian Kelly has not named either the No. 2 quarterback. I'd expect Hendrix to see mostly late-game action in contests that are already decided, much like the Navy opener. Whether that will be enough to help his development -- or enough to surpass either quarterback in their respective roles -- remains to be seen.
---
Evan Sharp from South Lyon, Mich., writes
: Hey Matt. With all of the recent injuries to the defense especially how do you think that will affect an already questionable defense against RB Bell and an improving QB Maxwell next week? Also what is YOUR input on who will get more reps in East Lansing between Golson vs. Hendrix, Rees and Riddick vs. Atkinson and a returning Wood? Thanks, Evan
Matt Fortuna
: Evan, I don't think any of the injuries were serious enough to limit any of the defensive players this week. The only player who won't be able to go is kicker
Nick Tausch
, who hurt his groin late last week. Golson will start, and the plan is for him to finish. But if he has trouble late like he did last week and the outcome is still up in the air, it will be very interesting to see if Kelly makes the switch to Rees.
Theo Riddick
will start, and though
Cierre Wood
and
George Atkinson
are listed as the co-No. 2 running backs this week, I'd expect Wood to see more carries.
---
Mike Lozano from Orlando, Fla., writes
: Hi Matt, I'm not sure how to feel about the recent move by ND to affiliate with the ACC. While I'm happy ND will get more exposure to recruits in the southeast & access to the Orange/other bowl games, the 5 game scheduling requirement against ACC teams makes me feel uneasy. Your thoughts?
Matt Fortuna
: Mike, it shouldn't. Notre Dame plays four ACC games this season already, if you include Pittsburgh. It played four last season, if you include Florida State in the Champs Sports Bowl. This move is a home run for the Irish, and it gives them plenty of bowl access, which has been arguably the biggest issue the program has faced in recent years.
---
Jason from Fishers, Ind., writes
: I am just curious where the idea that the Purdue rivalry doesn't have the same history as the others in the Big Ten comes from. ND has played something like 84 games against the Boilers all time, which I believe puts it second on the number of times played list behind Navy. I have been having a discussion with my buddies about this and they are sort of in your camp, believing that the Purdue rivalry will be sacrificed with the new scheduling that takes place. I argue that this rivalry is more important to keep going than all others aside from Navy and USC. The Michigan rivalry has been on again, off again and Stanford is not a true rivalry, just an excuse to get out west. I am of the belief that now, more than previously, the Purdue game matters most because it continues to help recruiting and relevance to the midwest. My thought is that the west coast connection is already fulfilled by USC and always has been. The ACC games give you the southeast on up the east coast. A neutral site game can give you the east and even Texas/Oklahoma. If you get rid of all of the B1G rivalries, you basically remove all annual Midwest games that aren't played at home. Keeping Purdue is very important because it keeps an in-state rival to help bolster area recruiting. I know that ND recruits itself many times, but many kids that want to play in the ACC or out west would be better served by just going somewhere in the conference. To truly continue to be "National", ND should play Nationally, not just out west and down south, when away from Notre Dame Stadium. What are your thoughts on this idea? I can't find many that agree with my stance, but I truly see the Purdue rivalry as one very rich in history and necessary for the future. It gets the nod over MSU because of the fact that it is in-state, which holds its own importance.
Matt Fortuna
: Jason, I think there will be some kind of scheduling cycle with all of the Big Ten rivalries that Notre Dame has, so I'm not sure the Boilermakers would be just wiped off the schedule for good. As for recruiting? I really don't think playing two hours down the road does much for the Irish. They're pretty well-known in the Midwest regardless. None of those Big Ten rivalries, in Notre Dame's eyes, are as important as the tradition that a Navy game has every year, or as valuable as getting West every year at USC and/or Stanford.
September, 14, 2012
9/14/12
10:00
AM ET
As always, thanks to ESPN Stats & Info and these schools' sports information departments for the tidbits.
Neither Everett Golson or Andrew Maxwell have thrown a touchdown pass of at least 10 yards.
Michigan State is one of three schools to not allow an offensive touchdown and is the only one of the three that has faced a ranked opponent. The Spartans are allowing 225.5 yards per game this season, eighth-fewest in FBS.
MSU cracked the AP top 10 this week. Notre Dame has lost nine straight games against AP top-10 teams by an average of more than 15 points per game. The last time the Irish beat a top-10 team was in 2005, when beat No. 3 Michigan. The nine-game streak is the longest in school history. The previous longest was seven games, from 1984-86.
Notre Dame is looking to go 3-0 for the first time since 2002, when the Irish started 8-0 and won 10 games.
The Spartans have played six night games since Mark Dantonio took over as head coach and three of them have been decided on the final play.
MSU's ranking is its highest going into a game against Notre Dame since 1979. Then, the Irish won 27-3 against the No. 7 Spartans.
Since the start of the 2010 season, the Spartans are 9-1 in games decided by eight points or less, including the OT win over Notre Dame two seasons ago.
Maxwell is completing 38.9 percent of his passes thrown downfield 10 yards or more this season. Le'Veon Bell, who could see a safety or two in the box. Bell is averaging 5.6 yards per rush when there are six or fewer defenders in the box, but that number drops by 2.1 yards when there are seven or more defenders in the box.
September, 13, 2012
9/13/12
2:36
PM ET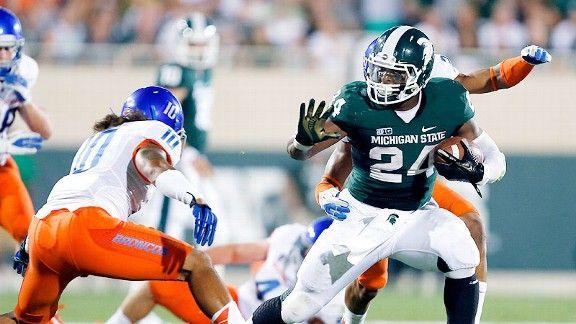 Matt Fortuna says stopping Le'Veon Bell is key for the Irish to go to 3-0.
September, 13, 2012
9/13/12
12:15
PM ET
Splitting things up today. First, what they're saying about Wednesday's news ...
As for football matters ...
September, 13, 2012
9/13/12
9:00
AM ET
What's that? There's still a game to be played at the end of this week? Oh yeah. A pretty big one, too. No. 20 Notre Dame returns to No. 10 Michigan State, the site of "Little Giants" (the play, not movie) two years ago. Which team will improve to 3-0?
When Notre Dame has the ball
: Identifying coverages and setting protections right is key for
Everett Golson
. He played well against Purdue but was sacked five times and hit countless others. MSU's defense is tougher than the Boilermakers'. Golson likely will have to keep plays alive with his feet.
Tyler Eifert
will once again be a huge part of the offense, as running against the Spartans' front seven will be very difficult, even with
Cierre Wood
back. MSU has not surrendered an offensive touchdown this season.
When Michigan State has the ball
:
Le'Veon Bell
might be one of the best running backs in the country, and Michigan State is not afraid to ride him. The Irish's stout run defense will have to win first and second down, stacking the box and taking chances with the unproven
Andrew Maxwell
throwing against their unproven cornerbacks, who did manage to step up against Purdue.
Intangible
: This is the first of three Irish road trips to top-10 opponents, with all three likely coming at night. This one is in prime time, and MSU has thrived at Spartan Stadium under Mark Dantonio, winning its past 14 inside the building. How Golson handles the atmosphere -- and, specifically, gets the plays in -- is something to keep an eye on, as this is his first true road test.
Prediction
: Michigan State 17, Notre Dame 13. This game most certainly will be close and low-scoring, but the Spartans are just too strong defensively for a quarterback facing his first test in a true road environment. The Irish didn't show enough last week to earn faith in them pulling off this mild upset just yet.
September, 11, 2012
9/11/12
12:45
PM ET
July, 18, 2012
7/18/12
10:30
AM ET
Week 3
: Sept. 15 at Michigan State (at Spartan Stadium in East Lansing, Mich.)
Time/TV
: 8 p.m. ET, ABC
Series
: Notre Dame leads all-time, 46-28-1
2011 record
: 11-3 (7-1 Big Ten; first place, Legends Division)
Head coach
: Mark Dantonio (44-22, five years)
Returning starters
: Offense: 5; defense: 8; kicker/punter: 2


Top returners
RB
Le'Veon Bell
, LT
Dan France
, C
Travis Jackson
, DE
William Gholston
, DE
Marcus Rush
, LB
Denicos Allen
, LB
Max Bullough
, LB
Chris Norman
, CB
Johnny Adams
, CB
Darqueze Dennard
, S
Isaiah Lewis
Key losses
QB Kirk Cousins, RB Edwin Baker, WR Keshawn Martin, WR B.J. Cunningham, TE Brian Linthicum, DT Jerel Worthy, S Trenton Robinson
2011 statistical leaders (*returners)
Rushing
: Le'Veon Bell* (948 yards)
Passing
: Kirk Cousins (3,316 yards)
Receiving
: B.J. Cunningham (1,306 yards)
Tackles
: Max Bullough* (89)
Sacks
: Denicos Allen* (11)
Interceptions
: Isaiah Lewis* and Trenton Robinson (4)
Three questions for ...
Big Ten blogger Adam Rittenberg:
Their in-state rivals seem to be generating most of the hype this summer, but the Spartans bring back an awful lot from a division-title team last year. Is Michigan State the team to beat in the Big Ten?
Adam Rittenberg:
I believe so. Michigan State, Michigan and Wisconsin enter the season as the potential favorites, but I like Michigan State because of its defense, which I believe to be the single best unit in the Big Ten right now. Despite losing standout tackle Jerel Worthy, the Spartans return a lot of talent. They're headlined by defensive end William Gholston, a bona fide All-America candidate who ended last season with a breakout performance in the Outback Bowl. Junior linebackers Max Bullough and Denicos Allen also return, and the secondary could be the strongest part of the unit. Michigan State was a top 10 defense last year, and even in its loss to Notre Dame, it held the Irish offense mostly in check.
The bigger questions marks come on offense, as almost every valuable skill player departs.
How good is Andrew Maxwell, and, perhaps more importantly, can he be the kind of leader that Kirk Cousins was?
AR:
Some are saying Cousins is the greatest quarterback in team history, so Maxwell certainly has some big shoes to fill. The good thing is he has had time to prepare for this role. This isn't a true freshman being thrown to the wolves. Maxwell has been Cousins' backup the past two seasons and has a lot of similar personality traits to his predecessor. The coaches really like what they've seen from him in practices and scrimmages, but he certainly needs to prove himself in the spotlight. He missed the second half of spring ball with a knee injury but is back to full strength. It's really important he builds chemistry with a new look receiving corps that includes Tennessee transfer DeAnthony Arnett.
Maxwell's role is important, but Michigan State undoubtedly will be much more of a run-first team in 2012. An offensive line that struggled at times last season returns almost fully intact, and junior running back Le'Veon Ball also is back in the fold. Bell has the potential to be a superstar, and he'll see his carries load increase.
What's the ceiling on this defense, which returns eight starters and plenty of more young talent?
AR:
This defense can be at least as good as it was last season, if not better. Sure, Worthy is a big loss, but defensive coordinator Pat Narduzzi said Worthy and Anthony Rashad White, who returns, were virtually interchangeable at the end of last season. If several young players step up on the D-line, Michigan State should be strong there. The secondary appears to be the defense's strength, and cornerback Johnny Adams, a likely high draft pick next April, leads the way. There's also a lot of excitement about Bullough and Allen at linebacker. Michigan State will have to lean on its defense, particularly early in the season with so many changes on offense, but the unit looks ready to answer the bell.
Top Returning Players: AAC and Notre Dame
FBS INDEP. SCOREBOARD
Saturday, 12/21
Monday, 12/23
Tuesday, 12/24
Thursday, 12/26
Friday, 12/27
Saturday, 12/28
Monday, 12/30
Tuesday, 12/31
Wednesday, 1/1
Thursday, 1/2
Friday, 1/3
Saturday, 1/4
Sunday, 1/5
Monday, 1/6