Notre Dame Football:

Louis Nix III
March, 17, 2014
Mar 17
4:37
PM ET
Sixteen former Notre Dame players will take part in Thursday's NFL Pro Day at the Loftus Sports Center, the school announced Monday.
Though each's exact participation has yet to be determined, the names scheduled to be in attendance this week are
George Atkinson III
,
Carlo Calabrese
,
Dan Fox
,
Mike Golic Jr.
,
Bennett Jackson
,
TJ Jones
,
Zack Martin
,
Troy Niklas
,
Louis Nix III
,
Tommy Rees
,
Kona Schwenke
,
Prince Shembo
,
Nick Tausch
,
Stephon Tuitt
,
Robby Toma
and
Chris Watt
.
Golic and Toma both finished their Irish careers during the 2012 season.
One player from that list who won't be participating in any drills is Tuitt, who told ESPN.com in a text message that he already completed such drills during his Feb. 28 pro day at Lovett (Ga.) High. Tuitt had surgery earlier this month to repair a stress fracture in his left foot that was discovered during the NFL scouting combine.
Testing and position-specific drills Thursday start around 11:45 a.m. ET.
February, 4, 2014
Feb 4
5:00
AM ET
1. Pete Carroll joined Jimmy Johnson and Barry Switzer as the only coaches to win a national championship and a Super Bowl. But he is the fourth head coach to win a national championship and an NFL title. Paul Brown finished No. 1 at Ohio State in 1942, and won three NFL Championships with the Cleveland Browns in the 1950s (and four titles in the All-America Football Conference right after World War II).
2. What strikes me about Carroll's double is how few men who won a national championship even tried to coach in the NFL. Beginning in 1936, when the Associated Press began its poll, I counted 15: in addition to the four coaches above, add Dan Devine, Dennis Erickson, Lou Holtz, John McKay, John Robinson, Bobby Ross, Nick Saban, Steve Spurrier, Gene Stallings, Jock Sutherland and Bud Wilkinson.
3. It's early, I know, but Notre Dame is already shaping up as one of the most interesting stories going into the 2014 season. Quarterback
Everett Golson
is back, but the anchor of the defensive line, nose tackle
Louis Nix III
left early for the NFL, and coach Brian Kelly has new coordinators on both sides of the ball. Not to mention slipping from 12-1 in 2012 to 9-4 last season. This will be Kelly's fifth season in South Bend. The last coach employed at Notre Dame for more than five seasons? Lou Holtz (1986-96).
December, 30, 2013
12/30/13
9:00
AM ET
By
Matthew Ehalt
| ESPN.com
NEW YORK -- As the
Notre Dame
football team prepares to replace several key defensive starters and install a new defensive coordinator this offseason, former defensive coordinator Bob Diaco's words about filling those voids stand out to sophomore corner
KeiVarae Russell
.
"He [said it's] like it's baking the cake. Instead of putting the sugar you put the spice in," Russell said. "It's still going to turn out to be a cake. It's going to be a different taste of it."
Notre Dame's players and coach are expecting that cake will taste quite good next season.
[+] Enlarge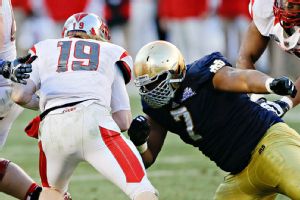 AP Photo/Frank Franklin IINotre Dame could lose defensive lineman Stephon Tuitt to the 2014 NFL draft.
As Notre Dame readies to bring in a new defensive coordinator and potentially replace six starters from Saturday's
29-16 win over Rutgers
in the New Era Pinstripe Bowl at Yankee Stadium in the Bronx, N.Y., the Fighting Irish are optimistic they won't miss a beat defensively next season.
Notre Dame coach Brian Kelly said the team has its new defensive coordinator in place,
reported to be Jets linebackers coach Brian VanGorder
, and an announcement will be coming soon as the contract had not been finalized as of Saturday. VanGorder will replace Diaco, who left prior to the bowl game to become the head coach at UConn.
"We're going to have a lot of really good players coming back, I feel really confident in that," Kelly said. "[I'm] really excited about the prospects next year defensively in the guys we got coming back."
Notre Dame's defense shined against Rutgers, forcing four interceptions and holding the Scarlet Knights to just 236 total yards. More than half of the starters from that game, though, might not be back next season. Defensive lineman
Kona Schwenke
, linebackers
Prince Shembo
,
Dan Fox
and
Carlo Calabrese
, and cornerback
Bennett Jackson
all started their final game for Notre Dame.
Junior defensive lineman
Stephon Tuitt
also started against Rutgers and could skip his final season and declare for the draft. If he does, he will join senior defensive tackle
Louis Nix III
, who did not play against Rutgers after undergoing season-ending surgery but signed with an agent to forgo his final year of eligibility.
"He'll now focus on making that decision. We've had a couple of conversations. He knows all the information," Kelly said of Tuitt. "My job is to provide him with all the information about the decisions that he's about to make. I'm pretty certain he'll make his decision here very, very soon."
As he looks to next season, Kelly likes the core group of defensive players, and believes the team will benefit if it's able to achieve more continuity. Notre Dame started 19 different players on defense this year, as freshman safety
Max Redfield
made his first career start in the Pinstripe Bowl.
Kelly specifically mentioned Russell, who had an interception against Rutgers, and sophomore linebacker
Jarron Jones
as two players the defense can build around next season. Russell is confident he can be a major player for the new defensive coordinator and be a cornerstone for the defense next season.
"I personally believe I'm going to be the best corner next year in the country," Russell said. "This game shows me the development I had from the start of last year and from the beginning of the year to where I've progressed. My man-to-man skills have gotten a lot better throughout the year. Sky's the limit for me. This shows I can really be the best corner in the country, it just takes a lot of work to do that, and this offseason I'm going to work on all my assets."
November, 21, 2013
11/21/13
8:00
AM ET
SOUTH BEND, Ind. -- Film study still offered
Nick Martin
few clues as to when or how exactly he broke his hand in his last outing.
"It happened early on in the second quarter," Martin said. "When you're out there, the adrenaline is pumping, so you're good. Finished off the second quarter, got to halftime, I could feel it a little bit after a little break at halftime. But as long as I could get the ball to Tommy (Rees), I knew I would be able to finish."
Martin was cast-free Wednesday when speaking with reporters, and he will need only a splint to protect the snapping hand Saturday when Notre Dame hosts BYU. No surgery is needed, as the boxer's fracture will only test the pain tolerance of the center, who suffered a similar injury as a middle-schooler. Martin and the rest of the Irish have come to know that feeling all too well in recent weeks.
[+] Enlarge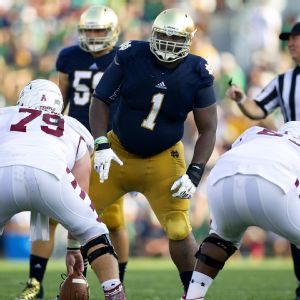 Cal Sport Media/AP ImagesHaving Louis Nix III back in the lineup is a welcome development for the Irish.
But things might finally be starting to look up for Notre Dame as it relates to its injury woes. A practice-free bye week has helped Martin and several others heal up in time for their home finale, with other possible reinforcements on the way.
Kona Schwenke
practiced early this week after missing the Nov. 9 game at Pittsburgh with a high ankle sprain suffered a week earlier against Navy. So, too, did fellow defensive linemen
Jarron Jones
and
Isaac Rochell
, who suffered ankle sprains against the Panthers.
The lack of bodies actually forced linebacker
Carlo Calabrese
to make a brief cameo at nose guard, a position he had never played before.
"I was pretty excited, I was hoping I'd get a couple sacks," Calabrese quipped.
Then there is the whole matter of preseason All-America nose guard
Louis Nix III
getting a chance to rest after making his return from a two-game absence caused by knee tendinitis and a small meniscus tear -- not to mention getting fellow touted lineman
Stephon Tuitt
for presumably four quarters, as he was ejected for targeting early in the second quarter at Pitt.
"Definitely a good feeling having everybody out there, participating in practice," defensive end
Sheldon Day
. "It just feels good."
Day himself is feeling about as well as he has since earlier this season, when a high ankle sprain forced him out of nearly three full games. The sophomore estimated that he played more than 60 snaps against the Panthers on the re-aggravated ankle, but felt no sorer than usual the following day.
Linebacker
Ishaq Williams
' status remains up in the air after missing two games with an ACL injury. But the lines, at least, appear to be nearing full strength, a fresh change-of-pace for the first-team defensive line, which has yet to really be healthy all this season.
"Sometimes we do, we reminisce on just the little things, about how we all could've played together, things like that, joking around with each other," Day said.
September, 12, 2013
9/12/13
5:00
PM ET
SOUTH BEND, Ind. -- Yes, it had been more than a month since
Louis Nix
met with the media. No, the usually larger-than-life personality assured all, it was nothing personal.
"I miss you guys," Nix said Wednesday.
What he might be missing even more is the relative anonymity -- at least outside of this campus -- that came with being the Irish's starting nose guard. Now, the preseason All-America hype has created outsize expectations for the man Notre Dame lists at 357 pounds.
[+] Enlarge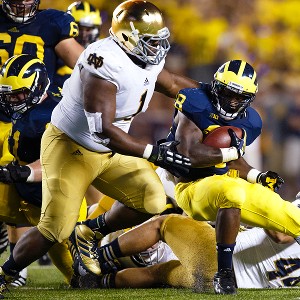 Rick Osentoski/USA TODAY SportsLouis Nix went quiet for a bit, and his play doesn't always show up on the stat sheet, but coach Brian Kelly said Nix was "a beast" against Michigan.
"I really don't like it, because for some reason, people say I'm an All-American or whatever, they expect me to, like, make 10 tackles, and I don't think they really watched me," Nix said. "Last year I barely made a tackle a game. I don't think people know what I actually do. I get frustrated with that, because people expect me to make like
Manti [Te'o]
tackles and interceptions, and that's not my job.
"But it's whatever. I go out there and just do my job, which is take up some double-teams and make plays when I have to."
Nix has five total tackles and one tackle for loss so far. Double-teams, meanwhile, have come fast and heavy through two games, and he has had little choice but to get used to them.
Against a Temple offense that mostly dinked-and-dunked around the Irish's defensive line, Nix had one tackle and committed three penalties,
taking to Twitter in the aftermath to voice the difficulties of "double-team life."
At Michigan a week later, Nix was, in Brian Kelly's words, "a beast," who "played as well as he's played for us."
Perhaps more importantly, the head coach has seen a rapid maturity growth in one of his team's most important players.
"Last year, the year before, you come to the sideline and it was hard sometimes to communicate with him, because he got frustrated," Kelly said. "Now he comes to the sideline and you can communicate with him. He can give you the information that you need to get relative to what's going on out there. It's been really impressive, his maturity. He's doing his job, and he's really wanting to focus on that this year.
"Obviously he has not spoken to the media a lot, because he's wanted to focus on being the best football player. He thought he got a little, you know, too much into the social media and all that stuff and really wanted to focus on football."
Nix skipped the team's official media day last month. His Twitter persona, the always-entertaining Irish Chocolate, has been quieter than usual these past three weeks.
He said he needed some time alone, to deal with family issues and get his schoolwork in order. He is on-track to graduate this December, and he is almost assured of hearing his name called early in April's NFL Draft.
Until then, he is hoping his play does most of the talking, however difficult that might be for an outgoing interior lineman.
"People consider me an All-American," Nix said, "and I've got to practice and play like one."
September, 7, 2013
9/07/13
11:54
PM ET
ANN ARBOR, Mich. -- If there's anything this game has taught us recently it's that it's not over until the clock reads zeros. No. 17 Michigan held a 14-point advantage over No. 14 Notre Dame heading in to the fourth quarter but fate wouldn't let that stand. How could it when the Wolverines would need to one-up the fourth quarter from two years ago under the lights?


But even with some really poor decisions and a few clutch plays made on offense and defense,
Michigan was able to pull off the win over Notre Dame, 41-30
. The victory keeps Michigan coach Brady Hoke undefeated in Michigan Stadium in his third year at the helm of the Wolverines.
It was over when:
In most instances, an 11-point lead with less than five minutes remaining would feel pretty safe. But nothing really felt safe for the Wolverines -- especially against this Notre Dame team -- until
Blake Countess
intercepted a tipped pass in the end zone with 1:29 remaining in the game.
Game ball goes to:
Jeremy Gallon
. The wide receiver made catch after catch that he was seemingly too short or too covered to make. His three touchdowns on eight receptions, however, led the Wolverines, and his 184 yards were a career high. With quarterback
Devin Gardner
at the helm of this Michigan offense, it is allowing playmakers like Gallon to really come in to their own, and the senior's performance against the Irish showed just that.
Stat of the game:
Louis Nix III
recorded just four tackles and two of them (including the one for a loss) came when the game was already out of hand. Not once did Notre Dame's stud defensive lineman -- who was going up against three interior offensive linemen from Michigan who all saw their first starts just a week ago -- get to Gardner.
Unsung hero:
Fitzgerald Toussaint
. Because of the nature of Gallon's big performance, Toussaint's 71 yards on 22 carries will largely go unnoticed. However, it is because of his ability to get short yardage and hit holes that the passing lanes were open for guys like Gallon,
Drew Dileo
and
Devin Funchess
. Offensive coordinator Al Borges has always said he wants a featured back in his offense and 22 carries is within their desired range.
Second-guessing:
A safety isn't the worst possible thing. And no, it's not ideal either. But the only thing worse would be exactly what Gardner did -- incidentally throwing it to the other team as three Irish defenders closed in on him. It was a huge dent on a game that was relatively empty of errors on the quarterback's part. But that play completely shifted the momentum of the game and what could've been a small dent in the game turned this game into the dogfight that it became.
Dig of the game:
Michigan Stadium played "The Chicken Dance" following the win, which is a reference back to last May when Hoke said that Notre Dame was chickening out of the rivalry.
September, 3, 2013
9/03/13
2:00
PM ET
By
Matt Fortuna, Chantel Jennings & Brian Bennett
| ESPN.com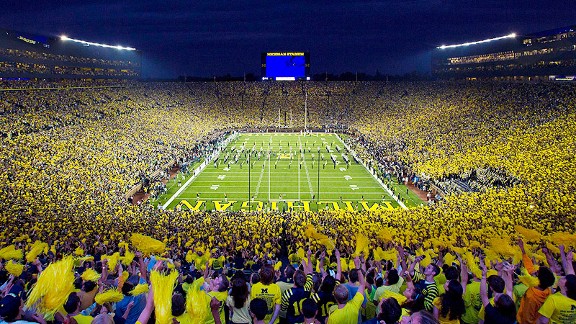 AP Photo/Tony DingCan anything top Michigan's 35-31 win in 2011, which was the first night game in the history of Michigan Stadium?
Under the lights ... and two of college football's oldest rivals in one of their last scheduled meetings … and College GameDay. Does it get any better than this? Only when Big Ten reporter Brian Bennett, Dame reporter Matt Fortuna and Michigan reporter Chantel Jennings get together to talk about it. Today, they discuss a few topics surrounding the highly anticipated matchup.
1. Over the past few years, this rivalry has seen its fair share of big stars excel during this game -- Denard Robinson's 502 yards in 2010, Roy Roundtree's game-winning catch in 2011, Manti Teo's defensive performance in 2012. Which player could you see having a mega game on Saturday?
Bennett:
How about
Jeremy Gallon
? The Michigan receiver had the huge 64-yard catch that set up Roundtree's game-winner in 2011. While he wasn't as active in last year's game, that's primarily because the Wolverines were busy throwing the ball to Notre Dame. Gallon has been more effective ever since
Devin Gardner
started running the show, and I could see him burning the Irish secondary for some big plays.
Jennings:
The heroes this game has helped create have kind of come out of nowhere in some instances. So I'm going to pick a guy who has been flying under the radar statistically, who I think has the ability to show up in big games, and that's Michigan tight end
Devin Funchess
. He had a fine freshman year and a better offseason. I think we could see him be a big difference maker on Saturday.
Fortuna:
If I'm Notre Dame, I'm gearing up for Gardner, since Michigan quarterback play has essentially decided these contests in one form or another in each of the past four years. From the Irish side, though, I think wide receiver
DaVaris Daniels
could break out. He was Notre Dame's best offensive player in the national title game loss to Alabama, hauling in six catches for 115 yards. On Saturday against Temple, the redshirt sophomore had three catches for 69 yards, including a pair of 32-yard touchdown receptions on the Irish's first two drives.
2. Which mismatch between these two teams are you most intrigued to watch?
Bennett:
On paper at least, it's the Michigan interior offensive line vs. Notre Dame nose guard
Louis Nix III
. Center
Jack Miller
and guards
Kyle Kalis
and
Graham Glasgow
are talented and played well together last week, but they have very little experience. Nix, meanwhile, is a 357-pound man-mountain who helped anchor a championship-level defense last season. He commands double teams, and it will be up to Michigan's young inside guys to keep him in check so
Stephon Tuitt
and others can't wreak even more havoc.
[+] Enlarge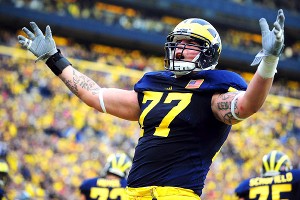 Andrew Weber/US PresswireMichigan tackle Taylor Lewan will have his hands full with Notre Dame's talented defensive line.
Jennings:
Left tackle
Taylor Lewan
on whomever or whatever Notre Dame tries to throw at him. He's so crucial to Michigan's offense, and I really don't see him not dominating any matchup this season. Lewan came back for games like this and matchups like what he'll have against Tuitt.
Fortuna:
I'll say Notre Dame's offensive line against Michigan's defensive line. The Irish have three starters back from last season, along with a very talented center in
Nick Martin
. One of the reasons they were able to jump out to a 17-point lead in Ann Arbor two years ago was because of their ability to run up the middle, as the Irish averaged six yards per rush on the night. Notre Dame is now in its third straight year of starting
Zack Martin
and
Chris Watt
together on the left side, and it has started using pistol packages in 2013 to tailor to the strengths of some of its young backs in hopes of establishing a downhill run game. This is far from a "mismatch," but with Michigan returning just three starters from last season's front seven, and with the teams so evenly matched across the board, I'd say this is where Notre Dame probably has the biggest edge. Conversely, I can't wait to see Tuitt and Lewan go head-to-head. Both will be a lot richer eight months from now.
3. Is there any way this game could one-up the last time these two teams met in the Big House?
Bennett:
It's possible that this could be an even better overall game than the one in 2011, just not as flashy. People remember the Michigan comeback and the crazy fourth quarter, but it was a pretty lopsided affair until then. That wild finish was made possible by major defensive breakdowns on both sides, and both teams are much more sound defensively now. I believe these are two legitimate top-15 teams, so we should expect a tight game. The atmosphere won't be quite as special because it won't be the first time under the lights at the Big House. But Notre Dame-Michigan usually finds a way to amaze us.
Jennings:
I was on the sideline for the final minutes of that matchup two years ago, and to call the atmosphere electric would still be selling it short. I don't know if the Wolverines have had a game as exciting since, so I'm going to go with no. I think it'll be a great game and the fact that it's the last in Michigan Stadium for the foreseeable future adds a lot. But as far as the plays themselves, jam packed into that short amount of time, I just don't see that being topped.
Fortuna:
I said no to this same question two years ago and was sadly mistaken, so I'll try not to be as definitive in my answer this time around. Whether it was Denard Robinson or Tate Forcier before him, magic seems to always happen in the late moments of this game. I'll just go ahead and make the bold prediction that if Notre Dame takes the lead with 30 seconds remaining this time, its secondary will hold up and secure an Irish win. Like I said, bold.
Official Visit: Capitalizing On Momentum
FBS INDEP. SCOREBOARD
Saturday, 10/25
Friday, 10/24