Notre Dame Football:

Malachi Jones
November, 4, 2011
11/04/11
5:00
PM ET
T.J. Jones
is second on Notre Dame with three receiving touchdowns, and he is third among Irish receivers in both catches (26) and receiving yards (280). The sophomore has started in seven of eight games this season, coming off a tragic offseason that saw his father, former Irish player
Andre Jones, die from a brain aneurysm.
Jones' younger brother, Malachi, is also a budding football player, at North Gwinnett (Ga.) High School. Here, T.J. talks about his younger brother's progress, his own progress in his second year at Notre Dame and playing with future NFL receiver
Michael Floyd
.
[+] Enlarge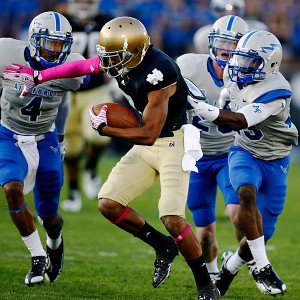 Brian Spurlock/US PRESSWIRET.J. Jones has 26 catches for 280 yards and three touchdowns this season.
How's Malachi's senior year coming along? What's the recruiting process looking like for him?
TJ:
It's coming along well. He broke the 1,000-yard mark after last week. Set the all-time receptions record for his county, I think, last week as well. I don't think he has any offers yet, and I'm just trying to tell him, be patient. By the time signing day comes, he'll have one school. Even if it's like a small D-I, he'll have some school that'll offer, so it's really just working on him being patient.
No D-1 offers or no offers period?
TJ:
No offers period.
Does he want to play football in college?
TJ:
Yes, he does.
I'd imagine you and your family's history plays a big part in that.
TJ:
Yeah, I would say so. (laughs)
Brian Kelly's teams have won 19 of their last 21 November and December regular-season games. He says it comes down to mental and phyiscal toughness. This is your second year here. How much further along do you see yourself at this stage in the year from last year?
TJ:
I see myself way further along now than I was last year. Mentally and physically tougher. I'm not worn down. I almost feel like it's the beginning of the season now. Just my body and how practice is going. And I think it just begins with the offseason workouts and how we prepare through weight-lifting, conditioning and just mentally getting prepared for the season even though it's the offseason.
Coach Kelly said he couldn't point to one thing where the mental toughness comes from. Where's the mental toughness come from? Obviously your bodies are holding up better, but what makes you want to get back up there time after time in November?
TJ:
I think the coaches put a lot of responsibility on us just to act as players and to be accountable for our jobs, which allows us to put that same weight on each other. And when it gets hard and you get beat down and you get worn out, you still want to push through and succeed because you're playing with your brothers on the field and you wouldn't want to let them down.
What's it like to learn under a guy like Michael Floyd? How much does he rub off on you and how much do you want to try to assume that mantle next year when he's gone?
TJ:
He rubs off a great amount. He comes to work every day. He shows us how practice should be run every day. He makes the difficult catches. He makes the easy catches. He's the All-American player that everyone thinks he is, and it's great to learn from him and really use some tips that he gives.
September, 22, 2011
9/22/11
3:45
PM ET
SOUTH BEND, Ind. -- Andre Jones had a gift for reading people. Just a few moments upon meeting someone, he could tell if he or she were destined for great things. He would make people comfortable around him, they would eventually open up and relationships would gradually build.
There's a story Andre would often tell one of his sons, Malachi Jones, about how he befriended Jon Jeffries when both were at DeMatha (Md.) High School. Andre told his new friend that he loved him after just a few exchanges, that they would both accomplish a lot in school. Jeffries at first looked at him like he was crazy, but before long the two were playing football at Notre Dame and Virginia Tech, respectively.
"If you ever had the opportunity to meet my dad," Malachi said, "he pretty much touched everybody that he met."
More than 20 years later, Jeffries publicly called Andre Jones a brother.
That's more than the role T.J. Jones, a sophomore receiver on the Fighting Irish, has had to take on since June 22.
[+] Enlarge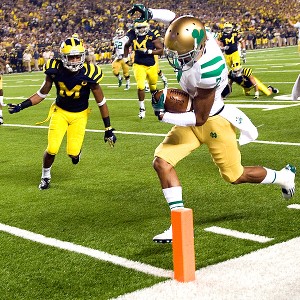 Lon Horwedel/Icon SMIT.J. Jones now understands why his dad, Andre, would get so emotional when he saw T.J. take to the field at Notre Dame Stadium.
One day before then, a Tuesday, North Gwinnett High School coach Todd Wofford was texting back and forth with Andre around noon, telling Jones that Malachi needed to be more assertive and more aggressive as a leader.
Andre told Wofford he had a headache and was going to take a nap.
"I kept our conversation on my phone for the longest time, looking back and forth at it," Wofford recalled, "because he was more than just one of my players' dads."
A few hours later, Malachi Jones called Wofford to inform him he'd miss his senior picture the next day. A day later, Andre Jones was gone, victim of a brain aneurysm at the age of 42.
He left behind 147 tackles in a Notre Dame uniform, a national title from 1988 and a brief NFL career. More importantly, he left behind six kids, the second-oldest of whom is walking in his footsteps in a No. 7 jersey at Notre Dame Stadium.
"He's sitting in my dad's locker, going to his alma mater and wearing his uniform," Malachi said of older brother T.J. "I don't think it can get any better than that."
Malachi, who wears No. 9, does his part by pretending to draw a No. 7 on his chest with his hands whenever he reaches the end zone.
T.J. was working out at his campus' Guglielmo Athletics Complex on June 21 when receivers coach Tony Alford pulled him aside and told him his father was sick. T.J. hopped on a plane to Georgia, joined his family and stuck around for about a little more than a week.
He wanted to stay until the following Friday, to try to be the man of the house for his family that his father had always been. His mother Michele, however, forced him out that Wednesday, getting him back to classes, to practices, to pursuing his dreams.
The family was on the Notre Dame Stadium field together Sept. 3, before the Irish's opener against South Florida, for a ceremony honoring Andre.
"It was hard. It was real hard," T.J. said. "Seeing my mom out there for the first time in six weeks, and she was crying. So that made me more emotional. And definitely just, it hit home that he wasn't gonna be standing there in the tunnel when I came out this year."
Andre always told T.J. how special it was to walk out that tunnel, to hear the roar of all the fans cheering you on. T.J. never understood why his father would tear up or cry seeing his son enter the field, but now he does, as does Malachi.
"I have three younger siblings, and unfortunately they won't get to experience the same experiences we did with our dad because he's gone," Malachi said. "So looking back, we're extremely grateful to know we got to spend a significant amount of time with him during football season and off the field in a short span."
Two springs ago, during T.J.'s first semester on campus, Andre took the family to the Grotto at night, a sight illuminating enough for Malachi to call "beautiful."
It's a place Andre tried to stop by before every home game, and when he wasn't in town he would often tell T.J. to light a candle for someone else who asked.
T.J. tries to go a little bit more now, though the fall is a busy time for a football player at Notre Dame.
Instead he will think about his father before each game, say a prayer and talk to him. Malachi will read the two Bible passages his dad texted him during a pregame meal a year ago: Matthew 10:16 and Psalms 18: 32-38.
Malachi drew connections from the readings to the football field, though a message in the latter may resonate a little bit more in his everyday life:
You have also given me the shield of Your salvation;
Your right hand has held me up,
Your gentleness has made me great.
You enlarged my path under me,
So my feet did not slip.
The latest from Gustin at The Opening
FBS INDEP. SCOREBOARD
Friday, 8/29
Saturday, 8/30