Notre Dame Football:

Mark Hollis
May, 20, 2014
5/20/14
10:30
AM ET
This September's 42nd Notre Dame-Michigan matchup is likely the last between the schools for the foreseeable future. That doesn't, however, mean that the appearances of Big Ten teams on the Irish's schedule are coming to an end.
Michigan State and Purdue have been stalwarts on Notre Dame's slate -- more than Michigan. And athletic directors from both schools are happy to see their respective rivalries with the Irish continue, even if they're on an abbreviated basis.
Among imminent matchups, Notre Dame will "host" the Boilermakers Sept. 14 at Lucas Oil Stadium in Indianapolis for its annual off-site Shamrock Series game. The Irish have a home-and-home scheduled with the Spartans for 2016 (at ND) and 2017 (at MSU).
"[Notre Dame athletic director] Jack [Swarbrick] and I are in constant communication, and it's not adversarial whatsoever. But it's a situation where, both with us going to nine [conference] games and with them having to move into the ACC scheduling model, it's created some significant challenges for both of us," Michigan State athletic director Mark Hollis told ESPN.com. "And right now we're kind of in a position of, we know the next two, we know we have two more in the future and we're just kind of taking it one step at a time. We've been in constant communication."
The future, Hollis told local reporters last week, includes an agreement to play a home-and-home in 2026 and 2027, as well as a neutral site game, possibly in Chicago, in 2023.
Notre Dame and Purdue, meanwhile, have five more scheduled games -- Sept. 19, 2020 at Purdue; Sept. 18, 2021 at Notre Dame; Sept. 14, 2024 at Purdue; Sept. 13, 2025 at Notre Dame; and in 2026 on a date and in a neutral site that has yet to be determined.
"I think the relationship between the schools is -- you're not going to take it to San Juan," Purdue athletic director Morgan Burke told ESPN.com. "But we have alums all over the country, too. Strong populations in Texas, in California, in Florida. The likely sites are Chicago and Indianapolis."
Notre Dame coach Brian Kelly
said last week that most of his scheduling conversations with Swarbrick start with Michigan, Michigan State and an SEC team
. But Wolverines athletic director David Brandon told ESPN.com's Adam Rittenberg in an email that there had been no discussions with the Irish.
The mood might have soured between the two schools -- Sept. 7 at Notre Dame will be their last matchup following the Irish's 2012 exercising of a three-year opt-out clause in the series -- but that has not been the case between the Irish and the rest of the Big Ten.
"Jack and I have known each other for a long, long time," Burke said. "He had a hard deal because when the Big East went the way it went, he had to find a home for lots of sports. What he had to do then was to negotiate, he had to use some of the football inventory to do that, and that's what created the issue. There's no issues with wanting to play Purdue or Michigan State. The Michigan thing there's a little bit of a tiff, I guess. But I don't think so.
"Our history goes back a long time. So what we tried to do was to make sure that there was at least a path forward. In other words, don't just announce Lucas Oil and it stops, but try to show people that we're going to play more than just once every 10 years. That's the best we could do now. Who knows what the landscape will be down the road? My hope is that someday, I hope we don't look back and say we lost something that started in 1946, because there are Purdue and Notre Dame folks who have been going to those games for years and tailgated. And you've had some great athletic contests with some great family relationships. And as we break some of this stuff apart and get bigger leagues, do you lose some of those relationships, and 10 or 15 years from now, does that hurt you?"
With Purdue having played Notre Dame 85 times, and with Michigan State having played the Irish 77 times, both schools are hoping that the answer to that question is a resounding no.
"There's going to be fewer games with Notre Dame because of the national landscape, and that's one of the unfortunate parts of conference expansion, is those nonconference games take secondary step," Hollis said. "But it's important to Michigan State that we continue to play on a national stage, so we'll have Notre Dame as much as we can have Notre Dame. They want as many games, we want as many games, it just all has to fit."
May, 16, 2013
5/16/13
12:15
PM ET
May, 10, 2013
5/10/13
9:00
AM ET
By
Adam Rittenberg, Brian Bennett
and
Matt Fortuna
| ESPN.com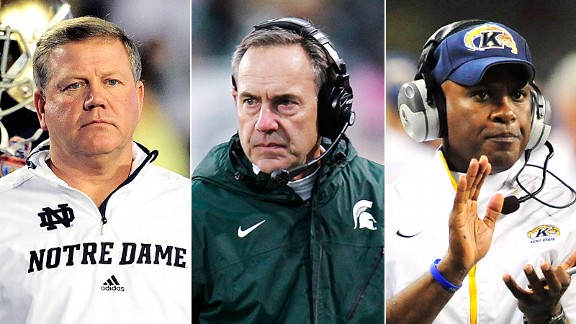 Getty ImagesThe Big Ten's nine-game conference slate and Notre Dame's ACC arrangement will make it tough for Brian Kelly's Irish to keep up rivalries with Mark Dantonio's Spartans and Darrell Hazell's Boilers.
After Notre Dame finalized its arrangement with the ACC last fall, it
decided to suspend its annual series against Michigan
. It begs the question: What will become of Notre Dame's other two Big Ten rivalries against Purdue and Michigan State?
All three schools have decisions to make. The Big Ten's move to a nine-game conference schedule beginning in 2016 makes it harder for Purdue and Michigan State to play Notre Dame annually in a home-road alternation. For example,
Michigan State's 2017 slate
includes a home game against Alabama, a road game against Notre Dame and five Big Ten road games, limiting the school to just six home dates, one below its stated minimum to meet the budget. Purdue also says it needs to play seven home games per season, and its
Notre Dame home-road schedule doesn't match up
with when it will play five Big Ten home games and five Big Ten road games. "We're off cycle," Purdue athletic director Morgan Burke told The (Lafayette) Journal and Courier.
Notre Dame has its own scheduling concerns with guaranteed ACC opponents every year and a desire to play a true national schedule.
Although Michigan-Notre Dame gained the most national attention in recent years, both Purdue and Michigan State have more historic rivalries with the Irish. Purdue and Notre Dame first met in 1896 have played every season since 1946. Michigan State and Notre Dame first met in 1897 and have played in all but two seasons since 1959.
What will happen to these two series? We gave our takes on the three teams.
Adam Rittenberg on Purdue

The buzz around much of the Big Ten is to cut ties with Notre Dame altogether. The Irish didn't want to be in the Big Ten. They got a deal from the ACC they'd NEVER get from the Big Ten. So why should Big Ten teams keep playing Notre Dame? While it seems easy to tell Notre Dame what it can do with
that Shillelagh
, it's not so simple for a program like Purdue. In fact, I think the Boilers should do whatever they can to keep the Irish on the annual schedule as often as possible.
Purdue fans might skewer me for this, but Purdue needs Notre Dame more than Notre Dame needs Purdue. Why? National attention. When Purdue plays Notre Dame, the Boilers get the national spotlight. When Notre Dame visits Ross-Ade Stadium,
ABC/ESPN immediately chooses the game
for prime time. When else does that happen for Purdue?
The Notre Dame game resonates for Purdue fans. It fills the stands at Ross-Ade Stadium, which has
looked like a ghost town
on fall Saturdays in recent years. When Purdue beats Notre Dame, people pay attention. Sure, Purdue can add some other strong non-league opponents. I liked the Oregon series from a few years back. But playing Notre Dame and beating Notre Dame has tremendous value for Purdue, its program and its recruiting efforts.
Burke says Purdue can't have six home games for budgetary reasons. Well, Michigan had six home games last year, so it can happen from time to time. I'm OK with Purdue taking a short break from Notre Dame here and there, but the Boilers would be foolish to completely cut ties with their in-state rival. This series is good for Purdue fans and good for the program. Purdue should fight to keep it going.
Brian Bennett on Michigan State

Much like with Purdue, there is a lot of history in the
Megaphone
series between Michigan State and Notre Dame. That includes 75 all-time meetings, the so-called Game of the Century in 1966 and, more recently, the Little Giants miracle of 2010. Only four years since 1949 have the two schools not played during the fall. It's a great series and one that should be kept if possible. Now here comes the but ...
... But the two schools are already scheduled to take two-year breaks after every four games between now and 2032, with the first two-year hiatus starting next season. So playing Notre Dame every single year is already a moot point. With the coming nine-game Big Ten conference schedule and the Spartans' agreements to play high-profile nonconference opponents like Oregon (2014 and '15) and Alabama (2016 and 2017), athletic director
Mark Hollis has some tough decisions to make
. Michigan State will face a very difficult road in the stacked East Division during Big Ten play as it stands. Does it make sense to play the Irish along with another strong program in the nonconference schedule? No, probably not.
The Spartans should try to work things out to where they can play Notre Dame in years when they don't have other marquee nonconference opponents while taking on those other high-profile teams during breaks with the Irish. Michigan State fans wouldn't really miss the Golden Domers that much when they're playing a team like Oregon or Alabama instead. The Spartans should strive to keep Notre Dame on the schedule frequently, but not so much that they handicap their own seasons in the process.
Matt Fortuna on Notre Dame

Much like a team in a conference, Notre Dame has eight annual games from 2014 on that will be set for the foreseeable future: USC, Stanford, Navy and five against ACC opponents. The Irish have already canceled their series with Michigan from 2015 on, leaving the status of the Michigan State and Purdue series up in the air.
Both of you make fair points: The Boilermakers, frankly, need Notre Dame more than Notre Dame needs them, and the Spartans already have quite the nonconference slate on-deck in the coming years.
Where does this leave the Irish?
Some will argue that the program gets whatever it wants, whenever it wants and, like Adam alluded to, should be left alone. But there is no denying that this program moves the needle, especially when playing Big Ten teams.
Every Notre Dame game at a Big Ten stadium since its Sept. 20, 2008, tilt at MSU has been in prime time, save for a 2009 game at Michigan ... which just began playing home night games in 2011, the only two of which were scheduled against Notre Dame.
But there is history to be saved in these series, and efforts from all sides should be made to keep these two, along with the Michigan one, going on a rotating basis. Notre Dame has played Purdue 84 times, which is the same number of times it has played rival USC (which it is keeping on the schedule for West Coast exposure) and only two fewer times than it has played Navy (which it is keeping for history).
Notre Dame's cancellation of its series with the Wolverines was a matter of necessity for the Irish, who needed to create as much scheduling flexibility as possible. The program's series with MSU already has scheduled two-year breaks for 2014-15, 2020-21 and 2026-27. And if the Purdue series does not match up with when the Boilers will play five Big Ten home games and five Big Ten road games, I'm sure smart men like Burke and Jack Swarbrick can get creative, though the onus should fall primarily on Burke.
The irony should not be lost: In keeping with a true national schedule and bringing its brand to different parts of the country, Notre Dame cannot abandon its Midwestern home.
April, 29, 2013
4/29/13
10:30
AM ET
The Big Ten's move to a nine-game conference schedule has all kinds of ramifications. One that must be figured out quickly, at both Michigan State and Purdue, is how it will affect those schools' annual rivalry with Notre Dame.
Both the Spartans and the Boilermakers really want to keep playing the Irish every year (remember, Notre Dame and Michigan will officially change their relationship status to "on a break" after this season). But there are some issues to resolve.
Michigan State athletic director Mark Hollis
told the Detroit Free Press
that he's been in talks with Notre Dame counterpart Jack Swarbrick the past couple of weeks. Meanwhile, Purdue AD Morgan Burke
told the Lafayette Journal and Courier
that he plans to meet with Swarbrick soon to discuss the future of that series.
Both the Spartans and Boilermakers need seven home games each year to make their budget. When the nine-league game schedule begins in 2016, teams in the East -- that includes Michigan State -- will play five conference home games. Teams in the West -- which includes Purdue -- will play four that year and five in 2017.
Purdue is scheduled to go to Notre Dame in 2016 and other even years when it has five Big Ten road games. That means Purdue could only play six home games in those years.
"I cannot balance the budget on six home games. Can't do it. It doesn't work," Burke told the Journal and Courier. "That's the cold-hearted realities of the business we run. Our business model is built on seven home games. Everybody's. Notre Dame's too."
Michigan State is scheduled to host Notre Dame in 2016 and go to South Bend in 2017. So can't the Spartans and Boilermakers just flip? That would seem to make sense, if all parties are on board and can work it out. But Michigan State already has a road trip at Alabama on the schedule in 2016, and playing both the Irish and Crimson Tide on the road in the same season can't sound too appealing to Mark Dantonio. Notre Dame has its own obligations, including its new five-games-per-year deal with the ACC.
Michigan State and Notre Dame are scheduled to meet through 2032 in installments of four straight games followed by two-year breaks. The 2016 game is the first of a new four consecutive game streak. The two could switch up years if 2016 can't be worked out, but Hollis is confident the teams will keep playing.
"You'll see a high degree of cooperation," Hollis said. "We're both interested in keeping this series intact."
Purdue, meanwhile, has played Notre Dame every year since 1946 and has a contract to do so through 2021. The Boilers put a ton of value on their annual game against the Irish.
"I don't think either one of us is eager to lose the rivalry," Burke said. "If it turns out we have to have a short break, we'll have a short break in order to get on the right rotation. I don't think we're in a situation where Notre Dame and Purdue will never play. The issue is whether we can come up with a rotation that works for both sides."
And it's just one major ramification from the new Big Ten nine-game conference schedule.
September, 12, 2012
9/12/12
4:19
PM ET
Jack Swarbrick said his goal is to implement the football portion of Notre Dame's ACC scheduling agreement in the 2014 season. What, if anything, will be lost when the Irish begin playing five ACC opponents a year?
The athletic director said the school will follow scheduling contract termination provisions if it needs to cancel a future series. But remember, Notre Dame already played three ACC schools during last year's regular season, in addition to a fourth, Florida State, in the Champs Sports Bowl. And the Irish face three more this season, not including current Big East member Pitt, which is joining the ACC next season.
Here's what Notre Dame has lined up, and how these rivalries could be affected by Wednesday's news.
Navy
: Swarbrick's direct words during Wednesday's conference call: "As everyone close to Notre Dame knows, the tradition of playing Navy has very deep and important roots for the university." The longest intersectional rivalry in college football is booked through the 2016 season. Don't expect it to go away after that.
Purdue
: This series was extended in 2007 through the 2014 season. But with Swarbrick's insistence on going out West and playing Navy every year, this could be the first domino to fall. One Big Ten school figures to, at least, and the Boilermakers, frankly, don't provide the oomph or the history to the schedule that Michigan State and Michigan do. There is the chance Notre Dame simply alternates its Big Ten rivalries, keeping three off the schedule in a given year.
Michigan State
: This series is scheduled through 2031, with two-year breaks in 2014-15, 2020-21 and 2026-27. MSU athletic director Mark Hollis said in a statement,
according to the Detroit Free Press
: "This series has great history, and we expect the rivalry will continue."
Michigan
: The schools agreed to a 20-year extension of their rivalry in 2007, taking the series through the 2031 season. But it was on a three-year rolling basis, giving either side the chance to opt out with three years' notice. They announced this summer that a two-year break is coming in the 2018 and 2019 campaigns, but that they intend to resume the series in the years following. Whether that changes after Wednesday's announcement remains to be seen.
Stanford
: Swarbrick said it is important for Notre Dame to play annually on the West Coast. Translated: This series probably isn't going anywhere. Last year the two announced an extension of their home-and-home series through the 2019 season, and they have even talked about moving next year's regular-season finale to China, though talks have stalled since Cardinal AD Bob Bowlsby took the Big 12 commissioner job.
BYU
: The programs are slated to meet in South Bend this year and next, with four games split between the two schools' locations sometime in 2014-20. That will probably be all for these two schools, assuming they can even keep those games alive.
Boston College
: The schools are scheduled to take a break in 2013 and 2014 before resuming the Holy War in 2016, 2018 and 2019. But with the new ACC scheduling agreement forcing Notre Dame to play every ACC school at least once during a three-year cycle, this one could lose its annual billing.
USC
: See Stanford above. This one isn't going anywhere, either.
Weis Likely Done Coaching