Notre Dame Football:

Matt Rochell
October, 26, 2013
10/26/13
7:00
AM ET
Notre Dame looks to make it three in a row today as the Irish take on Air Force at 5 p.m. ET at Falcon Stadium. Here are five things to watch when the two teams square off in Colorado Springs, Colo.


Quarterback play.
Tommy Rees
practiced all week and is ready to go, but if Notre Dame learned anything from its tight win last week over USC, it is that the Irish need some insurance at the position. The best way to get that would be to give
Andrew Hendrix
more meaningful action, and not just in zone-read packages. Couple that need with the possibility that the Irish are cruising to a win by the third or fourth quarter, and it would not be surprising at all to see Hendrix running the show more than he has at any point this season.
Steve Elmer's time to shine.
The highly touted freshman was the first man from the class of 2013 to initially commit to the Irish way back when, and now he finds himself with more responsibility than any other rookie on the roster. Elmer is the Irish's starting right guard moving forward, as
Christian Lombard
was shut down for the season after having an operation to remove a herniated disk from his back. It is an obvious blow on a line that had two first-year starters, but Elmer had already been the next man in at virtually every other position on the offensive line, and he will now get some useful early experience in what most are expecting to be a highly successful college career. Still, Notre Dame must toe the line of predictably in the ground game now, as it has two fifth-year seniors on the left side of its line and a true and a redshirt freshman on the right side.
Defensive line without Louis Nix.
Nix took a tough shot into the shoulder last week that remained sore, but coach Brian Kelly said that knee tendinitis is what kept the redshirt junior from traveling for this contest. Nix is the Irish's best defensive player, despite option football not being, in Kelly's words, "his cup of tea."
Kona Schwenke
will get another start, this time at nose guard, in what has been a bit of a wild campaign for him after he started three games at end in place of
Sheldon Day
. Day, by the way, appeared to cross the last major hurdle of his return from an ankle sprain last week and should be ready to go. Perhaps we will see more of
Isaac Rochell
as well, which
could mean he finally gets to go 1-on-1 with his brother, Falcons left tackle Matt
.
Early start.
This is worth keeping an eye on considering that the Irish have given up the first points in five of their last six games. They are also adjusting to the high altitude of Colorado and are coming off their first home win over their archrival USC in 12 years. They also were off from classes this week because of the school's fall break. Air Force, meanwhile, has lost six in a row and has not taken the field in a whopping 16 days after losing to San Diego State on Oct. 10.
Discipline, especially on the edges.
It is worth repeating, especially with Navy on the schedule next week: The Irish must stay disciplined on defense, and especially on the edges. Most of the upperclassmen on defense have had more than their fair share of games against option offenses so far, but this is a new kind of test for freshman Dog linebacker
Jaylon Smith
, and the kind of test that
Danny Spond
would thrive in. This was supposed to be a homecoming of sorts for Spond, a Littleton, Colo., native who was forced to retire during camp because of hemiplegic migraines. His impact
has not been lost,
however, as he has been in Smith's ear as a coach every step of the way, something that should pay dividends in a game like this one against Air Force.
October, 23, 2013
10/23/13
9:00
AM ET
SOUTH BEND, Ind. -- Mondays are for the film room, where
Matt Rochell
scouts the defensive linemen he will be tasked with protecting his quarterback from five days later. Notre Dame, which boasts two likely first-round picks on its defensive front, is loaded in that department, so the Air Force left tackle was extra attentive this week.
Then Rochell saw a familiar 6-foot-3.5, 280-pounder sub in for a play against USC, momentarily freezing his focus.
[+] Enlarge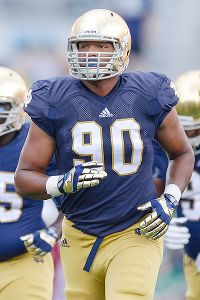 Robin Alam/Icon SMINotre Dame freshman defensive lineman Isaac Rochell was ranked No. 139 in the 2013 ESPN 300.
"That was weird," Rochell laughed of the prospect of seeing No. 90 on the big screen.
Matt Rochell was watching
Isaac Rochell
, his younger brother. The two played together at Eagles Landing Christian Academy (Ga.), but rarely were pitted against each other in practice. Saturday's meeting between the Irish and the Falcons will mark the first chance for that to happen, with the sophomore Matt in his first year of starting and the freshman Isaac seeing some time in every game so far as a reserve end.
"We're pretty close," Isaac said. "I talk to him all the time, as much as I can. I talk to him after every game, he talks to me after every one of his games and before, so we're pretty close."
That has not changed this week, with Matt saying that there is no vow of silence. Isaac kicked things off Monday by sending Matt a picture of the "Beat Air Force" countdown clock from the Irish's locker room. The players, who have no other siblings, are expecting a large contingent this week to fly into Colorado Springs, Colo., including parents, grandparents and uncles.
The brothers became aware of the potential opportunity during Isaac's official visit to Notre Dame in January, long after he had already committed, though it seemed so far off in the distance that neither gave it much thought.
It is not much of a typical sibling rivalry, Matt insists, as they never fought much growing up.
"I just tried to make good decisions, because I saw friends with older brothers who made bad decisions and your little brother watches that and he might make that bad decision earlier and he might start in a different trajectory," Matt said. "But really it was more of a friendship than like big brother-little brother. Maybe he'd say something different, but I just thought of us as more friends. I just tried to make good decisions, but it always seemed like we were just friends instead of me being some type of older role model-type guy."
The closest they came to squaring off was during Isaac's sophomore year of high school, with interest from college coaches already coming in hot and heavy. Then, the staff pitted the siblings against each other in a board drill for visiting coaches from UCF.
Still, Isaac, at least, could hardly muster a serious game-face.
"Coaches were sitting there filming it, but he just said he remembers looking at me and I was like really serious, and he was like, 'Man, are you OK?' " Matt said. "Because you're the big brother, you're just like, I can't lose. Whereas he's just like, It doesn't really matter -- a win-win type of thing."
The pressure has risen considerably for Isaac since, with the rookie adding 20 pounds after arriving to campus this summer and seeing more and more opportunities open with each hit to the Irish's defensive line. He most recently saw extended action in three straight games before starting end
Sheldon Day
fully returned from a sprained ankle this past Saturday, though he has tried not to look at this campaign as an easing-in exercise behind a line that includes All-Americans
Stephon Tuitt
and
Louis Nix III
.
"I don't think it's as much that as it is like you're behind a guy that's really super good," Isaac said. "So you're just like seeing them work and seeing how they handle different situations in the game as far as different blocks you'll get and stuff. You really get a good idea of how you need to attack that particular situation. So I think that's the main thing. I don't think easing into the situation is anything I've really thought about. I just think the main thing is learning from them and learning from their accomplishments and what they're doing."
All in the hopes of getting on the field and making plays, which could present a different kind of challenge come Saturday with so many familiar, confused faces in the crowd.
"It has to be weird watching both your kids on the same field and then maybe even play against each other," Matt said. "That's like a dad's dream, so my dad's really loving it. Just the fact that we're going to be on same field is kind of a huge deal. I don't know, my mom might be emotional. It's exciting for them though. If my kids did that I would be just ecstatic."
College Football Minute
FBS INDEP. SCOREBOARD
Friday, 8/29
Saturday, 8/30