Notre Dame Football:

Max Wittek
October, 29, 2013
Oct 29
9:00
AM ET
SOUTH BEND, Ind. --
Troy Niklas
had just returned from a week-long senior retreat at Servite (Calif.) High. Family and friends awaited back at the chapel to greet the teenagers. Niklas was among those who spoke upon the group's arrival, and he had his mother, father, sister and sister's boyfriend in the audience.
As he finished his speech, he looked at each in a moment of gratitude.
"Hey Mom," he said, "love ya."
"Hey Dad," he continued, "love ya."
"Hey Tara," he said to his sister, "love ya."
"Hey Shawn," he waved to Tara's boyfriend (and now-husband).
A interminable moment of silence set in, laughter filled up the room and Niklas had, again, captured a crowd with his unmistakable wit.
[+] Enlarge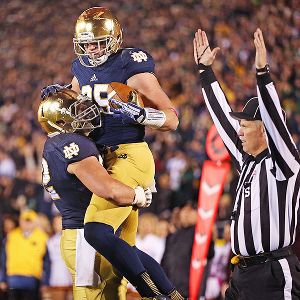 Jonathan Daniel/Getty Images)Troy Niklas enjoyed scoring a touchdown to help the Irish beat USC, his mother's alma mater.
Three years later, not much has changed for the now-6-foot-6½, 270-pound Notre Dame junior. Niklas has been among the Irish's biggest surprises this season, the latest in line at a place that has churned out pro tight ends like few others in recent years. His 20 catches for 328 yards are both third-best on the Irish, and his five touchdown grabs are one fewer than team-leader
TJ Jones
.
He has opened things up for Notre Dame on the field while keeping the vibe loose off it, be it with his attire or his one-liners, remarks that often relax the sometimes-awkward scene of dozens of reporters huddled around a player nearly twice their size, in search of any bit of information.
"He kind of gets it from his father," quipped Troy's father, Don. "I think a compassionate person is part of it, and that's a huge part of his personality, in terms of he wants people to feel comfortable. I think that is one of the driving forces behind being able to be fun-loving and communicative to a point where he wants other people to feel comfortable."
Niklas has made himself at home all over the field. His high school career featured time as an offensive guard, and he was recruited by Notre Dame as a defensive end. He started one game as a freshman for the Irish at outside linebacker and switched to the other side of the ball before last season, when he bided his time behind eventual first-round pick
Tyler Eifert
.
"All the other times Troy's just a nice guy, he's a very funny guy, he's always very popular at school and on our team," said Troy Thomas, Niklas' coach at Servite. "But once he got on the field he's just a different guy, he turned it on. He was that way at practice, and he's that way in the games. You just buckle up the chin-strap. He's still going to have fun out on that field, but he's definitely got a different mode to him."
Nicknamed "Hercules" for his physique, Niklas' motor became the source of viral attention this summer when
video of him tossing a blocking sled circulated across the internet
-- this in the days after the social-media world had become in awe of South Carolina end
Jadeveon Clowney
flipping one with the help of a teammate.
Niklas' feats of strength extend outside campus, with the Fullerton, Calif., native recently spear-heading a team effort for a service project at the South Bend Center for the Homeless, single-handedly raising nearly $3,500. As a senior at Servite, an all-boys Catholic school, he became a prior in the school's Priory program. In charge of roughly 80 kids, Niklas initiated a distribution idea, helping make about 800 goodie bags of toothpaste, toothbrushes, candy bars, first-aid items and pamphlets with religious cartoons to be handed out to homeless people students would pass by on the road.
That same year, Niklas lifted Servite to a 14-1 record and a second straight division title, a run that featured a memorable midseason touchdown off an interception from Mater Dei and future USC quarterback
Max Wittek
.
A score so memorable that, when prompted about the pick three days before this year's USC game, Niklas livened up an otherwise tight rivalry-week interview session with a much-needed infusion of dramatic color.
"I did," he said of the pick. "And ran it for a touchdown."
"In front of 30,000 fans, too," he added in an overstatement, just warming up.
"And it was on TV," he continued.
"And it was a big rival game."
"Oh, oh, oh, and by the way, we did win that game. But what do I know?"
This dalliance with the media lacked the farcical mustache he had grown out for a brief period of time a year earlier. And though fully clothed -- unlike the pre-Michigan pep rally last year, in which he ripped off his shirt and declared his love for pain -- Niklas' top did not say, "Beef: It's what's for breakfast," the phrase plastered on a shirt he wore to an interview one month earlier.
After the USC game, in which he had four catches for 58 yards and a score, Niklas emerged from the locker room in a flannel button-up, standing out among peers mostly decked in team-issued polos. He joked about having bragging rights over his mom, uncle and many other USC alums in his family.
In closing another exchange with a reporter who had a Spanish accent, Niklas caught everyone off-guard by saying, "Yo soy fiesta," a phrase popularized by New England Patriots tight end Rob Gronkowski, seemingly the life of every party.
"It comes very natural for him," Don Niklas said. "He doesn't try to be funny, it's just the way our minds work."
November, 25, 2012
11/25/12
9:00
AM ET
Notre Dame is title-game bound. Here's who helped the Irish get over one last regular-season hump Saturday night in its
22-13 win at USC
.

Everett Golson, QB
: Former Notre Dame scribe Douglas Farmer
made a pretty good point on Twitter after the game
: Three more years of Golson/
Max Wittek
matchups could be a win for everyone. Tough to replicate what Golson did on Saturday's stage, completing 15 of 26 passes for 217 yards, rushing for 47 yards and avoiding any big mistakes. He played in character, setting the tone for the rest of the team in the win.
Theo Riddick, RB
: The recipient of the game ball was tough to bring down all night, carrying it 20 times for 146 yards and a touchdown, while adding three catches for 33 yards.
Manti Te'o, LB
: One more interception for Te'o, his seventh of the season, this one, at the very least, punching his ticket to New York.
Kapron Lewis-Moore, DE
: Another defensive captain, this one saving his best for last. The fifth-year senior had five tackles, two tackles for loss, 1.5 sacks, one forced fumble and was instrumental in another big goal-line stand late for the Irish.
November, 23, 2012
11/23/12
12:00
PM ET
SOUTH BEND, Ind. -- Talk about going on the defensive.
The biggest task Saturday for the nation's No. 1 team is stopping the nation's top receiving duo, and a pair of former offensive players are the guys Notre Dame will again be counting on to deliver one last regular-season stand.
Corners
Bennett Jackson
and
KeiVarae Russell
joined the Irish at receiver and running back, respectively. Together they have shored up what was the biggest defensive question mark entering this perfect campaign, resulting in the nation's top scoring unit (10.09 ppg).
Yes, USC's quarterback will be making his first career start. And he
has not been shy about wanting to make a first impression
. But the moxie of
Max Wittek
likely derives from the guys he will be throwing to.
Marqise Lee
is the nation's top receiver (107 catches for 1,605 yards).
Robert Woods
isn't too shabby himself, and if this year's numbers can't prove that (66 for 721), last year's certainly can (111 for 1,292).
"There is only one football, so it just seems like he's gotten more of the catches, whether by design or not," Notre Dame coach Brian Kelly said of Lee. "Either one of those guys can beat you by themselves. The numbers just have gone his way this year."
Or, as Jackson put it bluntly: "USC's receiving corps is on another level."
For the Irish, keeping the points down is more important than keeping the stats in line, as evidenced by their Oct. 27 win at Oklahoma, which had a 356-yard passer and a 181-yard receiver but managed just one touchdown.
The key? As Kelly said earlier this week when asked about defending big-play wideouts: tackle, tackle, tackle, tackle and tackle.
Notre Dame, according to ESPN Stats & Information, has just 55 missed tackles this season, the third-fewest among BCS schools. Irish opponents have completed just 7 of 41 pass attempts of 20 or more yards, resulting in one touchdown and four picks.
"You get a feel for it," Jackson said. "You let them get their few little short routes and then if they keep running, then eventually they're going to jump one. But I feel like as we get close to the goal line, we become more confident that they're not going to score. The space becomes more limited, and at the end of the day those short routes aren't going to be what wins the game.
"Big plays are game-changers. Those two guys did a great job running past the defense and getting the ball behind the defense. If we keep them in front of us and make our tackles, we'll be fine in the secondary."
The Oklahoma game, like most, was
Manti Te'o
's time to shine, with the Heisman candidate notching 11 tackles and a game-sealing pick. But Russell and Jackson were the team's next two-highest tacklers, with nine and eight, respectively.
Fewer swings and misses on the defensive side should test the 19-year-old Wittek's patience as USC drives down the field.
When that happens, Notre Dame's last line of defense will be in its most comfortable position.
"They're going to throw it up," Jackson said. "They're going to let their guys make plays, and it's going to be down to the guys back there to win the battle for the ball."
November, 21, 2012
11/21/12
3:20
PM ET
SOUTH BEND, Ind. -- No, there is not a cardboard cutout of
Max Wittek
standing in the Notre Dame locker room.
The USC quarterback's comments from a Tuesday radio appearance
are not posted around the school's football complex.

The news to Irish players Wednesday?
Of course a starting quarterback thinks his team's going to win, so why is it a big deal?
"He's a big guy, he has a strong arm -- obviously he guaranteed a win or whatever, but at the same time what do you expect?" Notre Dame's fifth-year end
Kapron Lewis-Moore
said. "You don't expect him to say we're going to lose. I think people are really making a bigger deal than what it is. He's a confident quarterback, and you want to play for a confident quarterback. So by him coming out saying, 'We're going to win,' that's what you want out of your quarterback.
"Obviously we're not over-thinking it, it's not hanging up in the locker room, it's not bulletin-board material. You know about it, just kind of shrug it off, then go to work."
Wittek is making his first career start after
Matt Barkley
went down Saturday with a shoulder injury. The redshirt freshman has completed 8 of 9 passes for 95 yards and a touchdown as a reserve this season.
On Tuesday, he went on 710 ESPN Radio in Los Angeles and expressed confidence in his chances against the No. 1 Irish.
"If he wants to air it out, let's air it out," Wittek said of Trojans coach Lane Kiffin. "If he wants to pound it on the ground, let's do that. I'm gonna go out there, I'm gonna play within myself, within the system, and we're gonna win this ballgame."
The comments drew a strong response, just not among Notre Dame players.
"They probably just mis-said a few words, who knows?" Irish nose guard
Louis Nix
said of the comments. "I don't try to take comments, what people say, because sometimes people speak out of terms and people try to boost it up. If he said it, he said it. If he didn't mean to, he didn't meant to. I don't really care. I'm just going out to the Coliseum trying to play some good football."
Last year USC linebacker Chris Galippo said that Notre Dame quit when it didn't use any of its three timeouts late in a 31-17 Trojans win at Notre Dame Stadium. Barkley echoed those comments later on a radio show.
"I think that from their position, you'd hope that a quarterback coming in and being a rookie and all, you'd have confidence going into a game like this," Irish safety
Zeke Motta
said. "But with that inexperience, it could go either way. But I think that you think about an inexperienced quarterback out there, try to use that to your advantage out on the field. But at the same time he has nothing to lose, so he can chunk it up or whatever."
November, 21, 2012
11/21/12
12:00
PM ET
November, 21, 2012
11/21/12
11:00
AM ET
By
Gregg Found
| ESPN.com
Kirby Lee/US PresswireNotre Dame is one win from playing for the BCS championship for the first time.
Saturday will be the 84th meeting between the
Notre Dame Fighting Irish
and the
USC Trojans
and the 21st time that the Fighting Irish will enter the game undefeated, but the first time since 1993.


Which raises the question: How many times has USC ended a Notre Dame unbeaten season?
Six times, with four of those wins coming in Los Angeles, when the game was the finale on Notre Dame's regular-season schedule. Twice the Irish were ranked No. 1 and once No. 2. The last time came in 1980, Dan Devine's final year as Notre Dame head coach. In 1980, USC was ranked 17th with a roster that included Ronnie Lott and a future Heisman Trophy winner, Marcus Allen.
Unranked USC beating No. 1 Notre Dame
Only once has a No. 1-ranked Notre Dame team played USC when it was unranked. The result was an agonizing one for the Fighting Irish.
In 1964, Ara Parseghian's first year as head coach, the Irish were 9-0 with one game left on the schedule: a game against the 6-3 Trojans, a team with losses at Michigan State and Ohio State and at home to Washington.
Notre Dame was led by the 1964 Heisman Trophy winner, quarterback John Huarte, a Los Angeles native who went to Mater Dei High School. That school will be eagerly watching this week's game because it's the alma mater of current USC quarterbacks
Matt Barkley
and
Max Wittek
, not to mention 2004 Heisman winner and former USC quarterback Matt Leinart.
Notre Dame had a 17-0 halftime lead, but the Trojans mounted a comeback to win 20-17 on a pass from Craig Fertig to Rod Sherman with 1:35 to play. A possible national title in Parseghian's first season was dashed. Notre Dame fell to No. 3 in the poll, and the Alabama Crimson Tide went on to win the national title.
Top-ranked in this rivalry
Notre Dame has been the country's top-ranked team heading into this game seven times, going 5-2. In five of those games, USC was also a top-10 team.
The shoe has been on the other foot, too. USC has been ranked No. 1 against Notre Dame five times, and the Trojans are a perfect 5-0 in those meetings. That includes the famous 2005 "Bush Push" game.
Has there ever been a No. 1 vs. No. 2 in this rivalry? Just once. Lou Holtz and his No. 1 Notre Dame team beat No. 2 USC 27-10 in 1988 in Los Angeles. The Irish went on to beat West Virginia in the Fiesta Bowl to claim the national championship.
November, 21, 2012
11/21/12
10:15
AM ET
Plenty to keep an eye on Saturday night. Here are a few things that stand out:


(1) Manti Te'o
: Rarely does a Heisman Trophy contender become the sidebar in his team's regular-season finale, but when his team is playing for a spot in the national title game, that's the case. And a welcome one. A lot will depend on how others perform this week, but if Te'o forces a big turnover, in prime time, to deliver the Irish to Miami? Well, it's not a stretch to say we could be looking at the first defense-only Heisman.
(2) Marqise Lee
: Speaking of Heisman, don't overlook USC's talented wideout. He's probably the best skill-position player in the country, one who is stuck on a four-loss team. Still, he has given opposing coaches nightmares with the ball in his hands, be it after a catch or on special teams, and how the Irish defend him can go a long way toward determining what kind of night this will be.
(3) Quarterback play
: We'll save the obvious for last here. Rarely will
Everett Golson
be looked at as a veteran, but that's the case here, as he faces another redshirt freshman, this one making his first career start. Golson has been better on the road all season, although the circumstances are amped up
just
a bit here.
Max Wittek
? We'll see, although he certainly hasn't lacked for bravado so far this week.
November, 21, 2012
11/21/12
9:00
AM ET
Coming to you one day early because of the holiday.
When Notre Dame has the ball
:
Everett Golson
has grown steadily over the course of the season, and now he has the chance to deliver a title-game berth for the Irish. As long as the quarterback doesn't get careless with the ball, Notre Dame should be able to move consistently against the Trojans. The ground game has been there for the Irish all season, and I'd expect them to rely on that early to try to open things up on the perimeter with
Tyler Eifert
and
T.J. Jones
. The offense is clicking at the right time, and it's facing a defense that has been reeling, with many calling for coordinator Monte Kiffin's job.
When USC has the ball
: Don't get excited just because
Matt Barkley
isn't back there.
Max Wittek
is making his first career start, he's got probably the best receiver duo in the country and, frankly, he's playing with house money. For all their faults, the Trojans are loaded at the skill positions and are capable of lighting up the scoreboard. Notre Dame will look to do what it did to Oklahoma -- allow the short gains but stop the big play. Make the Trojans beat you by executing down the field, play after play. This is the No. 1 scoring defense for a reason, and as long as it does what got it to 11-0, the Irish should fare well Saturday night.
Intangible
: USC loses its fifth game of the season, to the No. 1 team in the country? Few can fault a backup quarterback for that. Beat the rival Irish and ruin their national title hopes? This is how legends are born in this rivalry, so why not say you're going to win,
as Wittek did Tuesday
? Notre Dame's path to the title game is simple: Win. At risk of hyperbole, a loss Saturday could rank among the biggest letdowns in school history. How the Irish handle that pressure determines the outcome Saturday.
Prediction
: Notre Dame 21, USC 10. Golson stays cool on the road, and the Irish punch their ticket to South Florida.
November, 20, 2012
11/20/12
7:08
PM ET
USC redshirt freshman quarterback Max Wittek is confident the Trojans will take down No. 1 Notre Dame on Saturday night.
In an interview on 710 ESPN Radio in Los Angeles, Wittek expressed confidence in his abilities -- and trust in head coach Lane Kiffin leading into the showdown against Notre Dame.
"If he wants to air it out, let's air it out," Wittek said of Kiffin. "If he wants to pound it on the ground, let's do that. I'm gonna go out there, I'm gonna play within myself, within the system, and we're gonna win this ballgame."
Smiling big in front of a pack of two dozen reporters after the Trojans' first practice of the week on Tuesday, Wittek also proclaimed himself ready to go and said he expects to have "a lot of fun" in his first collegiate start.
Of course, it happens to come against Notre Dame at the L.A. Memorial Coliseum.
"I've been ready all season for this to happen -- if it did," Wittek said. "Obviously the circumstances aren't the greatest with such a great quarterback being hurt, but I've been ready for this all year."
To read Pedro Moura's full story, click
here
.
November, 20, 2012
11/20/12
12:00
PM ET
November, 18, 2012
11/18/12
9:55
PM ET
By
ESPN.com staff
| ESPN.com
Quarterback
Matt Barkley
will miss USC's regular-season finale against No. 1 Notre Dame on Saturday with a sprained shoulder.
Coach Lane Kiffin announced Sunday that
Max Wittek
will make his first career start in place of Barkley.
Read the rest of the story
here
.
Report: Notre Dame To Play In Pinstripe Bowl