Notre Dame Football:

Michael Thomas
August, 7, 2012
8/07/12
8:00
AM ET
We overlooked previewing Notre Dame's Week 6 opponent, Stanford, last month. Thanks to eagle-eyed reader Robert from San Diego for pointing it out. Now, without further adieu …
Week 6
: Oct. 13 vs. Stanford (at Notre Dame Stadium in South Bend, Ind.)
Time/TV
: 3:30 p.m. ET, NBC

Series
: Notre Dame leads all-time, 17-9
2011 record
: 11-2 (8-1 Pac-12; second place, North Division)
Head coach
: David Shaw (11-2, one year)
Returning starters
: Offense: 6; defense: 7; kicker/punter: 1
Top returners
RB
Stepfan Taylor
, FB
Ryan Hewitt
, TE
Zach Ertz
, TE
Levine Toilolo
, C
Sam Schwartzstein
, OG
David Yankey
, OT
Cameron Fleming
, OLB
Chase Thomas
, LB
Shayne Skov
, DE
Ben Gardner
Key losses
QB Andrew Luck, WR Chris Owusu, TE Coby Fleener, OL David DeCastro, OL Jonathan Martin, S Delano Howell, DE Matt Masifilo, S Michael Thomas
2011 statistical leaders (*returners)
Rushing
: Stepfan Taylor* (1,330 yards)
Passing
: Andrew Luck (3,517 yards)
Receiving
: Griff Whalen (749 yards)
Tackles
:
Jarek Lancaster
* (70)
Sacks
: Chase Thomas* (8.5)
Interceptions
: Michael Thomas (3)
Three questions for ...
Stanford blogger Kevin Gemmell:
Despite the talent around Andrew Luck, there are many non-believers about Stanford. Who will be his replacement, and how will the Cardinal fare in Year 1 after Luck?
Kevin Gemmell:
Well, that seems to be the million-dollar question. There are a couple of guys fighting to replace Luck --
Josh Nunes
and
Brett Nottingham
. Those two emerged from the pack of five in the spring and will continue the competition into fall camp. As for how they will fare? Well, I think we can certainly expect some drop-off. But it might not be as significant as people think. Luck was a once-in-a-generation quarterback, but they still return three talented offensive linemen (two were freshmen All-Americans) and a back-to-back 1,000-yard rusher in Stepfan Taylor. Luck is gone, but the team's identity isn't. They are a run-first, power football team that will grind away on opponents.
And, by the way, they return six of the starting front seven on defense and they get Shayne Skov -- one of the top middle linebackers in the country -- back after he missed the bulk of last season with a knee injury suffered in Week 3.
One point head coach David Shaw has been making is that whoever does replace Luck shouldn't try to be Luck. That's the easiest way for them not to win the job.
Aside from the QB position, what will the offense look like now without Colby Fleener? Stanford's three-tight end sets proved to be frustrating for defenses, but will they be as effective without a high NFL draft pick looming as one of the big threats? Will it even matter, given the depth the Cardinal have in the backfield?
KG:
I'd expect they'll still run a lot of multiple tight end sets. Zach Ertz and Levine Toilolo -- two of the three tight ends -- are back, and they do some things better than Fleener did. What made them such a talented group all together is they complemented each other very well.
The backfield depth did take a hit when
Tyler Gaffney
opted to pursue a professional baseball career rather than returning to Stanford. But
Anthony Wilkerson
will likely start as Taylor's immediate change-of-pace back and
Ricky Seale
emerged in the spring.
Also, fullback Ryan Hewitt returns as possibly the most versatile player in college football. He's great on short yardage, is an outstanding run-blocker and can line up as a tight end to give the Cardinal three-tight end looks. With the personnel they have, the Cardinal can still be very multiple.
Will the secondary be a liability? Who's most likely to step up and make plays there for Stanford?
KG:
I'd expect the secondary to make some big strides this year -- mainly because of highly-touted cornerback
Wayne Lyons
. He missed most of his true freshman season with a foot injury, but he's that lockdown corner that the Cardinal were missing last year. They also add a very talented player in Alex Carter from this year's recruiting class. He could make an immediate impact as well. But losing safeties Delano Howell and Michael Thomas will take its toll leadership wise. They need youngsters
Devon Carrington
and
Jordan Richards
to build off of the experience they got last season and really take charge of the secondary.
November, 27, 2011
11/27/11
2:20
AM ET
STANFORD, Calif. -- On the volume meter, Stanford head coach David Shaw usually speaks at a three. On Tuesday, he spoke at an 11 (cue the "
This is Spinal Tap
" reference).
Shaw called for the national spotlight -- on his team, on his quarterback and on the entire Bowl Championship Series -- and, for better or worse, he got it.
The question, however, is whether
a 28-14 win
over Notre Dame on Saturday night at Stanford Stadium was enough to change anyone's mind -- either the BCS pollsters or the Heisman voters.
"I wasn't trying to change minds," Shaw said. "I wasn't bashing the BCS. I wasn't bashing any other teams. Just the explanations that I kept getting didn't make sense to me and I'm a common-sense person and I just don't understand the whys of where we were."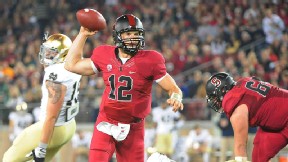 Kyle Terada/US Presswire"I've seen a lot of the other guys and there are a lot of really, really good football players," Stanford coach David Shaw said of quarterback Andrew Luck. "There's nobody like this guy."
As for the Heisman -- as expected --
Andrew Luck
said he doesn't care. You'd sooner get Condoleezza Rice to spill state secrets than to get Luck to talk about Heisman aspirations.
"I don't worry about what kind of impression I make on anybody," Luck said.
That's when tight end
Coby Fleener
interjected.
"Andrew Luck has my vote," Fleener said, raising his hand.
"Mine too," said safety Michael Thomas, raising his hand. "I think he's the best player in college football."
"Me too," said linebacker Chase Thomas, raising his hand.
Luck laughed off the moment, even though it encompassed everything that matters to the quarterback: the respect of his coaches and teammates.
"I don't have a vote," Shaw said. "We'll see what happens. I just know that he's one of a kind. He's one of a kind. It's apples and oranges in my opinion between him and everybody else and I've seen a lot of the other guys and there are a lot of really, really good football players. There's nobody like this guy."
Luck threw four touchdowns against the Irish -- three in the first half to help the Cardinal build a 21-0 lead at the break -- before closing out with a 55-yard touchdown to Fleener. The tight end finished with four catches for 97 yards and two touchdowns.
All three of Luck's touchdowns came against Notre Dame blitzes* and both of Fleener's scores came off of play-action. Against the blitz, Luck was 7-of-8 with three touchdowns, no interceptions and an average of 15.4 yards per completion. He finished the game 20-of-30 for 233 yards and an interception.
"I think, one loss, that's great," Luck said. "We've done a lot of good things. Someone just mentioned that we've been on a 23-2 run. I think that's very impressive. We put ourselves in position to be in a good bowl game and that's something we wanted to do."
Which bowl game remains to be seen. The Cardinal (11-1) needed this win to stay in the conversation for a BCS at-large bid. Stanford could climb into the top 4, assuring it a BCS berth.
"All we can do is play our butts off and prepare and let the voters or whoever else makes the stuff up choose," Fleener said. "All I know is you gotta win. That's all I understand. They want to see 12-0 and win out and that's how you go to the national championship. Other than that, I don't know how everyone else falls in the pecking order."
Speaking of pecking -- the defense spent most of the game pecking away at Notre Dame's quarterbacks. Chase Thomas led a relentless pass rush that sacked Notre Dame's quarterbacks five times. Thomas accounted for two while forcing a fumble and Ben Gardner, Josh Mauro and A.J. Tarpley all added one. In all, the Cardinal had eight tackles for a loss, holding Notre Dame to 57 yards on the ground. Michael Thomas and
Corey Gatewood
also logged interceptions.
"We went out and tried to play our game," Tarpley said. "Maybe [the voters] liked it. Maybe they didn't. You never really know what to think the way those things are. We played a good game. We could have played better. But we got the win. That's all that's important."
Stepfan Taylor
turned in his steady-as-always performance, rushing for 118 yards on 20 carries as the Cardinal accumulated 429 yards of offense.
Notre Dame mounted a minor second-half comeback -- cutting the score to 21-7 after getting a 6-yard touchdown strike from
Andrew Hendrix
to
Michael Floyd
. Notre Dame's big-game receiver had eight catches for 92 yards and the score.
Luck's first touchdown came on a 3-yard jump ball to 6-foot-8 tight end
Levine Toilolo
. The second was a 28-yarder to Fleener -- who pulled his defender into the end zone with him, and
Ty Montgomery
added an 11-yard touchdown reception with 10 seconds left in the first half.
Shaw's comments last week caused a national stir. The timing certainly seemed calculated. Whether his players' actions backed up the coach's words will linger until the BCS bowl games are announced.
"I'm behind coach Shaw 100 percent," offensive guard David DeCastro said. "He knows what he's doing. That's for sure. We don't care what anyone else thinks. We got the win. That's all we care about."
But was the win enough for the team and/or Luck? To be continued ...
*
Courtesy of ESPN Stats & Information.
Freshman Quarterbacks A Growing Trend?