Notre Dame Football:

Mickey Wilson
August, 24, 2012
8/24/12
9:00
AM ET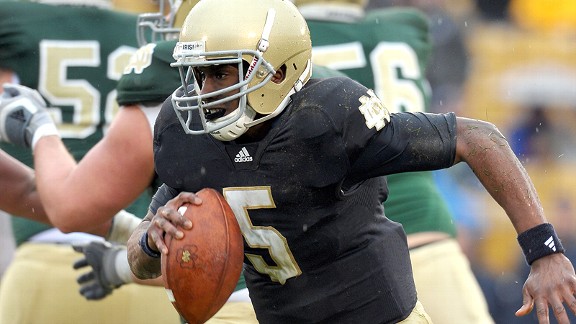 Matt Cashore/US PresswireSophomore Everett Golson beat out Andrew Hendrix and Gunner Kiel to be the Week 1 starter.
SOUTH BEND, Ind. -- Two months removed from the breakout spring game, which was the first tangible evidence that
Everett Golson
was ready to leap from scout-team superstar to Notre Dame starting quarterback within a year, a deal was brokered between mentor and student on the links of Dillon, S.C., some 90 minutes north of the school and town that has begun to trade in local allegiances for the blue and gold of arguably the country's most popular football program.
"Are you going to start?" Hugh T. Wallace asked on the early June day.
The question was no different than the ones Golson had been hearing for the better part of two years, ever since he took his 151 touchdown throws -- the sixth-most in national high school history -- and de-committed from his childhood sanctuary on Tobacco Road and moved some 700 miles away, to a place his parents have been to only twice.
"Yeah," Golson replied after another drive he'd pushed to the right. "I'm going to start."
"Well, if you start, I'll go to Dublin and see the game," the retired Myrtle Beach assistant principal said matter-of-factly.
Wallace had been there for all of Golson's starts in high school, first noticing the eighth-grade phenom at the middle school across the street before standing on the sideline for the 44 prep wins and five losses Golson was responsible for as the four-year starter.
"I was just kind of like that old granddaddy guy that's always around when you need something," Wallace cracked, adding: "I let him know that I was there. That he was going to do what he was supposed to do. He was going to be on time. And when he needed something, that I would be there for him."
Hired as Myrtle Beach's junior varsity football and varsity basketball coach before the 2007 season, DeAndre Scott remembered varsity football coach Scott Earley taking him to the school's weight room to meet the newcomer with the braided hair who would take the school to great heights.
"I can still remember him as a little scrawny kid with those braids and I was underwhelmed, just from the eyeball stance," Scott recalled. "But once I saw him sling that football a little bit, and he got in the gym and played a couple pickup games, I was like,
'Oh, OK
,' maybe he is going to be pretty good."
The cornrows soon were replaced with a buzz cut, the lean frame filled out some, and Golson was off and running, winning a pair of state titles for Earley and successor Mickey Wilson, and one for Scott on the hardwood, the playing surface where Golson felt most at home.
All this time, the shadow of Chapel Hill loomed.
Longtime North Carolina fan Lynn Auman, who taught orchestra to Everett and older brother Edwin for more than a combined 10 years, dangled weekend trips to Tar Heels football and basketball games as a carrot to Everett, whose teenage star power sometimes isolated him from his peers and would be the source of an academic drop-off before entering high school.
"When Everett was in middle school, I thought he would never make it to high school," his mother, Cynthia, said with a laugh.
Golson pledged to Butch Davis and UNC after his junior season, and the legendary Roy Williams welcomed the future football recruit to try out for the basketball team.
But expected NCAA sanctions stemming from impermissible benefits and ineligible players proved too much of a bear. Golson decommited from UNC for Notre Dame after much lunch-break soul-searching in front of the school piano. Auman stopped by every now and then to check on the student she'd known since he was in the sixth grade.
"He said, 'I'm going to wait two and a half more weeks, til Dec. 1, and if I still feel as excited as I am right now and I still think it's the right thing to do, then I'm probably going to go,'" Auman recalled Golson saying of his mid-November visit to South Bend.
"I said, 'Well, I think that's a good thing. Give it some time, let the dust settle, think about it.' And he said, 'Yeah, I'm going to be thinking and praying, and I know I'll figure out what I'm supposed to do.' I said, 'Yeah, you will.'"
A little more than a month later, Golson decided to turn his 18th birthday into a going-away party, welcoming family, friends and teachers to Mount Olive AME Church for a night of singing and storytelling, with Everett putting on a rare public display of his vocal chords with Edwin, who records gospel albums.
After Sunday school teacher Mary Pryor told stories to the gathering of all the times Everett made it to her class after a big weekend game, Auman pulled the guest of honor aside, two weeks shy of his college move.
[+] Enlarge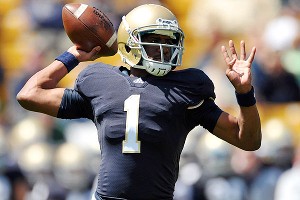 Matt Cashore/US PresswireEverett Golson threw for 120 yards and two touchdowns in Notre Dame's spring game.
"You know Everett, I think God likes football," she recalled telling him. "I think he really likes it when you're playing, so you go on up there to Notre Dame and forget about North Carolina, and make God smile a whole bunch."
It was hardly that simple at first. Golson called Auman from campus to complain about the cold Midwest weather and lack of a nearby Golden Corral, their favorite dining stop on those high school trips to UNC.
Then, of course, there were the immediate academic concerns -- struggles the soft-spoken Golson did not shy away from when speaking to reporters. The lack of attention to detail bled into the football building, where Golson eventually lost the battle for change-of-pace quarterback to
Andrew Hendrix
and ended up redshirting.
Scout team player of the year was hardly the kind of hardware he envisioned taking home when arriving on campus, but he can see now the growth it afforded him.
"It was very difficult," Golson said. "Obviously coming in I thought I was ready to compete for the starting spot, but going through fall camp I kind of saw my reps go down a little bit. I was a little discouraged at first but it kind of humbled me. And now that I look back on it, I'm glad I went down to the scout team because it really humbled me and made me realize I have to start at ground zero and work my way back up."
Extended film study, a more vocal command and the occasional stress relief from playing the piano before practice put Golson in position to ascend the Irish's depth chart this offseason. With his strong spring game, and then the arrest and one-game suspension of incumbent
Tommy Rees
, Golson was front and center when camp opened earlier this month.
Golson stuck with the first team through much of the preseason, fending off Hendrix and newcomer
Gunner Kiel
before coach Brian Kelly officially announced Thursday evening that he was Notre Dame's starter.
"It was tough. It was a tough decision," Kelly said at the announcement, "but Everett clearly won the starting job and he'll get to start against Navy."
Five days earlier, while returning from a day on his boat, Wallace, the former assistant principal, received a text message from Golson that simply read: "Mr. Wallace: Ireland." When Wallace asked if that meant he'd be starting, Golson said yes. That text led to a phone call, which led to Golson putting Wallace's name down for a ticket to Aviva Stadium, which led to the retired teacher plopping down in front of a computer to find airfare and hotel accommodations for the impending intercontinental trip.
Three flights spanning 10 total hours will place Wallace in Dublin, where Golson is now assured that his first college start will have at least one familiar face among the crowd of 30,000 traveling Americans.
Back where it all started, a town of roughly that size will be watching.
"Everybody at Myrtle Beach is calling into work that day -- nobody's going to work that Saturday," Everett's father, Wayne, said through a chuckle. "We've got a lot of people anticipating the season."
December, 16, 2011
12/16/11
9:00
AM ET
SOUTH BEND, Ind. —
Everett Golson
didn't need anyone telling him directly that he would not take the field for Notre Dame this season. By Week 2 or 3, when his practice snaps weren't increasing, the freshman quarterback pretty much figured out the scenario on his own.
"Maybe it would be in my best interest to redshirt," Golson recalled, coming to grips with his situation.
[+] Enlarge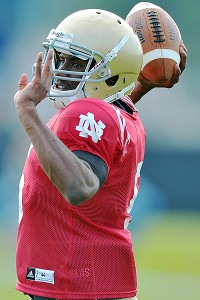 Matt Cashore/US Presswire"This experience really humbled me," quarterback Everett Golson said of redshirting this season.
The reality that Golson would not be playing this season became public knowledge when sophomore
Andrew Hendrix
debuted against Air Force on Oct. 8, the official announcement that, at least at that moment, Golson was no higher than fourth on Notre Dame's depth chart.
For a four-star recruit with little experience sitting and watching, Golson experienced an adjustment during the 2011 season.
"This experience really humbled me," the 6-foot, 185-pound Golson said. "Just being a freshman, just learning it takes time to go get acclimated and everything. So it's just been really humbling to be on the scout team and also know, really good for my skill development going against the first-team defense."
Golson was honored as the offensive scout team player of the year, hardly a goal of any decorated freshman upon entering the next level. But Mickey Wilson, Golson's coach at Myrtle Beach High School, said he learned something about his former protege this season.
"He understands the future," Wilson said. "A lot of kids, they just think here and now, especially at that age. And he's a kid that understands what's down the road, and I think at this time that he's gonna sit back and learn the offense and watch everything happen.
"I think it's been a very valuable experience for him. I think he'll probably tell you that, and he's definitely grown from it and I think he'll be ready once his opportunity comes."
That opportunity may come this offseason. Irish coach Brian Kelly has said that Hendrix will relieve
Tommy Rees
in Dec. 29's Champs Sports Bowl, but the quarterback situation beyond that remains unclear.
Enter Golson into the mix. The dual-threat has a skill set that would seemingly be a natural fit for Kelly's spread offense. He watched this season as Rees and then Hendrix capitalized on Kelly's next-man-in philosophy, and he is optimistic his time is not so far away.
"Just like everybody else," Golson said when asked of his approach to this offseason. "Just knowing that it could be my time now. Obviously the second year you can't really redshirt, so I have to prepare as if I'm going for the starting spot, so I'm definitely gonna do that."
Top Position Battles Heading In To Spring