Notre Dame Football:

Minnesota Vikings
April, 17, 2013
4/17/13
9:00
AM ET
Theo Riddick
was all over the place at Notre Dame -- from the backfield to the receiving corps to cameos in both during his final college year, which culminated with a Discover BCS National Championship loss to Alabama.
He does not exactly fit the model blueprint of a typical NFL running back or receiver, not at 5-foot-10 and 201 pounds, and not with a reported 40-time in the 4.6-range. But he was a three-year starter and major contributor with the Irish, and his versatility has made him an intriguing prospect for many NFL teams as they ready for next week's draft.
Scouts Inc.'s Steve Muench
breaks down the jack-of-all-trades in six different categories, using more than 1,000 words on an Insider post

to look at Riddick's size-speed ratio, separation skills, ball skills, big-play ability, competitiveness and durability/intangibles.
The positives? Muench says Riddick is an underrated route-runner, has great body control, has solid vision in space and played a big role late in close wins.
The intangibles, in particular, stand out, with Muench comparing Riddick to Chiefs wideout Mardy Gilyard and Kansas City running back Dexter McCluster.
Riddick is a likely Day 3 draft pick, and Muench can see -- you guessed it -- the Vikings being interested in him during the late rounds, as Minnesota, which has 11 picks, is looking to add depth and versatility to its passing attack.
It's not like Riddick wouldn't have
familiar company up North
.
August, 2, 2012
8/02/12
12:00
PM ET
Not ready to live in a world where badminton is tainted ...
June, 13, 2012
6/13/12
12:00
PM ET
June, 6, 2012
6/06/12
12:00
PM ET
Programming note: AD Jack Swarbrick will be on "College Football Live" today (3:30 p.m. ET, ESPN).
May, 2, 2012
5/02/12
12:00
PM ET
April, 30, 2012
4/30/12
12:00
PM ET
Happy Birthday to one of the biggest Irish fans I know, my grandma. (Who doesn't own a computer and therefore will never see this message.)
April, 30, 2012
4/30/12
9:00
AM ET
Expect a little more purple and gold than usual on the Notre Dame campus this fall.
Robert Blanton
became the latest in the Irish-to-Vikings pipeline Saturday, going to Minnesota in the fifth round (139th overall) one day after the franchise drafted the cornerback's teammate from Notre Dame's defensive backfield,
Harrison Smith
.
Minnesota now has five former Irish players on its roster: Blanton, Smith, Kyle Rudolph, John Carlson and John Sullivan.
Darius Fleming
was drafted a round later (165th overall) by the 49ers, who made Fleming the first Notre Dame linebacker drafted since 2004, when the Saints took Courtney Watson. San Francisco had not drafted a Notre Dame player since taking Arnaz Battle in the sixth round in 2003.
Several former Irish players signed free-agent deals with NFL teams -- defensive end
Ethan Johnson
with the Chiefs, running back
Jonas Gray
with the Dolphins and offensive tackle
Taylor Dever
with the Cowboys. Guard
Trevor Robinson
posted on
Twitter on Sunday that he signed with the Bengals
.
April, 27, 2012
4/27/12
5:25
PM ET
There were no big pre-draft parties, no three-piece suits for
Harrison Smith
to celebrate making it to the next level.
The former Notre Dame safety and captain watched the NFL draft unfold Thursday night from his Knoxville, Tenn., home with family and friends, a fringe first-round prospect who knew better than to put all his eggs in one basket in case he had to wait another 24 hours to hear his name called.

Smith
"I knew it was possible," Smith said of going in the first round. "I really didn't want to put too much pressure on myself thinking I have to go as high as I can go. I just watched with friends and family and just waited and see what happens. If I didn't go, no big deal, just come back the next day and watch again. I was watching and kind of just waiting."
The Vikings took Smith with the 29th pick, less than 90 minutes after his former Irish teammate,
Michael Floyd
, was taken 13th by the Cardinals, giving Notre Dame multiple first-round draft picks for the first time in 18 years.
Smith had not had much contact with Minnesota -- at least not in the last three months.
Smith played in the 63rd Senior Bowl in late January. His team, the North, was coached by Leslie Frazier and the Vikings' staff, and they came away impressed with what they saw in Mobile, Ala. But they never talked to him afterward.
"I thought I played well and did a good job and tried to do what they wanted me to do, but they never said anything about that they were going to draft me," Smith said. "There were a lot of good players down there. I think it was just trying to get to know each other well and at the end of the day, I think they think I'm a good fit for them and I 100-percent agree"
Smith is hoping his versatility pays off in the pros, as he can play either safety spot and cover the ever-growing tight end position. Notre Dame's ninth all-time tackler said that he and the Vikings' staff got a good feel for each other at the Senior Bowl, and he is happy to have landed with a franchise he was already familiar with.
"Just taking in their coaching," Smith said when asked what stood out about them three months ago. "There are a few different coaching points from here and there that are different from college and the pros. I tried to do it the way they wanted me to do it and sticking to the scheme."
March, 15, 2012
3/15/12
12:00
PM ET
Congrats on getting out while you could, D'Antoni.
January, 27, 2012
1/27/12
9:00
AM ET
Harrison Smith
's five-year Notre Dame career ended with him ninth on the school's career tackles list (309) and as the Irish's lone captain in 2011. He is now getting ready for the draft and will play in the 63rd Senior Bowl on Saturday in Mobile, Ala.
The safety will suit up for the North team, coached by Leslie Frazier and the Minnesota Vikings' staff. The game kicks off at 4 p.m. and airs on the NFL Network.
After Monday's weigh-in for the game, Scouts Inc.'s Todd McShay wrote that the 6-foot-2, 212-pound Smith
passed the eyeball test with flying colors
, something Smith said his brother texted him about. He joked that he's been getting feedback from plenty of sources --
Scouts Inc. thinks he's a potential Day 2 pick
-- but he'll try to block it all out as he readies for the NFL.
You've been hearing so much from so many different people -- from media, from scouts. How do you take all that and put it aside and focus on the task at hand?
Harrison Smith:
I think after playing at a place like Notre Dame, where the spotlight's always on you, the media's always there, people are watching you every weekend, you're always on TV -- I think it just becomes part of it. And that's something that, don't get me wrong, I'm nervous before all the games I play in, I'm nervous going out and playing in front of scouts and stuff like that, but it's not like a bad nervous. It's just part of it. And once you get used to it you don't realize that you focus on what you're doing and who you're looking at before the snap, and just the basics of football. All that other stuff isn't even in your mind until you walk off the field.
Can you take me a little bit through the process so far: Where you went after the bowl game, the process of choosing an agent, where you're training and what not?
[+] Enlarge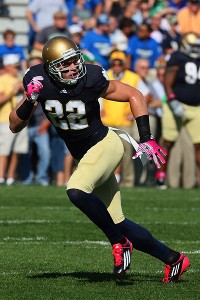 Brian Spurlock/US PresswireIrish safety Harrison Smith finished up his senior season with 93 tackles and seven interceptions.
HS:
I ended up going with a guy named Brian Murphy, who's actually a Notre Dame grad, and he's got a lot of Notre Dame guys that I've played with. That's just a little bonus, but I liked him. I liked what he's about. So there was that process and then after that I start training, getting ready for playing in the Senior Bowl, going to the combine, pro day. So I worked out a couple weeks at home with Charles Petrone. He's a guy I've always worked out with, and he's always done me right. I've never seen a guy make improvements on all the guys that he trains as well as he does. There was never a question as to where I was training. I always knew I would train with him if I ever got lucky enough to pursue the NFL. And before the Senior Bowl I actually went out and worked out with some other players, a lot of guys who signed with the same agency as me, just to get a feel of other guys who were going to the game and get some camaraderie and stuff like that, and that kind of leads me to this point.
You mentioned having the same agent as some other Notre Dame guys. Who specifically in the league right now, either Notre Dame or non-Notre Dame players, has been advising you? Have you developed any relationships and have any mentors in the NFL right now?
HS:
From those guys, I played with David Bruton and Kyle McCarthy. I had a year with Tom Zbikowksi but I didn't get to know him as well as I got to know David and Kyle. And Kyle, I actually played alongside Kyle. So that's a guy who's kind of helped me through the process. And also Sergio Brown's a guy who's up there, stayed in touch with him. He's gotta be happy right now. (Brown's Patriots are in the Super Bowl.) But those guys have all been great. And then on top of that, Chad Pennington's a guy who worked out with Charles Petrone when he was coming up, because he's from my same area. He went to my rival high school. He's just a great guy. If I've ever had a question or needed advice, he's a guy who's done it all and he's a smart guy who just cares about people and doesn't mind spending some of his time helping me out. So he's another guy that I'm fortunate to be in contact with.
With the Senior Bowl prep this past week, how much have you learned about yourself going up against some of the better guys in the country? How much of a measuring stick has this week been for you?
HS:
I think it's been a good measuring stick, but at the same time I think when you turn on tape, that's when you really find out what a guy's about. Tape from tough games, that's when it really counts. That's when everything's on the line, this is just kind of a smaller snippet of that. At practices here everything's on the line, too, because you got all the scouts, all the coaches on the team watching you, and you've got to perform under the spotlight. So I think this is a small snippet of everyone's college career. I think it kind of gives those guys who are checking us out and grading us an increased level of the athletes around and just a higher talent pool to see us perform.
Is there anything specific you hope to accomplish this week? Is there any specific weakness or something that's been pointed out to you that you're trying to improve?
HS:
No, not really. I'm just going out and doing what I know how to do and being the player that I pride myself on being: a guy that works hard, a guy that can do a lot of things for the team, a guy that's athletic and can definitely play special teams for you. So really just being a guy who can do what the coaches ask: understand the defense, make the calls, stuff like that.
What's the next step for you after this weekend? Are you going to go back home and continue to train, or do you have a next stop on your list?
HS:
I'm going back to Knoxville and training with Petrone and just getting after it until the combine.
I'm sure it will be a little crazier when you get to the combine, but how has this whole experience measured up to what you expected going in?
HS:
It's been pretty much what I expect. It's obviously going to be hectic and there's going to be a lot of eyes on you the whole process, and in the in-between time there's a lot of work to be done. You always got to get up and you just got to get after it every day, get ready for the next test. That's just what it's about. That's what being a football player's about. It's not any different than my past four or five years, it's kind of more intense and kind of just crammed into a couple months I guess.
January, 20, 2012
1/20/12
9:00
AM ET
Former Notre Dame cornerbacks
Robert Blanton
and
Gary Gray
will team up on the East squad in the 87th annual East-West Shrine Game on Saturday in St. Petersburg, Fla.
Former Irish right guard
Trevor Robinson
will take the field the same day in the inaugural NFLPA Collegiate Bowl.
Harrison Smith
, a safety and the Irish's lone team captain this past season, will play in the 63rd Senior Bowl on Jan. 28.
Former NFL and college coach Bobby Ross will coach Blanton and Gray in the Shrine game, during which Blanton will wear jersey No. 11 (he wore No. 12 at Notre Dame). The all-star festival kicks off at 4 p.m. ET at Tropicana Field and airs on the NFL Network.
Two hours later, at Home Depot Center in Carson, Calif., Robinson will suit up for the American team — coached by former NFL head coach Tom Flores — in the Collegiate Bowl, which will air on NBC Sports Network.
Smith, meanwhile, will suit up one week later for the North team, coached by Minnesota Vikings head coach Leslie Frazier and the Vikings' staff. That game, at Ladd-Peebles Stadium in Mobile, Ala., will kick at 4 p.m. and air on the NFL Network.
Freshman Quarterbacks A Growing Trend?