Notre Dame Football:

Monte Kiffin
November, 21, 2012
11/21/12
9:00
AM ET
Coming to you one day early because of the holiday.
When Notre Dame has the ball
:
Everett Golson
has grown steadily over the course of the season, and now he has the chance to deliver a title-game berth for the Irish. As long as the quarterback doesn't get careless with the ball, Notre Dame should be able to move consistently against the Trojans. The ground game has been there for the Irish all season, and I'd expect them to rely on that early to try to open things up on the perimeter with
Tyler Eifert
and
T.J. Jones
. The offense is clicking at the right time, and it's facing a defense that has been reeling, with many calling for coordinator Monte Kiffin's job.
When USC has the ball
: Don't get excited just because
Matt Barkley
isn't back there.
Max Wittek
is making his first career start, he's got probably the best receiver duo in the country and, frankly, he's playing with house money. For all their faults, the Trojans are loaded at the skill positions and are capable of lighting up the scoreboard. Notre Dame will look to do what it did to Oklahoma -- allow the short gains but stop the big play. Make the Trojans beat you by executing down the field, play after play. This is the No. 1 scoring defense for a reason, and as long as it does what got it to 11-0, the Irish should fare well Saturday night.
Intangible
: USC loses its fifth game of the season, to the No. 1 team in the country? Few can fault a backup quarterback for that. Beat the rival Irish and ruin their national title hopes? This is how legends are born in this rivalry, so why not say you're going to win,
as Wittek did Tuesday
? Notre Dame's path to the title game is simple: Win. At risk of hyperbole, a loss Saturday could rank among the biggest letdowns in school history. How the Irish handle that pressure determines the outcome Saturday.
Prediction
: Notre Dame 21, USC 10. Golson stays cool on the road, and the Irish punch their ticket to South Florida.
October, 21, 2011
10/21/11
10:00
AM ET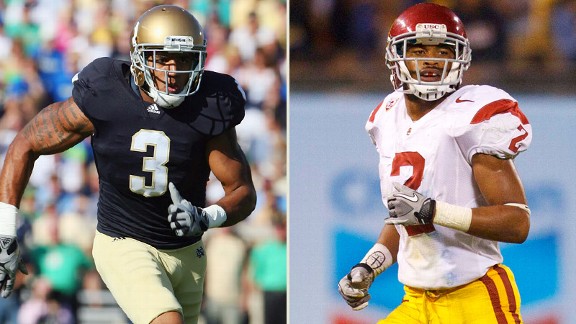 US PresswireCan Michael Floyd and Notre Dame make it two in a row against Robert Woods and USC?
USC-Notre Dame, the nation's best intersectional rivalry, kicks off for an 83rd time on Saturday in South Bend under the lights, and it feels like the Trojans' recent dominance might be at an end.
The Fighting Irish won a tight one, 20-16, last year in the Coliseum, ending an eight-game Trojans' winning streak. While Notre Dame got off to a slow start, it seems to have righted the ship in Year 2 under Brian Kelly. Meanwhile, USC, though 5-1, has as many questions to answer as it plays through its second year under coach Lane Kiffin, yoked with NCAA sanctions, including a postseason ban.
Seems like a good time to check the pulse of the rivalry, so the Pac-12 blog and Notre Dame blogger Matt Fortuna decided to have a little intersectional chat.
Ted Miller:
Matt, there were high expectations to start the season for Notre Dame. Things got off to a slow, and sometimes controversial start -- see Kelly getting red-faced with rage on the sidelines -- but things seem to be on the uptick. First, why did the Irish struggle and, second, what are they doing better now?
Matt Fortuna:
Ted, I think my face would have also turned a couple different colors had I been in charge of this team at the beginning of the season. Ten total turnovers, two quarterbacks and a fourth-quarter collapse at the Big House made this team a must-watch ... for everyone but Irish fans. I'm not convinced we would have seen such complete performances in recent weeks without the sting of those early defeats, though. The defense really took an edge with it, both into press conferences and into games, and it has helped set the tone for a team that knows it cannot afford to slip up any more this season. Offensively,
Tommy Rees
has continued to clean up some sophomore mistakes and the running game is better than anyone could have possibly hoped for at the beginning of the season.
I'm curious about how the Trojans see this rivalry. I know Lane Kiffin called last year's defeat his toughest as a head coach, but then he referred to this game as the Irish's Super Bowl because it comes after a bye. Did last year's game really re-charge this rivalry, or does USC look at that as an aberration to what has pretty much been a one-sided contest for the past decade?
TM:
Well, if USC sees last year as an aberration it may be alone. What a lot of folks see is a re-energized Notre Dame program that finally hired a good coach -- big fan of Brian Kelly here, red face or not -- while the Trojans are about to negotiate the loss of 30 scholarships combined over the next three recruiting classes due to NCAA sanctions.
The feeling in Heritage Hall is they blew last year's game and would have won if QB
Matt Barkley
had played. But woulda, coulda, shoulda, you know? The Trojans have no excuses this year. They have yet to be hit by scholarship reductions. While they got killed last year by transfers, they've had a year to adjust to their new personnel. What I suspect USC fans might see is their best chance to notch a win -- at Notre Dame, no less -- during a period when the Irish look to be rising and the Trojans sagging. Further, with no postseason chances -- also due to NCAA sanctions -- this big rivalry game away from home almost functions as a midseason bowl game.
So I think USC is taking this one very seriously.
I've been hearing about how much better the Notre Dame defense is. What do you think the Irish have planned for Barkley and wide receiver
Robert Woods
, who had an off-game against California and figures to be highly motivated this weekend?
MF:
In Week 4
Michael Floyd
was held to just four catches at Pitt. He responded with a 12-catch, 137-yard performance at Purdue. I think the Irish have that in mind and understand that whatever Cal did to contain Woods this past week, there really is no blueprint for shutting down an elite receiver like that.
Going off the woulda, coulda, shoulda theme, this defense has been very good for 23 of 24 quarters this season, with the fourth-quarter collapse at Michigan being the lone --- albeit gigantic -- blemish. Manti Te'o, who once looked like a sure thing to attend USC, may just be the best inside linebacker in the country, and the rest of the front-seven has been outstanding against the run. The secondary is less established, which is why I think getting to Barkley early and often will make life a lot easier defending the passing game.
OK, prediction time. Who do you got, Ted?
TM:
The Trojans believe Matt Barkley will be the difference this go-around. I don't. I think the Notre Dame defense will do enough to contain him and receiver Robert Woods and the Trojans' inconsistent rushing attack. And the Irish defense looks superior to USC's, which has continued its mediocrity in year two under Monte Kiffin.
So I'm picking the Irish, 28-24.
What about you?
MF:
I think the Trojans have enough offensive firepower to stay within striking distance, but I don't think their defense, despite its progress at Cal, will be able to contain Notre Dame's offense, which was on a tear before the bye week.
I expect more of the same from the Irish this Saturday, and I'm picking them to win, 35-24.
October, 19, 2011
10/19/11
10:30
AM ET
SOUTH BEND, Ind. --
Jonas Gray
saw what USC did to Cal's rushing attack Thursday and, without hesitation, pointed to the strength of the Trojans' defense when asked about it five days later
"The front seven," Gray said Tuesday. "They block a lot of passes, they play a lot of games up front, they tackle well in the secondary. They're a physical group."
USC held Cal to 35 rushing yards in a 30-9 win that was the Trojans' most convincing defensive performance to date.
In its two previous games, USC had allowed 43 and 41 points to Arizona State and Arizona, respectively, the first time in school history it allowed 40-plus points in consecutive contests. The Trojans allowed a school-record 37 first downs against Arizona as well.
The Trojans are 56th nationally in total defense and 46th in scoring defense. But they rank 19th against the run, allowing 99.5 yards per game and have held three of their six opponents under the 100-yard mark as a team.
"I think they've got a specific scheme that they like to employ," coach Brian Kelly said. "It's very similar to what we've seen. They're very consistent in that respect. They're not gonna give you just one look. They played well, they tackled well. I think they got up on Cal and forced them to throw the football. I think one of the things that's really important to point out is Monte still has his influences in that defense. … You can still see there are some Monte Kiffin influences in what they do defensively.
"If they get up on you, they're a tough group to rally on. I think that's probably more of a difference than anything else.
Notre Dame, meanwhile averages 194 rushing yards per game, 30th in the nation.
Gray and
Cierre Wood
have accounted for the majority of those yards. Wood, an Oxnard, Calif., native, was recruited by the in-state Trojans before choosing Notre Dame, where he thought he would have an easier time making a name for himself early.
"I've never really been big on it," Wood said. "I was growing up and I see everybody going there, and I had a lot of friends and whatnot and it was always a big school, but it just seemed there was way too many people there and whatnot. And you hear about five different people on the team who like, you hear about them at one time and then you don't hear about them because something happens to them.
"But at the same time, you hear the next man in because there's five different running backs or five different tight ends and stuff like that. So I've always thought [of them] being like a great powerhouse but it's never really something that I was too big about, really."
Notre Dame To Hold Out Another Player Due To Probe
FBS INDEP. SCOREBOARD
Friday, 8/29
Saturday, 8/30