Notre Dame Football:

ND bye grades 2013
October, 11, 2013
10/11/13
9:00
AM ET
Here is the last of the bye-week series, as we take a look at the coaching staff's work so far.
COACHING STAFF
Grade
: B
Summary
: This category is mostly in the eye of the beholder. Some will see a team that has two more losses than it did all of last season and say that is the staff's fault, and that is partially right. Others will say this team has been hamstrung by transfers, suspensions and injuries, and that is partially right, too.
[+] Enlarge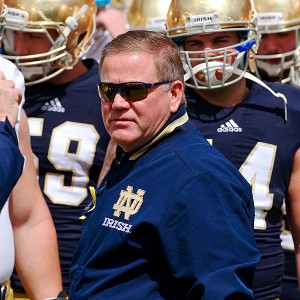 Matt Cashore/USA TODAY SportsBy coaxing an upset of Arizona State out of his team, Brian Kelly got the Irish to their bye week on an uptick.
We'll go in-between here. This is, after all, the same full staff that got Notre Dame to the BCS title game last season. And it spent much of last season, and all of the spring, entrusting the future of the offense to a quarterback who then got in trouble, forcing him to leave school for the fall semester. In came
Tommy Rees
, again, whose physical limitations stand out when compared to Everett Golson's, and who does not appear to have a first-round draft pick to throw to this fall, though
TJ Jones
has done everything he can to follow in the footsteps of Michael Floyd and Tyler Eifert. Still, Rees and the offense are doing what they can. The defense, meanwhile, has underachieved.
Despite all of the hoopla, we might have underestimated Manti Te'o's importance last year. He made a really good defense a great one, and his void simply cannot be filled, despite seven starters and plenty of key reserves back from this year's unit. Though the depth of this defense has taken several early hits -- and none might be bigger than the season-injury leg injury suffered by
Jarrett Grace
-- this unit has to get better in the second half of the season, plain and simple.
Two areas that stand out in this category are slow starts, and, of course, comparisons to last year's outfit, which were inevitable. The first part has been a sour point for Notre Dame this year, as the Irish have fallen behind 10-0 at Michigan, 10-0 at Purdue, had a punt blocked early against Michigan State, fallen behind 14-0 against Oklahoma and, this past week, were trailing 6-0 and 13-7 early against Arizona State. It is tough to pinpoint why slow starts have plagued the Irish, but they are certainly an issue this team needs to fix moving forward.
The latter category, the comparisons to last year's outfit, are a bit ironic. Brian Kelly took the team off-campus to Camp Shiloh in Marion, Ind., to open camp, with an emphasis on separating this year from last year. But after a 3-2 start, Kelly showed the team clips of close wins last year against Purdue, BYU and Pitt to emphasize how thin the margin for error was and is in both seasons, and the team responded with an upset win over ASU. Kelly stressed going into that contest that the team needs to do the ordinary things better. And by taking the lessons from last year's success, this year's team notched its best win of the season — a much-needed one going into a bye week before USC — and something to build off going into the season's second half.
October, 10, 2013
10/10/13
4:00
PM ET
Our series continues today with special teams, a pleasant surprise for Notre Dame this year.
SPECIAL TEAMS
Grade
: B+

Summary
: We will start with punt return, since anything and everything on Notre Dame's special teams comes back to this unit, which has been, well, not very good in recent years. Fortunately for the Irish, they have a captain in
TJ Jones
who not only is their best offensive player, but who also volunteered for the arduous task toward the end of the spring. And while his initial foray did not go without its cringe-inducing moments, Jones has certainly grown with time as the punt return man, becoming a valuable threat their for the Irish.
Notre Dame finished 116th nationally last year in punt returns and tallied just 46 total punt return yards. The Irish already have 71 punt returns yards through six games this season, and Jones had a nice 27-yard return this past Saturday against Arizona State. Notre Dame is actually a respectable 47th nationally in punt returns so far, averaging 10.14 yards per return.
Behind
George Atkinson III
, the Irish are even better on kick returns, averaging 24.89 yards per return, good for 24th nationally. The kick-return defense has been less than stellar, as opponents are returning kicks at a rate of 25.29 yards per return, making the Irish 108th nationally in that department. But they are 34th in punt return defense, allowing just 4.83 yards per return, and they have not given up a return score this season.
Junior
Kyle Brindza
deserves plenty of credit this season, especially given the heavy workload he has had on his plate. Brindza hit a 53-yard field goal Saturday to tie Dave Reeve's school record for length, and he is 8-for-11 on the season. He earned the game-ball for his efforts in a tight 17-13 home win over Michigan State in Week 4. One of Brindza's punts was blocked in that same game, but that was more of a protection breakdown by
Jarron Jones
, who also has a blocked kick himself this season. Brindza has averaged 41.5 yards on 21 punts, with Wake Forest transfer
Alex Wulfeck
averaging 34 yards per punt on his six boots.
October, 9, 2013
10/09/13
4:30
PM ET
Our series continues today with the defense, which brought back seven starters from a unit that finished second nationally in scoring defense in 2012.
DEFENSE
Grade
: C

Summary
: Notre Dame's defense has been the team's biggest disappointment this season, as it has allowed 34 or more points in three of six contests so far. Of course, some of that is on the offense, too, particularly in the Oklahoma game. But this was a unit that was expected to continue the dominant tone set last season, when the Irish never gave up more than 26 points in a regular-season game. (And Pitt even needed three overtimes to reach that total).
The pass rush was virtually non-existent for five games, until
Prince Shembo
and company turned it up a notch against Arizona State and tallied six sacks (three by Shembo). The defensive line has been negated for much of the early going, with offenses doing everything they can to get away from
Louis Nix
and
Stephon Tuitt
.
Depth among the front seven has taken a hit, too: First with the
Eddie Vanderdoes
transfer to UCLA this summer, then with the retirement of
Danny Spond
and season-ending knee injury suffered by
Tony Springmann
in camp.
Sheldon Day
's ankle sprain has essentially kept him out of the past three games, while
Jarrett Grace
's season-ending knee injury against ASU is another big blow, especially to a thin inside linebacker corps.
Tackling, though, especially in the secondary, was less than great at Michigan and at Purdue, a sign of some of the ordinary things that Brian Kelly said his team needed to do better after the Oklahoma loss. Perhaps the defense turned a corner against the Sun Devils — Kelly said he's not doing jumping jacks just yet — but the overall body of work through six games has been mediocre, not particularly great or bad.
Notre Dame is 50th nationally in total defense (374.5 yards per game) and is 58th in scoring defense (25.5 ppg). And the Irish are tied for 86th in turnovers forced, with just seven takeaways on the season. They will be tested by skilled (USC) and complex offenses (Air Force and Navy) in the next three weeks so they need to become more reliable as the season progresses. That includes limiting big plays or forcing more turnovers to put the offense in a better position to succeed.
October, 8, 2013
10/08/13
4:00
PM ET
Notre Dame's first bye week comes at the season's midway point, giving us the perfect opportunity to make a decent evaluation of what this team's strengths and weaknesses are following a 4-2 start. We'll break this down into four categories over the next four days: offense, defense, special teams, coaching staff.
Without further ado, here is the first installment.
OFFENSE
Grade
: C+
Summary
: Notre Dame is averaging 27.3 points per game, a slight increase from last year's 25.77 mark. Of course, part of that is a result of playing from behind, something the Irish did against Michigan and Oklahoma, both losses. They found themselves in another shootout this past weekend against Arizona State and proved they were able to pull out a contest far different from some of the meat-grinders they endured in 2012.
[+] Enlarge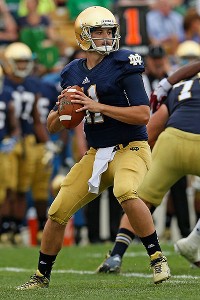 Jonathan Daniel/Getty ImagesTommy Rees has nine TD passes and just one interception in Notre Dame's four victories.
Tommy Rees
has been Tommy Rees. He eclipsed the 300-yard mark in the first three games. He threw two picks in a loss at Michigan, a game in which the Irish defense did the offense no favors. Rees misfired several times against a stout Michigan State defense, but he protected the ball and the Irish escaped the Spartans in a game reminiscent of last season. He became the easy scapegoat against the Sooners after throwing three picks — which Oklahoma turned into 21 points — but he received little help from his offensive line and receivers on two of those gaffes.
Andrew Hendrix
has appeared here and there, but Rees remains the Irish's best option at quarterback. Criticize Rees for his physical attributes if you must, but if you're going to get mad about the offense's make-up, blame the starting quarterback who got himself suspended for school this semester — after the program spent a whole spring investing in him to take charge. Rees stayed through the good and bad, has endured a lot more than most signal-callers has had to, and has kept a strong mindset through it all. Go back and watch the Purdue game, especially late in the second half, as he rallied the offense on the sideline, commanding the group's attention in a way only a senior with the respect of the entire locker room could. Brian Kelly has stuck by Rees, and he will continue to do so as long as Rees remains the offense's best option, which is what he is.
His offensive line has been stellar in pass protection, ranking eighth nationally in fewest sacks allowed per game (.60), surrendering just four on the season. That's all the more impressive when you consider Rees' lack of threat with his legs. Still, the running game had trouble getting off on the right foot, tallying three consecutive under-100-yard performances in games 2-4 before
George Atkinson III
broke out against Oklahoma. The Irish continued to build off that ground success last week against the Sun Devils, rushing for 145 yards. Slowly, the Irish have made progress in that department, raising their rushing yards per game average from 114.3 to 137 since Week 4.
In the pass-catching department, meanwhile,
TJ Jones
has been every bit as good as advertised, with the captain hauling in 33 passes for 481 yards and four touchdowns. He has had two 100-yard games and a 98-yard effot, absorbing hit after hit and becoming the kind of reliable target for Rees that Tyler Eifert was in 2011 and 2012. He has gotten big lifts here and there from
DaVaris Daniels
(25 catches, 385 yards, 4 TDs) and
Troy Niklas
(14, 250, 4), and the Irish have regularly played true freshmen who have made some minor contributions (
Corey Robinson
,
James Onwualu
, Will Fuller).
Overall, the offense has been uneven, as it has yet to really turn in a complete performance outside of Week 1 against a Temple team that is still seeking its first win. The Irish appeared to be moving closer to that direction against ASU, but a pick-six put a dent in that performance. The bye week will serve them well as they prepare for a skilled but depleted USC defense that should give the offense its biggest test before Senior Day against BYU.
Notre Dame Uneven, Still Gets The Win