Notre Dame Football:

ND spring 2014 predictions
February, 28, 2014
Feb 28
9:00
AM ET
Our series predicting spring happenings concludes today with No. 1.
Prediction No. 1: Everett Golson looks like a new quarterback
[+] Enlarge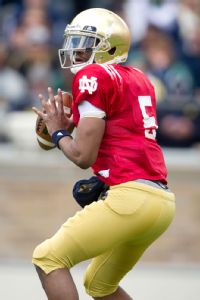 Matt Cashore/USA TODAY SportsHow quickly can Everett Golson reclaim his starting quarterback spot?
If it's been said once, it's been said a million times: Everett Golson reportedly improved a ton last fall with George Whitfield Jr., from adding weight to tightening his mechanics to, yes, learning to throw the football with the actual laces.
Now Golson is back as the face of Notre Dame's offense. And while coach Brian Kelly insisted that
Malik Zaire
is very much a factor in the quarterback race, the fact that there are just two scholarship faces in those position meetings this spring should benefit both signal callers.
We all know Golson's credentials: As a redshirt freshman in 2012, the Myrtle Beach, S.C., native completed better than 58 percent of his passes for 2,405 yards with 12 touchdowns and six interceptions, in addition to running for 298 yards and another six scores. He improved down the stretch, helping lift the Irish a 12-0 record and to the national title game, where they were routed by Alabama. Even then, Golson was one of the lone bright spots of the offense. He was handed complete control of the offense last spring and looked ready to take the Irish offense to the next level before his academic mishap cost him the fall semester.
Still, the 2013 semester was, in many ways, a win-win for Notre Dame, which got to tout its academic standards by booting its star while he got professional-style training out in San Diego before his return. Golson was listed at 6-foot-1, 185 pounds in 2012, and he could be closer to 200 pounds by the time spring ball begins. His determination to work his way back to Notre Dame instead of heading elsewhere likely won over whatever remaining doubters there had been in the program. And he still has two seasons left in a Notre Dame uniform.
There will probably be some smoothing out points, as Golson likely hasn't seen anything close to a live college scrimmage in a year. And he won't have the same familiar faces he was throwing to two years ago, especially not this spring, with
DaVaris Daniels
also stuck in academic purgatory. Kelly has warned Golson about overcoming the bigger spotlight that will certainly accompany him during his comeback tour, and now it is up to the redshirt junior to ease back into the program, refine his skills within the framework of the team and take the next step as one of the leaders of an offense that is seeking new faces to look up to as it enters 2014.
Golson is the perfect candidate to assume that role, and, frankly, it would be surprising if he wasn't a better all-around football player overall by the time this summer rolls around.
February, 27, 2014
Feb 27
9:00
AM ET
Our series predicting spring happenings continues today with No. 2.
Prediction No. 2: Defense meshes well with Brian VanGorder
When Brian Kelly hired Brian VanGorder to replace Bob Diaco as Notre Dame's defensive coordinator, the fifth-year Irish head coach was effusive in his praise of VanGorder's job as a teacher, going all the way back to when the two worked together 23 years ago at Grand Valley State. That will especially come in handy this spring as VanGorder tries to rework a defense facing several question marks after losing several valuable contributors to the pros and graduation.
[+] Enlarge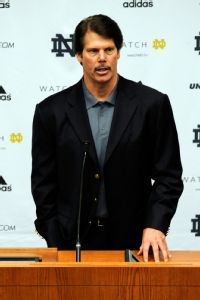 AP Photo/Joe RaymondBrian VanGorder will have to identify several new contributors on defense at Notre Dame.
There's the defensive line, which loses potential first-round picks in
Louis Nix
and
Stephon Tuitt
. There are the linebackers, who say goodbye to inside stalwarts and leading tacklers
Dan Fox
and
Carlo Calabrese
, in addition to
Prince Shembo
at the Cat. The secondary, although the deepest unit on the Irish defense, loses captain
Bennett Jackson
at corner, too. So VanGorder has his work cut out for him.
Still, if his track record is any indication, there probably won't be any major drop-off or communication issues between the new coordinator and his pupils. Sure, VanGorder hardly comes off as the rah-rah, in-your-face personality that Diaco brought during his four years with the program. But he has been around the block a few times, with 11 different college and pro stops during the last quarter-century. His defenses have been catalysts for both conference championships (SEC) and division titles (NFC South). His methods translate to both levels, and he has had success at nearly every stop along the way.
The biggest identity, as he said during his Jan. 15 introduction? He is built to stop the run. Look no further than his work last season as the New York Jets' linebackers coach, as he took a franchise that had ranked 26th against the run and turned it into the NFL's best in terms of yards per rush. And that was just in one season.
What does that mean for Notre Dame? It means VanGorder will probably maximize what he has in the middle of his defense, where the linebackers took the biggest hit from last year to this year. Will he be more aggressive than his predecessor at bringing blitzes and disrupting opposing passers? That remains to be seen. But VanGorder's résumé suggests he won't have a hard time fitting in this spring with his new players, who face a quicker learning curve now that Diaco is off running his own program at UConn.
February, 26, 2014
Feb 26
9:00
AM ET
Our series predicting spring happenings continues today with No. 3.
Prediction No. 3: Malik Zaire takes the next step
Brian Kelly had gone out of his way in January to say that
Everett Golson
wouldn't simply be
handed the starting quarterback job
upon his return, and that Zaire would be a very real factor moving forward. New position coach Matt LaFleur echoed those comments, saying that he has no experience with either, so he can only judge both players on their future production.
[+] Enlarge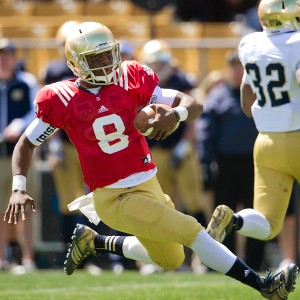 Matt Cashore/USA TODAY SportsAfter redshirting his freshman season, Malik Zaire has a chance to win the Irish starting QB job despite the return of Everett Golson.
We'll see this spring just how much Zaire can turn this into a real competition. He is coming off a redshirt season during his first year on campus, much like Golson was before the 2012 season. They both had enrolled early. They are the only two scholarship quarterbacks on the spring roster, meaning there will be more reps to go around for both of them. And neither has much experience throwing to Notre Dame's current crop of pass-catchers, especially with Golson favorite
DaVaris Daniels
suspended for the spring semester after an academic violation.
The main difference between the two? Golson spent last fall exiled in San Diego, working with noted quarterback guru George Whitfield Jr., who reportedly reworked the quarterback's mechanics and helped him add plenty of weight. He still has two years (and three springs) with Kelly under his belt, too. Zaire, whom Kelly eventually said he had planned to redshirt all along last season, missed plenty of valuable practice time late in camp and early in the season as he battled mononucleosis.
Still, Kelly and former position coach Chuck Martin were very high on Zaire last season, lauding his arm strength and assertiveness in live situations. The southpaw was ESPN's No. 6 quarterback prospect from the Class of 2013, and he certainly has the talent to, at the very least, quell the Irish's concerns should Golson need to miss any action.
But with many more snaps to work with, and with a position coach who has the same amount of experience with both quarterbacks, Zaire will have every chance in the world this spring to take the next step and prove to be a valuable quarterback for Notre Dame moving forward. We all know how crucial No. 2 quarterbacks have been for the Irish in the Kelly era so far, and now that the fifth-year head coach finally has a cupboard full of like-minded signal callers who can make plays with their feet, it stands to reason that Zaire can win over plenty of eyeballs here in the next month or so.
February, 25, 2014
Feb 25
9:00
AM ET
Our series predicting spring happenings continues today with No. 4.
Prediction No. 4: Folston and Bryant show promise for fall
[+] Enlarge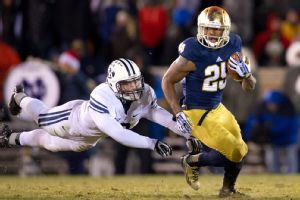 Matt Cashore/USA TODAY SportsWill Tarean Folston get more touches in Year 2 with the Fighting Irish?
There was a point during last season when it seemed like you couldn't mention the name "
Greg Bryant
" without immediately being peppered with questions regarding a potential transfer. He was a four-star recruit who saw action in just three games, tallying 14 rushing yards before being shut down for the season because of tendinitis, with the intent of him receiving a medical redshirt.
Tarean Folston
, meanwhile, picked things up as the season progressed, finishing with 470 yards and three touchdowns on 88 carries, with him carrying the ball 11 or more times for 47 or more yards in five of Notre Dame's final six games. Bryant, meanwhile, returned to practice with the team late last season, meaning there shouldn't be any rough transition period for him to return to the field this spring.
The spring should be a nice opportunity for both of these former blue-chip prospects to build on what they started in Year 1. Obviously Folston has much more to build off after a successful first season, but Bryant could definitely use a re-boot after things got off to a slow start. The talent is definitely there, as the 5-foot-10, 204-pounder was ranked by ESPN as the nation's No. 2 running back from the class of 2013.
With
George Atkinson III
off to the NFL, there will be more carries to go around for these two, who could team with
Cam McDaniel
and perhaps even
Amir Carlisle
to help bolster a ground game that finished just 80th nationally in 2013. Bryant and Folston can go a long way toward earning that increased workload by displaying maturity and savvy in their first spring with the program.
February, 24, 2014
Feb 24
9:00
AM ET
Notre Dame opens spring practice one week from today, so we will take a guess at five potential happenings during the next month-and-a-half in South Bend, Ind.

Prediction No. 5: Kendall Moore will step up
The light seemed to finally click on late in the season for Moore, who, like many players on last season's defense, was forced into extended action because of injury. Moore finished with a career high 17 tackles, a tackle for loss, an interception and a pass defended.
The 6-foot-1, 251-pound linebacker showed enough promise and maturity to warrant an invite back for a fifth season. With
Jarrett Grace
still recovering from a broken leg, there is now a big opportunity for the redshirt senior to make an impact under new defensive coordinator Brian VanGorder and possibly take the first big step to shoring up a starting spot for 2014.
Notre Dame loses its top two tacklers from last season in
Dan Fox
(95) and
Carlo Calabrese
(93). And if Moore continues to build off his ascent from late last season, he can help fill the void and become another veteran leader for a linebacker corps that is lacking in healthy bodies on the inside.