Notre Dame Football:

ND spring 2014 to watch
February, 14, 2014
Feb 14
9:00
AM ET
Our top player to watch this spring should come as no surprise.
1) Redshirt junior QB Everett Golson
[+] Enlarge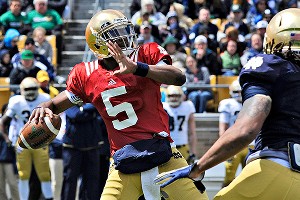 AP Photo/Joe RaymondCan Everett Golson reclaim his starting quarterback job this spring?
What, were you expecting someone different? By the sounds of most Notre Dame fans after each
Tommy Rees
throw last season, the Irish had lost a combination of
Jameis Winston
,
Johnny Manziel
and
AJ McCarron
when Golson got himself suspended for the fall because of an academic violation. The good news? The man Golson worked with during his exile, George Whitfield Jr., has worked with plenty of quarterbacks of that talent in his career.
Expecting a Heisman-caliber signal-caller this season might be asking a bit much, but Notre Dame should have a new and improved Golson this spring. He has reportedly put on plenty of weight, tightened his mechanics and even learned to throw the ball with the laces.
Considering he helped author a 12-0 regular season in his lone season of starting, and considering he was one of the few players who did not seem overwhelmed against Alabama in the 2012 title game, the potential is there for Golson to become a much better quarterback than the one we last saw.
His decision to not attend another school last season and to get re-admitted to Notre Dame likely won over anyone inside the locker room had initial doubts about his attitude. Now he will be throwing to a group of receivers who, for the most part, he has little experience with. And if he ever thought about waltzing right back into his old starting spot, well, Brian Kelly put that idea to rest by publicly declaring
Malik Zaire
as a factor in the quarterback race.
Golson was very close with Chuck Martin, so losing his position coach to Miami (Ohio) probably stung a bit at first. Now we get to see how he works with new quarterbacks coach Matt LaFleur, and we get to see him pick up from where he left off last spring, when he had been all but handed the car keys to the offense and had taken charge in a way few could have expected just a short time earlier.
No one at Notre Dame will draw a bigger spotlight, or shoulder a bigger burden, than Golson, and that starts with his official return to Fighting Irish football this spring.
February, 13, 2014
Feb 13
9:00
AM ET
Our series looking at players to watch this spring moves on to a senior who has a final shot to make his mark with the Irish.
2) Senior OLB Ishaq Williams

In some ways, it seems as though Williams just got to Notre Dame. In other ways, it seems as if he has been with the Irish forever. Part of that is likely because the narrative has never really shifted with Williams, as the same question has lingered in each of his three seasons in South Bend, Ind.:
Is this the season Williams finally breaks out?
It is a fair question, even if the opportunities weren't always there behind starter
Prince Shembo
at the Cat linebacker position the last three seasons. Still, while
Aaron Lynch
and
Stephon Tuitt
await their NFL paydays, Williams, the other huge haul from that 2011 recruiting class, is just looking to start and make a major impact for the Irish as he heads into his final season.
Williams was slowed by an ACL sprain late last season that forced him to miss two games. As a result, the 6-foot-5.5, 261-pounder suffered a drop-off in production, tallying 17 total tackles, one sack and 1.5 tackles for loss. But the front seven of the Irish takes a major hit going into 2014, and it is now or never for the senior to step up and become a big player on the Irish defense.
First things first: figuring out where he plays. There's a new defensive coordinator in Brian VanGorder, though Brian Kelly says that the Irish will run a 3-4 base while going to a 4-3 about half the time. Williams was ESPN's No. 43 overall prospect from the Class of 2011 and its No. 7 defensive end. He played on the line often in 2013 when the Irish played with four linemen.
Wherever Williams plays, he has the talent to become the Irish's most effective pass-rusher, a skill the Irish will miss dearly with Tuitt gone. Seeing how Williams develops under VanGorder this spring is worth keeping an eye on for that reason alone.
February, 12, 2014
Feb 12
9:00
AM ET
Our series looking at players to watch this spring continues, as we turn our attention to the most important position of them all.
3. Redshirt freshman QB Malik Zaire
[+] Enlarge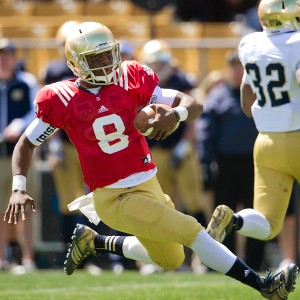 Matt Cashore/USA TODAY SportsQB Malik Zaire will get a chance to show what he can do this spring,
When introducing new quarterbacks coach Matt LaFleur last month, Brian Kelly likely raised a few eyebrows by saying that
Everett Golson
will not automatically be Notre Dame's starting quarterback upon his return. While the odds of a player with no game action unseating a signal-caller who took the Irish to the national title game -- a signal-caller who is coming off a fall spent with one of the nation's premier quarterback gurus in George Whitfield Jr., no less -- might seem like they are slim to none, the point is moot. No matter how much better Golson is when he take the field again, there must always be a Plan B. And few have a better opportunity to become Plan B -- and perhaps even more -- than Zaire.
The southpaw was ESPN's No. 6 quarterback recruit from the Class of 2013, enrolling last spring. He came down with mononucleosis late in fall camp, forcing him to the sideline for the season's first three games. He ended up redshirting anyway, something Kelly later said had been the plan all along. It makes sense from a roster-management standpoint, as the Irish have said goodbye to
Tommy Rees
(graduation) and
Andrew Hendrix
(graduate transfer to Miami (Ohio)), not to mention Gunner Kiel (transfer to Cincinnati) almost a full year ago as well. Now Notre Dame welcomes in
DeShone Kizer
this fall, giving Kelly three scholarship quarterbacks who, in his words, "all do the same things."
With just Golson and Zaire making up the Irish scholarship quarterback depth chart this spring, there will be more reps to be had. And it was just two springs ago when Golson began to make his leap as a redshirt freshman to starter, one who led the Irish to their best season in 24 years.
Can Zaire do the same? The odds are against him, but the spring depth chart is working in his favor. Golson had some help in navigating a 12-0 regular season two seasons ago, and the Irish need to know they have a more-than-capable alternative if and when rocky roads arrive in 2014.
February, 11, 2014
Feb 11
9:00
AM ET
Our series looking at players to watch this spring continues with No. 4.
[+] Enlarge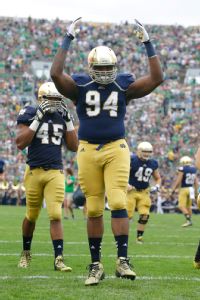 AP Photo/Michael ConroyWith Louis Nix III and Stephon Tuitt leaving for the NFL, Jarron Jones has an opportunity to become a key player on Notre Dame's defensive line.
4. Redshirt sophomore DL Jarron Jones
It is no secret that Notre Dame's defensive line is taking major hits going into 2014, losing two potential first-round draft picks in
Louis Nix III
and
Stephon Tuitt
. But the line suffered a number of significant injuries last season, and it allowed some younger players to step into the spotlight a little bit sooner than probably expected.
One of those players was Jones, who emerged down the stretch last season after growing up pretty quickly. Slacking on the field and in the classroom, he was demoted to the scout team in the lead-up to the USC game Oct. 19. Injuries forced him into significant action on Senior Day against BYU, and he stepped up, blocking his second kick of the season and tallying seven tackles, a number that raised quite a few eyebrows considering he had just seven career tackles entering the contest.
"I just see [Dan] Fox, eight tackles, Jones -- I'm like,
TJ Jones
? I was like, 'Wow, seven,'" left guard
Chris Watt
memorably said after the game, talking about the stat sheet. "That's good for us, having younger guys stepping up in this program, especially going into next year."
Jones was moved from outside to inside, where the Fighting Irish also lose
Kona Schwenke
. He ended up starting the regular-season finale at Stanford, tallying four tackles. At 6-foot-5.5, 305 pounds, he is no Nix, though few are. Still, the starting spot will be there for the taking, and Notre Dame hopes Jones can ride some of that late-season momentum into spring practice, where opportunities await a defensive line that won't quite have the same expectations that last season's unit did. There is a new defensive coordinator in Brian VanGorder as well, so seeing how both sides adapt to a scheme that Brian Kelly says will remain a 3-4 base (but still adjust to a 4-3 at about a 50/50 rate) is worth keeping an eye on during the spring.
February, 10, 2014
Feb 10
9:00
AM ET
Duke and Tulane already opened spring ball this past Friday. Notre Dame is moving things up this year, too, as the Fighting Irish will start their spring season on March 3. With that in mind, during the next few weeks, we'll start taking a look at players, position battles and more to watch as spring ball rapidly approaches.
This week we'll look at the top five players to watch in spring, starting today at No. 5.
5) Freshman WR Justin Brent
It was just a year ago that rising sophomore wide receivers
Davonte' Neal
and
Justin Ferguson
announced their intentions to transfer during spring ball. Who did that benefit most? Early enrollees
Corey Robinson
and
James Onwualu
, who received increased reps and parlayed that into more playing time during their freshman seasons with the Irish.
Now Notre Dame welcomes in another early enrollee at receiver in Brent, who certainly has the physical tools to compete immediately at the next level. What's more, the Irish took a number of unexpected hits at the position this offseason, with top returning target
DaVaris Daniels
receiving the
Everett Golson
treatment for what he said is an
academic violation
and tight end
Troy Niklas
declaring for the NFL draft. Daniels has said he plans on returning in the summer, but in the meantime, there are passes to be caught, passes to be thrown by Golson in his return to school.
Brent, one of just two Irish signees to enroll early, has already drawn attention for his 6-foot-1, 204-pound frame.
"When I got a chance to see him work out this morning, the first thing that stood out to me is that he does not look like a freshman," coach Brian Kelly said on signing day. "He had his shirt off this morning and he was running around, and he looks like a senior. He is a physically gifted young man. You can see a lot of the accolades that are out there with him in terms of where he was ranked.
"But what we were looking for specifically, and there were some really good players at this position, we were looking for a physical player at this position, somebody that could impose their physicality, could run after the catch. His ability to run after the catch was very impressive for us and had, for us, some of the things, the traits that we were looking for at that particular time and that position."
The opportunity will be there for Brent to make an early impact. And based on
accounts of his pre-Notre Dame work ethic
, he sounds ready to step up to the challenge.
'College Football Live' Extra: Biggest Plays
FBS INDEP. SCOREBOARD
Wednesday, 12/24
Saturday, 12/20
Monday, 12/22
Tuesday, 12/23
Friday, 12/26
Saturday, 12/27
Monday, 12/29
Tuesday, 12/30
Wednesday, 12/31
Thursday, 1/1
Friday, 1/2
Saturday, 1/3
Sunday, 1/4
Monday, 1/12