Notre Dame Football:

Oakland Raiders
April, 5, 2012
4/05/12
3:30
PM ET
SOUTH BEND, Ind. -- As brothers growing up in California, the Atkinson twins competed in everything. Races, video games, school grades -- all was fair game for
Josh Atkinson
and
George Atkinson III
, who, much to their dismay, found themselves locked in stalemates more often than not.
"They would try to get me in that conversation that you've got me in now," their father, George Jr., said with a laugh. "But I've become quite elusive, as you see."
[+] Enlarge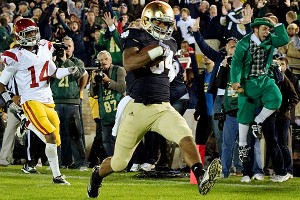 Matt Cashore/US PRESSWIREGeorge Atkinson returned two kicks for touchdowns in his first season at Notre Dame.
An all-pro defensive back for the Oakland Raiders three decades ago, George Jr. remains a busy man, broadcasting Raiders games on the radio and re-joining the AFL's San Jose Sabercats this season to coach the secondary. (He was on their staff from 2000-08.)
He talks with rising sophomores Josh and George III, the youngest of his nine kids, roughly three times a week. And though the father is careful to encourage and not place expectations on his sons' Notre Dame careers after coaching them in high school, the twins have a thorough vetting process that keeps them on their heels and their old man updated on their progress.
Josh goes to cornerbacks coach Kerry Cooks for a weekly letter-grade evaluation to pass along to his dad. George III, a running back, never needs to ask his position coach for one.
"He knows how he's doing because I let him know -- he doesn't have to come and ask," running backs/slot receivers coach Tony Alford quipped. "I'm pretty boisterous as far as what my expectations are."
For George III, the challenge this season is building off a freshman campaign that featured two kickoff returns for touchdowns, the first Irish newcomer to pull off that feat since Raghib Ismail. For Josh, it is becoming a regular in the secondary after seeing spot duty on an experienced unit last season.
"We always praise each other when we make plays and we get on each other when we don't make plays," Josh said of his brother. "And we give each other opinions on, 'Hey, if you do this, you'll get better at that.' Also we push each other all the time. If one of us has a bad practice or one of us is not catching the ball or things of that aspect, we're always on each other and making sure we get better each and every day."
Cooks called Josh a "level-1" corner, meaning he is making his way from the scout team to the two-deep while adapting to complex coverage schemes. Josh played just one coverage in high school, but, by Cooks' measure, has taken a proactive approach to learning the Irish's playbook.
[+] Enlarge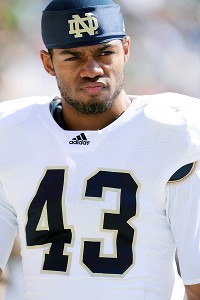 Jeanine Leech/Icon SMIJosh Atkinson is looking to make more of an impact in the secondary this season.
"You definitely can tell that he's been coached hard, definitely can tell that his dad has instilled hard work, effort, energy, 100 percent, yes-or-no-sir-type of kid -- you can see that in both his sons," Cooks said. "So you can see some of those characteristics of having an NFL dad and then having that background, and now it's translating into his play on the field."
George III is focusing on dropping his pads to run the ball lower, and he is hoping he will have the opportunity to help an Irish punt-return unit that averaged an abysmal 0.3 yards per return last season before their bowl game.
"I ran the fastest 40," he claimed of team testing, saying he clocked in at 4.43. "But 40s don't really mean much if you can't put it on the field, so that's what I'm working on first, using my speed on the field."
The identical twins ran on Notre Dame's track and field team this spring.
In May 2010, one month after winning the 100-meter event at the Arcadia Invitational in 10.61 seconds, George III suffered a season-ending hamstring injury trying to win the 100-meter event at the East Bay Athletic League championships. His second-place time of 10.70 seconds may have been more admirable had the first place winner not been Josh, who finished the event in 10.66 seconds.
Josh won the 100-meter event the next year at the Stanford Invitational, completing it in 10.85 seconds.
"It became controversial, I guess you could say," their father, George Jr., said. "George never won at Stanford and Josh did, and Josh never won at Arcadia and George did."
Whatever tension existed then soon evaporated, as it always has, before another fraternal clash eventually resumed.
"They compete. Those guys compete," Alford said. "And they come from a house where that was push, competition. That brotherly love, they got that, but boy they will compete with one another now. In track, in football. When we were recruiting they were talking about who could play 1-on-1 basketball, get out in the street and go run. They were talking about it [at practice] -- who was gonna win on the kickoff cover drill, who was gonna be the first to get down the field. So they compete, and that's a good thing."
October, 14, 2011
10/14/11
5:00
PM ET
Josh Atkinson
has a twin brother, George III, as a teammate at Notre Dame. The twins' father, George Jr., played with the Oakland Raiders from 1968-77, winning Super Bowl XI. George Jr. is now a radio broadcaster for the Raiders.
[+] Enlarge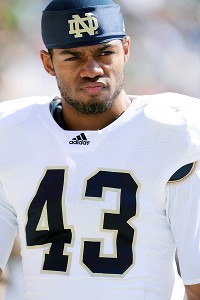 Jeanine Leech/Icon SMICornerback Josh Atkinson says Notre Dame just happened to be the perfect place for he and his twin brother George III.
Josh saw the first action of his college career in last Saturday's
victory over Air Force
. Here, he talks about growing up with an identical twin and the advantages of having a football pedigree.
How many times have you and your brother gotten confused for each other since you got on campus?
"It's happened a lot. It's natural though. It's something we've grown accustomed to growing up because we're twins. But once people get to know us it becomes easier to tell us apart so it's no big deal."
Do you guys ever try to joke around with your teammates or coaches, like switch jerseys or anything like that?
"No, not really. When it comes down to football it's all business. So you don't really wanna joke around too much about that. Back in the day we used to like pull pranks and stuff when we were kids."
What was the recruiting process like? Was it confusing for coaches coming to see one kid or the other?
"It wasn't too confusing for the coaches because they come in making sure they know who they're talking to. And my head coach, Coach [Tim] Silva back in high school, he made clear who was who and it wasn't that big of a deal. I introduced myself as Josh and George introduced himself as George."
What are the biggest differences both physically and off the field between the two of you?
"Well for one, I play defense and
George
plays offense. And I'm better looking (laughs). I don't know, we're brothers and everything, it's just we know each other and when it comes to other people, people can really, that's their own opinion, so we really love each other and that's it. There's no really, I couldn't say a huge thing that really sticks out, the difference. But we both work hard."
How certain were you you'd go to school together?
"It wasn't a clear indication of whether we'd go to school together or not. Because we weren't going in the whole recruiting process as a package deal. And if it was gonna be a school that we'd go to the same school, it had to be a perfect fit for both of us. And we weren't really looking for that. We were looking for individually, what's the best fit for us and for me as an individual, because we are individuals when it comes down to it. And Notre Dame just happened to be the perfect place for both of us."
How exciting was it to get on the field this past week?
"It was real exciting. I thank the coaches for stressing me to get on the field and it was definitely a goal of my mine coming in freshman year to get on the field and play early and get experience."
You obviously have a lengthy football background in your family. How much has that helped growing up and adjusting to college?
"I feel like I'm blessed, having a dad that's been to where I wanna be. He's been in the league. He played quite a long time in the league and is still in the league right now with the Raiders and working with them, so it's definitely something that I'm blessed to have and fortunate to have in my family. And it's something that I just count my blessings every day for that, and something I just work forward to, to try to be better than my dad."
What was his reaction to Al Davis' death this past weekend?
"It was hard on the whole league, and it was hard on me. The NFL lost a great man. And the NFL wouldn't be the NFL today if it wasn't for him."
Did you guys know him at all?
"Yeah. Back when we were kids he would let us walk around and see the training camp sometimes, and I was fortunate and blessed to be in that situation to be able to meet a great man like Al Davis."
Official Visit: Imminent ESPN 300 Decisions