Notre Dame Football:

Paul Chryst
November, 6, 2013
Nov 6
1:00
PM ET
SOUTH BEND, Ind. -- The package was called "Desperado," a phrase both Pittsburgh and Notre Dame fans would probably rather never hear or speak of again.
It was not discovered until the day after the Fighting Irish's triple-overtime win over the Panthers last year that cornerback
Bennett Jackson
and receiver
Chris Brown
, both No. 2 for the Irish, were on the field together when Kevin Harper's potential 33-yard game-winning field sailed wide right after a bad snap.
[+] Enlarge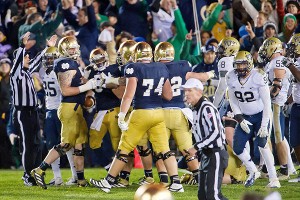 Matt Cashore/US PresswireEverett Golson's game-winning touchdown in the third overtime last season gave the Irish a heart-stopping victory over Pitt.
For the Panthers, it was an oversight that all but cost them a program-defining win for new coach Paul Chryst. For the Irish, it was a crisis averted, one of several minor miracles in a magical season.
It was another hold-your-breath moment in a series that, for one reason or another, has never lacked for drama. A primetime atmosphere awaits Saturday night at Heinz Field when the Panthers and the Irish square off. One team is fighting to clinch bowl eligibility, the other is clinging to BCS-bowl hopes and, well, here we go again.
"It happens," Pitt linebacker
Todd Thomas
said of the officials' error last season. "Two No. 2s on the field, it happens. Refs make mistakes, so everybody's not perfect. So it happens. So we just put the loss behind us and just carried on to the next week. But it happens. Everybody's not perfect."
Notre Dame has beaten Pitt by three points in each of the last two years, including a 15-12 tractor-pull of a contest in 2011 that both teams are best served to forget. The Irish are 6-3 against the Panthers since 2002, but eight of those games have been decided by eight points or fewer.
There have been seven total overtimes across two of those games -- a four-overtime Pitt win in 2008 and last year's three-overtime Notre Dame victory, its last close call on the way to the BCS title game.
"You know what, we're letting it go, it's old news," Pitt end
Bryan Murphy
said. "Whatever happened last year happened. We're not paying attention to it. We're just moving on from there. That's all last year. We were a different team, they were a different team. So we're not even concentrating on anything that happened last year."
Chryst echoed that sentiment during his Monday press conference in Pittsburgh, though tight end
J.P. Holtz
had a decidedly different tone when he
told reporters that he did not like Notre Dame, calling their coaches "really cocky."
The comments seemingly made their way back here to Irish coach Brian Kelly, who said Tuesday: "They don't seem to like Notre Dame very much, and they want to beat Notre Dame."
Though in just his fourth year at Notre Dame, Kelly is more familiar with Pitt than any other opponent in the last seven years, having faced the Panthers in each of his three seasons at Cincinnati before playing them annually so far while with the Irish.
He has also faced the Panthers' new starting quarterback, redshirt senior
Tom Savage
, who appeared in Rutgers' 2009 season-opener against the Kelly-coached Bearcats.
"A big kid, strong-armed, and obviously they like to throw the football with him," Kelly said of Savage. "He's got some talented receivers. We're going to have to prepare ourselves for a kid that likes to throw the football and has some weapons."
The best of those weapons, redshirt senior
Devin Street
, is two weeks removed from becoming Pitt's career leader in receptions. Though winless and held to 42 or fewer yards in each of his three contests against the Irish, Street has no particular distaste for the team he will face this weekend.
"We don't go in disliking anyone, but we definitely have a respect for Notre Dame and the tradition and that type of team," Street said. "But we don't hate them or anything like that. I think they're a great team."
Both teams are coming off consecutive games against option teams -- Pitt losing to Navy and Georgia Tech, Notre Dame beating Air Force and Navy.
And both will reconvene in two years, and roughly every three years after that, as part of the Irish's five-game-per-year scheduling agreement that takes effect next year with the ACC, which Pitt is finishing out its first season in.
"Everyone knows Notre Dame; Notre Dame is one of the most historic football programs in the country, and they always will be," Murphy said. "I think it's amazing to have a team like that on your schedule. That's always a primetime game for us. I think it's huge for our team going forward to always have that game because we always play great against them. It's always just an amazing game between us two, so I think it's important that we continue that matchup."
November, 2, 2012
11/02/12
2:30
PM ET
Devin Street
is coming off a career best 140-yard receiving day in Pitt's
47-17 rout
Saturday against Temple. The redshirt junior has team bests this season of 50 catches, 695 yards and four touchdowns.
Street brings the Panthers into Notre Dame Stadium on Saturday with the chance to knock off the nation's No. 3 team. Here, he talks about that opportunity, along with what has been working so well lately for Pitt's offense.
Note:
Street spoke with ESPN.com on Wednesday. On Thursday, he and two other teammates were charged with simple assault and conspiracy in connection with an incident last month.
All three will play Saturday
at Notre Dame.
Saturday was a career day for you numbers-wise. What was clicking for you and how do you try to build off that this weekend?
Devin Street
: Just comfortable with the offense. Little concepts. Definitely our offensive line protecting
Tino [Sunseri]
and giving him time. We had a great scheme going into Temple and attacked some of the holes in their defense, and I think we were pretty successful in the passing game.
That's three out of four weeks now that you've had at least 100 receiving yards. Is this as good as you've felt in your career?
[+] Enlarge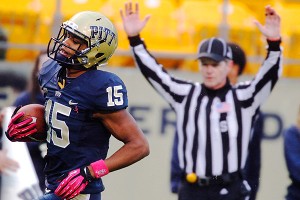 AP Photo/Keith SrakocicAn inexperienced Pitt offense will be counting on receiver Devin Street for guidance in 2013.
DS
: Yeah, I think so. I'm the most confident at this point. There's a lot of things thrown at me, different concepts, moving in the slot and everything like that. But the coaches are calling upon me and I just know in my mind I have to respond. But yeah, I'd say I definitely feel really comfortable right now.
When Tino Sunseri is playing the way he is, how much easier is it for you and everyone else?
DS
: I think it is easier for everyone else. I think Tino's more confident in me, but he's also confident in the offense, which allows us to click. And he has targets to throw to, especially with
Mike Shanahan
, too, throwing to
Ray [Graham]
out of the backfield. I just think we're all really comfortable with the new system, and I think it's coming together.
Is that as good as the offense has performed? What's the next step this week?
DS
: I think we definitely did some things well against Temple, but going back and watching the film I feel like we can improve on some things. I think we definitely are doing that this week, too, moving guys around to help, putting Mike at different spots and doing all different types of things. I think we can definitely do some different things, but at the same time I think we did a lot of things well against Temple.
It took longer than I imagine most fans and people outside the program probably wanted or imagined it would, but you guys are starting to click under a new coach right now. What has Paul Chryst done that has helped you guys ease into the flow and made the transition smooth?
DS
: Just with any coach I think it's different coming in with a new concept. And going out there and playing it and seeing it during the game is going be hard to adjust. Things are coming along, coach Chryst has put an emphasis on the little things and concepts -- we just keep going over and going over. Concepts that we need to refine, to think, our go-tos. We don't have a bunch of plays but we have a lot of plays that we're getting good at, so I think he's just definitely harping on that.
Notre Dame's defense is one of the best country. What do you see in the secondary that makes them so effective?
DS
: I think they're great athletic-wise. I think they have a great safety in
Zeke Motta
. He's a pretty good captain back there, doesn't let anything get behind him, can definitely come up and slow the run. I feel like their corners are definitely aggressive and athletic. I know they have a young corner [
KeiVarae Russell
], and he plays tremendously, like a veteran out there. I think they definitely do some things well. They're just a great group to complement their front three, who's tremendous.
What's the balance mentally for you guys as you go into a historic venue with the chance to ruin a team's national title hopes? How do you embrace that opportunity while sticking with the game plan?
DS
: I think we had a taste of it going into Virginia Tech, so we kind of know what it's like. That was another big opportunity, ranked opponent. So I feel like we know what it's like. We're just going to go out here and prepare -- not get too high, not get too low, like we always do. Just go out against Notre Dame and give them all we got. We know we have to play assignment football and can't get outside our element and start doing anything we want. We know we have to stick to the gameplan and give it 110 percent against those guys.
November, 1, 2012
11/01/12
10:15
AM ET
Here are three key storylines heading into the Irish's contest with Pitt:


(1) QB play.
Everett Golson
has seemingly been great every other game. I think that will change Saturday, when he finally puts his home demons behind and has a great, complete start.
(2) Sacks.
Aaron Lynch
got too much undeserved heat last season for predicting the Irish
could
sack
Tino Sunseri
10 or more times. Pitt's offense is a much more cohesive unit this season under first-year coach Paul Chryst, but when the protection is bad, it is
bad
. Sunseri has turned into a very good quarterback, but he has had nowhere to run several times this season, going down six times against Cincinnati and five times against Syracuse and Louisville. None of those defensive lines compares to the Irish's.
(3) One team with names on its jerseys.
Pitt went the no-name rout for the start of the Chryst era. He told his players last week that they would get them back on their jerseys if they beat Temple. They beat Temple.
October, 30, 2012
10/30/12
9:00
AM ET
Watching his brother Rick play baseball at Notre Dame three decades ago has dampened whatever mystique this weekend's trip could bring for first-year Pitt coach Paul Chryst. But he knows a visit to the nation's No. 3 team is a big opportunity for his players, and he is hoping the Panthers don't take it for granted.
"There's great history there," Chryst said Monday of Notre Dame. "It's different, but it's just like we have great history. That's one of the neat parts of college football. They have it and I give them a lot of credit for what they're doing this year."
Consecutive wins have Pitt back at .500 and looking more like the team that routed Virginia Tech at home in Week 3 than the one that dropped its opener by two touchdowns to an FCS team.
The biggest reason for that is the emergence of fifth-year senior
Tino Sunseri
, who has not tossed an interception since that win over the Hokies. He has thrown for 1,682 yards with 11 touchdowns and one pick in his last six games, and he leads the Big East in pass efficiency.
"Sunseri is playing the best football of his career at the quarterback position," Notre Dame coach Brian Kelly said Sunday.
The chance to knock off an 8-0 team coming off its biggest win in recent memory speaks for itself, Chryst said, so Pitt is not embracing the spoiler cap that the nation has placed on it.
A 47-point outing this past Saturday has the Panthers feeling pretty confident, too, and they don't want to be overcome by the moment when they touch down in South Bend, Ind.
"You're going to play a game, emotion is a big part of it and keeping it in check is a big part of it," Chryst said. "I don't think your approach is any different. Week to week you should be excited to play every game. Every game you need to know yourself well enough to be at that right level of excitement and control.
"I hope our guys are excited to play every week and I know you get an opportunity to play a good team like this and that's special. You're not going to minimize that either. That's part of it. Guys have learned and guys need to learn how to approach it and how they individually prepare for games. That's part of the process."
July, 26, 2012
7/26/12
10:30
AM ET
Week 9
: Nov. 3 vs. Pitt (at Notre Dame Stadium in South Bend, Ind.)
Time/TV
: 3:30 p.m. ET, NBC
Series
: Notre Dame leads all-time, 46-20-1
2011 record
: 6-7 (4-3 Big East; tied fourth place)
Head coach
: Paul Chryst (first year)
Returning starters
: Offense: 8; defense: 4; kicker/punter: 2


Top returners
QB
Tino Sunseri
, RB
Isaac Bennett
, RB
Ray Graham
, WR
Devin Street
, OG
Chris Jacobson
, DT
Aaron Donald
, LB
Todd Thomas
, S
Andrew Taglianetti
, S
Jason Hendricks
, S
Jarred Holley
, CB
K'Waun Williams
Key losses
DE Brandon Lindsey, DT Chas Alecxih, DT
Myles Caragein
, LB Max Gruder, CB Antwuan Reed
2011 statistical leaders (*returners)
Rushing
: Ray Graham* (958 yards)
Passing
: Tino Sunseri* (2,616 yards)
Receiving
: Devin Street* (754 yards)
Tackles
: Max Gruder (116)
Sacks
: Aaron Donald* (11)
Interceptions
: Jarred Holley*, K'Waun Williams*, Chas Alecxih, Brandon Lindsey, Andrew Taglianetti*, Todd Thomas*, Jason Hendricks*, Carl Fleming (1)
Three questions for ...
Big East blogger Andrea Adelson:
With four head coaches in three years, it is safe to say that the Panthers' program has been far from stable. How will the team benefit from Paul Chryst's simplified approach in his first year at the helm?
Andrea Adelson:
I think the potential is there for this team to stabilize itself in Year 1 for one big reason: Chryst likes to run the football, and Pitt has been a very traditional running team. Blue-collar, as they say. Last year under Todd Graham was an entire departure not just from the identity of Pitt football, but from the identity of Pittsburgh itself. Pitt has some quality running backs, so I think a emphasis on the ground game is much needed for the Panthers to return to any sort of normalcy.
It seemed like Tino Sunseri took the brunt of the criticism from all corners whenever things fell flat on offense last year. What does he need to do this year to make it all go away and become an effective leader on offense?
AA:
Great question. Believe it or not, Sunseri is going into his third season as the starting quarterback despite being roundly criticized for all three seasons. I think going away from the spread hurry-up will help him. He never really got the timing down, and was sacked many times because he just wouldn't get rid of the football. Getting more of a run-heavy, play-action attack is certainly going to help him. He just has to manage the game and limit all his mistakes, something he failed to do a season ago when he had more interceptions (11) than touchdown passes (10).
The defense is undergoing a bit of a makeover, especially in the front seven. How creative will new coordinator Dave Huxtable have to get to turn this into a solid unit?
AA:
Well he has an excellent secondary, with some pretty good depth at safety. So perhaps that means he can take a few more risks up front, or feel more comfortable playing man. The front seven is a big concern, particularly the defensive line. Aaron Donald returns after getting 11 sacks a year ago, but he moves inside. Besides him, there is little in the way of experience. But I will say that Huxtable did some great things with the defensive line when he was UCF defensive coordinator. I watched him turn undersized Bruce Miller into the C-USA Defensive Player of the Year. UCF traditionally played very well against the run, so that has to be encouraging for Pitt fans. Plus, a return to the traditional 4-3 will definitely serve this team better because it lacks depth and playmakers at linebacker.
February, 6, 2012
2/06/12
11:00
AM ET
Our Mark Schlabach took another crack at his way-too early top 25 today. In response, we'll try again to rank Notre Dame's 2012 opponents.
1. USC (Nov. 24, away):
Virtually every early outlook has the Trojans slated as the preseason No. 1 or No. 2 team, and rightfully so.
Matt Barkley
enters 2012 as the Heisman front-runner and USC will return to the familiar position of having the target on its back throughout the season.

2. Oklahoma (Oct. 27, away):
Considering Notre Dame is the only current official, penned-in game that is absolutely going to happen for the Big 12 favorites next season, I'd imagine the Sooners would get up for that.
3. Michigan State (Sept. 15, away):
A growing defense will keep Sparty plowing ahead in Year 6 of the Mark Dantonio era, which may just begin with MSU as the Big Ten favorite.
4. Michigan (Sept. 22, home):
A number of early polls suggest Michigan as the leading Big Ten contender, but I think some of its losses on defense will be tough to replace. Nonetheless, any team with
Denard Robinson
under center has a chance to make big things happen, as Notre Dame fans are all too aware of.
5. Stanford (Oct. 13, home):
Who needs
Andrew Luck
when you have that much time in the pocket? Throw anyone under center behind that offensive line and he'll have all the time he needs to make something happen.
6. Miami (Oct. 6, Chicago):
The Hurricanes make the biggest jump from the last time we looked at the Irish's opponents. An experienced defense and a great recruiting year for Al Golden suggest this program is back on the rise, pending NCAA sanctions.
7. BYU (Oct. 20, home):
I said it before and I'll say it again: If
Riley Nelson
has a big year, watch out.
8. Purdue (Sept. 8, home):
This contest scares me if I'm an Irish fan. First game back from what is sure to be an exhausting season-opening trip in Dublin, with a hungry in-state rival waiting for them and looking to build on momentum following a strong 2011 finish and weak 2012 opener (Eastern Kentucky).
9. Wake Forest (Nov. 17, home):
Jim Grobe teams usually perform better than they should, but the Deacs must recover from a weak finish in 2011.
10. Boston College (Nov. 10, away):
No more
Luke Kuechly
means happier offenses everywhere. The Eagles just hope that means theirs, too, which will be in its first year under coordinator Doug Martin.
11. Navy (Sept. 1, Dublin):
The Midshipmen have a brutal start to the 2012 schedule, facing the Irish in Dublin before going to Happy Valley to face Penn State, but things get easier afterward. Can they put the awful luck of 2011 behind them and beat the beatable opponents?
12. Pitt (Nov. 3, home):
Paul Chryst seems like the right fit, but asking him to lift the Panthers out of their underachieving ways in Year 1 is a bit much.
January, 10, 2012
1/10/12
3:00
PM ET
With 2011 in the rearview mirror, here is an early look at Notre Dame's 2012 opponents, with the game date and site in parantheses.
1. USC (Nov. 24, away):
Matt Barkley
's return makes the Trojans a trendy preseason national title pick and Barkley a likely preseason Heisman frontrunner. They host the Irish in the regular-season finale, and how sweet it would be for Notre Dame should they knock their rivals off with the highest stakes on the line.
2. Oklahoma (Oct. 27, away):
Like the Trojans, the Sooners return their prized quarterback (
Landry Jones
) and will, at the very least, enter 2012 as the Big 12 favorite.
3. Michigan State (Sept. 15, away):
Kirk Cousins
and
Keshawn Martin
are gone, but the Spartans return four offensive linemen and plenty of production on the defensive side of the ball as they go for a third-straight 11-win season.
4. Michigan (Sept. 22, home):
Denard Robinson
and several key skill players likely return, but the Wolverines lose a lot on each line and will rely on several young players to fill the void.
5. Stanford (Oct. 13, home):
Perhaps the biggest mystery entering 2012. We just don't know how much this team will drop off following the likely loss of
Andrew Luck
. Time will tell.
6. BYU (Oct. 20, home):
Another wild card. Much will depend on the growth of dual-threat QB
Riley Nelson
and the Cougars' offense.
7. Purdue (Sept. 8, home):
The Boilermakers finished 2011 with back-to-back wins for the first time this season and have a bit of momentum under Danny Hope. Some see them as a darkhorse Leaders Division contender in 2012.
8. Miami (Oct. 6, Chicago):
The Hurricanes will likely be led by a defense that returns eight starters for Al Golden's second year.
9. Wake Forest (Nov. 17, home):
Quarterback
Tanner Price
is back, but the Demon Deacons must eliminate the mistakes that cost them five of their final six games and two assistants their jobs.
10. Boston College (Nov. 10, away):
The Eagles got better as the season went on and hope new offensive coordinator Doug Martin can bring the unit up to speed with the defense, which loses Luke Kuechly.
11. Navy (Sept. 1, Dublin):
Can
Trey Miller
build off 2011, when he was forced in midseason for the injured
Kriss Proctor
?
12. Pitt (Nov. 3, home):
New coach Paul Chryst will have his work cut out for him on a team with quarterback, protection and, at least in the past calendar year, coaching issues.
December, 23, 2011
12/23/11
12:00
PM ET
You may notice that these links all have something in common.
December, 22, 2011
12/22/11
1:25
PM ET
It is this time of the year when Twitter is the most useful and the most dangerous tool we have as sportswriters. The layoff between the regular season and bowl games is when coaches are hired and fired, transfers are decided upon and the rumor mill kicks into full swing.
It is through social media that much of the speculation and reaction is made upon such news, with nearly every move throwing a portion of the Twittersphere up in arms.
That is, of course, unless you are
Dayne Crist
and you just decided where you will play your final year of college ball.
"After a long & difficult decision making process, I'm incredibly excited to join the Kansas football team. Rock Chalk Jayhawk!"
Crist posted at 11:59 a.m. ET.
That was the news. Within minutes, the reaction would have made you think Crist was taking all of Notre Dame with him:
Reading
what Crist had to say to Douglas Farmer of the student paper Wednesday
, it's easy to see why his former teammates felt this way.
The hiring of former Irish coach Charlie Weis no doubt helped with the decision immensely, as Crist will get one final shot with the coach who recruited him and in a system he is familiar with. Kansas was a two-win team last year and is a basketball school, so expectations will be tamed.
Wisconsin, believed to be the other finalist, would have been in better position to win its third straight Big Ten title after Tuesday's bowl ban placed on Ohio State, but it may have lost its hope as offensive coordinator Paul Chryst leaves to become Pitt's head coach.
Regardless, this is one final shot for Crist, who committed to Notre Dame as ESPNU's No. 2 quarterback from the Class of 2008.
As colleague David Ubben points out
,
Landry Jones
, Blaine Gabbert and
Andrew Luck
were all ranked behind him. Only Terrelle Pryor was ranked ahead of Crist.
Season-ending injuries in each knee and bad breaks on the field have spoiled Crist's opportunities, leaving many to wonder whether this last chance will actually provide a happy ending. That remains to be seen. For now, all it takes is a brief glance at Twitter to know nobody deserves one more than him.
Kelly: Notre Dame To Readmit Golson