Notre Dame Football:

Phillip Daniels
September, 19, 2013
9/19/13
10:00
AM ET
SOUTH BEND, Ind. -- Two months ago,
DaVaris Daniels
had an idea to help develop chemistry. He invited a handful of teammates, and a former teammate, over to his house in Vernon Hills, Ill., a little more than two hours northwest of Notre Dame. They spent a weekend working out at his alma mater, Vernon Hills, and at nearby Lake Forest,
Tommy Rees
' high school.
Fellow wideouts
Chris Brown
and
C.J. Prosise
were there. So, too, were running backs
Amir Carlisle
and
George Atkinson III
. And they had suspended quarterback Everett Golson throwing them balls, since those connections might very well resume next season.
"Just build chemistry, keep it," Daniels said. "Last year we had a pretty tight team, so that was kind of my main thing, was just to keep everybody close and keep what we had last season and continue into this season."
[+] Enlarge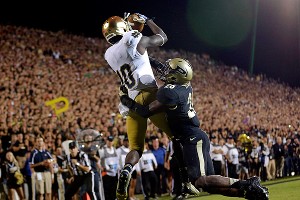 AP Photo/Michael ConroyDaVaris Daniels committed to getting better this offseason. The results are showing already.
This was one way Daniels, Notre Dame's leading receiver, matured into the type of offensive linchpin the Irish were seeking after saying goodbye to first-round picks Michael Floyd and Tyler Eifert in consecutive years. Others on the checklist included fine-tuning route-running, becoming a better blocker and bringing a consistent work ethic to the field every single day.
Early returns have been positive, with Daniels hauling in two fourth-quarter touchdown passes on consecutive plays last week in a tight win at Purdue. He has 17 receptions this season for team bests of 299 yards and four touchdowns, or four more than he scored during last year's redshirt freshman campaign, his first year of college action. That season concluded with a national title-game rout courtesy of Alabama and its top-ranked defense, though it also served as something of a coming-out party for the 6-foot-1½, 203-pound receiver.
Daniels had six catches for a game-high 115 yards against the Crimson Tide. But whatever that did for his confidence paled in comparison to the humiliation of a 42-14 defeat.
So he went back to work. Being able to run a 4.5 40 and leap upward of 40 inches was one thing; harnessing those gifts into production was still quite another.
There were the summer workouts with teammates back home. There was rooming with Rees during camp, the nightly picking of his starting quarterback's brain about where to be on certain routes and how to make their timing more crisp. He learned how to use his hands better off the snap, making life harder for the corners matched up with him daily in practice.
All of this in the name of fulfilling all of that untapped potential.
"He's two-quarters of the way," coach Brian Kelly said. "He needs to be four-quarters of the way."
He is aware.
KeiVarae Russell
recalls Daniels telling him a year ago about his desire to become one of Notre Dame's greatest receivers ever.
"I was like, 'I don't doubt you. I think you will,' " the sophomore cornerback said. "So far it's shown. You can see it's totally different from last year. Last year he didn't even have one touchdown. He played a great role last year but didn't have one single touchdown. He has four in three games. You can see the difference. That shows."
His quarterback, having gone to high school just 10 miles away, knew the kind of athlete he was getting when Daniels came aboard two years ago.
"I remember playing him in a summer league basketball game the summer going into my senior year," Rees said. "We actually won, but he had, like, a tip-slam over a guy, and it was just kind of, 'Not many guys could be out here doing that.' "
In the past two years, Daniels' father, former NFL defensive lineman Phillip Daniels, had seen a mindset that belied that athleticism. Playing in a wing-T offense in high school and adjusting to a redshirt year in college slowed the learning curve some.
Now, Phillip says, DaVaris simply isn't thinking so much anymore. Mastering the basics of the craft has turned one of the nation's top prep receivers into a guy who could very well be on his way to becoming one of the nation's elite college wideouts.
"He had to learn little things as a receiver," Phillip Daniels said. "I think because he's learning all that stuff, and learning the plays and how to play the position, it's slowing down for him. It's not running through his mind at 100 miles per hour, and he can play football."
November, 11, 2012
11/11/12
12:43
AM ET
CHESTNUT HILL, Mass. -- Wide receiver
DaVaris Daniels
is expected to miss at least the rest of the regular season after suffering a shoulder injury during Notre Dame's
21-6 win
Saturday night over Boston College.
Daniels' father, former 15-year NFL player Phillip,
tweeted in two
separate posts
that the Irish will be without DaVaris for a little while and he could return for the bowl game.
Good win by the #Irish but we will be without DaVaris for a little while. Keep him in your prayers. #GoIrish

— Phillip Daniels (@PhillipDaniels) November 11, 2012
DaVaris will get healthy and be back for bowl game. Headed to the hotel to order some things to help with the healing. #SpecialRemedy

— Phillip Daniels (@PhillipDaniels) November 11, 2012
Daniels' left shoulder was in a sling after the game. Coach Brian Kelly said that Daniels suffered a shoulder injury and would be evaluated.
Daniels came down hard in the end zone on a third-quarter deep ball that fell incomplete.
He was taken to the locker room afterward. His replacement,
John Goodman
, caught an 18-yard touchdown pass on the same drive.
Daniels has 25 catches this season for 375 yards.
November, 8, 2012
11/08/12
9:30
AM ET
SOUTH BEND, Ind. --
DaVaris Daniels
had to stop himself.
The redshirt freshman receiver knows more lucrative days likely await him and some of Notre Dame's other younger players, and yet it's hard to do much better than his team's 9-0 start in his first year seeing the field.
"We talk about [that] this is ... we don't want to say the future," Daniels said, "but we've got to step up and make plays for the team, for all the seniors on the team and everybody. So we kind of take on that 'count on me role' as young guys and kind of run with it."
Two of those first-year players accounted for the biggest play in Saturday's win, Daniels staying active deep and winning a 45-yard jump ball from
Everett Golson
after the other redshirt freshman found himself scrambling on the first play of a game-tying drive.
[+] Enlarge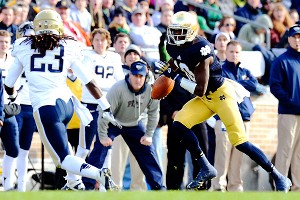 Mike DiNovo/US PresswireReceiver DaVaris Daniels is finding that his redshirt season, and plenty of practice, are paying off.
Daniels hauled in career bests of seven catches for 86 yards in the victory over Pitt and is just starting to scratch the surface after a season on the sideline, one that he now sees the benefits from -- the biggest of which probably remain ahead of the No. 4 Irish.
"I think they've gotten more confident with each other," his father, former NFL defensive lineman Phillip Daniels, said of DaVaris and Golson. "DaVaris will run the right routes, get open and [Golson] will find DaVaris and throw him the ball, so I think they're going really well. And for them to have the season they're having right now, an undefeated season, next year they'll go out and play and have the confidence to do the same thing."
Team combine testing before this past spring revealed a player with a 4.5-second time in the 40-yard dash, a 10-foot, 5-inch broad jump and a 38-inch vertical, though Daniels' father has said his son has leapt 41.5 inches before.
Ask anyone about the 6-foot-2, 190-pound Daniels, and all signs of his breakout point to a talent now understanding what it takes to succeed every day on a national title contender.
"His blocking has gotten a lot better," receiver
Robby Toma
said. "He's getting in there, he's throwing his body around there to try to protect his guys. It really shows when we watch film, and he's grown a lot."
Added coach Brian Kelly: "When he goes and runs his routes, he's pretty difficult to defend. Then when he doesn't think he's getting the ball, it's one of those things he is learning every week about how to be that elite receiver in the BCS. It requires practice preparation, it requires the attention to detail, all those things, and he's starting to get there."
Daniels got a head start on such improvements from NFL Films clips his father would show him as a kid, with highlights of Isaac Bruce and Reggie Wayne serving as inspiration.
Right now better footwork and diversified route-running have helped give way to a deep threat for an offense still opening up the playbook, and a 23-catch, 353-yard debut campaign that was slowed early on by an ankle injury looks to be taking shape at just the right time.
"I think it's just learning," Daniels said of his progress. "You shouldn't expect to be completely open in college football, very rarely does that happen. Going up, getting contested balls is something that I've practiced over the last couple months -- it just happened in a game and I'm happy it's happening."
March, 27, 2012
3/27/12
9:00
AM ET
SOUTH BEND, Ind. — There were times when Phillip Daniels would exit the home locker room at Soldier Field and see his son, DaVaris, waiting outside in tears because the Chicago Bears lost. There were times when DaVaris would get so mad following defeat after defeat to Phillip in "Madden" that father eventually let son win.
"I never told him that, to this day -- he'll probably read about it now," Phillip, veteran of 15 NFL seasons, said with a laugh. "He'd win and jump to celebrate and I'd laugh at him. But when I beat him, man, I realized, I knew I couldn't win. My wife's like, 'Let him win.'
"I'm a competitor, too. I wanna win at everything. But every time we played I'd lead him in the fourth quarter and then let him win, but I never told him that."
Notre Dame is hoping that competitive nature from
DaVaris Daniels
translates to the field this fall, as he will have the chance to line up in one of the many spots that
Michael Floyd
occupied for the Irish the past four seasons. The big shoes to fill -- coupled with lofty praise from head coach Brian Kelly -- has increased expectations around the sophomore-to-be, a receiver who has yet to play a snap in college.
[+] Enlarge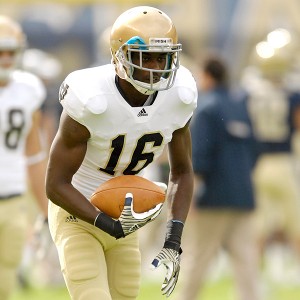 AP Photo/Cal Sport MediaExpectations are high for DaVaris Daniels before the sophomore has even played a down.
"I think we're all just kind of taking it one day at a time; this is a new offense with new players," Daniels said. "You can't really live up to what Floyd did in his years here in one year. Floyd was a great player, don't get me wrong — I could see why everybody was kind of freaking out about him leaving. But we've got good players here, somebody's gonna fill the void and we're all doing a good job so far this spring."
Daniels said he had been used all over the field through the first week of spring practice, and he said it was tough at first not playing during his freshman year, when he admitted he ran the wrong route on what seemed like "every other play."
His father said the year on the sideline was for the best, especially with a record-breaking wideout like Floyd ahead of his son. A Vernon Hills, Ill., native, the younger Daniels said he hopes Floyd, likely a first-round pick during next month's draft, ends up with the Bears.
"Floyd, the main thing that he said is you gotta work hard, and he's like the epitome of, anything that you thought working hard was, that's what he did," Daniels said. "That's what he left me with, that's a part of his game that I think I'm trying to develop into mine."
Phillip, now the Redskins' director of player development, echoed his son's sentiments that no one can replicate Floyd's body of work in one season, and he cautioned that his son and Floyd are different receivers with different body types. (Floyd was 6-3, 224.)
A former defensive end, Phillip stands 6-foot-5 and weighs more than 300 pounds. DaVaris, at 6-2 and 190, is thankful he does not line up on the same side of the field that his father did, for fear of his criticism.
DaVaris said he first beat his father in a race when he was 11 or 12. Phillip -- who played for the Redskins, Bears and Seahawks -- confessed to being the less athletic of the two, saying his son can run circles around him.
Irish offensive coordinator Chuck Martin said DaVaris passes the eyeball test and has the look of a future NFL player, joking that he wishes he had been cut from the same cloth.
"I'm still pissed at my dad when I look at DaVaris' dad," Martin cracked. " 'I love you, Dad, but you don't look like Phillip Daniels. I could've been somebody.' "
Kelly raved last week about Daniels' performances in team testing. The receiver said that he ran the 40-yard dash in 4.5 seconds, did 10 feet, 5 inches in the broad jump and jumped 38 inches in the vertical, though his father said DaVaris has jumped 41.5 inches in the vertical before.
"His numbers are off the charts," Kelly said. "In terms of vertical jump he tested comparable to a number of the wide receivers at the NFL combine. He's got great numbers. Now, those are numbers. He hasn't done anything. He hasn't caught a pass in a game, hasn't caught a touchdown pass.
"So we know he's got the physical ability. Now we've got to be able to see that translate, and it's time for him to do it. We were able to move him slowly last year, it's time for him to go, and this spring will be that opportunity, and we all feel very confident in his ability to come in and impact our offense."
Daniels was seen with the second-team receivers early in the Irish's first spring practice Wednesday, the first half-hour of which was open to reporters. A leg injury kept him out of practice Saturday, but both Kelly and Phillip said it was more of a precautionary measure, and he is expected back this week.
Learning all three receiver positions, Phillip said, will be crucial for DaVaris, who is looking to seize the opportunity this offseason and carve out a name -- among both Irish receivers and his family -- of his own.
"God-given ability, and he's an awesome kid," Martin said when asked what stands out about Daniels. "He's an awesome kid from an awesome family. He's a fun kid to be around. All the things that it takes to be a great one -- he might have it just naturally or we gotta get it out of him. He can run, he can jump, he can catch, he's smart. OK, I'll work with that guy."
March, 20, 2012
3/20/12
10:30
AM ET
Our series continues today with wide receiver, where Notre Dame looks to replace arguably the best to ever play the position in blue and gold.
OUT: Michael Floyd.
Floyd rewrote the record books during his time in South Bend, Ind. He finished his senior season with 100 catches for 1,147 yards and nine touchdowns, none more impressive than his final grab, a 5-yard score in the Champs Sports Bowl that he juggled while absorbing a pair of hits from Florida State defenders. Those blows knocked him out of the game and several ensuing pre-draft showcases with an upper body injury. All healthy now — and with the troubles from three alcohol-related brushes with the law seemingly behind him — Floyd will likely hear his name called on the first day of the NFL draft following a Notre Dame career that featured school records in receptions (271), touchdown receptions (37) and receiving yards (3,686). He was also the team's 10th two-time MVP.
IN: DaVaris Daniels, Justin Ferguson.
It would be unreasonable to expect anyone to perform to the standard of someone with multiple school records, let alone expect someone who has never played a down of college football to do it. But Daniels, who redshirted as a freshman, and Ferguson, an incoming recruit, certainly have the tools to earn significant playing time early in 2012. The 6-foot-2, 185-pound Daniels, the son of former NFL defensive end Phillip Daniels, was one of the top players in the state of Illinois and an Under Armour All-American while at Vernon Hills High School. Ferguson, a 6-foot-2, 205-pounder from Flanagan (Fla.) High School, was ESPNU's 85th-best player in the Class of 2012. The loss of
Deontay Greenberry
to Houston on national signing day hurts this unit, which could have used the four-star prospect's explosiveness early on.
February, 22, 2012
2/22/12
3:00
PM ET
Top Position Battles Heading In To Spring