Notre Dame Football:

Pittsburgh Panthers
July, 26, 2012
7/26/12
10:30
AM ET
Week 9
: Nov. 3 vs. Pitt (at Notre Dame Stadium in South Bend, Ind.)
Time/TV
: 3:30 p.m. ET, NBC
Series
: Notre Dame leads all-time, 46-20-1
2011 record
: 6-7 (4-3 Big East; tied fourth place)
Head coach
: Paul Chryst (first year)
Returning starters
: Offense: 8; defense: 4; kicker/punter: 2


Top returners
QB
Tino Sunseri
, RB
Isaac Bennett
, RB
Ray Graham
, WR
Devin Street
, OG
Chris Jacobson
, DT
Aaron Donald
, LB
Todd Thomas
, S
Andrew Taglianetti
, S
Jason Hendricks
, S
Jarred Holley
, CB
K'Waun Williams
Key losses
DE Brandon Lindsey, DT Chas Alecxih, DT
Myles Caragein
, LB Max Gruder, CB Antwuan Reed
2011 statistical leaders (*returners)
Rushing
: Ray Graham* (958 yards)
Passing
: Tino Sunseri* (2,616 yards)
Receiving
: Devin Street* (754 yards)
Tackles
: Max Gruder (116)
Sacks
: Aaron Donald* (11)
Interceptions
: Jarred Holley*, K'Waun Williams*, Chas Alecxih, Brandon Lindsey, Andrew Taglianetti*, Todd Thomas*, Jason Hendricks*, Carl Fleming (1)
Three questions for ...
Big East blogger Andrea Adelson:
With four head coaches in three years, it is safe to say that the Panthers' program has been far from stable. How will the team benefit from Paul Chryst's simplified approach in his first year at the helm?
Andrea Adelson:
I think the potential is there for this team to stabilize itself in Year 1 for one big reason: Chryst likes to run the football, and Pitt has been a very traditional running team. Blue-collar, as they say. Last year under Todd Graham was an entire departure not just from the identity of Pitt football, but from the identity of Pittsburgh itself. Pitt has some quality running backs, so I think a emphasis on the ground game is much needed for the Panthers to return to any sort of normalcy.
It seemed like Tino Sunseri took the brunt of the criticism from all corners whenever things fell flat on offense last year. What does he need to do this year to make it all go away and become an effective leader on offense?
AA:
Great question. Believe it or not, Sunseri is going into his third season as the starting quarterback despite being roundly criticized for all three seasons. I think going away from the spread hurry-up will help him. He never really got the timing down, and was sacked many times because he just wouldn't get rid of the football. Getting more of a run-heavy, play-action attack is certainly going to help him. He just has to manage the game and limit all his mistakes, something he failed to do a season ago when he had more interceptions (11) than touchdown passes (10).
The defense is undergoing a bit of a makeover, especially in the front seven. How creative will new coordinator Dave Huxtable have to get to turn this into a solid unit?
AA:
Well he has an excellent secondary, with some pretty good depth at safety. So perhaps that means he can take a few more risks up front, or feel more comfortable playing man. The front seven is a big concern, particularly the defensive line. Aaron Donald returns after getting 11 sacks a year ago, but he moves inside. Besides him, there is little in the way of experience. But I will say that Huxtable did some great things with the defensive line when he was UCF defensive coordinator. I watched him turn undersized Bruce Miller into the C-USA Defensive Player of the Year. UCF traditionally played very well against the run, so that has to be encouraging for Pitt fans. Plus, a return to the traditional 4-3 will definitely serve this team better because it lacks depth and playmakers at linebacker.
June, 18, 2012
6/18/12
4:00
PM ET
Notre Dame's 2012 schedule has been dissected, dissected again and dissected some more. And we're still more than two months away from the season actually beginning.
So, we'll change things up a bit today, with the help of The Oklahoman's Berry Tramel, who
ranked nonconference schedules among BCS conference teams
.
Here are where the Irish's upcoming opponents rank, with yours truly adding their conference slates.
1) Michigan:
Alabama at Arlington, Texas; Air Force, Massachusetts, at Notre Dame. Now that's a schedule. Hail to the victors. One dud game out of four. Hey, Wolverines, you make 1973 proud.
Big Ten opponents: at Purdue, Illinois, Michigan State, at Nebraska, at Minnesota, Northwestern, Iowa, at Ohio State
3) Miami:
at Kansas State, Bethune-Cookman, Notre Dame at Chicago, South Florida. Super, super schedule. USF is only the third-best nonconference game.
ACC opponents: at Boston College, at Georgia Tech, North Carolina State, North Carolina, Florida State, Virginia Tech, at Virginia, at Duke
4) Michigan State:
Boise State, at Central Michigan, Notre Dame, Eastern Michigan. Wow, home games against Boise State and Notre Dame. The Spartans also host Ohio State, Nebraska, Iowa and Northwestern. That's a season ticket.
Big Ten opponents: Ohio State, at Indiana, Iowa, at Michigan, at Wisconsin, Nebraska, Northwestern, at Minnesota
9) Pitt:
Youngstown State, Virginia Tech, Gardner-Webb, at Buffalo, at Notre Dame. The Panthers have to feel a little deprived. They keep losing traditional rivals. Penn State won't play anymore. The Backyard Brawl with West Virginia is on hold until conference realignment settles down.
Big East opponents: at Cincinnati, at Syracuse, Louisville, Temple, at Connecticut, Rutgers, at South Florida
11) USC:
Hawaii; Syracuse at East Rutherford, N.J.; Notre Dame. You can always count on the Trojans for quality entertainment.
Pac-12 opponents: at Stanford, California, at Utah, at Washington, Colorado, at Arizona, Oregon, Arizona State, at UCLA
20) Boston College:
Maine, at Northwestern, at Army, Notre Dame. This schedule would rank No. 1 in the Big 12.
ACC opponents: Miami, Clemson, at Florida State, at Georgia Tech, Maryland, at Wake Forest, Virginia Tech, at North Carolina State
22) Stanford:
San Jose State, Duke, at Notre Dame. The quality is starting to thin.
Pac-12 opponents: USC, at Washington, Arizona, at California, Washington State, at Colorado, Oregon State, at Oregon, at UCLA
24) Wake Forest:
Liberty, Army, at Notre Dame, Vanderbilt. If anyone had reason to dumb down a schedule, it's Wake. But this is smart and solid.
ACC opponents: North Carolina, at Florida State, Duke, at Maryland, at Virginia, Clemson, Boston College, at North Carolina State
27) Oklahoma:
at UTEP, Florida A&M, Notre Dame. Play a real game, like the Fighting Irish, and you zoom to the top of the Big 12 list.
Big 12 opponents: Kansas State, at Texas Tech, Texas, Kansas, at Iowa State, Baylor, at West Virginia, Oklahoma State, at TCU
43) Purdue:
Eastern Kentucky, at Notre Dame, Eastern Michigan, Marshall. Notre Dame saves the day.
Big Ten opponents: Michigan, Wisconsin, at Ohio State, at Minnesota, Penn State, at Iowa, at Illinois, Indiana
My takeaway
: Notre Dame's opponents don't necessarily have the easy road, either. That's three opponents in the top four of tough schedules, four in the top-10 and six in the top-20. Two of those teams, Miami and Pitt, don't necessarily walk into this fall with the expectations of Notre Dame and some of the Irish's other high-profile opponents.
Let's also not forget that a number of these teams (particularly Michigan, MSU, USC and Stanford) have realistic chances of winning their divisions, which would give them another pre-bowl game against a top-notch opponent. Navy and BYU, of course, were not included on Tramel's list, as they are independents.
Look at the body of work of each of these schools and compare them to the week-in, week-out slate that Notre Dame is faced with. Do the Irish still have the most difficult road? My quick response is yes, as even the toughest schedules, like Michigan's and Miami's, still feature cupcakes like UMass and Bethune-Cookman, which offer more of a break than anything the Irish face this fall.
I'm looking forward to hearing from you guys on this subject. Which schedule is the toughest? Why?
Drop me a note in the mailbag
and I'll run the best responses here.
October, 28, 2011
10/28/11
9:00
AM ET
Thanks to the fine folks in Notre Dame's sports information department for these stats:
Notre Dame and Navy will play for the 85th consecutive year Saturday, the longest continuous intersectional rivalry in the nation. Notre Dame holds a 71-12-1 edge but has lost three of the past four meetings, including the last two at home.
Navy is looking for its first-ever three-game winning streak against the Irish.
Notre Dame has allowed zero sacks in its past 133 pass attempts, since the third quarter of Week 4 at Pitt.
Tyler Eifert's 39 catches are most among FBS tight ends. His 429 receiving yards are second.
Jonas Gray's 8.5 yards per carry is on pace to break George Gipp's school record of 8.1, set in 1920.
October, 21, 2011
10/21/11
10:00
AM ET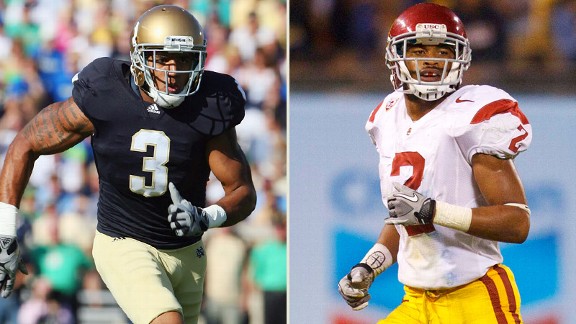 US PresswireCan Michael Floyd and Notre Dame make it two in a row against Robert Woods and USC?
USC-Notre Dame, the nation's best intersectional rivalry, kicks off for an 83rd time on Saturday in South Bend under the lights, and it feels like the Trojans' recent dominance might be at an end.
The Fighting Irish won a tight one, 20-16, last year in the Coliseum, ending an eight-game Trojans' winning streak. While Notre Dame got off to a slow start, it seems to have righted the ship in Year 2 under Brian Kelly. Meanwhile, USC, though 5-1, has as many questions to answer as it plays through its second year under coach Lane Kiffin, yoked with NCAA sanctions, including a postseason ban.
Seems like a good time to check the pulse of the rivalry, so the Pac-12 blog and Notre Dame blogger Matt Fortuna decided to have a little intersectional chat.
Ted Miller:
Matt, there were high expectations to start the season for Notre Dame. Things got off to a slow, and sometimes controversial start -- see Kelly getting red-faced with rage on the sidelines -- but things seem to be on the uptick. First, why did the Irish struggle and, second, what are they doing better now?
Matt Fortuna:
Ted, I think my face would have also turned a couple different colors had I been in charge of this team at the beginning of the season. Ten total turnovers, two quarterbacks and a fourth-quarter collapse at the Big House made this team a must-watch ... for everyone but Irish fans. I'm not convinced we would have seen such complete performances in recent weeks without the sting of those early defeats, though. The defense really took an edge with it, both into press conferences and into games, and it has helped set the tone for a team that knows it cannot afford to slip up any more this season. Offensively,
Tommy Rees
has continued to clean up some sophomore mistakes and the running game is better than anyone could have possibly hoped for at the beginning of the season.
I'm curious about how the Trojans see this rivalry. I know Lane Kiffin called last year's defeat his toughest as a head coach, but then he referred to this game as the Irish's Super Bowl because it comes after a bye. Did last year's game really re-charge this rivalry, or does USC look at that as an aberration to what has pretty much been a one-sided contest for the past decade?
TM:
Well, if USC sees last year as an aberration it may be alone. What a lot of folks see is a re-energized Notre Dame program that finally hired a good coach -- big fan of Brian Kelly here, red face or not -- while the Trojans are about to negotiate the loss of 30 scholarships combined over the next three recruiting classes due to NCAA sanctions.
The feeling in Heritage Hall is they blew last year's game and would have won if QB
Matt Barkley
had played. But woulda, coulda, shoulda, you know? The Trojans have no excuses this year. They have yet to be hit by scholarship reductions. While they got killed last year by transfers, they've had a year to adjust to their new personnel. What I suspect USC fans might see is their best chance to notch a win -- at Notre Dame, no less -- during a period when the Irish look to be rising and the Trojans sagging. Further, with no postseason chances -- also due to NCAA sanctions -- this big rivalry game away from home almost functions as a midseason bowl game.
So I think USC is taking this one very seriously.
I've been hearing about how much better the Notre Dame defense is. What do you think the Irish have planned for Barkley and wide receiver
Robert Woods
, who had an off-game against California and figures to be highly motivated this weekend?
MF:
In Week 4
Michael Floyd
was held to just four catches at Pitt. He responded with a 12-catch, 137-yard performance at Purdue. I think the Irish have that in mind and understand that whatever Cal did to contain Woods this past week, there really is no blueprint for shutting down an elite receiver like that.
Going off the woulda, coulda, shoulda theme, this defense has been very good for 23 of 24 quarters this season, with the fourth-quarter collapse at Michigan being the lone --- albeit gigantic -- blemish. Manti Te'o, who once looked like a sure thing to attend USC, may just be the best inside linebacker in the country, and the rest of the front-seven has been outstanding against the run. The secondary is less established, which is why I think getting to Barkley early and often will make life a lot easier defending the passing game.
OK, prediction time. Who do you got, Ted?
TM:
The Trojans believe Matt Barkley will be the difference this go-around. I don't. I think the Notre Dame defense will do enough to contain him and receiver Robert Woods and the Trojans' inconsistent rushing attack. And the Irish defense looks superior to USC's, which has continued its mediocrity in year two under Monte Kiffin.
So I'm picking the Irish, 28-24.
What about you?
MF:
I think the Trojans have enough offensive firepower to stay within striking distance, but I don't think their defense, despite its progress at Cal, will be able to contain Notre Dame's offense, which was on a tear before the bye week.
I expect more of the same from the Irish this Saturday, and I'm picking them to win, 35-24.
October, 20, 2011
10/20/11
3:00
PM ET
SOUTH BEND, Ind. -- On USC's second offensive play this season,
Robert Woods
ran a curl route, hauled in a 9-yard pass and was hit by Minnesota's Troy Stoudermire, who jarred the ball loose.
Woods, doing his best David Tyree impression, simply snatched the ball with his right hand and pinned it to the back of his helmet while falling out of bounds. He got up, pigskin secured in his palm, and handed the ball back to the official.
On Notre Dame's first play in Week 4,
Michael Floyd
ran a drag route, had a pass bounce off his right shoulder at the line of scrimmage, absorbed a hit, tipped the ball in front of him with his left hand before securing it and then left Pitt's
Tristan Roberts
behind for an 11-yard gain and a first down.
[+] Enlarge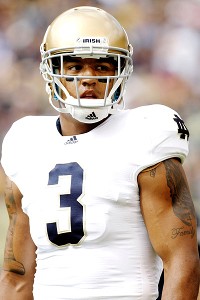 Charles LeClaire/USPRESSWIRE"He's fast and he's really elusive and breaks tackles a lot and can see the whole field," Michael Floyd said of Robert Woods,
The potential for those kind of jaw-dropping plays will be high this Saturday, when Woods and Floyd take the field under the lights in what will be a showcase of two of the college game's best receivers.
"He's fast and he's really elusive and breaks tackles a lot and can see the whole field," Floyd said of Woods, "which makes him a good football player and also a great wide receiver."
Woods' 60 catches and 783 receiving yards are good for second and fifth in the nation, respectively. Floyd's 53 catches for 639 yards rank eighth and 13th.
"Not easier, but yeah, it helps a lot," Gary Gray said of facing Floyd every day in practice. "Floyd's one of the best receivers in the country, so whenever I get a chance to go against him I go against him every day, so it helps me out a lot."
Floyd has broken virtually every school receiving mark through six games of his senior season. Woods, only a sophomore, looks poised to do the same for USC.
In fact, through five games, Woods appeared headed for a few national receiving marks as well. His 14-catch, 255-yard performance in a win over Arizona had him atop the national statistics and on pace or within striking distance of several single-season records.
After an uncharacteristic five-catch, 36-yard game against Arizona, he may have to settle for USC's single-season catch record of 102, set by Keyshawn Johnson.
"I would say that he's got a unique ability to run fast and catch," defensive coordinator Bob Diaco said. "He's got not only long-speed but short-space quickness. So he can get open based on speed just in tight quarters. He can also gas it past you. And then he's got something very unique to the position. He has tackle-break ability.
"So not just make you miss, but he's got tackle-break ability. He's got a violent strong stiff arm. He's a leg-drive player. He's got contact balance. He can give with impact and continue to gas it."
Floyd had one blemish through six games as well, grabbing just four passes for 27 yards at Pitt, and the low numbers suggested the Panthers possibly developed a blueprint for stopping him.
A 12-catch, 137-yard performance a week later at Purdue proved otherwise, and Irish cornerbacks coach Kerry Cooks won't count on one bad performance signaling the slowing down of Woods, either.
"Cal looked like to me like they just played their defense," Cooks said. "I didn't see a lot of brackets, I didn't see a lot of double-teams, and USC, they took their shots down the field and they made a lot of them and Cal came up with a few of them. But they didn't do anything special. As you review the tape I think again, they make it so hard to put in certain coverages because if you try to double Woods then they're gonna go backside to Marquise Lee.
"Their tight ends are guys that can stretch the field. They've got capable running backs back there. So again there's no magical coverage, we've just gotta be sound in what we do."
Cooks said seeing Floyd every day can help prepare his cornerbacks, but acknowledged he is a different receiver from Woods, who is 44 pounds lighter and two inches shorter than the 6-foot-3, 224-pound Floyd.
Regardless, the capabilities of Woods and Floyd are enough to give defensive coaches headaches in the days before facing either one.
"He'll line up as a running back, he'll line up as a fullback, he'll line up as a tight end," Cooks said of Woods. "They move him around, so you can't really get a beat on him to where you'd like to be able to run some combination coverages and maybe potentially bracket the guy. You can't do that. He's at the No. 1 spot, he's at the No. 2, he's at the No. 3. He's at the fullback spot. So they do an excellent job of moving him around, and obviously his play-making ability when he has the ball in his hands is exceptional."
October, 16, 2011
10/16/11
5:00
PM ET
LINEBACKERS
Grade:
A

Summary:
Manti Te'o may just be the best inside linebacker in the country, and his team's unit clearly takes on his identity. Te'o leads the team in tackles, tackles for loss and sacks, all while rarely receiving a breather. But there is much more than Te'o. Darius Fleming has made the most of his senior season, responding to many public and private challenges from Brian Kelly and seemingly elevating his performance with each passing week. Prince Shembo's speed has been, at times, just ridiculous, particularly when he ran down Pitt's
Ray Graham
on a 42-yard run that looked like it could have gone all the way. The Dan Fox/Carlo Calabrese experiment has continued to develop nicely as well. You can even throw Jamoris Slaughter in here as well, as the safety moved up against Air Force and forced two turnovers in the rout.
There is little for Irish fans to complain about with their team's front-seven, which has been ruthless against the run and has continued to make life difficult for drop-back passers. A big challenge comes in two weeks against Navy, though, at this point, it is difficult to imagine the nation's top rushing attack having its way after the way Notre Dame's linebackers have looked through the season's first six games.
The backups:
Danny Spond has been derailed by a hamstring injury for much of the season, and freshman Troy Niklas did a solid job in his place in Week 3, when Shembo was a last-minute scratch due to a family emergency. Niklas, just a freshman, has earned the nickname "Hercules" from some teammates for his stature, and he will give Irish fans plenty to be excited about in the coming years as well. Freshman Ishaq Williams has seen extensive time as well and will continue to grow.
Previous report cards:
Quarterbacks
Defensive line
Offensive line
September, 28, 2011
9/28/11
9:00
AM ET
SOUTH BEND, Ind. -- Two weeks ago, Brian Kelly said Darius Fleming's play had been good but not great.
A week later, Kelly called Fleming's Week 3 performance against Michigan State his best of the year, while offering a caveat.
"It's one time an accident," the second-year coach said, adding, "Twice, you know, now you're trending in the right way. Hopefully we'll see it again."
[+] Enlarge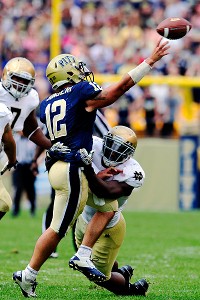 Jeanine Leech/Icon SMIDarius Fleming recorded two sacks and provided plenty of pressure on Pitt quarterback Tino Sunseri.
Fleming did what he could to make that great play a trend Saturday at Pitt, recording two sacks, three tackles for loss and one quarterback hurry.
Kelly simply re-set the bar again.
"Two sacks one weekend," Kelly recalled telling Fleming. "Are you a real player? You need two more next week."
Fleming, a senior from Chicago, has nine tackles in his past two games. Playing the "cat" linebacker spot in defensive coordinator Bob Diaco's 3-4 scheme, Fleming has had his work cut out for him both dropping into coverage and rushing the signal caller.
And he's had someone in his ears every step of the way.
"That's something that I like," Fleming said of the high bar set for him. "The coaches do a great job of that and they let me know depending on who I'm playing or what they're doing in the scheme they expect certain things out of me. And if I don't succeed in doing that then they'll give me crap for it and I'll be disappointed in myself."
His own toughest critic, Fleming heard praise from his mother Saturday following Notre Dame's win at Pitt.
"But then my uncle got on the phone," Fleming said.
His uncle, also named Darius, kept track of every play and told him his performance wasn't all that special.
"I always need that person that's gonna tell me to continue to get better," Fleming said. "It's not always good to have someone just saying, 'You did great, you did your job even though you lost, you did what you're …'
"That's not gonna make the team better and that's not gonna make you better, so you always kind of need that guy that's kind of gonna give you the negative at the same time."
Fleming has had no shortage of those with the Fighting Irish. He said Kelly was all over him during Saturday's game despite the big performance, and both Kelly and Diaco often tease him in practice with challenges or comments to light a fire under him.
So far, the strategy's been working.
"Those two sacks, that's what I expect every game," Fleming said. "And it's just a challenge for me every week to beat that. If I can get three then I expect four the next week. So it's just a challenge every week to just continue to get better and make those plays my team expects me to make."
September, 20, 2011
9/20/11
12:00
PM ET
Lots of strong stuff out there today. Let's get right to it:
Two early losses did not slow down Notre Dame's recruiting efforts, colleague Jared Shanker writes. Shanker also writes that the conference move of Pitt, the Irish's opponent this Saturday, has its recruits excited. (Insider)
Our Gene Wojciechowski goes over Notre Dame's options, among several other scenarios, in his take on conference expansion.
Yahoo! Sports' Dan Wetzel writes that Notre Dame should jump to the ACC.
Jack Swarbrick tells The New York Times' Pete Thamel that the Big East has enough core assets to hold the league together. The Times also has a fascinating study on this country's football fans, which includes Notre Dame being the nation's fourth-most popular team.
Irish women's hoops coach Muffet McGraw isn't worried about Notre Dame's future amid all the re-shuffling going on, Curt Rallo writes in the South Bend Tribune.
Pitt coach Todd Graham isn't apologizing for his offense's pace, former beat partner Jerry DiPaola writes in the Pittsburgh Tribune-Review. Also, former Notre Dame assistant Mike Haywood, hired as Pitt's head coach for all of 17 days, is suing Pitt for breach of contract.
I missed this one from last week, but Dickie V had a message for MSU alum Magic Johnson heading into Saturday's game. He correctly predicted Notre Dame's point total, too.
Notre Dame Uneven, Still Gets The Win
FBS INDEP. SCOREBOARD
Thursday, 9/11
Saturday, 9/13