Notre Dame Football:

Randy Edsall
September, 12, 2012
9/12/12
2:00
PM ET

The ACC had its weekly coaches' conference call shortly after the Notre Dame news broke. Here is a sampling of what some of the league coaches had to say about the addition of Notre Dame, which will play five games annually against ACC teams.

Frank Spaziani, Boston College: "We have a mutual respect for each other, an appreciation for each other. We understand what a great institution it is. So I think it's tremendous for our league and certainly for Boston College. We play them; now to be playing them in other sports, it's valuable. It's very valuable. … It's a marquee brand. I think any time you add a marquee brand to your established tradition and the wonderful stuff that you have, it enhances it."

Then a joke: "From our perspective, we play them every year. I thought they were in the ACC, to be honest with you."

Dabo Swinney, Clemson: "I'm sure they could have their pick of conferences, and for them to choose the ACC is, I think, a great thing. They're making a commitment to play five conference football games. Even though they're not going to be a football member right now, for them to make that commitment, I think that's very strong, so it's exciting. It further secures this conference's strength of schedule and moving forward as we get into the playoff scenarios. I think it's a real positive for the ACC."

Randy Edsall, Maryland: "Personally, yes I wish they were all in for football, but again, until I get all the information in terms of how those five games are going to be structured and is it going to be a home-and-home situation, or who are the five teams they are going to play. There's still so much information, but for the overall good of the league, it is a quality institution and a quality program."

Jim Grobe, Wake Forest: "It brings a lot of respect to our conference to have Notre Dame affiliated. Our game last year with them was probably the most exciting environment and fun night that we've had playing football. The problem is they're good and we had a chance late to tie it and go into overtime. We didn't get the job done; that was tough in the locker room after the game. But the excitement and the experience having Notre Dame come to town was fantastic."

Frank Beamer, Virginia Tech: "I think it's great for the ACC and great for Notre Dame. Both of us benefit ... helps us with the bowls in every way."

Al Golden, Miami, on the hope that Notre Dame becomes a full-time football member: "I think I share the sentiment of everybody: We'd love to have them. They represent all the things we represent in the Atlantic Coast Conference. I would hope it would be that at some point. I just think it's great, and I can't say enough about the leadership in our conference for what we've gotten done in the last year."
November, 11, 2011
11/11/11
4:00
PM ET
Thanks to all who stopped by for today's chat. For those who couldn't make it,
here's what you missed
.
Among the highlights:
Aaron (Chicago): A rather fitting weekend to be in D.C Matt. To the point...I can't stand Randy Edsall and the fact that his mediocre UCONN team pulled off a win from our poorly coached Irish at the time (cough...charlie weis...cough) i know they went to the BCS but they had 4 losses. But mostly how it seemed like he couldnt wait to get out of UCONN and coach somewhere else the last 2 years he was there. Does this failure of a season for Maryland mostly stem from his coaching?
Matt (2:13 PM): Aaron, I didn't like the way he exited UConn. I don't think anyone did. What I didn't like even more was Maryland letting Ralph Friedgen go after last season. How often do you see a guy win the conference coaching award get fired that year? Still, I wouldn't blame this season all on Edsall. He has had ridiculously bad luck with injuries (five season-ending, by my count).
Nick (internet): People are saying that Alabama should not be allowed to play for a National Championship since they didn't win their conference or division. Does logic like this not help independents like Notre Dame? How can you loss to the #1 team in the nation and be eliminated from National contention for not winning your division?
Matt (2:26 PM): Nick, I don't think it hurts Notre Dame. For what it's worth, I love me a defensive slugfest like the one Bama-LSU put on. And, to be honest, I'm not convinced Bama isn't the second-best team in the country, which, in theory, is the whole point of the BCS, to get the top two teams to play each other. That being said, they got a shot at home and blew it, and if there are other undefeated teams (in addition to LSU) at the end of the season, they deserve the chance more.
Dave (Detroit): Why does Notre Dame keep changing its helmet? I thought some things were sacred.
Matt (2:38 PM): Dave, I don't know about saaacred ... I do think there's something to be said for being one of only a handful of teams that anyone can identify based on jersey and helmet, and ND is certainly one of them. I like the new shiny helmets but don't like the idea that they have four different helmets this season. Then again, the players and recruits love them.
JR (Bloomington): Matt-If the Irish can get out early, and presumably force MD to punt often, do you see BK trying some new punt returners, possibly even Toma or Atkinson to see what they can do?
Matt (2:59 PM): JR, I think the Irish are who they are in that department. Not to downplay punt returns, and not to excuse them, because it's a bad situation, but we're going on 10 games into the season now without a legitimate answer. I don't expect any big changes. Maybe Floyd will finally get a returnable punt and we can see what he does. Also, I think Austin Collinsworth gets a fair shot at them next year as well.
Thanks for all the questions. Be sure to stop by again next week. Same time, same place.
November, 10, 2011
11/10/11
12:00
PM ET
Jorge Posada, you will be missed in pinstripes.
November, 9, 2011
11/09/11
7:01
PM ET
November, 9, 2011
11/09/11
12:00
PM ET
Welcome back, Steve Lavin.
November, 8, 2011
11/08/11
12:00
PM ET
That's Penn State from the Leaders Division, folks. Leaders.
November, 7, 2011
11/07/11
1:00
PM ET
Here's a look at the weekend that was for the Irish in their first-ever trip to Winston-Salem, N.C.:
The Good:
Notre Dame overcame a seven-point halftime deficit to beat Wake Forest 24-17. The Irish became bowl eligible and won their first-ever game under Brian Kelly after trailing at halftime.
Jonas Gray
and
Cierre Wood
combined for 179 yards on the ground and the Irish defense stifled Wake Forest's offense during the final 30 minutes.
[+] Enlarge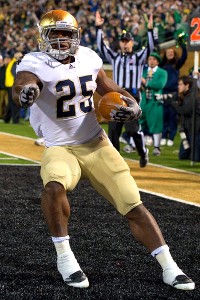 Matt Cashore/US PresswireJonas Gray added a touchdown to go with his 92 rushing yards against Wake Forest.
The Bad:
Notre Dame turned the ball over twice, most notably when Josh Bush intercepted a
Tommy Rees
pass off a flea flicker and returned it 54 yards, putting the Demon Deacons in position to tie the game. Ultimately, it went for naught.
The Ugly:
Braxston Cave left after the first play of the second quarter with a mid-foot sprain. Manti Te'o missed Wake Forest's final drive of the third quarter because of an ankle injury before re-entering the next series. Aaron Lynch left the game twice and has a lateral sprain. And, in the truly ugly department,
T.J. Jones
took a big hit and had a rough landing on a 6-yard catch in the third quarter, though, amazingly, he re-entered the game and is apparently doing better than his other three injured teammates.
Turning point:
Wake Forest was knocking on the door, down seven in the third with a second-and-goal following a huge interception return. Then Harrison Smith jarred the ball loose from
Brandon Pendergrass
and Gary Gray pounced on it, and the Irish came up with a huge turnover, stopping the Demon Deacons on what would be their best chance at tying the game in the second half.
Call of the day:
Going into nickel packages for a majority of the second half paid huge dividends for the Notre Dame defense, which did not allow a second-half point after giving up 17 in the first half. Jamoris Slaughter played the hybrid role for the Irish, replacing drop linebacker Prince Shembo.
Next up:
Notre Dame plays Maryland in what is technically an Irish home game at FedEx Field in Landover, Md. The Terrapins, in their first year under coach Randy Edsall, are an abysmal 2-7 this season, and just 1-5 in ACC play. They also
have a way with uniforms
.
November, 2, 2011
11/02/11
9:00
AM ET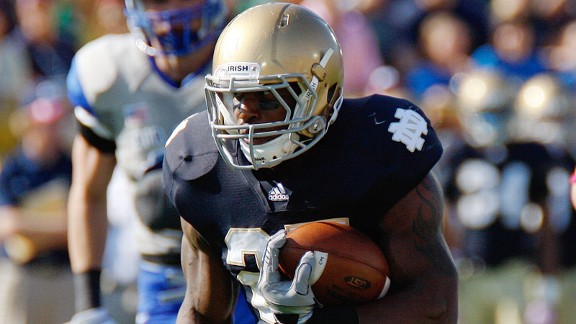 Matt Quinnan/Icon SMIJonas Gray and the Fighting Irish will get a taste of ACC action the next three weekends.
Before Notre Dame can get to its regular-season finale at Stanford, it has to get through the ACC.
The Irish's next three games are against Wake Forest, Maryland and Boston College. Two of the three are away from South Bend, but two of the three serve as Irish home games. (Confusing, we know.)
With the Irish 5-3 and set for confere ... er, ACC, play, Notre Dame blogger Matt Fortuna and ACC blogger Heather Dinich preview this week's matchup in Winston-Salem, along with the other two contests.
Matt Fortuna:
Heather, first off, what do you make of this Wake Forest team? It is tough to judge from the Midwest -- it beats FSU, gets rocked by UNC and Virginia Tech. Also, the decision to make this a night game struck me as interesting. Are the folks down there treating this one like their biggest home game of the season?
Heather Dinich:
Matt, there's no question the Deacs are taking this one seriously, especially after such a poor performance against North Carolina. What to make of Wake Forest? This is a much, much better team than the one that finished 3-9 a year ago. They're one win away from bowl eligibility and would like nothing more than to wrap that up this weekend against the Irish. Heading into this game, I thought Wake was overmatched, but now I think they'll make it an interesting game. With both teams at 5-3, are they more alike than many thought they'd be? It's hard to tell with such different schedules, but I think Notre Dame has the better win over Michigan State. Turnovers were a huge factor last week for the Deacs. Wake had turned it over just five times all season and then against UNC it had five turnovers. It was an uncharacteristic performance, to say the least. If the Deacs can take care of the ball and get the passing game going, they stand a chance. The bigger question to me is, are the next three weeks a foreshadowing of what's to come with Notre Dame and the ACC? What are you hearing out of South Bend?
MF:
Five turnovers in one game? No kidding, they really are alike. As for your question, Notre Dame will strive to remain independent in football at all costs. Right now I think the Irish are content to watch the dominoes fall in front of them until they are forced to make a move. If that time does come, however, I do think the ACC would be its best bet. For one, Notre Dame would be marginalized in the Big Ten, serving as just another regional power along with Michigan, Nebraska, Ohio State and Penn State. In the ACC it can still expand its recruiting bases from as South as Florida to as North as New York and Boston. Mike Brey, the men's basketball coach, has stated his preference is to remain somewhere East if Notre Dame is forced to move. Also, it is pretty funny that, in addition to this slate of games, the Irish have already traveled to future ACC member Pitt this season, and they currently seem bound for the Champs Sports Bowl, where they would face another ACC school. That would be five out of 13 games this season against current or future ACC schools, for those keeping count at home. While we're at it, Heather, who do you think looks like Notre Dame's likely bowl opponent should it find itself in Orlando?
HD:
Right now I've got Florida State heading to the Champs Sports Bowl, Matt, and it seems like the most likely scenario. That would be a great matchup of two traditional programs, but let's stick with the ones we know right now. Heading into this season, I predicted the ACC would strike out against the Irish with an 0-3 record. I still don't see BC winning at Notre Dame on Nov. 19, considering what a dreadful season it's been for the Eagles, and if BC isn't going to get the W, there's no reason to think Maryland can, even though that game is a virtual home game for the Terps in FedEx Field in Landover, Md. Maryland can't even fill its own stadium, though, let alone a pro venue, and the Terps just lost at home to Boston College. It's been a rough first season for Randy Edsall. So, it looks like the Deacs are the ACC's best hope at picking up a W against Notre Dame, at least from my perspective. What are you predicting the Irish do against the ACC in three games?
MF:
I'm with you, Heather. I just cannot see Maryland or Boston College beating Notre Dame, making Wake the favorite among the ACC teams to do so. Even then, the Deacs are clearly overmatched and will have a tough time keeping up with the Irish on both sides of the ball. I circled this one as a potential upset when making second-half predictions a little more than three weeks ago, but Wake has done little since (its only win was over Duke ... by 1) to convince me it can pull off the victory. Who do you got?
HD:
I'm sticking with my preseason prediction, Matt, and going with the Irish. I'll leave the score for tomorrow's predictions post, but I just don't see Wake Forest beating Notre Dame's offensive line or slowing down that running game. Notre Dame's offense line averages 305.6 pounds. Wake Forest's undersized D-line checks in at an average of 247.5. No wonder
Jonas Gray
is averaging 8 yards per carry, and the Irish didn't allow one sack in October. And of course, they've got one of the top linebackers in the country in Manti Te'o. Wake Forest will correct a lot of the mistakes it made last week against North Carolina, but it will come up short in a close game. Since you're the visitor to ACC country, though, I'll give you the final word.
MF:
Not sure if that qualifies as southern hospitality, but it is appreciated nonetheless. I expect Gray to have a huge game as well. He's a guy who had zero career touchdowns until Week 4 at Pitt. He has had eight since, including three this past Saturday. Brian Kelly's teams are built for November and December, as evidenced by his 21-6 mark in the regular season's final two months. I think Wake Forest has a chance to keep it close early, but it lacks the depth and size to hang with the Irish throughout the night.
September, 23, 2011
9/23/11
9:00
AM ET
Once again, kudos to ESPN Stats & Information for the help.
Pitt coach Todd Graham is looking to become the first coach to beat Notre Dame in consecutive seasons with two different teams. Grahan's Tulsa team won at Notre Dame last season. Only three coaches have ever beaten the Fighting Irish with two different schools (Howard Jones with Iowa and USC, Johnny Majors with Pitt and Tennessee, and Dennis Erickson with Miami and Oregon State. Randy Edsall could become the fourth when Maryland plays Notre Dame on Nov. 12.)
Pitt is 20-45-1 against Notre Dame, making it one of only five schools with at least 20 wins against the Irish. (Michigan, Michigan State, Purdue and USC are the others.)
Notre Dame's 13 turnovers are tied with Western Kentucky for the most in the FBS. Its turnover margin (-8) is the worst in the nation.
Michael Floyd's 202 career catches are fifth-most among active FBS players. His 2,936 career receiving yards and 30 career receiving touchdowns each rank second.
Pitt has won three of the past five meetings between this school, though Notre Dame won 11 of the previous 12.
Notre Dame's Losing Streak Extends To Three