Notre Dame Football:

Rashad Greene
December, 29, 2011
12/29/11
11:08
PM ET
ORLANDO, Fla. -- One team surrendered five sacks, averaged 1.4 yards per rush and gave up a defensive touchdown.
This was the other coach after the game:
"We turn the ball over. And we cannot win football games at the highest level if we continue to turn the ball over. The coach has got to get better. The players got to get better and we have to solve this issue if we're going to be an elite football team."
That was Brian Kelly, because his Notre Dame team gave up four sacks, gave the ball away three times -- including two end-zone interceptions -- and was actually outgained by 10 yards in a Champs Sports Bowl that was anything but an offensive clinic.
Florida State emerged on the winning end of
an 18-14 contest
Thursday, bouncing back from an atrocious first half and a two-touchdown deficit to rattle off 15 points in the final quarter and finish 9-4 on the season.
Thirty minutes before the final horn, it looked like the Seminoles would have trouble even getting on the board.
Four sacks, two false-start penalties and a fumble that Irish safety Zeke Motta returned 29 yards for the half's lone score highlighted a less-than-inspiring offensive performance. Much of the third quarter played out in similar fashion, though Dustin Hopkins did manage a 42-yard field goal to get Florida State on the board -- after a 77-yard kickoff return was followed by a four-play, minus-3 yard drive.
But
EJ Manuel
scraped together the game's most impressive drive just as the third quarter was winding down, taking the Seminoles 84 yards in 10 plays, the last of which -- an 18-yard touchdown pass to
Bert Reed
-- kicked off a fourth quarter that the Irish will want back.
The second half of Notre Dame's two-quarterback system,
Andrew Hendrix
, threw an interception to Nigel Bradham three plays later, and Manuel capitalized two plays after that by connecting with game MVP
Rashad Greene
for a 15-yard score to make it 15-14. Greene finished with 99 yards on five catches.
[+] Enlarge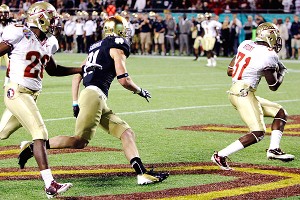 AP Photo/John RaouxThis interception by Terrence Brooks, right, ended Notre Dame's chances at a late comeback.
Field position, poor punting and a facemask penalty allowed Notre Dame to begin its second-to-last drive at Florida State's 28, but the Irish's chance went out the door when
Tommy Rees
' pass for the double-covered
John Goodman
was picked off in the end zone by Terrence Brooks.
Rees took the Irish to the Florida State 4 on the their first drive of the game, but was picked off in the end zone that time by Lamarcus Joyner.
Notre Dame entered with the plan to play both sophomore quarterbacks, and Rees saw most of the action. He completed 16 of 27 passes for 163 yards and a highlight-reel worthy touchdown, which
Michael Floyd
hauled in from five yards out after ripping the ball away from Greg Reid, bobbling it five times and hanging on for good while absorbing a hit from Bradham. Both Floyd (upper-body injury) and Reid (concussion) were hurt on the play and did not return.
Hendrix, who was used sparingly throughout the season, finished 3 of 8 for 24 yards.
"It's all those things -- frustrating, disappointing," Rees said. "It's not something you can hang your head on, though. As a quarterback and a leader you got to keep your head up regardless of the situation and be there for your teammates. The worst part is sending your seniors off with a loss, and a game that we had an opportunity to win makes it that much worse."
Kelly laughed at the notion that he started at Notre Dame in 2010 as an offensive guy -- "Well, I guess I'm not an offensive guy" -- and said earlier that the unit has some catching up to do after the performance his defense put forth.
"It's nice to be able to talk about a Notre Dame football team that plays championship defense, because they did that today," Kelly said. "Now we've got to get our offense obviously to play that level as well, and that will be the next step for our football program, is getting our offense to play at the same level that our defense is evolving to."
Coming off an 8-5 campaign, Notre Dame entered 2011 with BCS-bowl hopes and a quarterback controversy. On its first drive of the season, a goal-line fumble portended a two-week opening stretch that saw two close losses, 10 total turnovers and postseason goals all but go up in flames.
More than 16 weeks later, the campaign ended in a turnover-plagued slugfest that saw Notre Dame's final chance get picked off in the end zone.
"We see it as we could've run the table this year," Floyd said, "but with our mistakes and not being disciplined at certain times, we fell short."
December, 29, 2011
12/29/11
9:00
PM ET
ORLANDO, Fla. — Florida State scored 15 points in the final frame to storm back and
beat Notre Dame 18-14
to win the Champs Sports Bowl. Here's how it went down:


Turning point
: In a less-than-two-minute span to start the fourth quarter, Florida State made up for the first three.
EJ Manuel
hit
Bert Reed
for an 18-yard score, Nigel Bradham picked off
Andrew Hendrix
on the ensuing drive and Manuel then hit
Rashad Greene
for a 15-yard score to make it 15-14 with 13:18 left. Twelve quick points after just three through the first 45 minutes were enough for the Seminoles.
Stat of the game
: Pick your poison: Ten combined penalties or four combined turnovers? This game was sloppy on both ends for three quarters, and Florida State was able to capitalize on the miscues at the end and come out victorious.
Player of the game
: Greene proved a tough man to stop in the second half. He finished the game with five catches for 99 yards and a touchdown, including an outstanding 42-yard grab that he bobbled and hung onto near the sideline on a third-and-6 in the fourth quarter. (It was challenged and upheld.)
Second guessing
:
Tommy Rees
threw two interceptions in the end zone and might have had a third if not for a spectacular touchdown grab by
Michael Floyd
. In a game that was dominated by both defenses, Notre Dame simply could not afford to give away its precious few opportunities.
What it means
: Florida State got its ninth victory and will likely finish the season ranked. Notre Dame falls to 8-5, its same record as last season, and questions will continue to mount about the quarterback position, which has nearly as many questions to end the season as it did to begin.
Record performance
: Jamoris Slaughter's two sacks were two more than he had his entire career and were a Champs Sports Bowl record. The 68,305 in attendance made up the bowl's biggest crowd since it moved to Orlando.
December, 29, 2011
12/29/11
8:17
PM ET
ORLANDO, Fla. -- Florida State entered the fourth quarter trailing 14-3. Naturally, it has scored two touchdowns in the first 1:42 of the final frame, giving the Seminoles a 15-14 lead with 13:18 left.
E.J. Manuel
hit
Bert Reed
for an 18-yard strike on the quarter's first play, Nigel Bradham picked off
Andrew Hendrix
four plays later and, just like that, Manuel hit
Rashad Greene
with a 15-yard touchdown pass on the drive's second play.
For a game lacking in offense most of the way, we have ourselves a thriller here with just more than 13 minutes left.
Top Returning Players: AAC and Notre Dame
FBS INDEP. SCOREBOARD
Saturday, 12/21
Monday, 12/23
Tuesday, 12/24
Thursday, 12/26
Friday, 12/27
Saturday, 12/28
Monday, 12/30
Tuesday, 12/31
Wednesday, 1/1
Thursday, 1/2
Friday, 1/3
Saturday, 1/4
Sunday, 1/5
Monday, 1/6