Notre Dame Football:

Rice Owls
August, 30, 2014
Aug 30
9:00
PM ET
SOUTH BEND, Ind. --
Everett Golson
looked much better than the last time he took the field for Notre Dame, tallying five total touchdowns and protecting the football as he led the No. 17 Fighting Irish to a 48-17 season-opening win over Rice.
Here are our three biggest takeaways from this game, starting, of course, with the man under center:
[+] Enlarge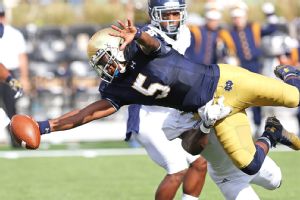 Jonathan Daniel/Getty ImagesEverett Golson was a one-man wrecking crew for Notre Dame in its 48-17 rout of Rice on Saturday.
1) Golson is back and he's better than ever.
Brian Kelly finally has an elite quarterback running his offense, and that is not a Week 1 exaggeration. Save for one errant throw he was able to survive -- a mistimed third-down toss intended for
Ben Koyack
, which could have been six the other way had Rice's Gabe Kaper reacted quicker -- Golson was on-point all day. He completed 14 of 22 passes for 295 yards with two touchdowns -- a 75-yarder and a 53-yarder. He ran for three touchdowns himself, part of his 12 carries for 41 yards. Two of those touchdown runs came on third down, as Golson proved to be the red-zone threat the Irish have sorely lacked in recent years. They went 6-for-6 in the red zone Saturday. And let's not forget
C.J. Prosise
's 55-yard touchdown drop, a marvelous throw Golson made under pressure that would've given him six total touchdowns and a career high in passing yards.
"Obviously the story of Golson was electric," Kelly said. "He kept his eyes downfield. Knew when to run, knew when to throw it, and those are things we really talked about. We didn't want to overcoach him in that we were going to allow him today to get outside the pocket and be a football player, and just naturally go play the game. And I thought he did that today extraordinarily well. He came back today and I think really showed the kind of player that he can be."
2) Golson's weapons aren't too bad either.
Will Fuller was the receiver of a choice Saturday. And while his line (four catches, 85 yards, TD) is hardly eye-opening, it's worth noting that three other players eclipsed the 50-yard receiving plateau. Golson hit seven different targets against the Owls, and with the signal caller being one of five Irish players to rush for 40 or more yards, he showed just how explosive this offense can potentially be later on this season. The Irish showed great balance, tallying 295 passing yards and 281 rushing yards.
"I think I needed to polish a lot of things," Golson said. "There was a couple throws where I stayed in there and made a throw. That's what is in my mind now, but I think just being more on timing I think a lot of stuff today, I was kind of getting out of the pocket and making plays and having the guy scramble and things like that. Definitely going to get the timing down and be more precise."
3) Special teams might finally be a threat.
Florida cornerback transfer
Cody Riggs
' biggest attribute Saturday was as a punt returner, as he brought back the first two punts for 24 and 25 yards, respectively.
Greg Bryant
added three returns for 31 yards (including a 10-yard return that he probably should not have picked up at the 1.) Notre Dame's average starting field position was at its own 36-yard line. They punted it just three times. Add that with an offense capable of spreading the field and the strain on a young defense is lessened considerably.
"It was driven by personnel and it was driven by wanting to improve in that area," Kelly said. "We had (80) yards in punt returns, and we only had (106) the entire year last year. I think we've improved there. We need to do it consistently.
"Cody Riggs was gassed and we had to take him out. He had not played that much football at Florida I think in a couple years. But Greg Bryant is fearless and does not know what a fair catch is. So all those people wondering why he was catching the ball, he came up with the, 'I can't hear you, my earplug is in.'
"So we have got guys back there that are fearless, that will catch the football and stick their foot in the ground and get north and south, and that is absolutely crucial. And we have guys that are committed to covering people up. So we have got the want to and the resolve to do and we have to continue to do it."
August, 29, 2014
Aug 29
11:00
AM ET
No. 17 Notre Dame hosts Rice on Saturday. How will things play out?
How Rice can win:
South Bend forecasts call for an 82-degree day with an 80 percent chance of rain. We all remember
the last time it rained heavily during a Notre Dame opener
, right? A slick track wouldn't hurt the Owls' chances to slow down what should be a more up-tempo Irish attack, especially on the stadium's new FieldTurf. Nor would a complete Irish implosion, a la 2011. New quarterback
Driphus Jackson
will have to be sharp, and it will help a lot if top target
Jordan Taylor
(foot) is at full strength.
How Notre Dame can win:
Rice won 10 games last season so the Irish need to do more than just show up. This may be the easiest game on their schedule, but it will be encouraging if
Everett Golson
can keep the tempo at a fast pace, run some zone-read effectively and distribute the ball to his plethora of young, talented receivers. It will be interesting to see what kind of pressure the defense can get up front, given the talent it said goodbye to in
Louis Nix
and
Stephon Tuitt
.
Breakout player:
It has to be Golson, right?
The key to the Brian Kelly offense is finally back
-- bigger, stronger and smarter than ever. With a young defense working under a new coordinator, the onus will be on the offense to produce in ways it hasn't in the past four years. All of that starts with Golson.
Prediction:
Notre Dame 38, Rice 14
August, 28, 2014
Aug 28
8:00
AM ET
August, 26, 2014
Aug 26
8:00
AM ET
Brian Kelly press conference today.
Now
it feels like game week ...
August, 7, 2014
Aug 7
12:00
PM ET
I'll take Rory again this weekend. You?
Jeff Samardzija on MLB Network on end of #NotreDame-Michigan: "That's about as absurd as Notre Dame putting FieldTurf in instead of grass...

— LaMond Pope (@lamondpope) August 6, 2014
but hey that's the way things are going these days and times are changing in college football. ...

— LaMond Pope (@lamondpope) August 6, 2014
It's an awesome rivalry and hopefully they find a way to mix it in some more down the road for sure."

— LaMond Pope (@lamondpope) August 6, 2014
May, 10, 2013
5/10/13
5:00
PM ET
What's happening?
Brad from Benton, Ky., writes
: Matt- Any word on Tuitt's weight gain? During the Spring Game his physical appearance as opposed to last season was very bad. I'm just hoping it doesn't slow him down and make him less of the great end that he is. Thanks!
Matt Fortuna
: Brad, in short, I wouldn't worry about it.
Stephon Tuitt
missed the first half of spring ball recovering from an offseason operation to repair a sports hernia that bothered him late last season, which, from personal experience as a child, I can confirm severely restricts your movements. (Even if you don't have a whole lot of athletic tools in the arsenal, like yours truly.)
---
Tyler Kelly from Jacksonville, N.C., writes
: Where do you think Notre Dame will rank in the pre-season polls and how do you think they will finish?
Matt Fortuna
: Tyler, it's never too early, is it? Based on some of the early post-spring indications (
our Mark Schlabach has the Irish 10th
,
SI.com's Andy Staples has them fifth
,
CBSSports.com's Jerry Palm has them slotted for the Orange Bowl
), I'd expect this to definitely be a preseason top-10 team, maybe even a top-five. I'm not about to make a record prediction more than three months before the first ball of the season is kicked off, but I do think this team has the potential to be better than the 2012 team, even if the record at season's end may not indicate it.
---
Sam from Dallas writes
: How will joining the ACC in 2014 affect the scheduling for the four open dates on their schedule going forward? I am taking into consideration the five ACC games and the three games with USC, Stanford and Navy to fill eight of the twelve slots. Would you expect ND to play at least three if not all four of those other games at home each year or possibly a neutral site game? Looking ahead do you see them scheduling home & home with teams like Texas in the future? It may be difficult to guarantee some teams home and home arrangements. Thnx.
Matt Fortuna
: Sam, there are plenty of logistical issues with scheduling moving forward, some of which
we covered this morning in conjunction with Big Ten bloggers Adam Rittenberg and Brian Bennett
. The Shamrock Series will continue, but does that become a ninth game or, in some cases, will an ACC game get to be used for that? I think the home/road configuration will depend on the year, as the Irish get three ACC home games one year and two the next. Look at 2014, for example: Notre Dame
gets Louisville, North Carolina, Wake Forest
and Stanford at home; it faces Florida State, Syracuse (in East Rutherford, N.J.), Navy (in Landover, Md.) and USC on the road. There are also home games scheduled for Rice, Michigan, Purdue and Northwestern, and road ones at Temple and Arizona State. That's 14 total games, and the only one I can say will stay on for certain among the second group is Michigan, as that
will be the final matchup between the Wolverines and the Irish for the foreseeable future
. So there are nine games. I would guess that Purdue stays on for that season, as the contract for that game
runs through the 2014 season
, two years before the Big Ten implements a nine-game conference schedule and makes that series more difficult to schedule. As for the rest, the Rice game
is a one-game deal
, the ASU series
is seemingly up in the air
, the Northwestern deal
is part of a home-and-home that will be returned to Evanston, Ill., in 2018
and Temple
is part of a three-game series
that starts in 2013 at Notre Dame, continues in 2014 in Philadelphia and
returns to Notre Dame in 2017
.
December, 20, 2011
12/20/11
1:25
PM ET
Notre Dame will host Rice in 2014, Rice announced. The date of the game has yet to be determined.

"Notre Dame is a program that shares our core beliefs about college athletics," Rick athletic director Rick Greenspan said in a statement. "We both believe that the pursuit of excellence in the classroom need not become secondary to the pursuit of championships in athletics. This type of schedule is reflective of the greater overall vision for the second century of Rice Athletics that we will begin share in the coming weeks."

"We are excited to add this game to the schedule in order to give our student-athletes and our fans this tremendous opportunity to experience a game day in South Bend and renew this series with the Irish," Greenspan added.

The Irish are 4-0 all-time against the Owls.
Notre Dame's Losing Streak Extends To Three