Notre Dame Football:

Rob Hunt
November, 7, 2013
11/07/13
8:00
AM ET
SOUTH BEND, Ind. --
Sheldon Day
was the first to enter the auditorium of the football complex after practice Wednesday.
Chris Watt
came later, with the left guard still in pads and with his right leg lightly wrapped.
[+] Enlarge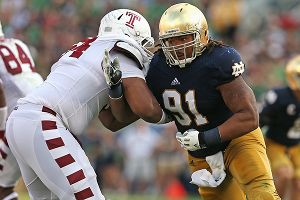 Jonathan Daniel/Getty ImagesSheldon Day is one of several players returning from injury for Notre Dame heading into the Pitt game.
Both players' appearance before reporters was as sure of a sign as any that the injured linemen will take the field for No. 23 Notre Dame Saturday night at Pitt.
Louis Nix III
is expected to go as well, though everyone will have to go off Day's words about Nix practicing Wednesday for the nose guard's improving status.
Getting all three players back is imperative for an Irish team whose injured list seemingly grew by the day these last two weeks after consecutive games against Air Force and Navy.
"It's just knowing what you can and can't do, and basically just getting the motion back and getting the power back with your steps," Day said of playing with an ankle that won't stop nagging him. "Basically trying to teach your body again what it can and can't do."
The sophomore end may as well have been speaking for Watt, too, who has been bothered by a PCL tear that kept him out of last weekend's contest but said he took all of the first-team reps with offensive line Wednesday.
"It's hard to describe because I never really had it before," Watt said of his injury. "It's almost like a lock, I guess you could describe it, and just kind of feels maybe like mentally like it's going to happen right here. But it's an injury that over time you won't even notice after a while, and it'll feel kind of, I guess a weird healing process. But I think just [athletic trainer Rob Hunt] and his staff did a great job this past week-and-a-half and continue to do a good job, and I think by the bowl game I probably won't even notice it."
Watt suffered the injury Oct. 26 at Air Force while working a combination block with
Zack Martin
and getting his right leg stuck in the surface before it twisted the wrong way. It will not require surgery. Coach Brian Kelly had said that Watt would play against Navy, but during warmups the senior ended up feeling that he would be hurting his team more than helping it by playing.
Day, meanwhile, re-aggravated a high ankle sprain against Navy that he initially suffered Sept. 14 at Purdue, which forced him to miss most of the following three games. He called this injury a less-serious version of the original sprain, and he knew by Monday that it would not be enough to keep him off the field this weekend.
"I felt like it wasn't a point in time where I thought this was worse or anything like that," Day said. "But I could definitely feel it."
As for Nix, the junior is expected back in some capacity after sitting out the last two games with knee tendinitis and a small meniscus tear that has required PRP treatment and will eventually need a minor surgery to clean up the tendinitis, though that will come later.
Nix, a preseason All-American, may have to share the spotlight Saturday night with another interior defensive linemen at Heinz Field, as Pitt's
Aaron Donald
has garnered plenty of attention this season by leading the nation in tackles for loss (2.4 per game) and coming in at third in sacks (1.1), while also forcing three fumbles.
"Last year we went 101 plays I think on offense, and he was going hard pretty much every snap. He doesn't really come off the field," Watt said of Donald. "He's a guy that's possibly the smartest defensive line player we play this year. He does a really good job of reading O-linemen.
"He does a really good job of knowing our formations the offense is running, so we have to do a really good job this week of being balanced [with] what we're doing and not really giving anything away in our stances."
July, 25, 2013
7/25/13
12:15
PM ET
Notre Dame will open fall camp Aug. 5 at the Shiloh Park Retreat and Conference Center in Marion, Ind., where it will hold its first four preseason practices.
"I'm excited to take our football team to a facility like Shiloh Park," coach Brian Kelly said in a release. "Training camp is vital in terms of developing team unity, character, camaraderie and ultimately a focused and specific identity for the upcoming season. We instituted a similar type off-site program for training camp at the University of Cincinnati and it played a huge role in the success of our team.

"I can't say enough about the people at Shiloh, especially Dan and Karen Heincker. They've really gone above and beyond to make this a tremendous experience for our players. I'd also be remiss if I didn't recognize our program's incredible support staff. This was no simple task to pull off logistically, yet thanks to the hard work of everyone on our staff, especially Beth Rex [operations], Dan Brazo [facilities], Jason Michelson [operations], Rob Hunt [sports medicine], Ryan Grooms [equipment], Tim Collins [video] and Paul Longo [strength and conditioning]."
The location is a year-round facility used for camps and other special events, situated on 65 acres.
The Irish will return to the LaBar Practice Complex for the rest of camp on Aug. 9.
May, 9, 2013
5/09/13
10:30
AM ET
SOUTH BEND, Ind. --
Matt Hegarty
was about to put his pads on before a Nov. 8 practice when he forgot what he was going to say to fellow lineman
Conor Hanratty
. Perplexed, he wondered if he had gotten enough sleep the night before.
"It was just a really confusing day, honestly," Hegarty said. "You wake up, go to class, you write notes in your book just like you normally do, and then it kind of does a 180 on you."
The writing and speaking were temporarily halted, and breathing was uneasy. He approached Notre Dame head athletic trainer Rob Hunt. Stroke symptoms were detected, and Hegarty soon found himself in the hospital. Less than 24 hours later, doctors determined that Hegarty had two previously undetected holes in his heart -- adding up to roughly an inch in missing tissue -- which caused a ministroke that shelved any thoughts of contributing to a national title chase and set in motion a spring comeback and a chase at a starting job.
Six whirlwind months later, Hegarty's last hurdle to climb is the depth chart, where he chased
Nick Martin
this spring for a shot at the Irish's starting center job.
"It's a big event in your life," Hegarty said of the ministroke. "And as much as you try to not think about it, you want to push on and think about, 'What's the next step?' I've got to take care of this final. I've got to write this paper. I've got to go to this doctor and visit.
[+] Enlarge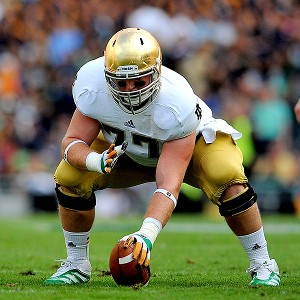 Tommy Grealy/Icon SMICenter Matt Hegarty filled in for the injured Nick Martin on Saturday and the Irish O-line didn't miss a beat, rushing for 235 yards against BYU.
"It kind of creeps in a little bit on you. I think the best part is getting back to business and going out there doing practice, doing everything that I normally do and seeing that everything's back to normal. I don't have anything to worry about."
Hegarty met with an occupational speech therapist after the episode. On Dec. 14, Dr. Ronald Nelson went up his thigh with a catheter to patch the holes in Hegarty's heart. Not long after, Hunt, the trainer, had Hegarty using an elliptical machine until he could resume weight-lifting, which he was eventually cleared to do in February, a hurdle he considered among the most significant.
"You kind of find yourself in the weight room, and I was able to find myself," Hegarty said. "Get back in there, you're throwing weight around, you're like, 'All right, it's back to business.' I felt great, it's what I do. Back to normal."
The new normal for Hegarty contains a greater sense of appreciation, but doctors told him that the heart repair has also given him up to 20 percent more oxygen in his bloodstream.
"Matt likes to say, 'I am 20 percent better than before, but it was a heck of a way to get better,' " his father, Bryan, said.
Hegarty is off the Plavax and Coumadin he was initially prescribed, now just taking a baby aspirin until June and possibly in the future before he travels long distances.
With the initial scares and most difficult obstacles now shoved to the side, Bryan Hegarty has looked at the timing of the ordeal that his son faced as a blessing.
Yes, Hegarty had to be shut down for the stretch run of a season that ended in the Discover BCS National Championship, but the recovery process allowed for a return to spring ball and a seemingly clean slate, with a first-team spot open in the middle of the line for the Aztec, N.M., native.
"Very foreign," Irish offensive line coach Harry Hiestand said of dealing with Hegarty's injury. "And I think that the scary thing is just the unknown. You understand elbow, you understand a knee, you understand an ankle, you understand shoulders -- you don't have much experience with a guy's heart and issues there.
"But when you're around him, you see his attitude about it and the smile on his face and the determination on his face. You kind of shake it off: 'Hey, let's go to work.' That's what you want, to be the best we can. The way he's handled it and his approach to things is just outstanding."
For Christmas, Bryan Hegarty gave Matt a copy of former NFL player and current ESPN analyst Tedy Bruschi's book, "Never Give Up: My Stroke, My Recovery and My Return to the NFL," a memoir that helped fast-track Hegarty mentally.
His father said that it had initially taken the 6-foot-4.5, 291-pound third-year junior about a month to get over the fact that something like this could happen to him.
"When you're young, you're invincible. What's hard about this thing is it wasn't like an MCL tear, because you don't feel it," Bryan Hegarty said, referring to a prep injury Matt had suffered. "My wife used to be a therapist, so she has a good way of talking to Matt."
Back on the Loftus Sports Center practice field this spring, Hegarty's biggest concerns were dealing with Louis Nix and the rest of Notre Dame's relentless defensive line, a different but welcome dose of anxiety that is as sure a sign as any that the converted tackle's toughest battles are behind him.
"It takes two," head coach Brian Kelly said. "His family was involved. Really from a consensus standpoint, everybody was on the same page with this kind of serious condition. He had the best doctors. He had great followup. He took care of himself. I just think it was everybody pulling in the right direction to get him back on the field, where he feels very, very confident that he can go every single day and not have to worry about his health."
St. Brown talks USC, Stanford and more
FBS INDEP. SCOREBOARD
Thursday, 8/28
Friday, 8/29
Saturday, 8/30