Notre Dame Football:

Ronald Johnson
October, 19, 2011
10/19/11
10:00
AM ET
Some games you want to win because you want to win every game. Others games feature highly ranked teams and therefore generate national interest. Some are rivalry games. But Notre Dame-USC is something else entirely, even if the 83rd game of the storied intersectional contest on Saturday features two unranked teams for just the 10th -- and second consecutive -- time in the series.
The battle for the Jeweled Shillelagh is a showdown of national programs. Top recruits across the country who don't feel pinned down to a home-state school or region watch it to test their allegiances. Most of the elite players who are recruited by USC are recruited by Notre Dame and vice versa.
And if you're looking for a marker for which direction either program is going, it's this game. Lou Holtz went 9-1-1 against USC. Pete Carroll went 8-1 against Notre Dame. Where do their tenures rank among their program's histories?
So that's why USC's 20-16 defeat last year resonates, particularly considering how it went down. Start with the obvious: Two rookie coaches who'd both been burned by off-field controversies, trying to make their marks during uncertain times for their programs.
[+] Enlarge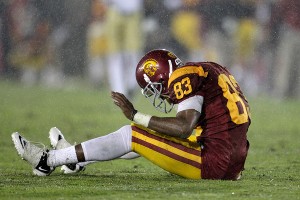 AP Photo/Jae C. HongRonald Johnson missed a touchdown catch that could have made the difference for USC in last season's loss to Notre Dame.
And then Trojans receiver Ronald Johnson dropped a sure touchdown pass with 1:17 remaining, and Notre Dame ended an eight-game losing streak in the series. Brian Kelly became 1-0 against USC. And Lane Kiffin fell to 0-1 against Notre Dame.
"It was a horrible feeling because of the streak and how long it was and how much work goes into that," Kiffin said. "And there it is right there, one fluke play and all those years are over with."
"Fluke" plays can lead to sea changes. In Holtz's first game against USC in 1986, Notre Dame overcame a 17-point fourth-quarter deficit to stun USC 38-37. The Fighting Irish went from a losing season in 1985 to a national title in 1988. In 2001, Carroll lost by 11 at Notre Dame. The next season, his Trojans handed the Irish a historically bad 44-13 whipping, outgaining them 610 yards to 109. And away USC went.
And then there's last year's game, which ended a run of 19 consecutive nonconference victories for USC.
"We knew that if a talented receiver like that was going to drop a ball like that in a situation like that, it's definitely our night," Notre Dame linebacker Manti Te'o said after the 2010 game. "Things like that don't happen without a reason. It's a huge night for this program and in our lives."
Te'o, of course, is the player that broke USC's hearts on national signing day in 2009. Long considered the next in a long line of elite Trojans linebackers, the top-rated player switched to Notre Dame seemingly out of nowhere.
When considering last year's game, USC takes heart from knowing that it lost in the waning moments without two key injured players: offensive tackle Tyron Smith and quarterback
Matt Barkley
. While Smith was the ninth overall pick in the 2011 NFL draft and now plays for the Dallas Cowboys, Barkley is back and healthy and playing well. He and receiver
Robert Woods
are one of the nation's best pass-catch combinations.
And another streak is on the line: USC has won 13 consecutive nonconference road games. That, by the way, is the last of many winning streaks established during the Carroll era.
The Trojans this year have been mostly about Barkley and Woods and a notably mediocre defense. But it was the defense that stepped up in the Trojans' 30-9 win over California on Oct. 13, while Barkley and Woods struggled to find their rhythm.
"We needed a game that our defense won for us," Kiffin said.
That defense will need to step up again because Notre Dame won't be easy to move the ball against. Other than an implosion against Michigan, the Irish have played well on defense, surrendering just 21 points per game.
USC went 8-5 in Kiffin's first season, which was mostly given passing grades because of the circumstances. If Johnson had caught that pass, however, most would have viewed the season as a success.
Going forward, Kiffin's Trojans will be saddled with severe scholarship reductions -- each of their next three recruiting classes can only include 15 signees instead of 25 -- which almost certainly will reduce the number of wins the program produces.
But on Saturday, there won't be any real excuses. This game is a national measuring stick, and the Trojans don't want to fall short again and see power and esteem in the storied intersectional rivalry shift back to the Midwest.
Said Kiffin, "We've got to go back and start a new streak this year."
October, 19, 2011
10/19/11
9:00
AM ET
SOUTH BEND, Ind. -- For much of the aughts -- the past eight years of the decade, to be exact -- Notre Dame-USC was the rivalry that wasn't. The Irish dropped eight in a row to the Trojans by an average margin of 24.5 points per game, and they weren't even favored in any of those contests.
"It doesn't make for a great rivalry," Brian Kelly said, "if you haven't won any games."
[+] Enlarge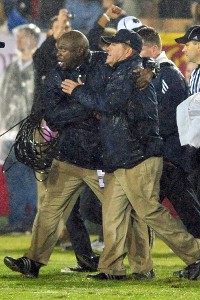 Matt Cashore/US PresswireBrian Kelly and the Irish held on for a 20-16 win over the Trojans last season.
USC's
Matt Barkley
missed last year's game, Ronald Johnson dropped a potential go-ahead touchdown pass in the fourth quarter and, just like that, the Irish escaped Los Angeles with a 20-16 victory, their first over the Trojans since 2001.
Be it luck, a breakthrough or just good timing -- USC's in the second year of a two-year bowl ban and in the first of three years with 30 fewer total scholarships because of NCAA violations -- Notre Dame, in its second year under Kelly, finally feels it can make its rivalry with the Trojans an actual rivalry again.
"I think it is, definitely, to get the monkey off the back,"
Jonas Gray
said of the importance of last year's win. "But also it's just taking each game as a playoff. Coach Kelly has talked about it and the rest of the coaches have talked about it. We gotta take each game with the same type of urgency that we've taken the last game. Just like Air Force, we're trying to win out. We wanna play a playoff-type atmosphere. We know what it is, what it would be like to lose another game."
The atmosphere will be enhanced this Saturday, as Notre Dame Stadium hosts its first night game in 21 years and just its eighth overall.
Whether the Irish break out alternate green jerseys for the game remains to be seen after Kelly dodged the question for the second time in as many weeks, but he did acknowledge an added excitement in his team given the environment surrounding this weekend's contest.
"We are. There is no question," Kelly said. "We're at home. We're excited about being on national television. Clearly our players are looking forward to being that one game at night at Notre Dame Stadium. They haven't experienced anything. So this is a first-time experience. You know, like anybody else, they love those first-time experiences."
The circumstances are slightly different from, say, the 2005 and 2006 matchups, when both teams finished their seasons in BCS bowls.
Each team enters Saturday's game unranked, and USC is ineligible to play in the inaugural Pac-12 title game or a bowl game this season after being slapped with the "lack of institutional control" tag stemming from violations centered around former Heisman Trophy winner Reggie Bush.
Second-year coach Lane Kiffin took over for Pete Carroll, whose reign of dominance out West included four straight Rose Bowl appearances, with three straight wins in the historic contest.
USC may not be at that level again, and it will be an uphill climb once the sanctions have finally come and gone, but Notre Dame isn't downplaying the team that will enter its house Saturday.
"I see them as still a great team," Darius Fleming said. "It's hard to look at them like I did my freshman year when they had like Clay Matthews, Rey Maualuga and all those guys, but they still have some awesome athletes. They replaced those guys really well with the players they have and I think they're a dominant team. I'm not gonna look at them any differently because once you do that they'll come in here and take care of you.
"But I don't think that will happen because I think that we understand that they're a good team and we have to prepare very hard for this team, so there might be a little difference within personnel. But the atmosphere of the team and the vibe of the team, I don't really think that changed too much."
Irish Flips Top TE Jones, Back In Top 10