Notre Dame Football:

Russell Wilson
December, 8, 2011
12/08/11
11:24
AM ET
Russell Wilson
's success at Wisconsin this season after transferring from NC State has caught the eye of other players looking for new destinations.
[+] Enlarge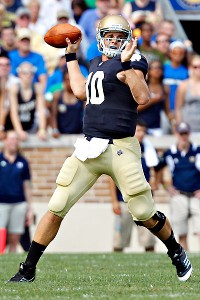 AP Photo/Michael ConroyCould QB Dayne Crist go from playing at Notre Dame to leading the Wisconsin Badgers?
"Because of the success of Russell Wilson," Wisconsin coach Bret Bielema said last week in Indianapolis, "I've been contacted by almost 10 players who want to talk about the opportunity to transfer in to the University of Wisconsin."
One of those players is quarterback
Dayne Crist
, who recently
asked for an received his release from Notre Dame
. The Milwaukee Journal Sentinel reported earlier this week that sources say
Crist is very interested in Wisconsin as a transfer destination
. He has one year of eligibility remaining, and because he's set to graduate this month, he could play in 2012. It was the same situation with Wilson, who completed his undergraduate requirements at NC State and could play immediately for Wisconsin.
Crist started the past two season openers for Notre Dame but had his struggles and some bad luck in South Bend. He tore the ACL in his right knee during his sophomore season in 2009 and ruptured the patella tendon in his left knee in late October of last season. Crist won the starting job entering this fall but was benched at halftime of the season opener against South Florida.
Tommy Rees
has been the Irish starting quarterback ever since.
ESPN.com has learned Crist had Wisconsin on his radar screen soon after the benching against South Florida.
Crist came to Notre Dame as a decorated recruit set to play in Charlie Weis' pro-style offense. He had to adjust to Brian Kelly's scheme after Weis was fired.
Wisconsin makes sense for Crist, who could be a good fit in the Badgers' pro-style system.
The bigger question: Should Wisconsin add a one-year transfer quarterback for the second consecutive season?
Given the uncertainty at the QB position, the answer is yes. Wisconsin doesn't want to get in the habit of doing this every year, but there are major question marks with the Badgers signal callers after Wilson departs.
Jon Budmayr
, the projected starter coming out of spring practice, hasn't played all season because of nerve problems in his throwing elbow. It's a tricky injury, particularly for a quarterback.
Curt Phillips
, meanwhile, hasn't played since 2009 because of a series of serious knee injuries.
Reserves
Joel Stave
and
Joe Brennan
are in the mix, and highly touted recruit Bart Houston arrives next season. But none of the Badgers' quarterbacks has as much experience as Crist.
While it's unrealistic to expect another transfer quarterback to duplicate Wilson's success this season, Wisconsin can't close the door to any options. The team should have a more stable quarterback situation in 2013 than 2012, so another one-year QB might be a smart choice.
What do you think?
December, 4, 2011
12/04/11
3:30
AM ET
Russell Wilson
's Grange-Griffin Trophy was less than two hours old by the time
news broke
of
Dayne Crist
's reported exit from Notre Dame.
The parallels, of course, are obvious.
Wilson, who won the Big Ten title game MVP Saturday night, starred in his lone season in a Wisconsin uniform, leading the Badgers to their second consecutive Rose Bowl one year after he was taking snaps for North Carolina State.
[+] Enlarge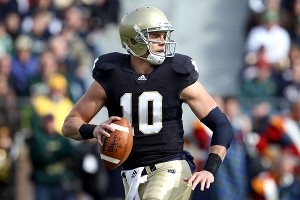 Jonathan Daniel/Getty ImagesInjuries and poor performances kept Dayne Crist from living up to the advanced billing at Notre Dame.
He was able to do this, of course, because of a rule that allows players who have already graduated and have one year of eligibility remaining to transfer to another school and play immediately, provided that the player enrolls in a graduate program not offered at his previous school.
Crist will get the same chance at any school that will have him, as the Irish senior is set to graduate this month and will likely enroll at a new school for spring semester.
The rule -- or loophole, as some have referred to it as -- has been the subject of much scrutiny. The SEC banned such one-year transfers this past summer. Many feel this is the equivalent to "renting" players and takes the "student" out of student-athlete.
Wrong. It might be the only rule in the NCAA manual that actually rewards the "student" part of that term.
Players are told all the time what they cannot do. Coaches who make millions often jump from job to job without consequence. Here, players are simply rewarded for fulfilling their academic duties.
Crist, from what we have seen so far, is no Wilson. It would be unreasonable at this point to think he would be the difference between a good team and a Rose Bowl-bound one, permitting he even ends up on a good team.
Wilson threw for 8,545 yards, rushed for another 1,089 and had a total of 93 touchdowns in his three years with the Wolfpack. In three years with the Irish, Crist has just 2,327 passing yards, 74 rushing yards and 20 total touchdowns.
Crist's most notable stats won't even show up in the box score. He suffered a torn anterior cruciate ligament in his right knee in 2009, ruptured the patella tendon in his left knee nearly one year later and then lost his starting job after one mediocre half against South Florida in Week 1 of this season.
Though unavailable to reporters since the Week 1 loss, Crist has, by all accounts, handled the bad breaks with class and dignity. And, as mentioned earlier, he is scheduled to graduate later this month, with a degree in management-consulting.
Having redshirted his freshman year, Crist still has one year of eligibility remaining. And, with a lofty high school ranking (he entered college as ESPNU's 22nd overall prospect and No. 2 quarterback) and not a lot to show for it yet in college, he deserves the chance to showcase his talents for the next level. That just isn't going to happen at Notre Dame, where a pair of sophomores (
Tommy Rees
and
Andrew Hendrix
) have already moved ahead of him on the depth chart and where a freshman (
Everett Golson
) is currently redshirting in hopes of bright days ahead.
What good does it do Crist to sit his final year, his degree already in hand? His perseverance through a pair of potentially devastating knee injuries shows he wants to play, and he deserves that chance.
If he can get that opportunity somewhere else while earning another degree and, who knows, maybe a little bit of hardware for himself in the process, then — dare we say it? — more power to him, the student-athlete.
November, 30, 2011
11/30/11
9:00
AM ET
This week we are taking a look at each of Notre Dame's fourth-year scholarship players with eligibility remaining and examining whether he will likely return to the Irish next season. Here, we take a look at arguably the most talented of these players, quarterback
Dayne Crist
.
[+] Enlarge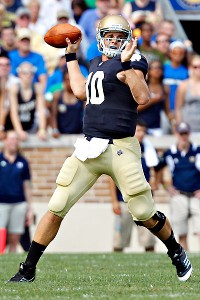 AP Photo/Michael ConroyDayne Crist has a year of eligibility left but doesn't appear to be in contention for Notre Dame's starting quarterback job.
Before Notre Dame:
From Notre Dame High School in Sherman Oaks, Calif., Crist entered Notre Dame as ESPNU's 22nd overall prospect and No. 2 quarterback.
At Notre Dame:
Where do we begin? Crist appeared in four games in 2009 before tearing the anterior cruciate ligament in his right knee in an Oct. 31 game against Washington State. He bounced back to earn the starting job in 2010, only to rupture the patella tendon in his left knee almost one year later, in an Oct. 30 game against Tulsa, before getting an infection and watching
Tommy Rees
emerge and go 4-0 as a starter to close the season.
Crist beat Rees out for the job this past offseason but was yanked after the Irish fell behind South Florida 16-0 by halftime of their opener. Crist went 7-for-15 for 95 yards and threw an interception in the end zone in that half, and Rees started every game since. Trailing 17-10 in an Oct. 22 game against USC, Crist relieved an injured Rees on a third-quarter drive and brought Notre Dame to the 1. There, he fumbled the snap and watched the Trojans return it for a touchdown.
For his career, Crist has completed just more than 58 percent of his passes for 2,327 yards, with 16 touchdowns and 9 interceptions. He is 4-6 as a starter.
What's next?:
Good question. The starting spot for the Irish's bowl game would appear to be between Rees and
Andrew Hendrix
after the latter relieved the former in the regular-season finale at Stanford. A management-consulting major, Crist is scheduled to graduate in December. Throw in freshman
Everett Golson
, who redshirted this season, and Crist's future as a starting quarterback in South Bend, Ind., looks bleak.
The verdict:
Going. For his sake, many hope he takes advantage of the NCAA's one-time exception for graduate students and transfers to another school, where he can play immediately.
Russell Wilson
did that this season, starring at Wisconsin after leaving North Carolina State. Crist's options would likely be limited, as only so many schools are welcoming of fifth-year players they can use for one season, but the talent is certainly there. On top of that, his resolve is unquestioned after the way he's handled two potentially devastating injuries and several bad breaks on and off the field. Since he graduates early, he could join Notre Dame for its bowl game before enrolling at another school, in order to be with that squad for spring practices. Crist, who has not been made available to reporters during the season, has by all accounts handled the entire situation with grace. He deserves a chance to showcase his talents at a place that could suit them, and here's hoping he gets that next season.
Previous players:
Braxston Cave
Lane Clelland
Report: Notre Dame To Play In Pinstripe Bowl