Notre Dame Football:

South Carolina Gamecocks
October, 12, 2012
10/12/12
2:38
PM ET
Is Notre Dame for real? (Skip.) Is Notre Dame for real? (Skip.) Is Notre Dame for real? (Skip.)
Yes, the college football punditry and peanut gallery can sound like a broken record. The Fighting Irish are 5-0 and ranked seventh, and almost every sign suggests legitimacy, but, well, we've been down this road before. And not only with Notre Dame. It wasn't too long ago that everyone was blowing kisses at Florida State -- the Seminoles are
finally
back -- before it became a national punch line or cautionary tale, however you wish to view a loss at NC State.
Notre Dame plays host to No. 17 Stanford on Saturday. The Cardinal might present the Irish their toughest test yet. Stanford, after all, beat USC. Whipped the once-No. 2 Trojans at the line of scrimmage, no less.
Of course, Stanford also wilted against Washington, making a Huskies defense that would get decimated by Oregon look stout.
[+] Enlarge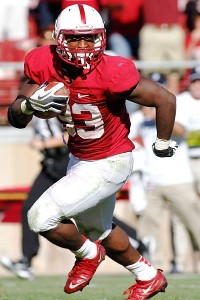 George Nkitin/AP PhotoStepfan Taylor and Stanford can perhaps clear the national title picture a bit by toppling undefeated Notre Dame.
The gist here is there is still a lot of fog over the college football season. We all say stuff, perhaps even with a feigned certainty -- Alabama is unbeatable! -- but we don't really know. The season remains rife with variables and plot twists, even with the first BCS standings being released Sunday.
There are 14 undefeated teams in the Football Bowl Subdivision (Ohio State isn't eligible for the postseason due to NCAA sanctions). Some teams mostly feel -- fairly or unfairly -- like curiosities: three in the Big East (Cincinnati, Louisville and Rutgers), Ohio, Louisiana Tech, Oregon State and Mississippi State. Others own undeniable heft: Alabama, Oregon, South Carolina, Florida, West Virginia, Kansas State and, yes, Notre Dame.
Odd that this weekend's Red River Rivalry feels so far off the radar, although both Texas and Oklahoma could play roles in winnowing the contenders and pretenders. The Sooners still have dates with Notre Dame and West Virginia, while the Longhorns conclude the season against Kansas State.
The "what ifs" are rampant. Such as: What if Alabama, Notre Dame and Oregon all finish undefeated; who then plays for the title? Or switch out Oregon with West Virginia or Kansas State. There are the multiple unbeaten quandaries, and then there are all the best of the once-beaten comparisons, such as: Can USC get back into the national title hunt?
Again, so many variables in our penultimate season yoked by the lovely BCS system. It's difficult to predict how pollsters will react. And don't even start with the computers. With strength of schedule, it's not just what your team has accomplished, but what all its foes did. And all its foes' foes. Etc., etc.
What's also interesting is that the march toward clarity isn't always linear. At any moment, a couple of upsets can put a boot print in our consensus expectations. For example, what might have happened last season if LSU had been nipped in the SEC title game?
The good news is a page will turn next week. If Kansas State and West Virginia both survive tricky road games this weekend -- the Wildcats are at Iowa State, and the Mountaineers are at Texas Tech -- they meet in Morgantown on Oct. 20, so one of the Big 12's two unbeatens will fall.
Same goes for the SEC East. If No. 3 South Carolina manages to win at No. 9 LSU on Saturday, a visit to No. 4 Florida on Oct. 20 seems like the Rubicon for the division. Only one unbeaten will remain in the division, just as only one unbeaten -- Alabama or Mississippi State -- can emerge from the West.
And, if everyone then holds serve, we could have an epic No. 1 versus No. 2 matchup in the SEC title game.
But, alas, that's getting ahead of ourselves.
We started with the notion that Stanford will provide a nice test for Notre Dame's legitimacy. The Cardinal, after all, are riding a three-game winning streak in the series.
But we know past success doesn't guarantee future results. Just look at your 401K. Or the Fighting Irish's storied history.
Is Notre Dame for real? Heck, is anyone for real?
It's probably best to turn to one of history's great college football pundits at times like this. As Socrates once noted when his preseason picks imploded, "I know one thing, that I know nothing."
Or, more charitably, at least very little.
January, 26, 2012
1/26/12
10:30
AM ET
Michael Floyd
and
Harrison Smith

are among those listed in Mel Kiper's rankings of the five-best players at each position in this year's draft
.
Floyd stayed at No. 2 among wide receivers, behind Oklahoma State's
Justin Blackmon
.
Among safeties, Smith came in at No. 4 for the second week in a row, behind
Mark Barron
(Alabama),
Antonio Allen
(South Carolina) and
Markelle Martin
(Oklahoma State).
Among this group, Barron is the only one I have right now with a relatively safe first-round grade. Antonio Allen is a guy I was a little late on, but going through the tape on him I've come away extremely impressed. He's a riser for me in recent weeks.
Kiper

also ranks the top five players at each position who are returning for their senior years of school
, and
Manti Te'o
comes in as the No. 1 inside linebacker.
Manti Te'o's return to South Bend didn't totally surprise me, but I'm not sure he'll be any higher on draft boards by staying a year than he would have been this year. That's more about the position than the player.
Surprisingly,
Tyler Eifert
is not on Kiper's list of top five tight ends returning.
January, 18, 2012
1/18/12
4:00
PM ET
Michael Floyd
held steady on both
Mel Kiper Jr.'s

and
Todd McShay
's

draft boards this week, at No. 20 and No. 18, respectively. But a couple of new lists from Kiper may better evaluate where Floyd stacks up heading into the draft, and where he may ultimately end up.

Floyd
Kiper
released his top five by every position today

, and Floyd comes in at No. 2 among wide receivers, behind only Oklahoma State's
Justin Blackmon
. Also among the top five in his position group is former Notre Dame captain
Harrison Smith
, who comes in as the fourth-best safety, behind
Mark Barron
(Alabama),
Antonio Allen
(South Carolina) and
Markelle Martin
(Oklahoma State).
And, perhaps most importantly, Kiper
has Floyd being taken 19th overall by the
Chicago Bears
in his first mock draft, writing:
If the Bears learned anything when Jay Cutler went down this season, it was that the offense wasn't very pretty without him. But Cutler also needs help. Last year, Chicago had to start up front because the offensive line was such a weakness. But as the Bears anticipate getting some healthy bodies back up front to start 2012, they now must find some help for Cutler at wide receiver. The current group has some speed, but he could use a big target, and Floyd can be that guy. He has a big frame, but Floyd actually dropped some weight for the 2011 season, and he managed to look quicker and more explosive in and out of his breaks without giving up much as a physical receiver. He'd be a nice option in this offense and a threat in the red zone.
It's important to note that the mock draft is different from the Big Board in that it factors in the drafting teams' needs and doesn't necessarily rank players in order of skill or potential.
January, 13, 2012
1/13/12
9:00
AM ET
Michael Floyd
has risen two spots this past week on each of ESPN.com's main draft boards.
The former Notre Dame wide receiver is up to

No. 20 on Mel Kiper's Big Board
and

No. 18 on Scouts Inc.'s Todd McShay's board
.
Floyd is the third of three receivers on Kiper's 25-man Big Board, behind Oklahoma State's
Justin Blackmon
(No. 5) and South Carolina's
Alshon Jeffery
(No. 14). He trails only Blackmon (No. 8) on McShay's 32-man board. Jeffery (No. 24) and Baylor's
Kendall Wright
(No. 28) also crack McShay's board.
The deadline for underclassmen to declare for the NFL draft is Sunday. Kiper will release his first mock draft of the season next week.
January, 6, 2012
1/06/12
10:00
AM ET
Michael Floyd
remains at No. 21 on Todd McShay's draft board and at No. 22 on Mel Kiper's Big Board, the same spots he held on each board last week.
McShay
writes
:
Floyd's size and ball skills make him an elite playmaker down the field, and off-field concerns seem to be behind him. He still must prove his suddenness as a route-runner, though.
McShay projects Floyd as the second of four wide receivers to be taken in the first round, behind only Oklahoma State's
Justin Blackmon
, slated at No. 9. He has South Carolina's
Alshon Jeffery
at No. 27 and Baylor's
Kendall Wright
at No. 32.
Kiper, meanwhile, has Blackmon going four spots higher, at No. 5, with Jeffery ahead of Floyd at No. 14.
Floyd is the third of three receivers Kiper has on his 25-man list,
writing
:
Multidimensional receiver is able to beat you short or deep using a big frame to beat smaller cornerbacks. Played at 227 pounds in 2010 but dropped a little weight this season and does appear a little quicker.
October, 25, 2011
10/25/11
9:00
AM ET
And you thought Notre Dame was the victim of so many bad breaks.
Navy, the Irish's opponent this Saturday, is 2-5. It is in the middle of a five-game losing streak that has featured four games decided by three points or less -- a total of eight points covering four defeats.
The latest wrong turn in a Midshipmen season that has seen so many came in Saturday's 38-35 home loss to East Carolina, which ended with Jon Teague's 42-yard field goal bouncing off the right upright when time expired … which came two plays after
Matt Aiken
's seemingly good 33-yard touchdown catch was ruled incomplete and upheld … which came two quarters after starting quarterback
Kriss Proctor
left the game with a left-elbow injury -- and yes, he's a southpaw.
That loss came one week after blowing a 10-point second-half lead at Rutgers, which won by one point thanks in large part to a blocked field goal attempt with less than five minutes to play.
Two weeks earlier, Navy came back from an 18-point second-half deficit against Air Force to force overtime … where the Midshipmen lost by one thanks, again, in large part to a blocked extra point in overtime. That one came from the 35-yard line after Proctor received an unsportsmanlike conduct penalty after his one-yard touchdown run.
In Navy's game before that, in an attempt to go 3-0 and beat a top-10 team for the first time since 1984, the Midshipmen had a pass picked off in the fourth quarter, sealing a 24-21 loss at then-No. 10 South Carolina.
The losing continued from then on.
Proctor is a longshot to return Saturday, meaning sophomore
Trey Miller
will likely make his first career start. Miller completed 5 of 12 passes for 126 yards and two touchdowns Saturday.
For two teams ready to take out the frustrations of seemingly mounting bad breaks, this Saturday probably cannot come soon enough.
October, 13, 2011
10/13/11
5:00
PM ET
No game this weekend makes this a relatively quiet week on the Notre Dame recruiting front, but our guy Jared Shanker does have what Irish fans hope is the first of lots of good news to report as the Oct. 22 game with USC nears.
Four-star Centerville (Ohio) defensive end
Ifeadi Odenigbo
will be in town for his official visit next weekend.
And he will be taking in his first-ever college football game
.
"I'm pretty excited, I have a lot of expectations," he said.

"People tell me, 'Ifeadi you're getting recruited by all these schools, it's ridiculous that you've never been to a game.' "
He had better get used to them.
Rated the 51st overall prospect by ESPNU, Odenigbo stands 6-foot-3, weighs 212 pounds and runs a 4.62 40. The Irish crack his top five, along with Ohio State, Stanford, Cal and Northwestern.
Odenigbo has mixed feelings about the in-state Buckeyes' rough start and cloudy future, though he has yet to rule them out.
The situation is similarly murky for Irish commit
Chris Brown
, whose father, Joe,
told GoUpstate.com a week ago that he wants his son to play at South Carolina
. Chris since
told The Post and Courier (Charleston, S.C.) that he is strongly considering the in-state Gamecocks
.
Brown, a three-star receiver out of Hanahan (S.C.) High School,
committed to Notre Dame following his Sept. 17 official visit
, when the Irish beat Michigan State.
Notre Dame is currently at 16 verbal commitments and ranks 11th in ESPN.com's

Class of 2012 rankings
.
October, 6, 2011
10/06/11
5:00
PM ET
The big news of the past week was the verbal commitment of William Mahone, a four-star running back from Austintown Fitch (Ohio) High School who became recruit No. 16 for Notre Dame. But could the Fighting Irish's commitment list drop back down to 15?
As our Jared Shanker points out
(Insider), wide receiver
Chris Brown
, who became the Irish's 15th commitment a day after they defeated Michigan State, may be having second thoughts on his venture to South Bend,
according to palmettosports.com
.
Brown's father, Joe, has said he would prefer the Hanahan (S.C.) High School wideout stay in-state at South Carolina. Brown is a three-star prospect and the third receiver to have committed to Notre Dame so far.
Regardless, the get of Mahone is huge, as Notre Dame will lose
Jonas Gray
after this campaign and perhaps even
Cierre Wood
, depending on his draft stock at season's end.
Mahone, at 5-foot-11 and 205 pounds, is rated the 14th-best running back in the nation and is the first one to commit to Notre Dame so far.
The Irish remained at No. 11 in
ESPN's latest 2012 recruiting class rankings
.
UConn Names Bob Diaco Head Coach