Notre Dame Football:

Southeast Missouri State
September, 29, 2011
9/29/11
10:15
AM ET
Here's what to look for Saturday night when the Irish take on the Boilermakers:
One QB and one QB only for the Irish: Brian Kelly said Wednesday he never thought about taking Tommy Rees out last weekend. That, plus the fact it will be a rowdy night atmosphere on the road, makes it unlikely that we will see either Everett Golson or Andrew Hendrix debuting in a change-up role.
Two QBs for Purdue: Caleb TerBush is the Boilermakers' starter, but Robert Marve saw some action two weeks ago against Southeast Missouri State after tearing the ACL in his left knee last year. Marve's Purdue debut was actually against the Irish in Kelly's Notre Dame debut last year, and he should at times provide another look to the Boilermakers' offense Saturday.
More turnovers … for the defense: The unit has been strong so far, consistently forcing three-and-outs and shutting down offenses with its back against the wall. But the Irish defense has forced just five turnovers, something that is due to change with continued pressure on the quarterback.
September, 27, 2011
9/27/11
4:00
PM ET
SOUTH BEND, Ind. -- Brian Kelly took the podium for his weekly news conference Tuesday and delivered a four-and-a-half minute opening statement, one that began with several references to Notre Dame's opening slate in the month of September.
"OK, we're into Week 5, and obviously it's been a rugged schedule for our guys, you know, playing our third Big Ten team, two very good Big East opponents, both bowl teams last year," Kelly began. "So you know, going into Week 5 the most important thing is that our guys are taking care of themselves, and you know, making sure that we're able to get all of our players at 100 percent on Saturday, because when you play the kind of schedule that we have in the first five weeks, you've gotta make sure that your guys are ready to play every week physically."
The Fighting Irish escaped the first-third of their season with a .500 record despite opening 2011 with a pair of close losses. Or they redeemed themselves after underperforming to start a campaign that began with a No. 16 ranking, depending on one's viewpoint.
[+] Enlarge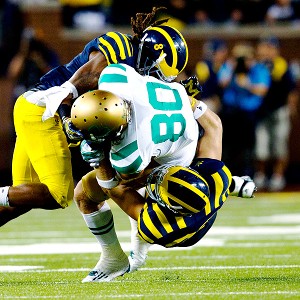 Rick Osentoski/US PresswireNotre Dame faced one of the toughest schedules in all of college football to start the season.
How long it has taken Notre Dame, particularly its offense, to efficiently run Kelly's spread offense in his second year at the helm was the first question posed to the head coach Tuesday.
"Well, you know, I look at the first two weeks where we averaged over 500 yards in offense and we lost both games," Kelly said. "You know, so really for me, it's really about winning games and making certain that we do that. I'd rather do that and be out-coached and, you know, win ugly and do all those things but at the end of the day win the football game. Beauty points, style points I'm not really interested in those things.
"Would I like to play better? Certainly. Do we want to take care — absolutely. All those things are absolutely crucial. But I don't think this is a matter of we're not moving forward. I think it's still about building some more of those important components that I believe are necessary for long-term winning."
At 2-2, Notre Dame received just three votes in this week's Associated Press poll, good for 37th nationally. The Irish received none in the USA Today poll.
Other measures, especially on paper, show more promise so far.
Statistician Jeff Sagarin ranks the Irish 25th overall and has their schedule through four games as the fifth-toughest in the nation.
Notre Dame will try to climb above the .500 mark Saturday at Purdue, a 2-1 team that has played, according to Sagarin, the 188th-toughest schedule so far. Sagarin's ratings include all 247 FBS and FCS teams.
No. 6 Stanford is the only ranked opponent remaining on the Irish's schedule with eight regular-season games left. Notre Dame has lost to a pair of currently ranked, 4-0 opponents in No. 16 South Florida and No. 19 Michigan, and it beat Michigan State when the Spartans were ranked 15th.
In his first year at Notre Dame, Kelly opened last season against Purdue, Michigan, Michigan State and Stanford, the latter two teams finishing their regular seasons with just one loss each.
Notre Dame started 1-3 before winning its final four games to finish 8-5. Kelly thought the tough early stretch helped his team last season but acknowledged there's a balance to be had for programs hoping to contend for BCS bowls.
The Irish would likely need to win out to notch a BCS-bowl berth. Illinois, which lost three regular-season games in 2007, was the only three-loss BCS-bowl team since the system started in 1998.
"I think what the most important principle is, is that you have to develop depth within your ranks," Kelly said. "I'll give you an example. Against Southeast Missouri, Purdue probably played their front-line guys less than 30 plays, plus they had the week off; where I've gone through, with our team, four very physical football games with South Florida, Michigan, Michigan State and Pittsburgh. So I'm more concerned with keeping my guys healthy and getting them at 100 percent. That's probably my biggest concern with the kind of schedule that we have."
September, 26, 2011
9/26/11
1:00
PM ET
It wasn't easy on the eyes, but it's time to look back at the weekend that was for Notre Dame, which improved to .500 with a blue-collar 15-12 win over Pitt at Heinz Field.
The Good:
The Fighting Irish had trouble converting short-yardage situations in the fourth quarter two weeks ago at Michigan, but those troubles were washed away with Saturday's performance. Notre Dame was 2-for-2 on fourth downs and 6-for-6 on third downs with three yards or less to go.
The Bad:
The Irish committed eight more penalties for 85 yards, including a costly -- and controversial -- roughing the kicker call on Austin Collinsworth early in the second half. That gave Pitt new life, and the Panthers answered with a 19-play touchdown drive. With 7.75 penalties per game, Notre Dame is tied for 107th-least in the nation.
The Ugly:
Did you not watch the game? Seventeen combined flags, a missed field goal, a 15-12 final -- in short, it was not a pretty sight. Whether the noon kickoff played a role in any of this is up for debate, but the Irish for now can be happy to escape on the winning end of this schoolyard brawl.
Turning point:
Tommy Rees
completed all eight of his passes on the Irish's second-to-last drive, hitting
Tyler Eifert
the final three times, including for the go-ahead score. He hit Eifert for the two-point conversion, too, and rewarded Brian Kelly's faith in him after uninspiring play through three quarters.
Call of the day:
How about Kelly sticking defensive end Stephon Tuitt in at the nose guard spot? The pass rush was on in full effect with the freshman there on Pitt's final drive, as the Irish sacked
Tino Sunseri
twice and set up a desperation fourth-and-26 situation that the Panthers couldn't convert.
Next up:
Notre Dame will head to West Lafayette, Ind., for its second of five night games this season. The Irish will face their third and final Big Ten opponent in a Purdue team that has had two weeks to prepare since a 59-0 win over Southeast Missouri State. The Boilermakers rank second in the Big Ten in total offense and rushing offense but, like the Irish, have accumulated plenty of penalties, averaging 7.67 through their 1-2 start.
Official Visit: Imminent ESPN 300 Decisions